NASCAR: Bell nips Larson for Las Vegas Pole
Christopher Bell will start from pole to open the Round of 8 in Sunday's South Point 400 at Las Vegas Motor Speedway.
Bell topped the leaderboard in Saturday's NASCAR Cup Series qualifying, posting a top speed of 186.355 mph in the No. 20 Joe Gibbs Racing Toyota.
"I was running flatline and never lifted all the way around; he didn't [Larson] either. So comes down horsepower, I guess," said Bell, who claimed his sixth pole by just 0.010 and put in a blistering lap time of 28.980 seconds to beat the Kyle Larson of the No. 5 Hendrick Motorsports Chevrolet.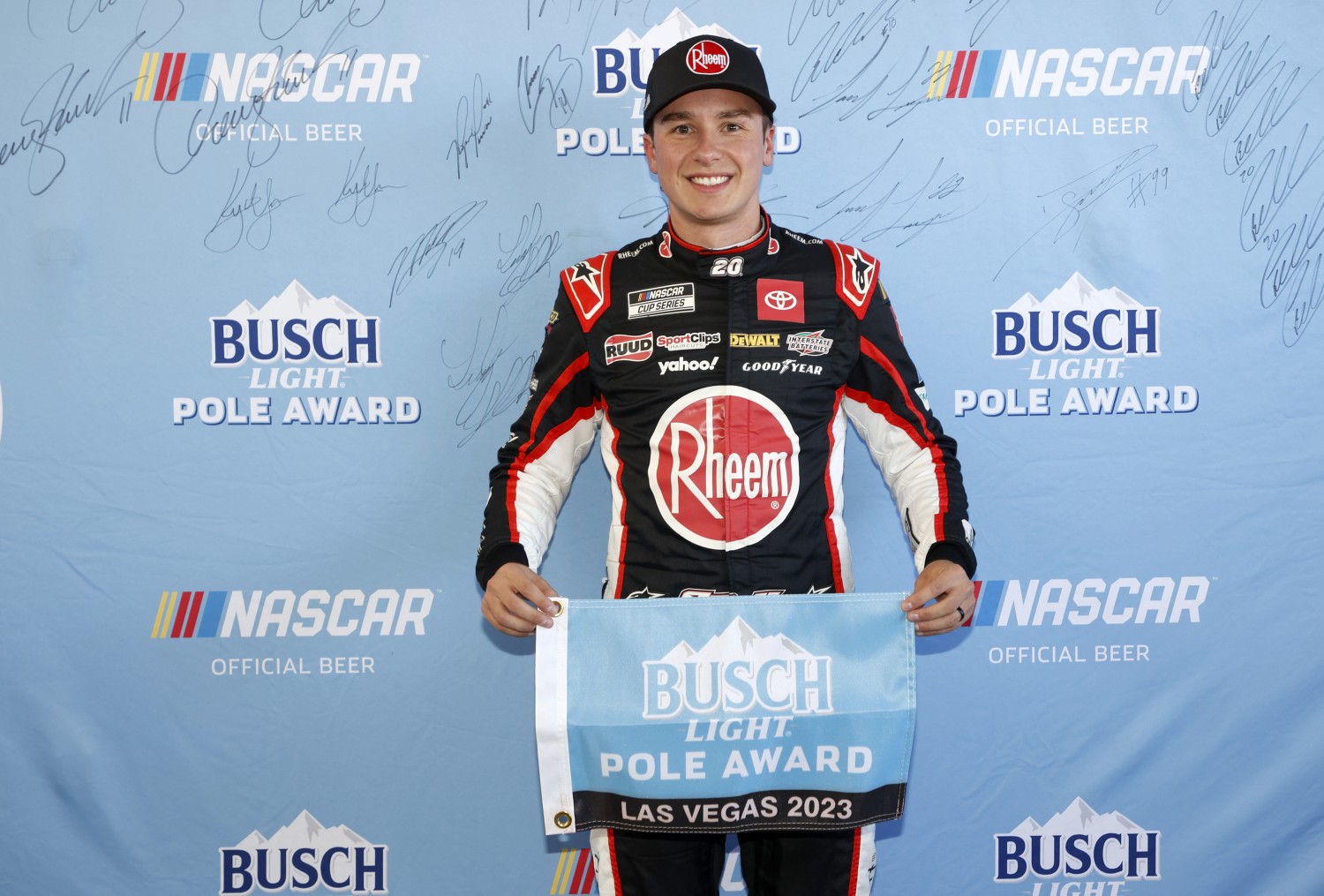 "It's going to be about who can keep the most in their car and move around and find (grip) on the race track," said Bell. "Las Vegas is a fun race track because you can pretty much run from the wall to the white line and everywhere in between. If you're faster than a guy you can make your way to the front and if you struggle you can move around and it helps you out."
Series points leader William Byron qualified in the No. 24 Hendrick Motorsports Chevrolet (186.181 mph), followed by Martin Truex Jr. (185.759 mph) and Chris Buescher (185.669 mph).
With the grip changing over the course of practice/qualifying, playoff drivers Ryan Blaney and Denny Hamlin fell just short of making it out of their respective groups and will start 12th and 15th, respectively, for tomorrow's race.
Qualifying Results
| | | | | | |
| --- | --- | --- | --- | --- | --- |
| Pos | No. | Driver | Team | Time | Speed |
| 1 | 20 | Christopher Bell (P) | Rheem/Smurfit Kappa Toyota | 28.980 | 186.335 |
| 2 | 5 | Kyle Larson (P) | HendrickCars.com Chevrolet | 28.990 | 186.271 |
| 3 | 24 | William Byron (P) | Relay Payments Chevrolet | 29.004 | 186.181 |
| 4 | 19 | Martin Truex Jr. (P) | Bass Pro Shops Toyota | 29.070 | 185.759 |
| 5 | 17 | Chris Buescher (P) | Travel Centers of America Ford | 29.084 | 185.669 |
| 6 | 8 | Kyle Busch | Morgan & Morgan Chevrolet | 29.093 | 185.612 |
| 7 | 23 | Bubba Wallace | DoorDash Toyota | 29.120 | 185.440 |
| 8 | 45 | Tyler Reddick (P) | Jordan Brand Toyota | 29.129 | 185.382 |
| 9 | 22 | Joey Logano | Pennzoil Ford | 29.147 | 185.268 |
| 10 | 1 | Ross Chastain | Worldwide Express Chevrolet | 29.163 | 185.166 |
| 11 | 54 | Ty Gibbs # | Monster Energy Toyota | 29.029 | 186.021 |
| 12 | 12 | Ryan Blaney (P) | Menards/Tarkett Ford | 29.157 | 185.204 |
| 13 | 10 | Aric Almirola | IHOP Ford | 29.214 | 184.843 |
| 14 | 48 | Alex Bowman | Ally Chevrolet | 29.238 | 184.691 |
| 15 | 11 | Denny Hamlin (P) | Mavis Tires & Brakes Toyota | 29.245 | 184.647 |
| 16 | 3 | Austin Dillon | BetMGM Chevrolet | 29.262 | 184.540 |
| 17 | 14 | Chase Briscoe | Code 3 Associates Ford | 29.293 | 184.344 |
| 18 | 34 | Michael McDowell | Love's Travel Stop Ford | 29.298 | 184.313 |
| 19 | 2 | Austin Cindric | Autotrader Ford | 29.317 | 184.193 |
| 20 | 31 | Justin Haley | LeafFilter Gutter Protection Chevrolet | 29.327 | 184.131 |
| 21 | 6 | Brad Keselowski | BuildSubmarines.com Ford | 29.346 | 184.011 |
| 22 | 16 | AJ Allmendinger | Nutrien Ag Solutions Chevrolet | 29.357 | 183.943 |
| 23 | 43 | Erik Jones | Allegiant Chevrolet | 29.396 | 183.698 |
| 24 | 4 | Kevin Harvick | Mobil 1 Ford | 29.41 | 183.611 |
| 25 | 42 | Carson Hocevar(i) | Sunseeker Resorts Chevrolet | 29.461 | 183.293 |
| 26 | 51 | JJ Yeley(i) | ConectUS Ford | 29.475 | 183.206 |
| 27 | 77 | Ty Dillon | Gainbridge Chevrolet | 29.539 | 182.809 |
| 28 | 7 | Corey LaJoie | NEGU Chevrolet | 29.627 | 182.266 |
| 29 | 38 | Todd Gilliland | Frontline Enterprises Inc. Ford | 29.699 | 181.824 |
| 30 | 47 | Ricky Stenhouse Jr. | Smith's/Drumstick Chevrolet | 29.717 | 181.714 |
| 31 | 78 | BJ McLeod(i) | BretBaier.com Chevrolet | 29.875 | 180.753 |
| 32 | 41 | Ryan Preece | HaasTooling.com Ford | 29.991 | 180.054 |
| 33 | 21 | Harrison Burton | DEX Imaging Ford | 30.031 | 179.814 |
| 34 | 15 | Brennan Poole(i) | MACC Door Systems Ford | 30.192 | 178.855 |
| 35 | 9 | Chase Elliott (P) | LLumar Chevrolet | 0 | 0 |
| 36 | 99 | Daniel Suarez | Tootsies Orchid Lounge Chevrolet | 0 | 0 |