F1: Verstappen holds off Hamilton to win USGP
(Update)
Lewis Hamilton and Charles Leclerc have been disqualified from the USGP and lost all their points as well – see related article
---
October 22, 2023
–by Mark Cipolloni–
With the top drivers all on different strategies, the 2023 USGP was intriguing from start to finish, but in the end, Max Verstappen won again.
Starting 6th, Red Bull put Verstappen on a Medium-Medium Hard tire strategy that did not turn out to be optimum, but Verstappen drove the wheels off his Red Bull and held on for his 50th career win by 2.225s over Lewis Hamilton's Mercedes.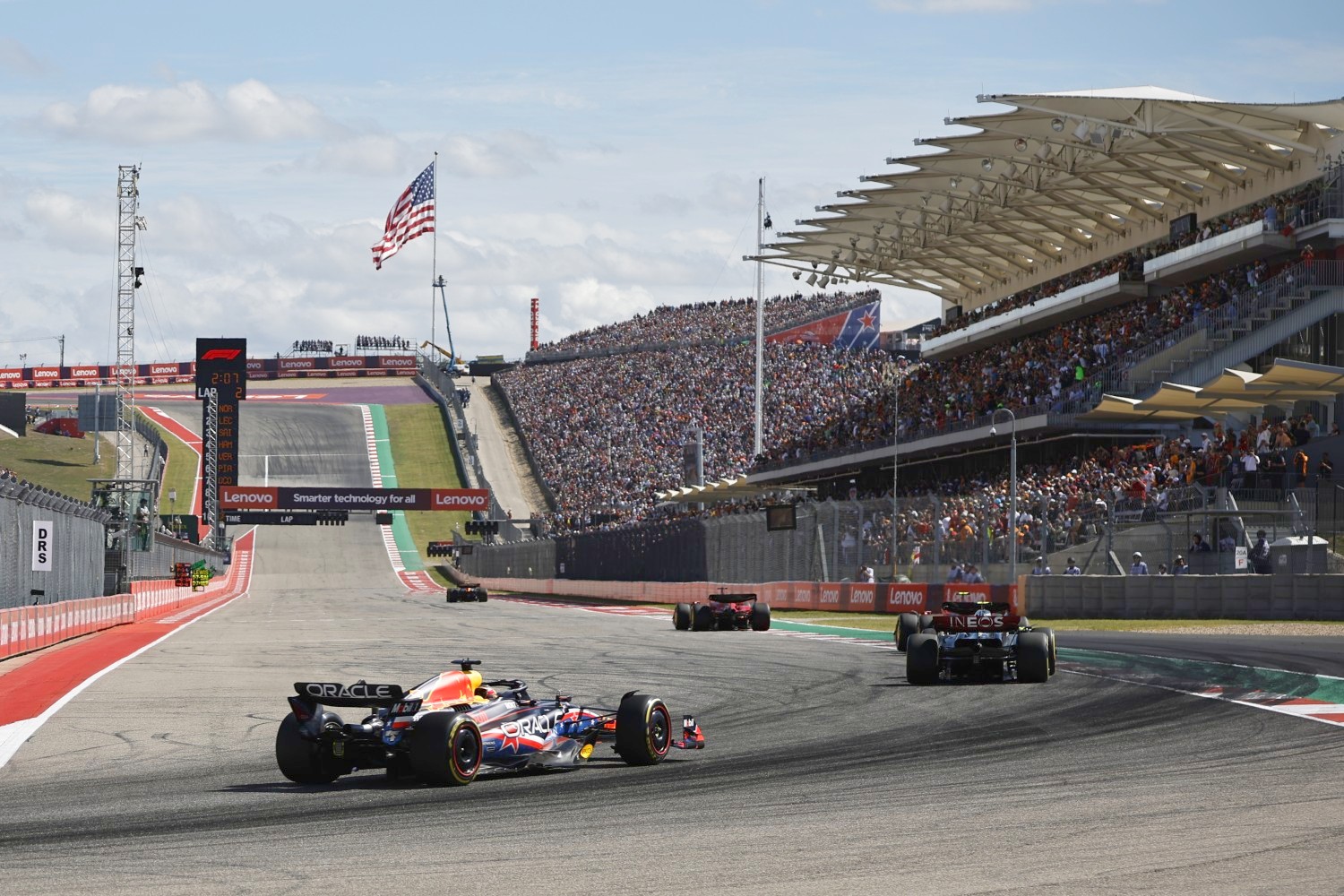 On Lap 29 of 56, Verstappen took the lead with a dive down the inside at Turn 12.
Lewis Hamilton was on medium tires for his final stint, and he was flying, closing on Verstappen and Norris at the front, who were on hard tires, and setting the fastest lap time of the race at the time.
Hamilton was able to out duel Norris for 2nd, passing his fellow Brit with 7 laps to go.
Then the charge was on.  Could Hamilton run down Verstappen with the faster medium tires?
A tenth here, a tenth there, Hamilton was coming as Verstappen struggled with fading brakes.
The two greats of Formula 1, Verstappen and Hamilton, were driving the wheels off their cars.  Who would win it?
Hamilton was taking chunks out of Verstappen's lead. The gap was down to 2.0 seconds as they started their final lap.  Would Verstappen's brakes and hard tires hold on?
Verstappen was struggling, but ultimately it was Verstappen beating Hamilton for the third straight year at the USGP and 15th win of the year.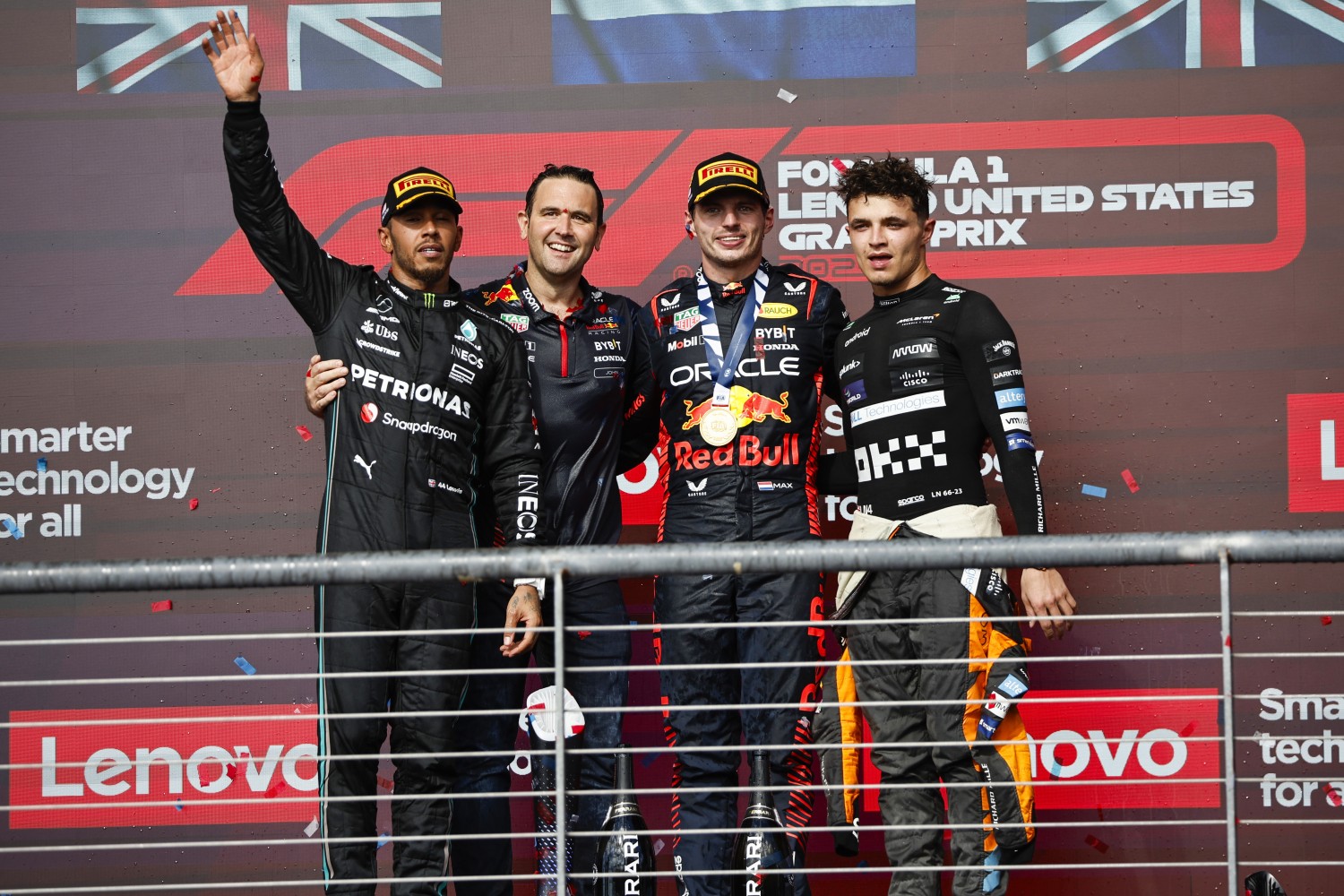 "The whole race I was struggling with the brakes, which definitely made my race a bit tougher," said Verstappen.
"You could see, it was really close at the end. It's incredible to win my 50th Grand Prix here, very proud of course, and we'll keep on trying to push for more."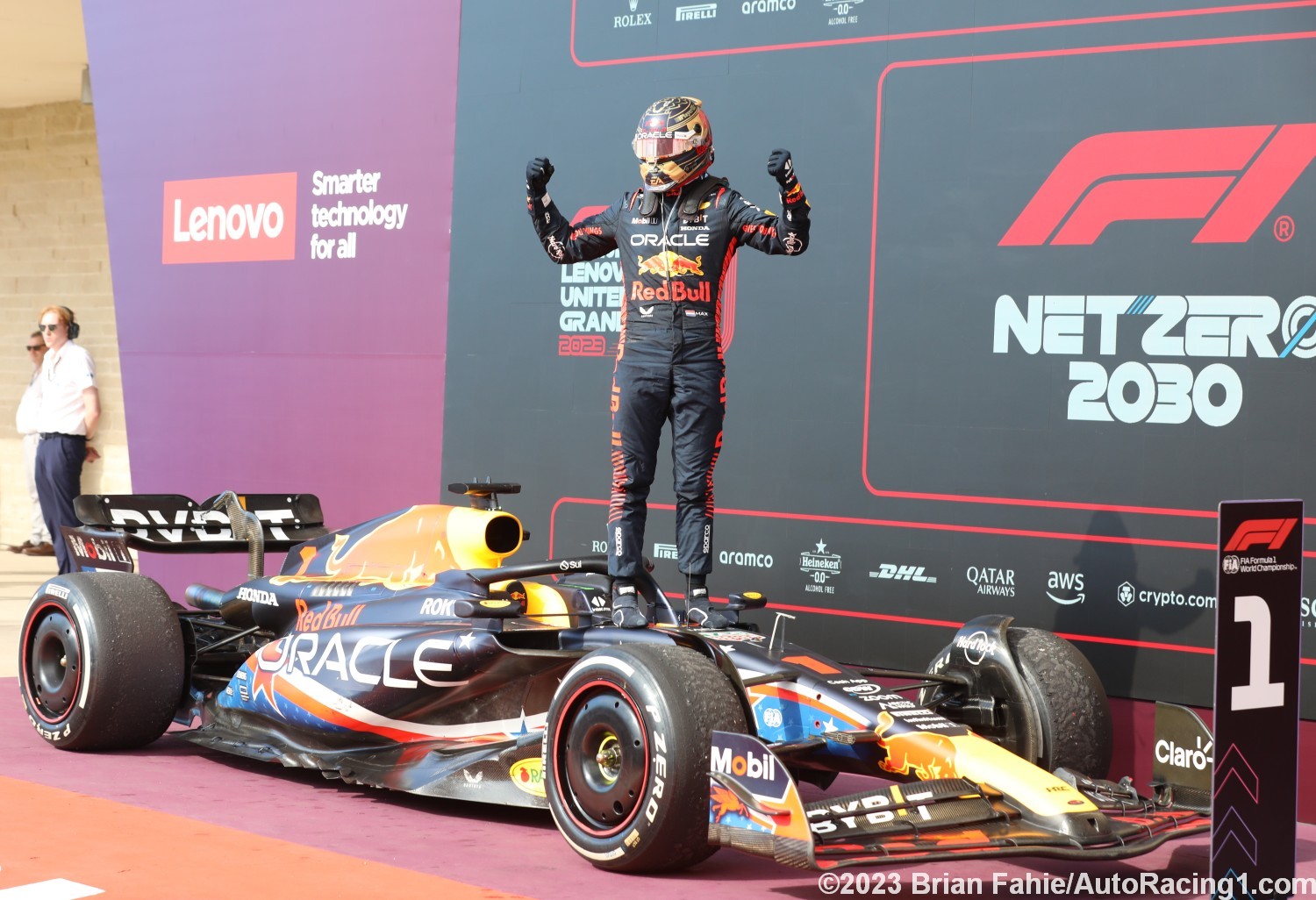 Norris held off the late advances of Carlos Sainz to take his fourth podium in a row, ahead of the other Red Bull of Sergio Perez, who overtook a very frustrated Leclerc late in the event to finish fifth.
"Fantastic weekend guys, really well done. Let's keep pushing, we are getting closer – next time," said Hamilton on his radio.
"I think we have to congratulate [Red Bull], they have done an incredible job and been flawless all year," Hamilton said in Parc Ferme.
"My team did a fantastic job to bring the upgrade here, come in fighting and really happy with this result."
"Leading the race, I could control it a lot but I'm happy," said Norris who also won driver of the day.
"We knew our struggles, it was just degradation. The pace over the first ten laps of every stint was strong, I just couldn't hold on.
"It's progress. I did the best I could, I'm still happy – to finish on the podium here is better than we expected coming into this weekend."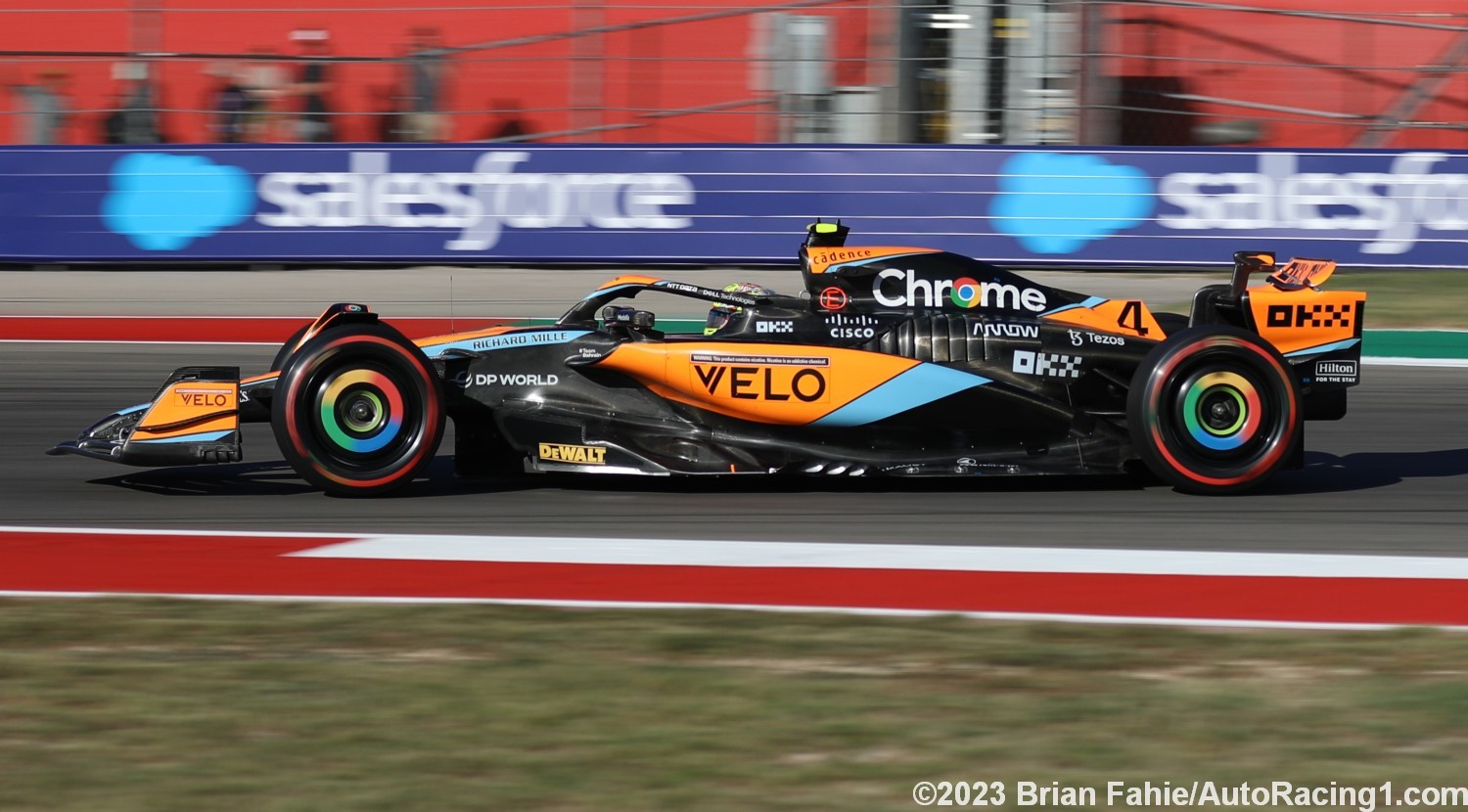 Leclerc ended up sixth for Ferrari, with George Russell in seventh.
The Alpine of Pierre Gasly came home an impressive eighth.
Lance Stroll recovered from a pit lane start to finish ninth for Aston Martin, as Yuki Tsunoda rounded out the top-10 for a single point.
He also claimed a valuable point for AlphaTauri by turning the fastest lap of the race at the end.
How the Race Unfolded
At the start, it was Norris who got away best and starting from the front row and the McLaren driver took the lead from polesitter Charles Leclerc as they went into Turn 1. Behind them, Ferrari's Carlos Sainz got past Hamilton to take P3, while Verstappen beat Mercedes' George Russell off the line to take P5.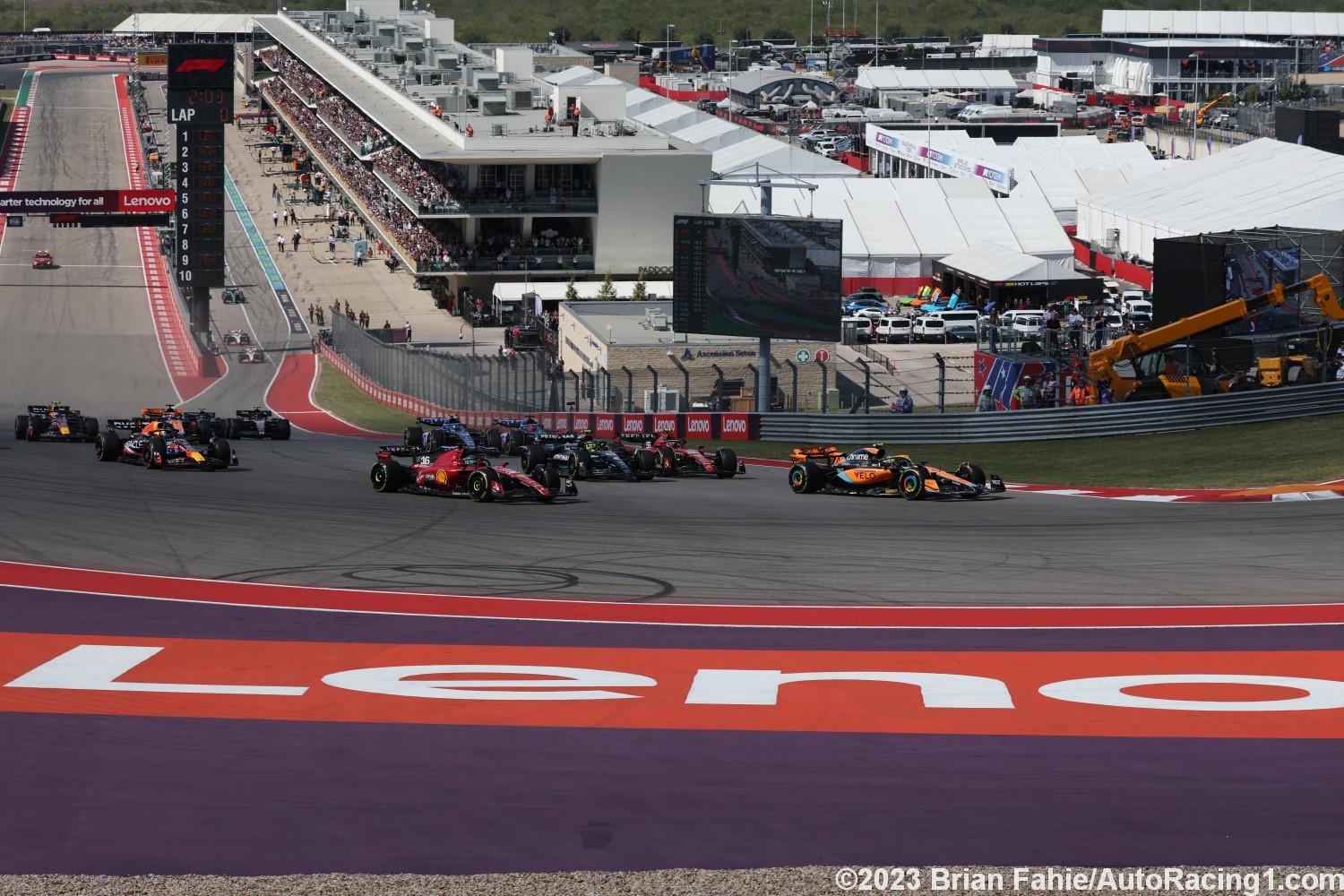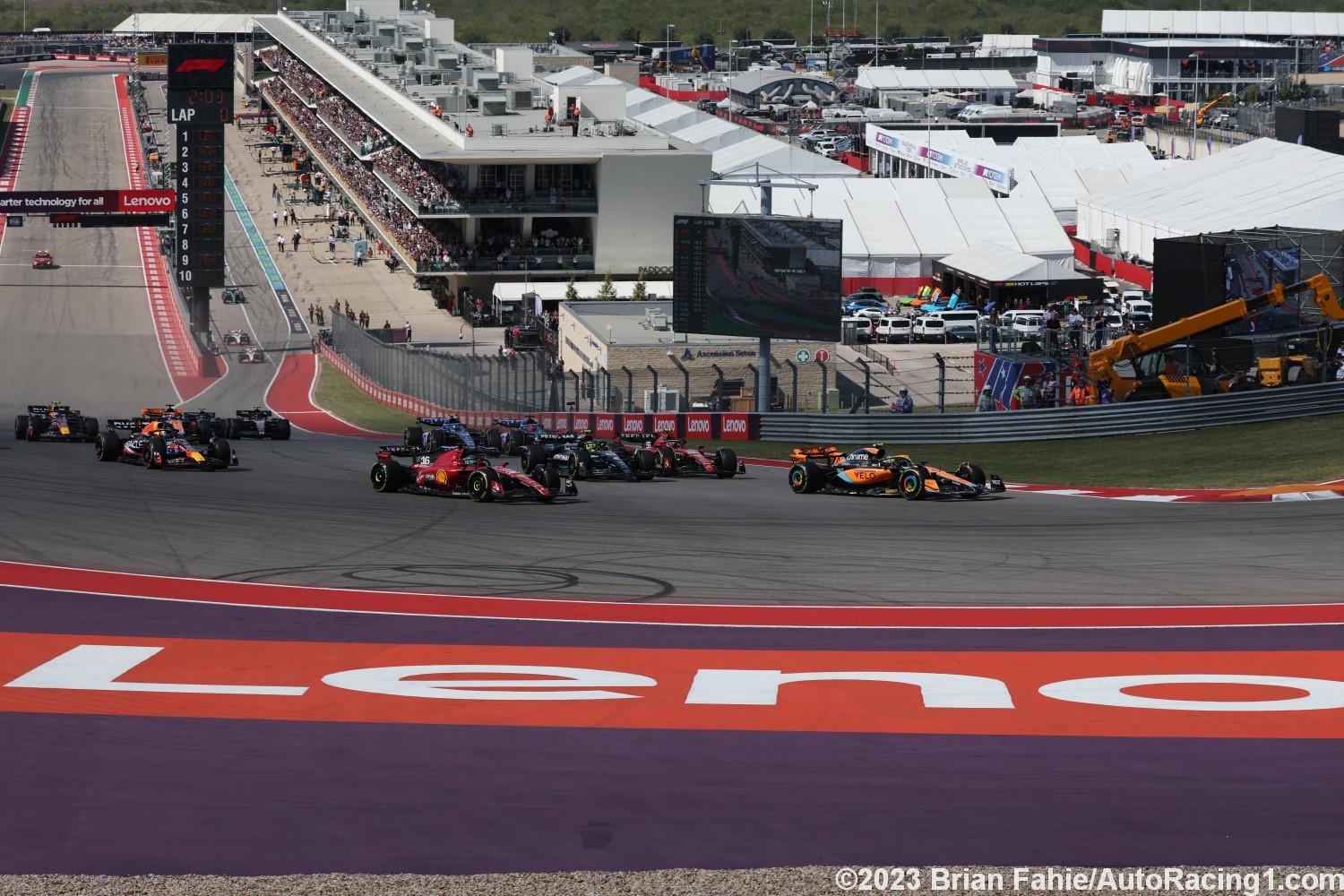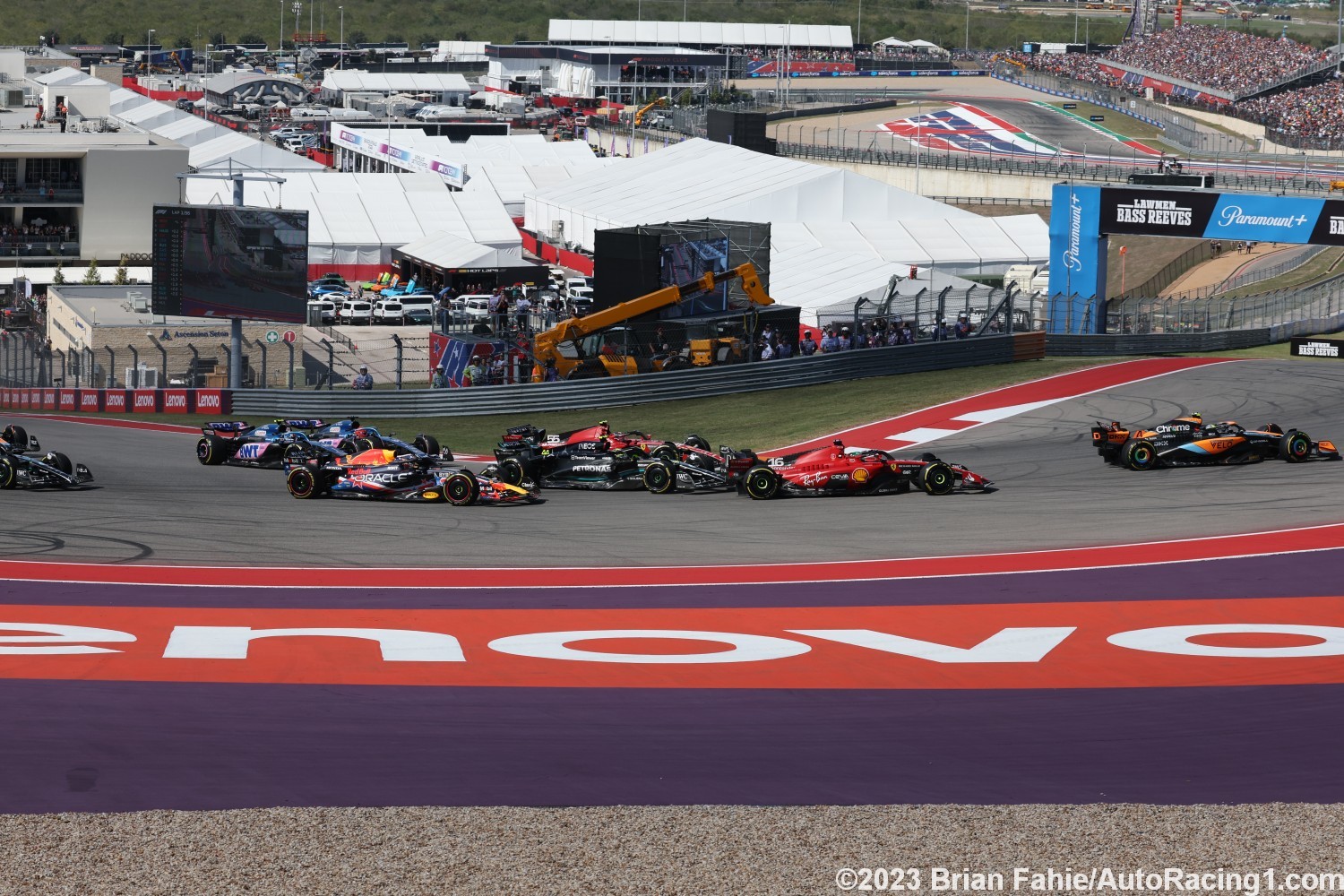 There was trouble for Alpine's Esteban Ocon, however. The French driver was hit by McLaren's Oscar Piastri and the damage caused to his sidepod would eventually for the Alpine driver to retire on lap 7. Piastri, too, dropped out of the race four laps later with cooling issues.
Hamilton was soon past Sainz and back into third and then on lap 5, with DRS on his side, Verstappen also powered past the Ferrari driver on the run to Turn 12 to take fourth place.
On the following lap Hamilton made his way past Leclerc at the same point to take P2 and Verstappen soon followed to make it to the podium places. Hamilton was now three seconds behind Norris, with Verstappen a further two seconds off the race lead.
Verstappen made his first pit stop at the end of lap 16 and after taking on a set of Medium tires he rejoined in P9 behind AlphaTauri's Yuki Tsunoda. Norris then pitted from the lead at the end of lap 17, moving to Hard tires. Hamilton was soon on the radio telling his team he was struggling with his tires and at the end of lap 21 the Mercedes driver pitted. He took on a set of Hard tires but as he emerged Verstappen roared past to steal a position from the Mercedes man.
Leclerc made his first and only stop at the end of lap 23 and after fitting a set of Hard tires, the Monegasque driver dropped from the race lead to sixth place, behind Red Bull's Sergio Pérez. Norris returned to the lead, 2.3s ahead of Verstappen, with Hamilton seven seconds further back in P3. Sainz now held fourth place, three seconds ahead of Pérez.
With half distance approaching, Verstappen began to close in on Norris and on lap 28 he dived down the inside at Turn 12 to take the lead on exit.
Norris then made his second stop from P2 at the end of lap 34 and took a second set of Hard tires for his final stint. That prompted Verstappen to make his final stop of the race as lap later and after taking Hard tires he rejoined in fourth place, 1.4s behind Leclerc but crucially two seconds ahead of Norris.
Hamilton made his final stop at the end of lap 38 and as the Mercedes driver emerged in P5 on Medium tires, Verstappen powered past the one-stopping Leclerc into Turn 1 to take the lead once again.
And with control of the race secured, the Dutch driver began to eke out a slim gap. With 10 laps remaining, the champion sat three-seconds clear of Norris, with Hamilton a further two seconds back.
Norris, however, was beginning to slip back towards Hamilton and at the start of lap 59 the Mercedes driver attacked, muscling past the McLaren on the inside of Turn 1. Leclerc, too, was coming under pressure and on lap 51 the Ferrari driver was told to let his quicker team-mate Sainz past. Pérez was now just a second behind the slower Ferrari and on lap 53 the Mexican eased past to take fifth place.
And with three laps remaining, the order stabilized. Verstappen crossed the line a narrow but ultimately safe 2.2 seconds clear of Hamilton, with Norris a further eight seconds behind in third. Sainz held on to fourth, just three seconds ahead of hard-charging Checo who returned to the top five for the first time since the Italian Grand Prix. Behind the Mexican, Leclerc took sixth place ahead of Russell, with Pierre Gasly finishing eighth ahead of Lance Stroll, while Yuki Tsunoda took the final point on offer in 10th place.
Key Stats
• Today was Verstappen's 50th career win in what was the 200th race of the hybrid era of Formula 1.
• Verstappen joins Lewis Hamilton, Michael Schumacher, Sebastian Vettel and Alain Prost in the 50-win club.
• It was Verstappen's 15th win of the season, which ties his single-season record, set in 2022.
• It was Verstappen's 30th win with car #1, surpassing Vettel's total with the number and only Michael Schumacher has more.
• Verstappen is the first driver to win five consecutive Grands Prix in the USA (Schumacher and Hamilton both won four in a row).
• Verstappen can now become the first driver ever to win three times in the same country in a single season if he is victorious at the upcoming Las Vegas Grand Prix.
• Verstappen today broke his previous record for the most points scored in a season (he scored 454 in 2022).
• Hamilton and Verstappen have now finished one-two, in either order, 36 times, extending the existing record they hold.
• They also finished one-two in both the Sprint and the Grand Prix this weekend.
Revised Results – 56 Laps
| | | | | |
| --- | --- | --- | --- | --- |
| POS | DRIVER | NAT. | TEAM | BEHIND |
| 1 | Max Verstappen | NED | Oracle Red Bull Racing | +0.000s |
| 2 | Lando Norris | GBR | McLaren F1 Team | +10.730s |
| 3 | Carlos Sainz | ESP | Scuderia Ferrari | +15.134s |
| 4 | Sergio Perez | MEX | Oracle Red Bull Racing | +18.460s |
| 5 | George Russell | GBR | Mercedes AMG Petronas F1 Team | +24.999s |
| 6 | Pierre Gasly | FRA | BWT Alpine F1 Team | +47.996s |
| 7 | Lance Stroll | CAN | Aston Martin Aramco Cognizant | +48.696s |
| 8 | Yuki Tsunoda | JPN | Scuderia AlphaTauri | +74.385s |
| 9 | Alex Albon | THA | Williams Racing | +86.714s |
| 10 | Logan Sargeant | USA | Williams Racing | +87.998s |
| 11 | Nico Hulkenberg | GER | MoneyGram Haas F1 Team | +89.904s |
| 12 | Valtteri Bottas | FIN | Alfa Romeo F1 Team Stake | +98.601s |
| 13 | Zhou Guanyu | CHN | Alfa Romeo F1 Team Stake | +1 Lap |
| 14 | Kevin Magnussen | DEN | MoneyGram Haas F1 Team | +1 Lap |
| 15 | Daniel Ricciardo | AUS | Scuderia AlphaTauri | +1 Lap |
| DNF | Fernando Alonso | ESP | Aston Martin Aramco Cognizant | DNF |
| DNF | Oscar Piastri | AUS | McLaren F1 Team | DNF |
| DNF | Esteban Ocon | FRA | BWT Alpine F1 Team | DNF |
| DSQ | Lewis Hamilton | GBR | Mercedes AMG Petronas F1 Team | DSQ |
| DSQ | Charles Leclerc | MON | Scuderia Ferrari | DSQ |
Original Race Results – 56 Laps
| | | | | |
| --- | --- | --- | --- | --- |
| POS | DRIVER | NAT. | TEAM | BEHIND |
| 1 | Max Verstappen | NED | Oracle Red Bull Racing | +0.000s |
| 2 | Lewis Hamilton | GBR | Mercedes AMG Petronas F1 Team | +2.225s |
| 3 | Lando Norris | GBR | McLaren F1 Team | +10.730s |
| 4 | Carlos Sainz | ESP | Scuderia Ferrari | +15.134s |
| 5 | Sergio Perez | MEX | Oracle Red Bull Racing | +18.460s |
| 6 | Charles Leclerc | MON | Scuderia Ferrari | +24.662s |
| 7 | George Russell | GBR | Mercedes AMG Petronas F1 Team | +24.999s |
| 8 | Pierre Gasly | FRA | BWT Alpine F1 Team | +47.996s |
| 9 | Lance Stroll | CAN | Aston Martin Aramco Cognizant Formula One Team | +48.696s |
| 10 | Yuki Tsunoda | JPN | Scuderia AlphaTauri | +74.385s |
| 11 | Alex Albon | THA | Williams Racing | +86.714s |
| 12 | Logan Sargeant | USA | Williams Racing | +87.998s |
| 13 | Nico Hulkenberg | GER | MoneyGram Haas F1 Team | +89.904s |
| 14 | Valtteri Bottas | FIN | Alfa Romeo F1 Team Stake | +98.601s |
| 15 | Zhou Guanyu | CHN | Alfa Romeo F1 Team Stake | +1 Lap |
| 16 | Kevin Magnussen | DEN | MoneyGram Haas F1 Team | +1 Lap |
| 17 | Daniel Ricciardo | AUS | Scuderia AlphaTauri | +1 Lap |
| DNF | Fernando Alonso | ESP | Aston Martin Aramco Cognizant Formula One Team | DNF |
| DNF | Oscar Piastri | AUS | McLaren F1 Team | DNF |
| DNF | Esteban Ocon | FRA | BWT Alpine F1 Team | DNF |