NHRA: Salinas, Hight, Enders, Herrera lead first-day in Vegas
Mike Salinas, Robert Hight, Erica Enders, and Gaige Herrera are the No. 1 qualifiers after the opening day of the NHRA Nevada Nationals at The Strip at Las Vegas Motor Speedway. The event is the second to last of the 2023 season with championship drama clinging to every run.
Top Fuel
Mike Salinas recovered from a troubled opening pass to take the qualifying lead in the second session with a strong 3.699 that has him hallway to his fourth No, 1 of the season and comes on the heels of top-three qualifying efforts at the last three races as he attempts to stay relevant in the championship hunt he now trails the leader by 131 points.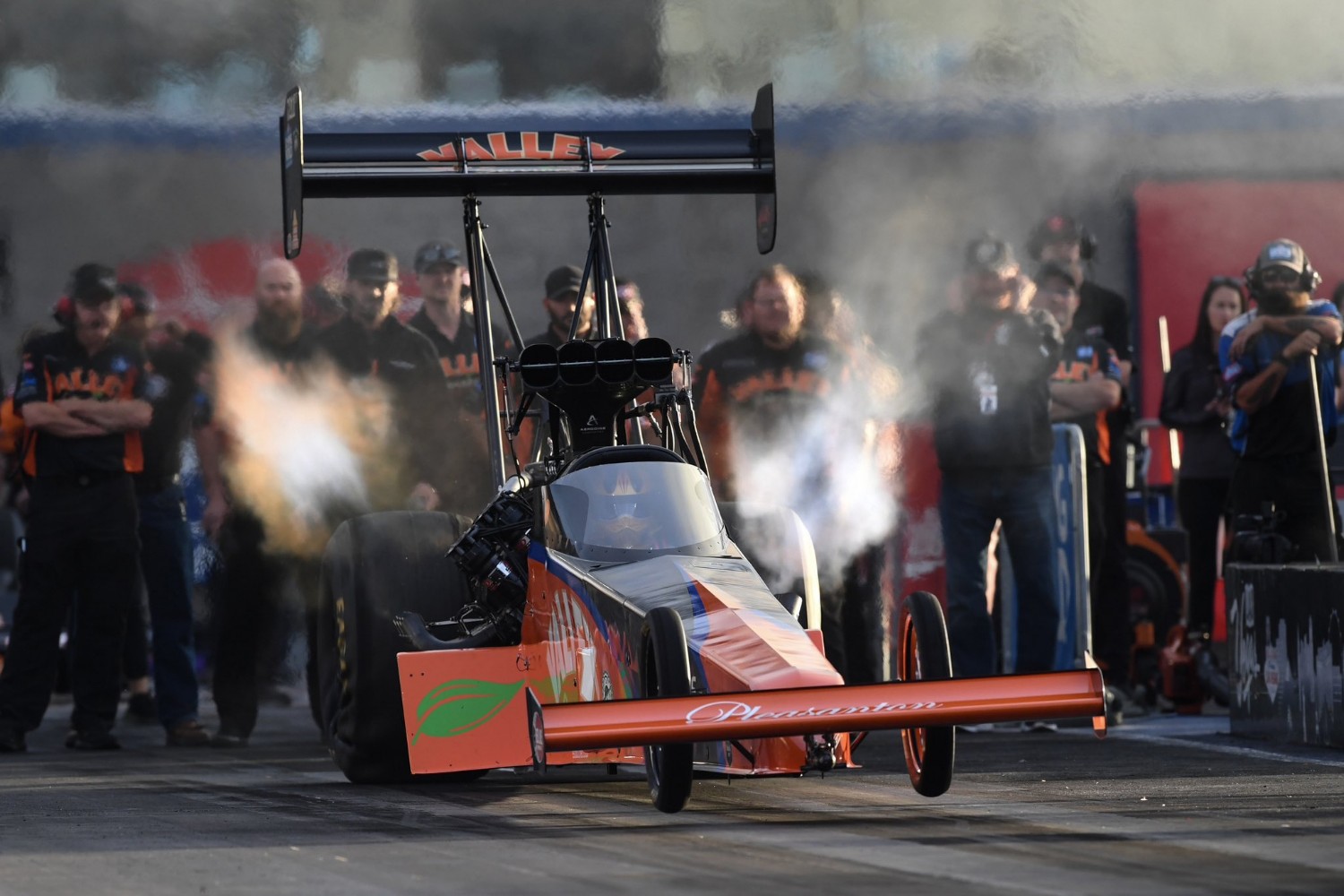 Like Salinas, Austin Prock bounced back from a subpar opening lap to grab the No. 2 spot with 3.701 and points leader Leah Pruett added what may be a valuable point as the third quickest of the session with a 3.707. Second-place Doug Kalitta was the quickest in the first session with a 3.709, those three points clipping her incoming lead to just a single point, but she pushed it back to two points in the day's final session where Kalitta earned no points.
Antron Brown is fourth with a 3.708 as he also clawed past Kalitta's opening 3.709 pass with fourth-place Justin Ashley qualified sixth at 3.714., Third-place Steve Torrence is just a spot behind in seventh with a 3.725 and Shawn Langdon rounds out the quick eight with a 3.725.
Funny Car
After a disappointing first-round loss two weeks ago in Dallas, Hight rebounded by picking up six valuable bonus points as the quickest driver in both of Friday's Funny Car qualifying sessions, running 3.881 in Q1 before being bettered by championship rival Bob Tasca III's 3.853 early in Q3, but Hight fired right back with a 3.851 in his unpainted Jimmy Prock-tuned Cornwell Tools Camaro to regain the top spot he's already held five times this year.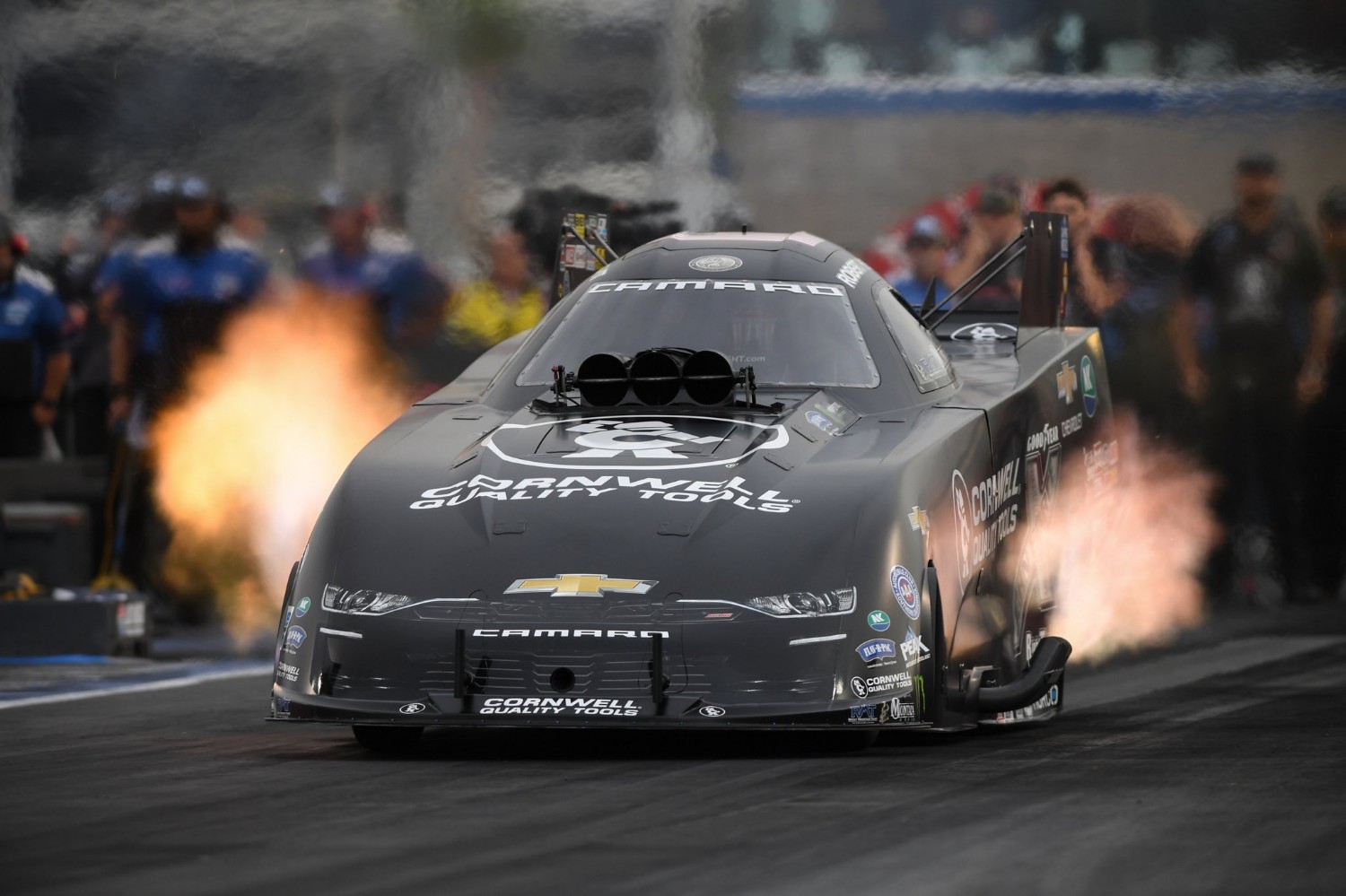 "After Dallas, we knew what we were up against," Hight admitted. "You dig yourself a big hole, and you've got to get out of it, and the only way you're gonna do that is to race aggressively and try to get all the points you can get. It's really a must win here or in Pomona. The way those other cars are running that we're fighting against, you're gonna have to win or semifinals to even have a chance, and as far back as we are, we may have to win both of them, and that still might not be enough.
"That's how close this is. We just got Tasca by two-thousandths and that's what you're going to see on race day too, I'm so proud of the guys, we did exactly what we had to do today, but I predicted that if I don't step up tomorrow, we won't be [No. 1] tomorrow night? It's gonna take more."
Tasca, also running a lighter-without-paint black Mustang body, sits second with his 3.853 while points Matt Hagan is third with a 3.871. Hagan picked up two session points on the day with the third-best run of both sessions.
Dallas runner-up John Force, rocking a gold-plated special-edition Peak body, sits fourth with a 3.887. Alexis DeJoria slipped into the No. 5 spot with a wall-riding 3.902 in her Bandero Tequila Toyota with Ron Capps (3.907) and  J.R. Todd (3.909) just milliseconds behind. Paul Lee's 3.915 rounds out the quick eight with Cruz Pedregon (3.951), Tim Wilkerson (3.953), and Chad Green (3.953) also clocking three-second passes.
Pro Stock
Incoming points leader and defending series champion Enders and her Johnson's Horsepowered Garage Chevrolet Camaro came into the event still warmly glowing from the win in Dallas two weeks ago, and momentum is continuing for the driver who was winless and No. 14 in the standings in the early summer. She was at the top of the pack in the first session on Friday with a 6.595, 207.66 that kept her just ahead of Kyle Koretsky, who is No. 2 in his Lucas Oil-backed Chevrolet on a 6.603, 206.07.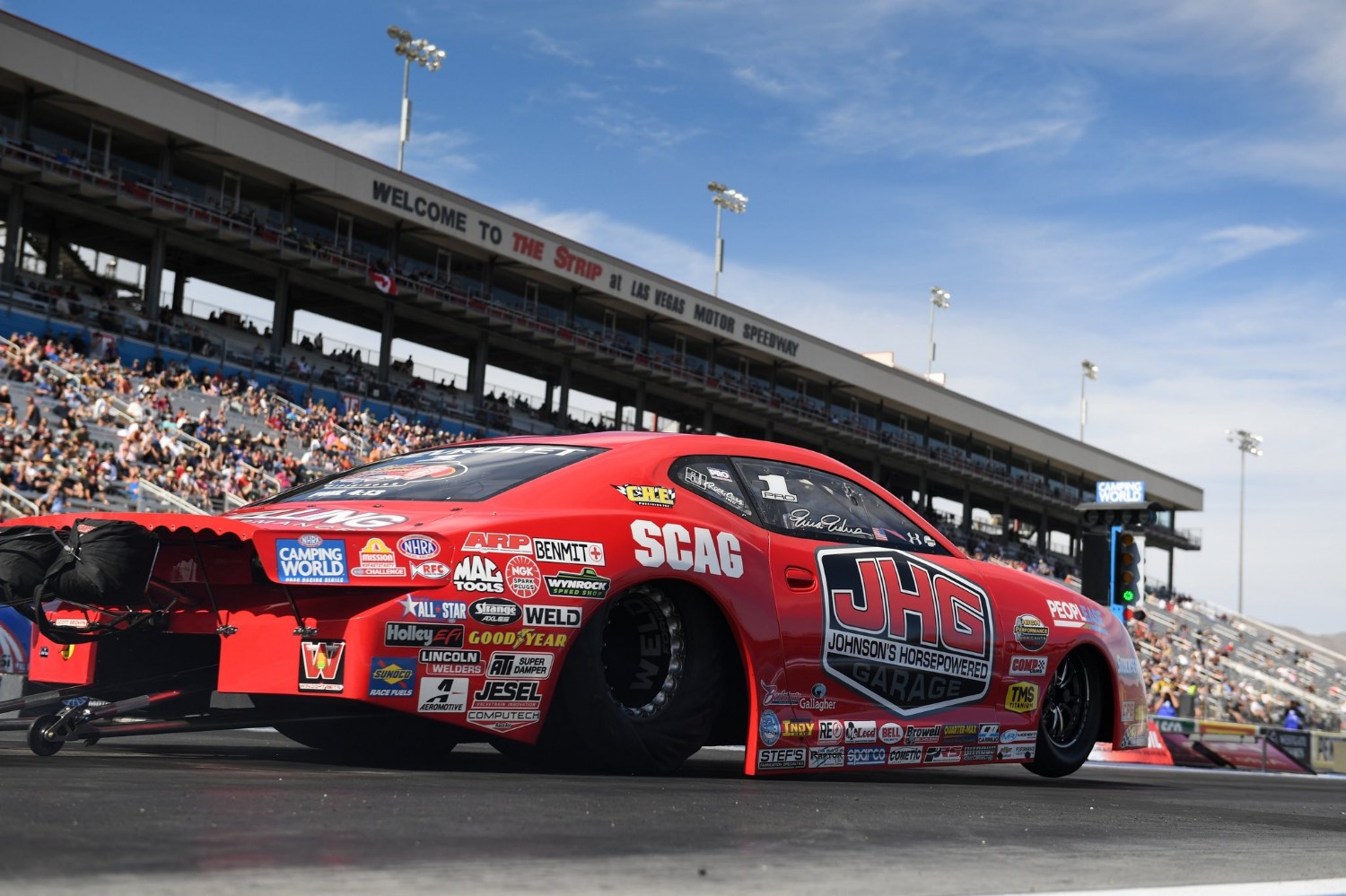 "[Even with] how well we've done here in the past and the success that we've had here in Las Vegas, we sucked so bad earlier this year that we couldn't even win here in the spring," said Enders. "It's been an uphill battle, but with the way the Countdown is structured, we finally got ourselves out of the ditch that we were in – and just in the nick of time. We never doubted it, we just had to identify our problem and work through it. That's something my guys are great at; when their backs are against the wall, they perform flawlessly and they never give up. They're very tenacious, so I'm proud of them. Having the provisional No. 1 here is very meaningful.
"We tested in Oklahoma and I've said this before, you win races before you leave the shop. You're as prepared as possible, and we want to come out here and get every single point we can. Having said that, I know all the other competitors feel the same way, but good start, I'll take it."
Enders had an 85-point lead over Greg Anderson, who was No. 2 in the standings entering the event. Dallas Glenn, who won the regular season, is 93 marks out of first and is No. 3 in the standings. Matt Hartford, who had hold of the points lead early in the Countdown to the Championship playoffs, is 108 points back in fourth. Anderson is currently qualified in the No. 6 position, while Hartford is No. 3 and Glenn is No. 4. Bo Butner and his JHG Chevrolet made a strong run for the No. 5 spot, while Fernando Cuadra Jr. and Troy Coughlin Jr. are seventh and eighth, respectively.
There are 22 Pro Stockers on the property vying for one of the 16 positions, so the two sessions on Saturday will matter most to those on the outside looking to break in: Chris McGhaha, Eric Latino, Kenny Delco, Steve Graham, Joey Grose, and Alan Prusiensky.
Bikes
Herrera is on pace for another low qualifier award – what would be his 13th of the season – after still more stellar set of runs aboard the Vance & Hines Mission Foods Suzuki. The points leader claimed six more points as the quickest in each of the first two sessions and reset the track record for elapsed time with a blistering 6.760 at 199.82 mph in the later round. The previous Pro Stock Motorcycle record at The Strip at Las Vegas Motor Speedway was 6.785, which was set by Matt Smith at this event in 2022.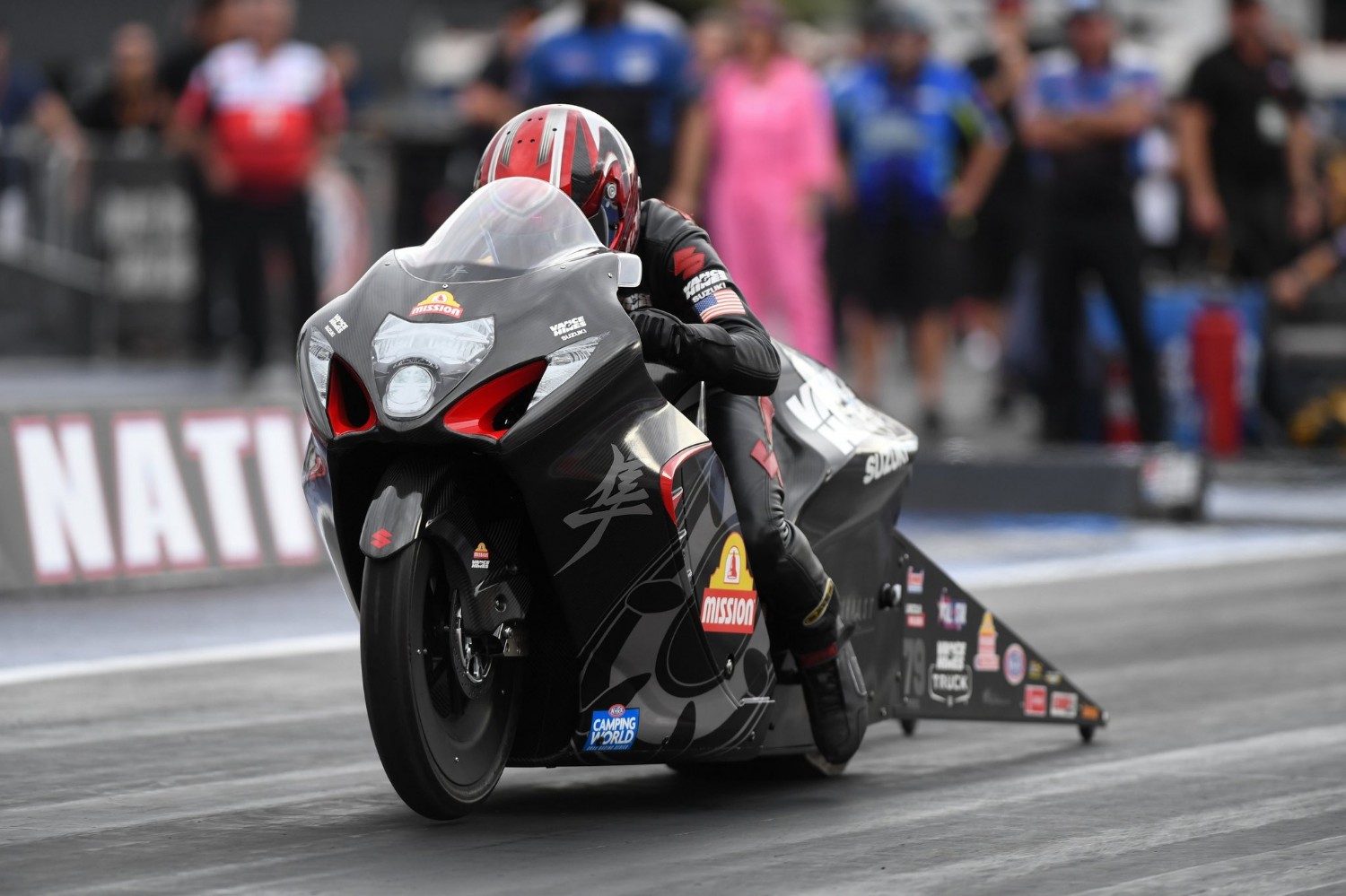 "For the whole Vance & Hines Mission Suzuki team, we were very happy with that," said Herrera. "With the cooler conditions in Q2, we were expecting a 6.77, but that pass was so smooth and straight as an arrow that it felt slow. I knew it was on a good pass, but I didn't expect it to go 6.76 and get the new track record on e.t. That's a big deal to me and the whole team."
It is possible that Herrera could clinch the championship in Las Vegas – but it won't happen in qualifying. He is leading Vance & Hines Mission teammate Eddie Krawiec by 156 points and needs to stretch the lead to 192 marks in order to seal the deal.
"I'm going into this race knowing in the back of my head that I can possibly lock it up this weekend, but it depends on how Ed does, and the rest of the guys as well. Everything I've accomplished this year has really been starting to set in, going to the last two races here and Pomona, just sitting back and thinking about everything, it's hard to believe what's been accomplished and what we continue to accomplish."
Although the air was said to be worse in the afternoon session, there was very little wind, and a good chunk of the Pro Stock Motorcycle crowd improved. Although the field was quicker, though, only a few positions on the ladder shifted. Eddie Krawiec remained No. 2 after the second round of qualifying, but Matt Smith was bumped from third to fifth as both Hector Arana Jr. and Jerry Savoie moved around him.
Savoie, the 2016 Pro Stock Motorcycle world champion, is riding the Trick Tools Suzuki in Las Vegas as teammate and Rookie of the Year contender Chase Van Sant is out for the remainder of the season following injuries sustained in an incident in Dallas. Savoie had only raced two previous events so far this season (the Charlotte spring and fall races) but showed that he was anything but rusty as he laid down a 6.950, 192.17 in the first session and followed up with a 6.888, 194.69 in the later qualifying round. He is No. 4 for now with two sessions remaining.