Formula 1 News: Las Vegas GP Post-Qualifying Quotes
Quotes from all ten Formula 1 teams plus Pirelli tires after qualifying for the 2023 Las Vegas Grand Prix. The pole was won by Charles Leclerc.
Oracle Red Bull Racing
Max Verstappen (3rd, 1:33.106): "Starting second tomorrow will be interesting, the lead up to turn one isn't too bad, but we definitely need a good start. I think we maximized what we could today. I'm not a massive fan of street circuits, I prefer the high speed tracks where you can really push the car to the limit. So far, this weekend we've been lacking pace with the one lap performance, but the long runs looked good yesterday. The race will be all about keeping the tires alive, there will be a lot of graining. I'll ease myself in to it tomorrow and if I see an opportunity, I will go for it."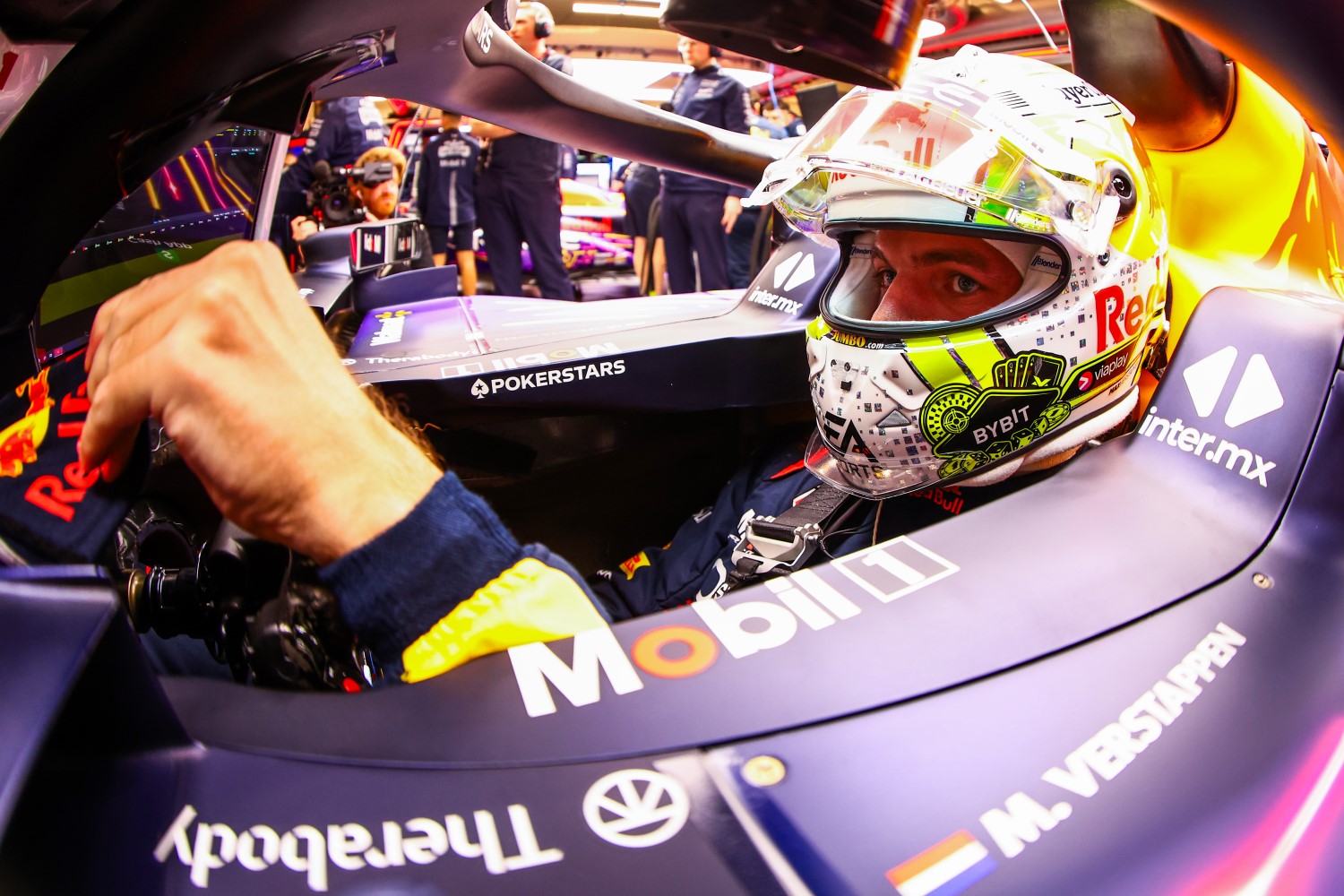 Sergio Perez (12th, 1:33.855): "Let's focus on tomorrow now, because I think we should be able to come through the field, we have a fast race car. It was an unfortunate qualifying. The gaps were super close, and we just didn't maximize the full potential of our car today, we had some more pace in it and could have been a little bit faster – it's something we need to understand. I also think our run program wasn't quite the right one, we finished a little too early, with four minutes left of Q2 and people just kept improving, there was a little more track evolution there. We will analyze it but on the other hand there is nothing we can do now, so let's focus on tomorrow because I think we should be able to come through the field, we have a fast race car. I think the DRS on the Strip should help the racing and we will see what we are able to do, we just need to be patient and I believe in our pace. I think tomorrow is going to be a very interesting race."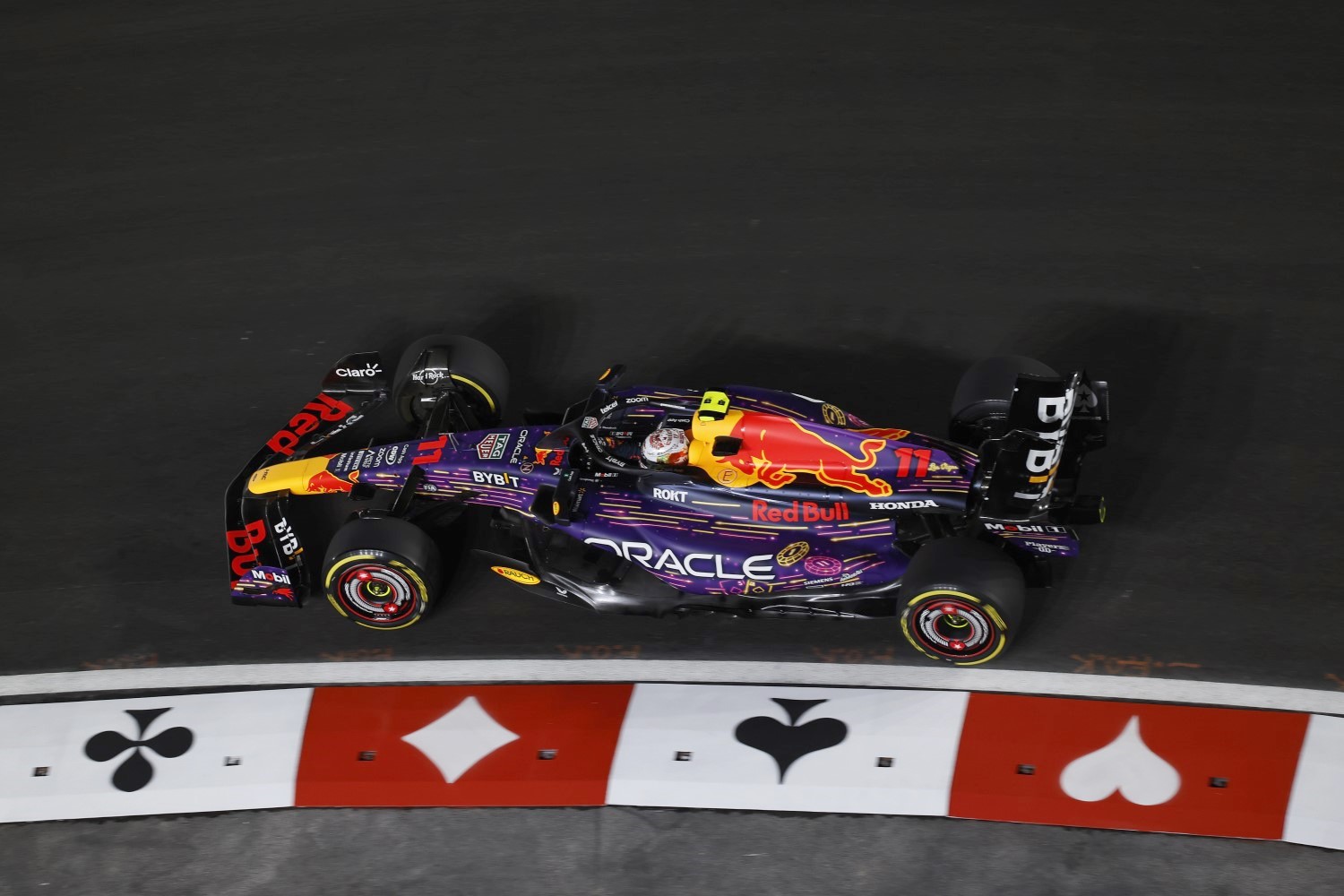 Christian Horner, Sporting Director: "This is a track that, so far, doesn't look like it is too testing for the drivers, it is one you can over take on so it should be an exciting race tomorrow. First qualifying here in Vegas and it was one, as expected, that continually evolved. It was slippery out there and that affected performance. Unfortunately, for Checo he was unable to make it out of Q2. He drove well, but went early and was within a tenth but it wasn't enough. He will be starting a little further down the grid than we would like but we expect him to climb well tomorrow. Max struggled with grip. It was not the usual qualifying for him that we are used to seeing. The grid penalty to Carlos puts him on the front row though and this is a track that so far doesn't look like it is too testing for the drivers, it is one you can over take on so it should be an exciting race tomorrow."
Scuderia Ferrari
Charles Leclerc (1st, 1:32.726): "I'm excited to be starting on pole tomorrow, I really like the track and I've felt comfortable in the car all weekend. It's a bit more tricky than expected to overtake and I hope we see some good battles tomorrow. Our race pace looks quite good so hopefully we can convert the pole into a win."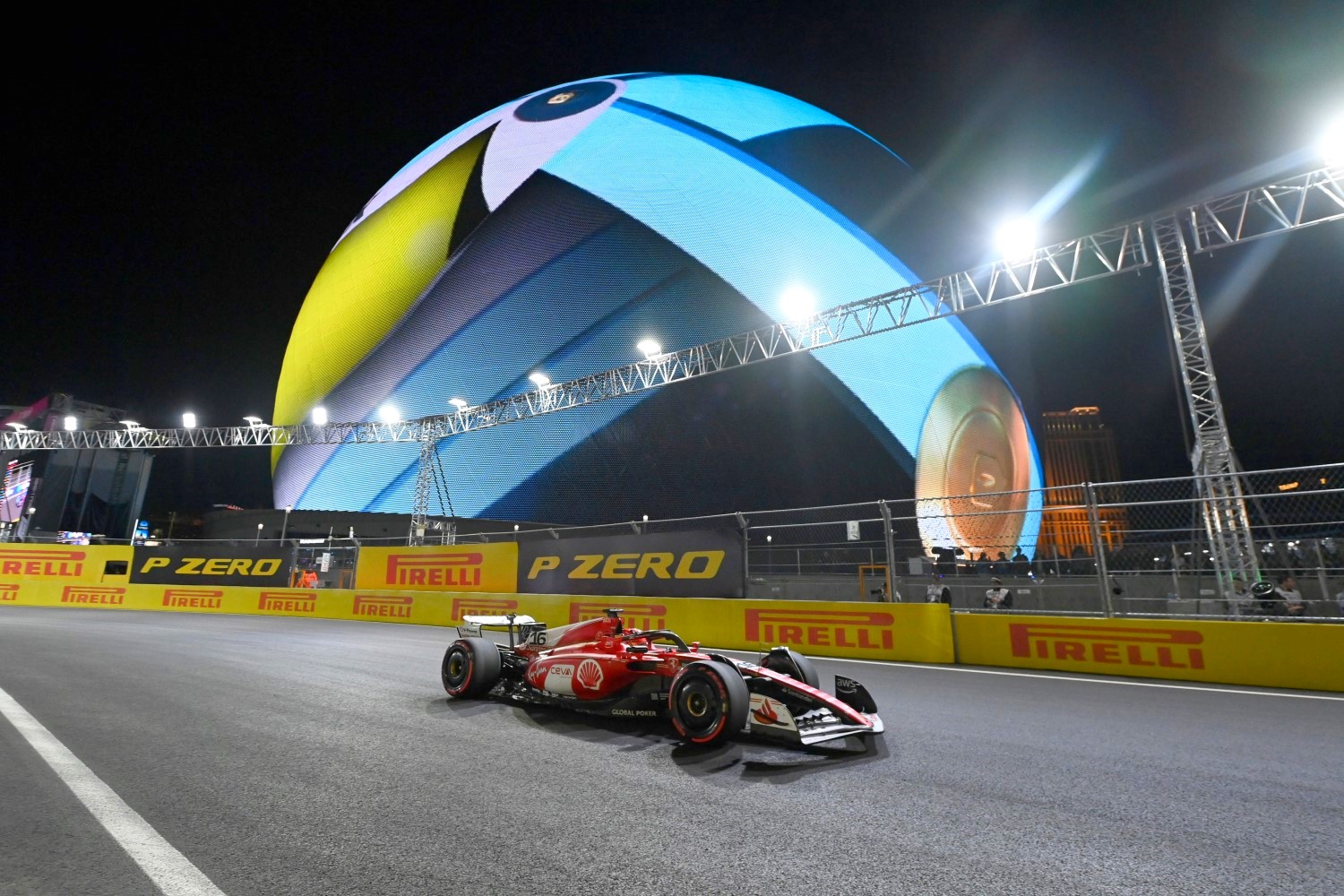 Carlos Sainz (2nd, 1:32.770): "It's been a great qualifying for the team. Unfortunately, it won't be a front row lockout tomorrow as I will take a penalty. The frustration and anger I feel right now won't go away easily, even more so looking at how competitive we are on this new track. However, you can be sure I will do absolutely everything to recover from P12 and I know we can produce a solid race. It's unknown territory, but hopefully, it will be an enjoyable Sunday with many overtakes."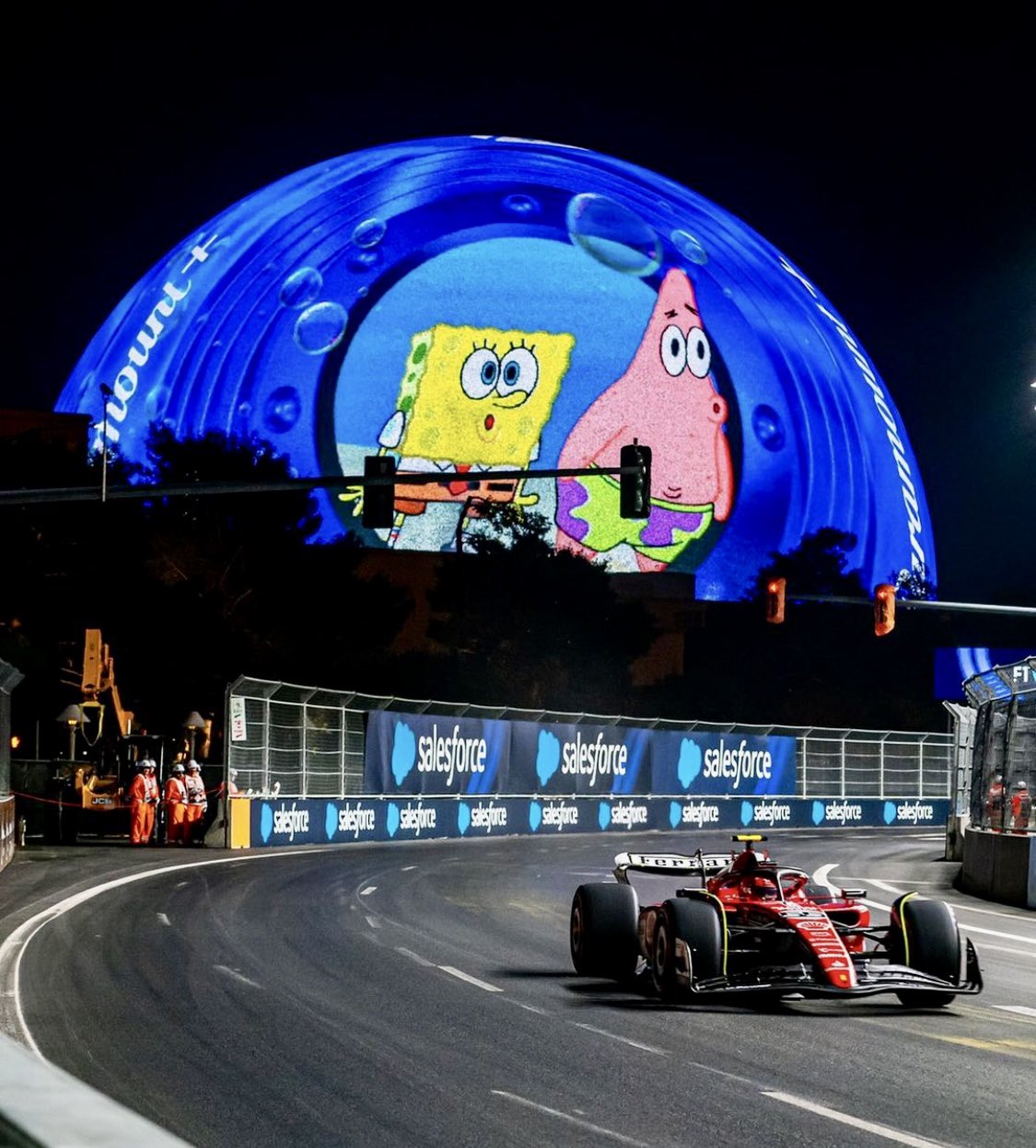 Frédéric Vasseur, Team Principal: "This is a very good result for the team, to deliver a one-two in qualifying for the first time at this new Las Vegas track thanks to Charles, who showed once more his skills over a flying lap, and with Carlos also putting in a great performance very close behind. It's significant that we have finished on top of the timesheet in every session which is good preparation for the race. Unfortunately, we have to deal with the penalty for Carlos, who deserved to start from the front row. We know the penalty is unfair but he has had strong and consistent pace all weekend, as has Charles. So we have to look ahead and no longer think about it because the points are given out in the race and now we have to focus on ourselves. We will now work on preparing our strategy, especially because on this type of circuit there could always be various scenarios involving Safety Cars and so on. I'm sure we can do a good job in the race and it's also nice to see that there are four Ferrari power units in the top ten in qualifying. With the race starting at 10 at night, the track will again be rather cold, so in terms of tire strategy the main concern will be addressing graining, rather than overheating."
Mercedes-AMG Petronas F1 Team
George Russell (4th, 1:33.112): "I'm very satisfied with Qualifying today. We were always up there in the top-four, but the Ferraris were a step ahead of everyone today. I think P4 maximized what we had, and we were close with Verstappen for P3. With the grid penalty for Sainz, I think third is a good place to be starting from. The race itself is going to be very tricky. I am sure there will be a lot of graining for all teams in these cold conditions, but nobody knows exactly how it is going to play out. We may see multiple stops in tomorrow's race but whoever manages to keep the tires alive will be big beneficiaries. We had some difficult long runs and I think the Ferraris are quicker than us, not just on the single lap but in race pace. We will do our best to give Leclerc a fight though and hopefully the race will throw up a few surprises."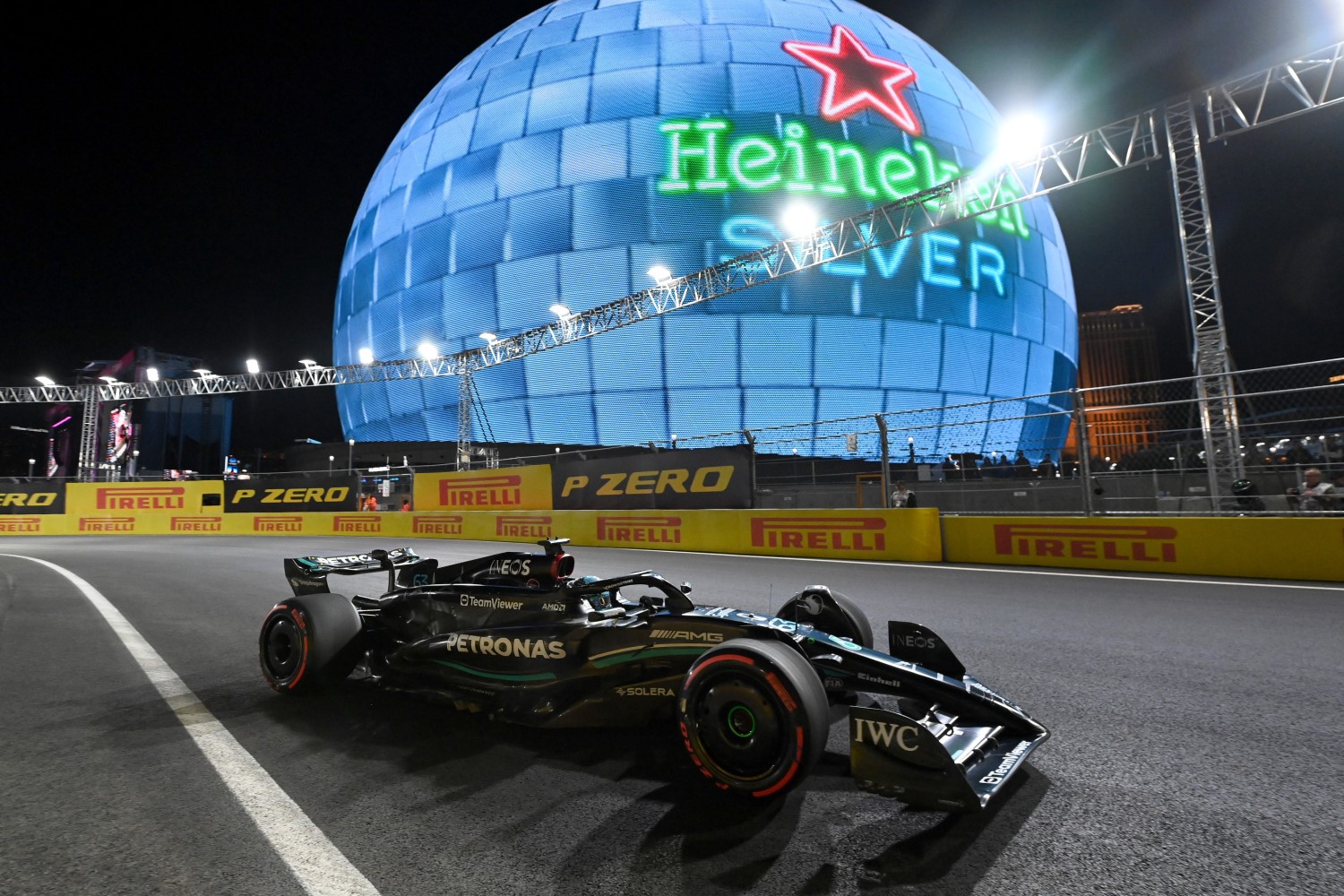 Lewis Hamilton (11th, 1:33.837): "That wasn't a great Qualifying session, but it is what it is. I really struggled for grip out there and we didn't manage to get the tires working throughout the whole session. It's not ideal but it's an issue I've been dealing with for a while. We saw a decent amount of track evolution. Not a crazy amount, but it was still enough to knock me out as I failed to improve on my final lap in Q2. We've seen a lot of graining on the tires up and down the field in practice, so it will be interesting to see if that continues in the Grand Prix. I think tire management, how you bring the tires in and how you progress in addition to where you push and don't push will be key tomorrow. We made a few changes to the car ahead of FP3 and we're hoping that they will help us in the race."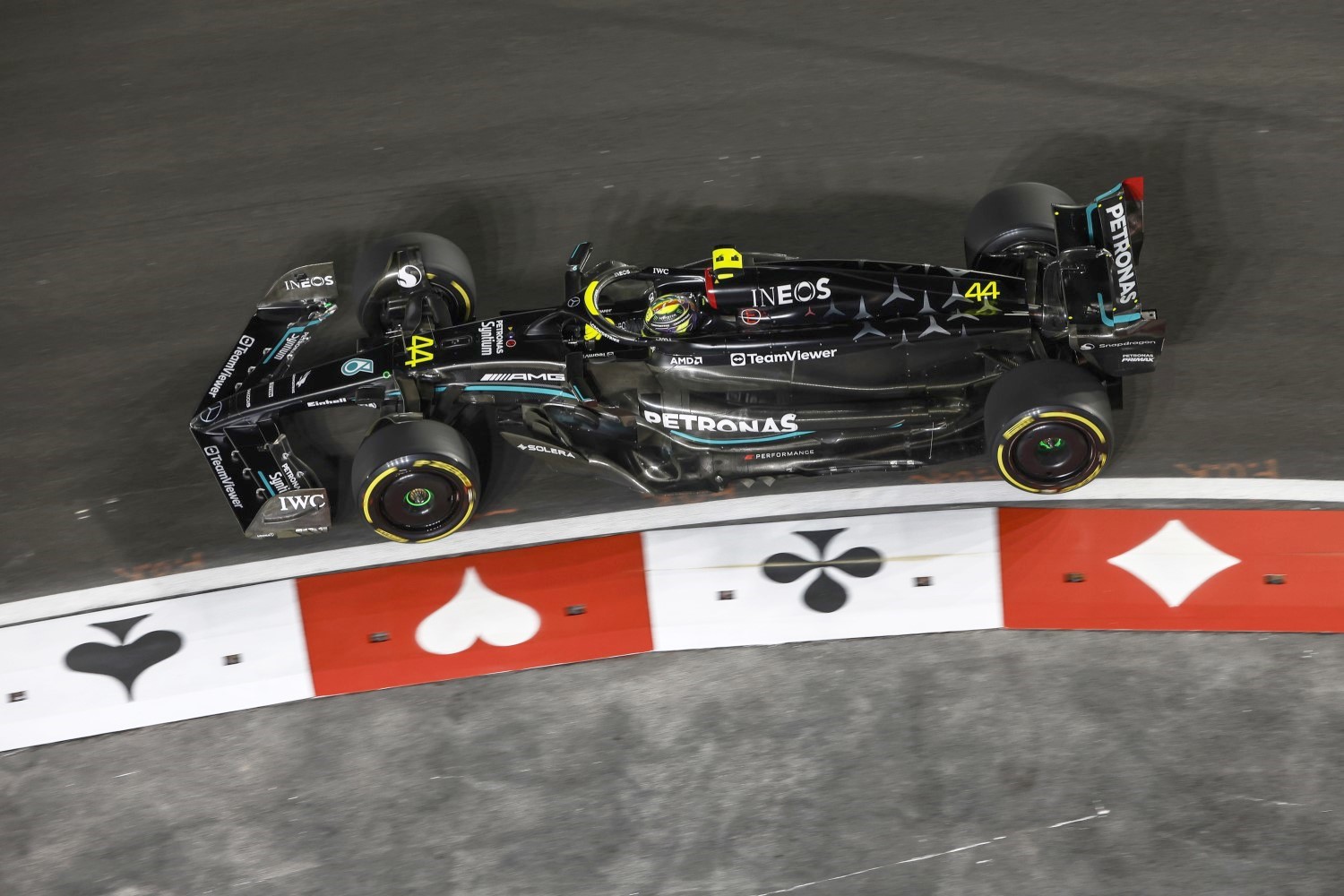 Toto Wolff, Team Principal: "Getting the tires in the right window remains a little bit of a mystery. You can see the difference between getting it correct and not so correct with our two cars today. We saw it earlier on in FP3 and it's very difficult to optimize for. Lewis didn't have any more grip on his final lap. I think we are really talking about only a few degrees centigrade between having grip and not having grip. You can also see this with there being a few surprise eliminations in Q1. On the other side, the Ferraris both put in stunning laps and were deservedly quickest. It will be absolutely vital to manage the tires well in the race tomorrow, as we have seen plenty of graining throughout the field in practice. We will have to be patient in the early stages and take it from there. We expect Leclerc and Verstappen, who are starting ahead of George, to be very quick but we will see what we can do."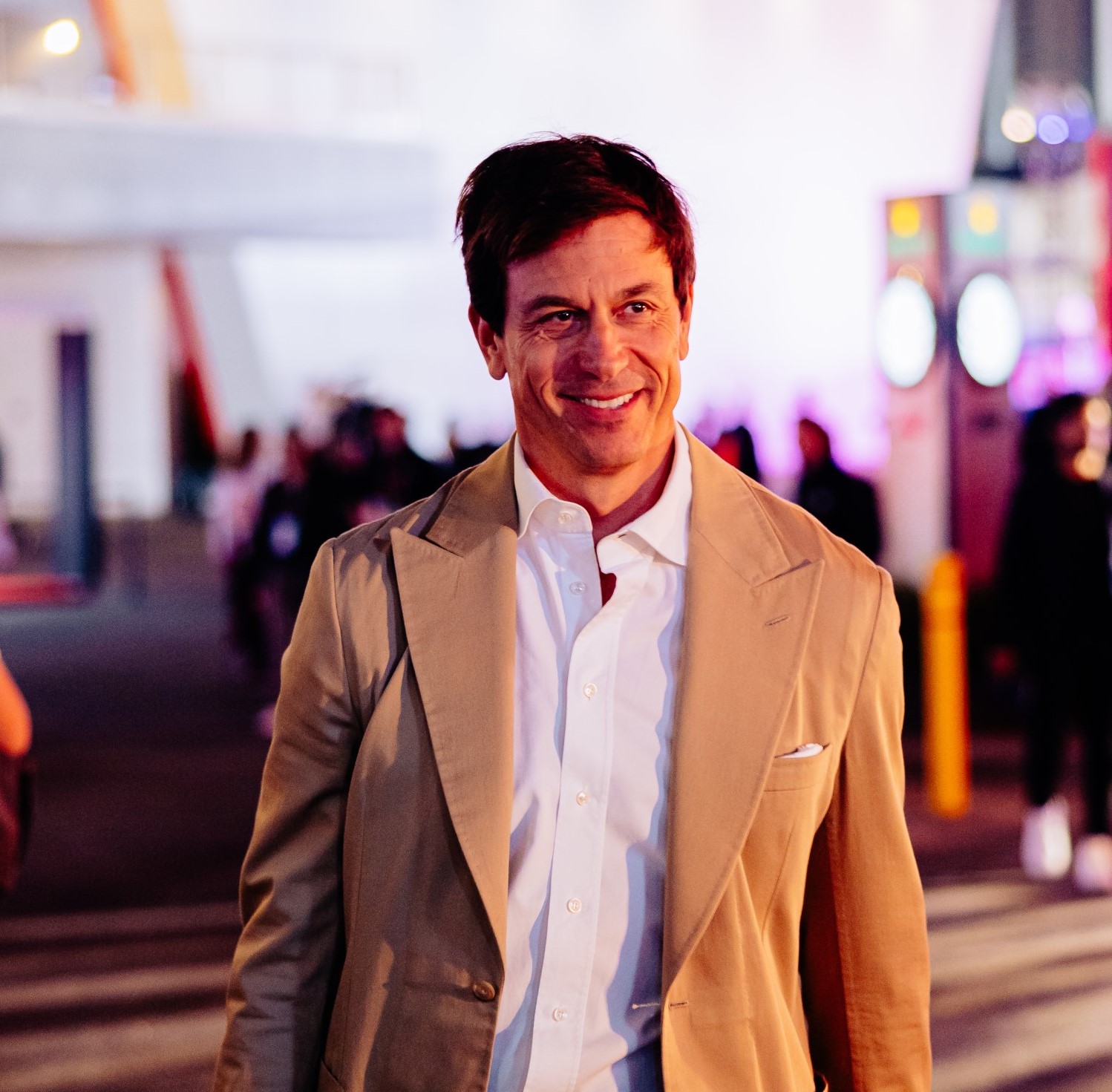 Andrew Shovlin: "Both drivers made a few changes to the car overnight and used the final practice to evaluate those. Whilst George was happier with his balance today, Lewis felt like he'd lost a bit of confidence in the car. We'd wound back on a few of those changes going into Qualifying, but the car wasn't working for Lewis and ultimately, he got bumped in Q2 by a small margin. George was having a happier time and put together three solid runs. We didn't have an answer for Ferrari's single lap pace today and they were very strong. We still get to start third on the grid though which puts us in a good position to fight for a podium. There are a lot of unknowns going into the race, mainly around how the Hard tire will warm up and how it will last on a long run. It's clear the Soft and the Medium will suffer graining at some point if used, so we will need to deploy careful management. The Hard should allow for a bit more pushing however, and that should open the race up a bit."
BWT Alpine F1 Team
Pierre Gasly (5th, 1:33.239): "I'm very pleased with the team effort today especially as our expectation was much lower than what we have achieved. We proved the predictions wrong and hopefully we can do the same tomorrow where we start fourth because of Carlos's [Sainz] penalty. The car felt really good, I felt comfortable and that is so important, especially at a street track where you need to feel in sync with everything. I was able to push to the limit and the laps today were probably my best of the season. We will see what we can do tomorrow. We have to stay focused as it's a new track, conditions will be cool and tricky and we just have to be ready. The target is to score some big points."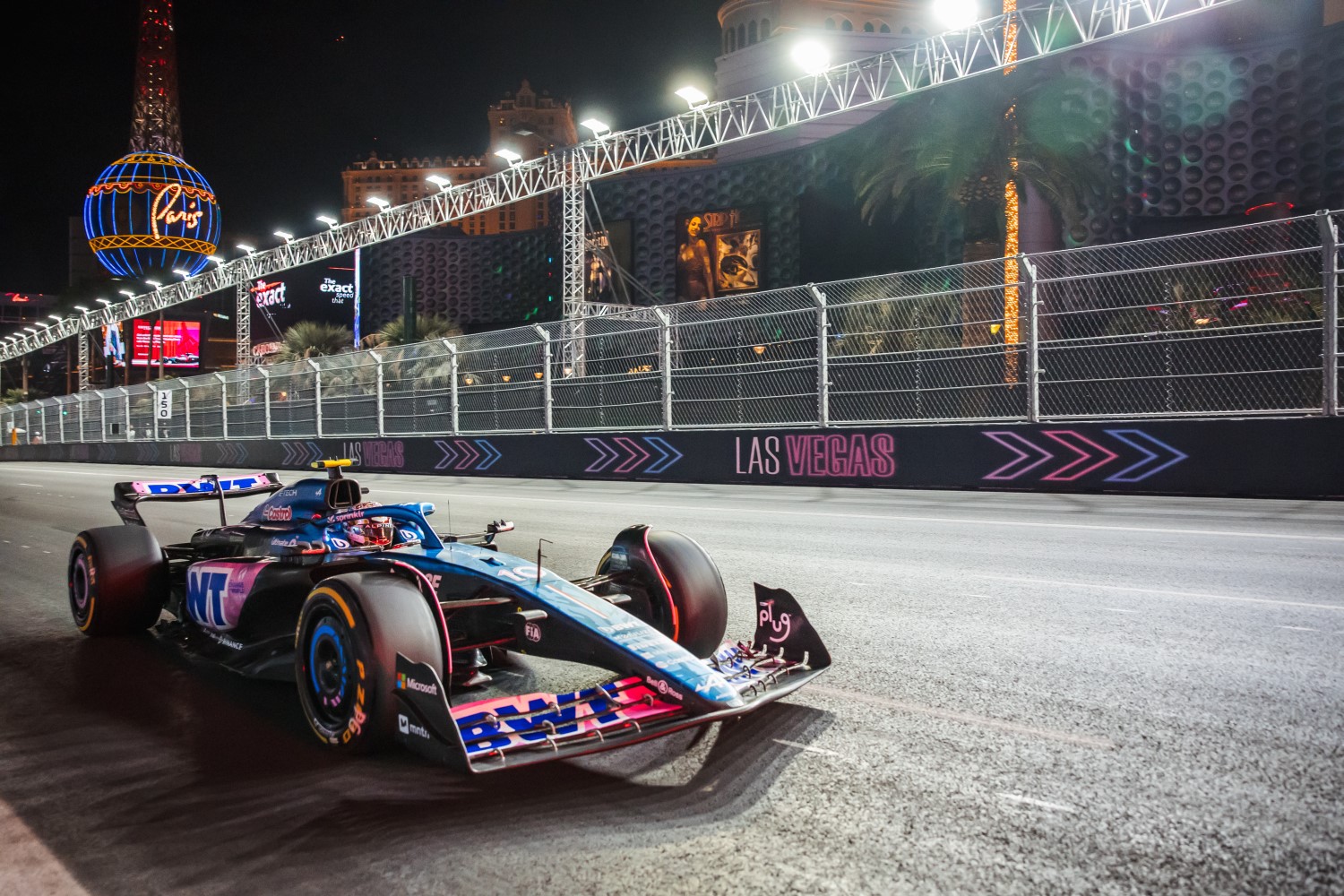 Esteban Ocon (17th, 1:34.834): "Today's result is hard to swallow and, again, things have not gone our way. It is never easy exiting in Q1, especially with the pace we were able to demonstrate. Looking at the data, we could've comfortably progressed through to Q2, so it is even more frustrating not to be able to capitalize on the performance of our car. I hit traffic on my first lap and on my second lap I lost around seven tenths following an incident at Turn 1 with Max [Verstappen], losing time and momentum. After that, I kept pushing the rest of the lap and almost improved but, unfortunately, we were out. There are positives to take from today and our car is fast here so there is plenty to fight for tomorrow and, as always, we will give it all we have to achieve a good result."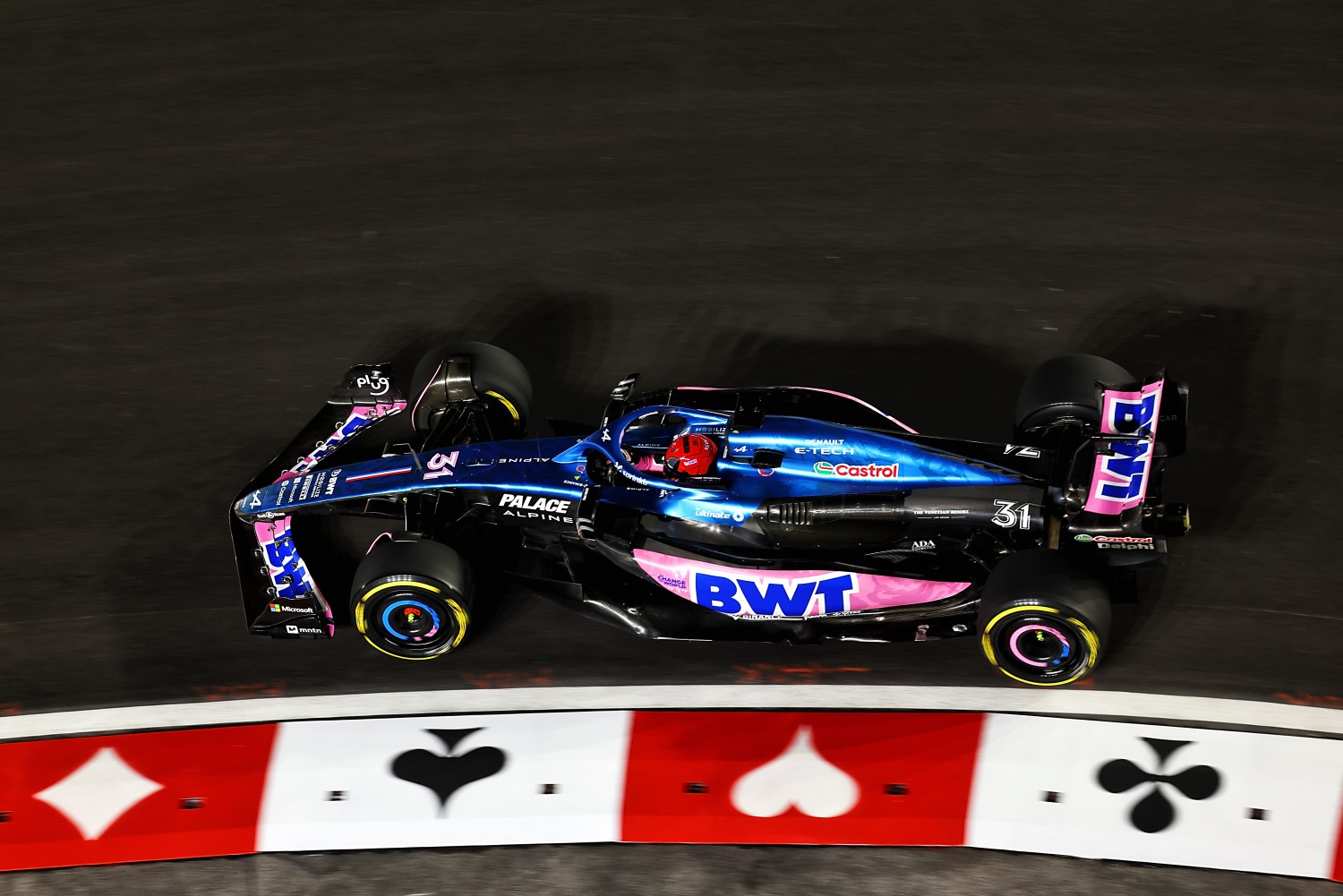 Julian Rouse, Interim Sporting Director: "Today is a positive result for the team with Pierre lining up on the second row for tomorrow's Grand Prix, but there's also some frustration about what could have been for Esteban after his final lap in Q1 was heavily compromised by traffic. From looking at the delta times we could see he would have comfortably progressed through to Q2. As a team, we have learned a lot since Monza, especially from an aero point of view, and found some good improvements in that area. In addition, we have also improved our understanding of tire preparation on single lap performance with that too beginning to pay dividends. Credit to the team at the track and at the factories for this continued hard work in developing the overall package. Tonight's Grand Prix will be challenging and we will assess all options to maximize the team result."
McLaren F1 Team
Lando Norris (16th, 1:34.703): "A frustrating end to qualifying. The pace hadn't looked too bad in FP3, but we just didn't put it together in qualifying. The tires didn't perform quite as we expected, and the graining was pretty bad so perhaps we should have used a second set. There are still opportunities for tomorrow, the pace of the car is better than where we've qualified and plenty of cars are out of position. We'll work on our plan tonight and try and move up into the points tomorrow."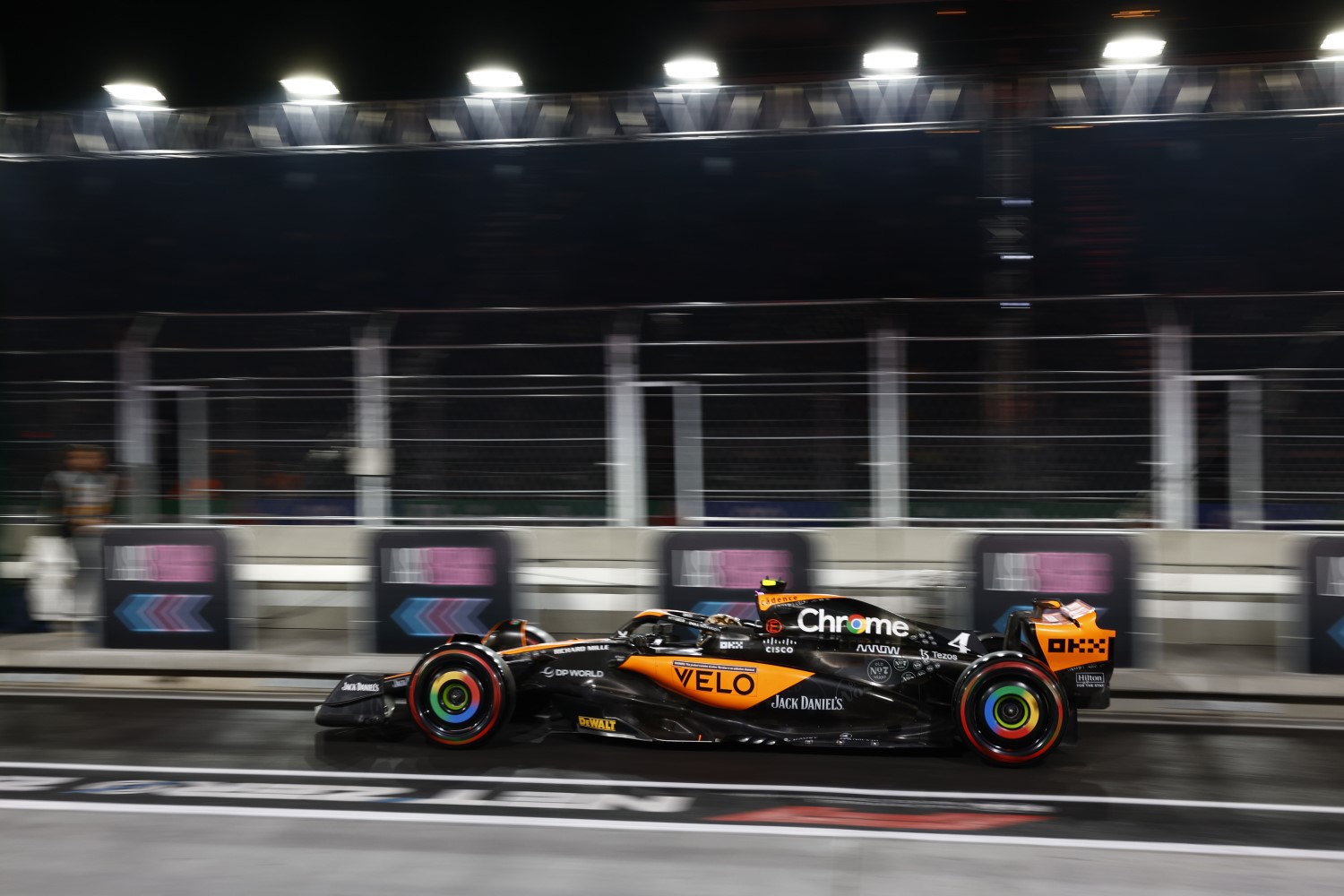 Oscar Piastri (19th, 1:34.850): "Qualifying obviously didn't go to plan. We'll need to look at the tire strategy. If other teams used two sets of tires, I think that explains pretty well why we were at the back. It's a little unexpected after FP3, with how the tires behaved and how the pace was. It had looked promising. It's a shame but there's a lot of long straights here and hopefully we can make our way back forward tomorrow."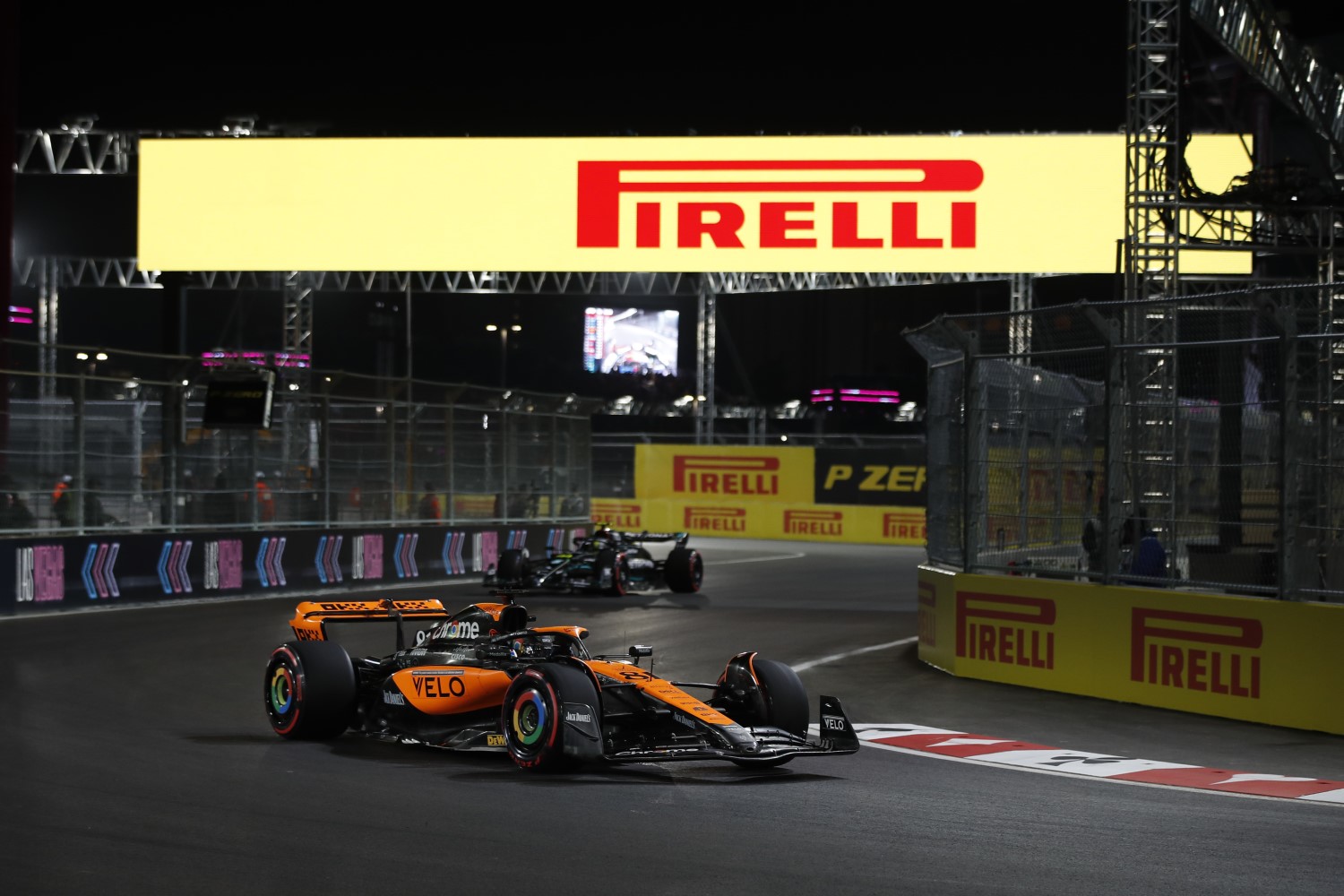 Andrea Stella, Team Principal: "So far, this weekend in Vegas has been a bit of a struggle, both in terms of putting the car in a decent operating performance window, and also dealing with the behavior of the tires, which are difficult in terms of warm up but at the same time can also get damaged very easily with graining. Despite that, we had enough performance to progress from Q1, but we were not able because the single set of tires we were going to use was degrading too rapidly and was not enough to beat cars that used two sets. We'll take that on the chin and refocus on preparing for the race. It may be eventful, tire behavior will be a major factor, and we'll do our best to recover and score some points."
Alfa Romeo F1 Team Stake
Valtteri Bottas (8th, 1:33.525): "I am really pleased for our performance tonight, it's a great result for us and it gives us a good opportunity to score some points tomorrow. It's a shame Zhou had a tricky Q1, otherwise we could have been up there with both cars; in any case, we can be happy about our pace, especially as we couldn't really be sure about where we'd be coming into this race. We were able to find the right window to operate our car, and we were able to extract more performance in every segment of qualifying. There's never a single silver bullet, but we executed every element well: it's a lot of small margins that worked for us and made a big difference in the end result."
Guanyu Zhou (18th, 1:34.849): "Our pace was decent, and it could have allowed us to fight for a spot in Q2 – a marked improvement compared to yesterday, as my weekend has been quite tricky so far. Unfortunately, I encountered some traffic during my final lap, and couldn't improve my time when the track was at its best. Still, I felt I was in the mix with our main competitors, which gives us some hope ahead of the race. It surely will be challenging, starting from the ninth row, but we keep our options open: with a good start and an aggressive strategy, we can hopefully make some places up."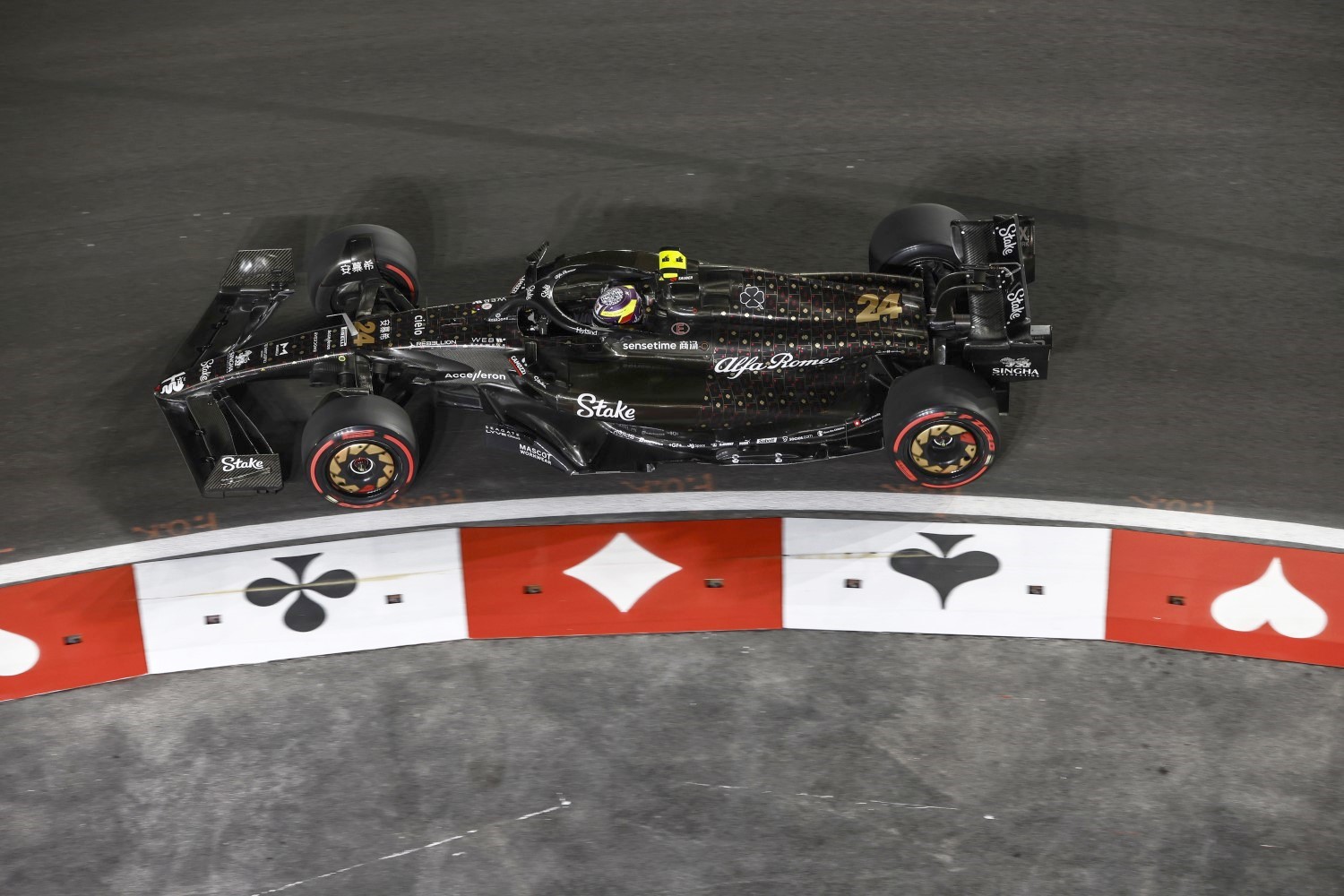 Alessandro Alunni Bravi, Team Representative: "Tonight's qualifying session confirmed the good job we've done throughout the weekend. Valtteri performed really well from the very beginning and we entered the session with confidence, but you never know: you still have to put together every sector and time your runs well to avoid traffic, but we managed all of this very well. Perhaps, we could have even gained one more position, splitting the Williamses, but we're still satisfied with the good job we've done. Zhou had a more challenging session, and wasn't able to fully demonstrate the pace of the car as he was caught in traffic on his final run; he'll have a big job ahead of himself tomorrow, but we've seen that our performance can allow us to fight and this is what we plan to do. We are fully aware of how close the championship battle is and that's all the motivation we need: we need to do well and score points to close the gap to the team ahead of us, and keep the fight alive until the final race. We did a good job today, but tomorrow is when it really matters, and we'll need to execute a perfect race to confirm ourselves on these levels."
Aston Martin Aramco Cognizant F1 Team
Fernando Alonso (10th, 1:33.555): "We are quite happy to be in Q3 and we will see what we can do from ninth tomorrow. I was happy with both of my laps in Q3 and we finished about half a tenth from seventh position, so it was all very tight. Coming here we thought this circuit might not suit our package as much, especially with the high straight-line speeds. The venue here is impressive and they have done a good job with that. I think the only issue for us has been the asphalt, which doesn't have that much grip, so perhaps that can be looked at for the future. But, so far, it's been fun racing in Vegas."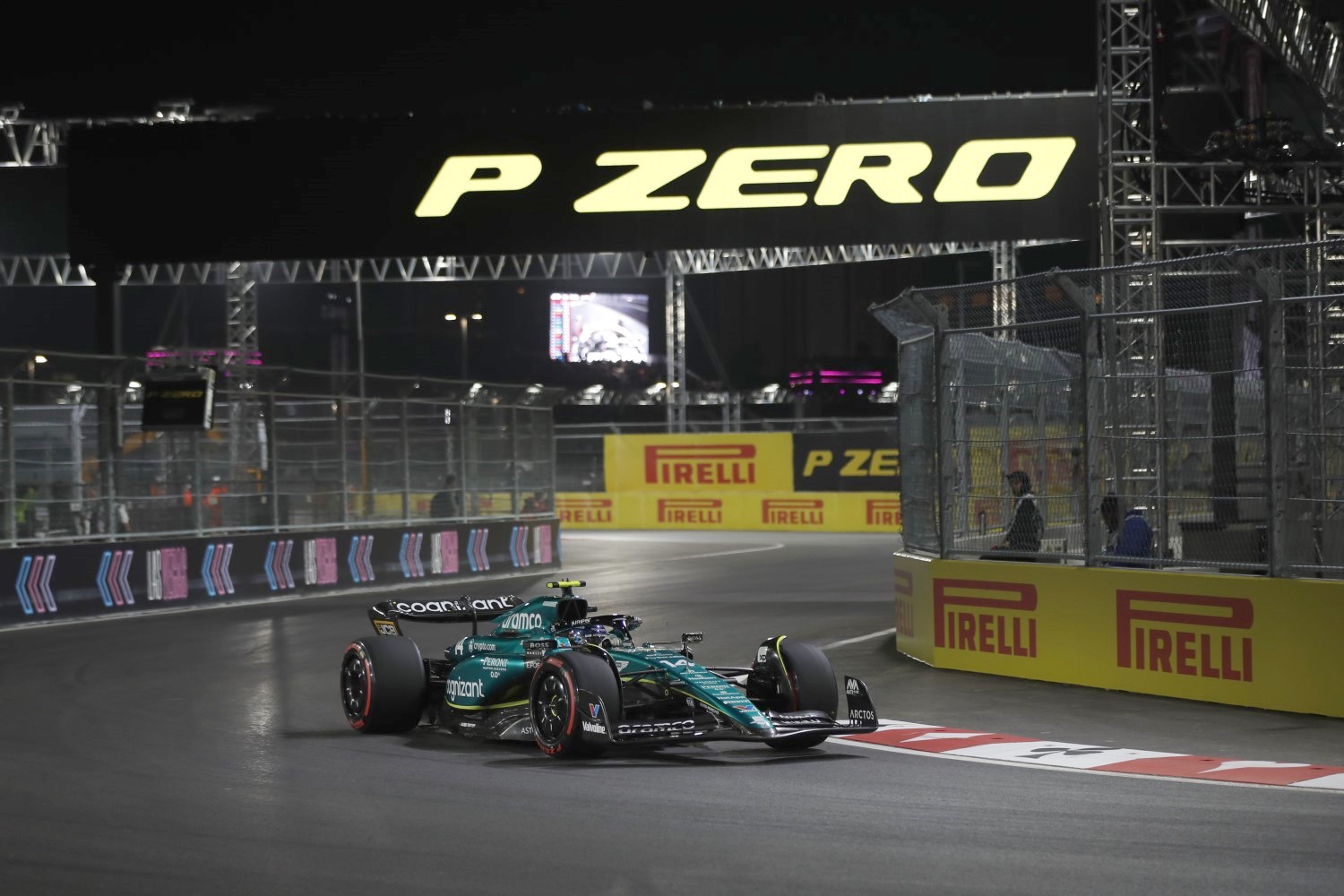 Lance Stroll (14th, 1:34.199): "I felt pretty good in the car today and was happy with my final lap, but I think we were just lacking a bit of straight-line speed in Q2. That can end up being the difference between being knocked out and progressing to Q3 when the field is so tight. Tomorrow's race is going to be tricky given my grid penalty, but our pace is good in the corners, and I think we can manage our tires well. We'll make the most of the situation and enjoy racing around the streets of Las Vegas."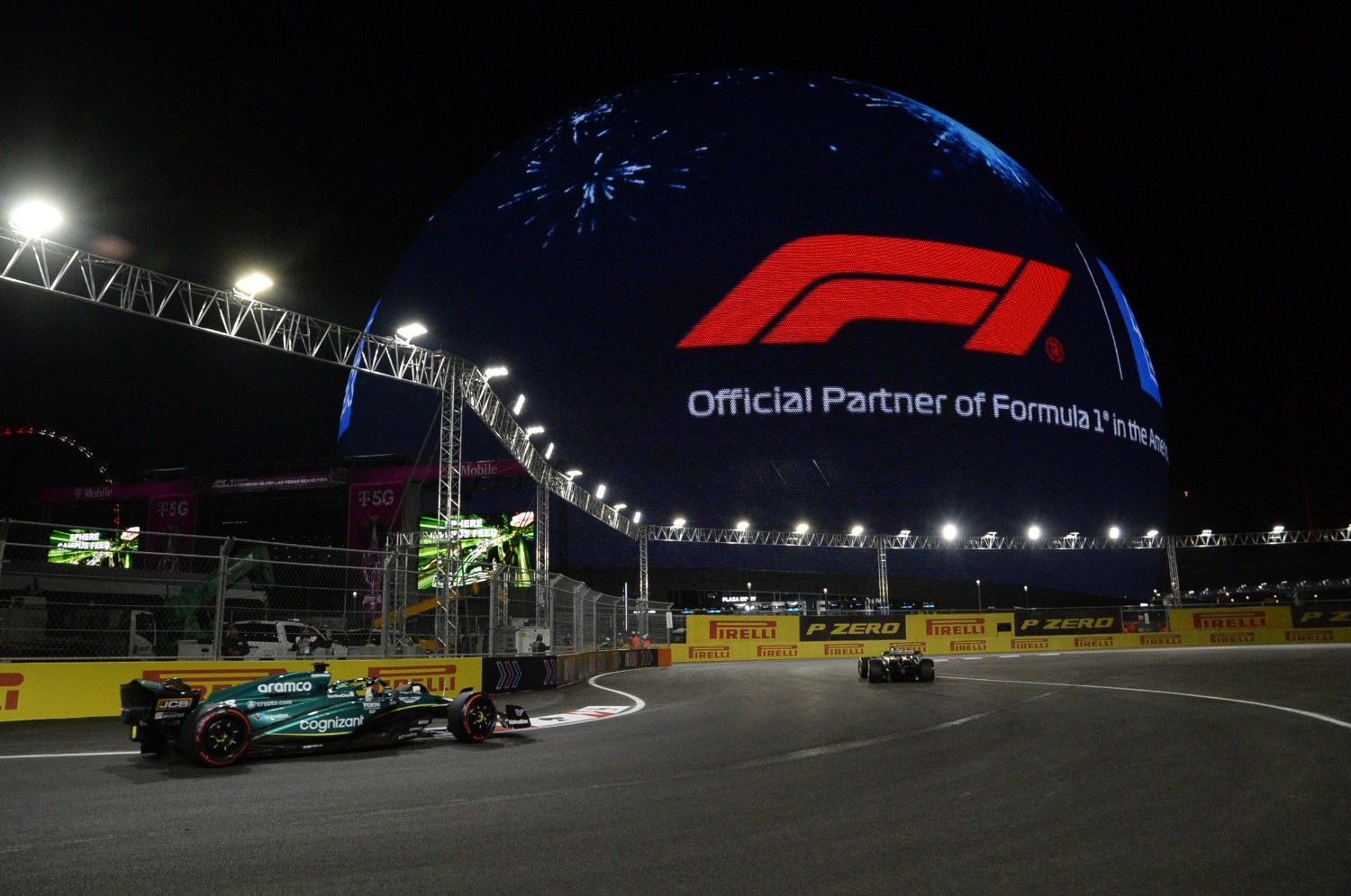 Mike Krack, Chief Operating Officer: "We are enjoying learning this new Las Vegas circuit, and it has produced a very tight grid, with small margins making the difference in Qualifying. It was a challenging session with a rapidly evolving track and cool temperatures, which made tire warm-up especially important. The first race at this exciting venue will be a step into the unknown, but I think we will put on an entertaining race for the fans. It is a circuit that should lend itself to overtaking and I'm confident both our cars will be in the fight for points."
Haas F1 Team
Kevin Magnussen (9th, 1:33.537): "It's good to be in the mix up there and I'm really happy with that. In terms of qualifying, we've been good before and have fallen back on race day so that's what we'll try to avoid tomorrow. Yesterday there was a lot of graining with the tires, so we'll see how we manage that as it's going to be key for the race. We'll do our best and see what we can do."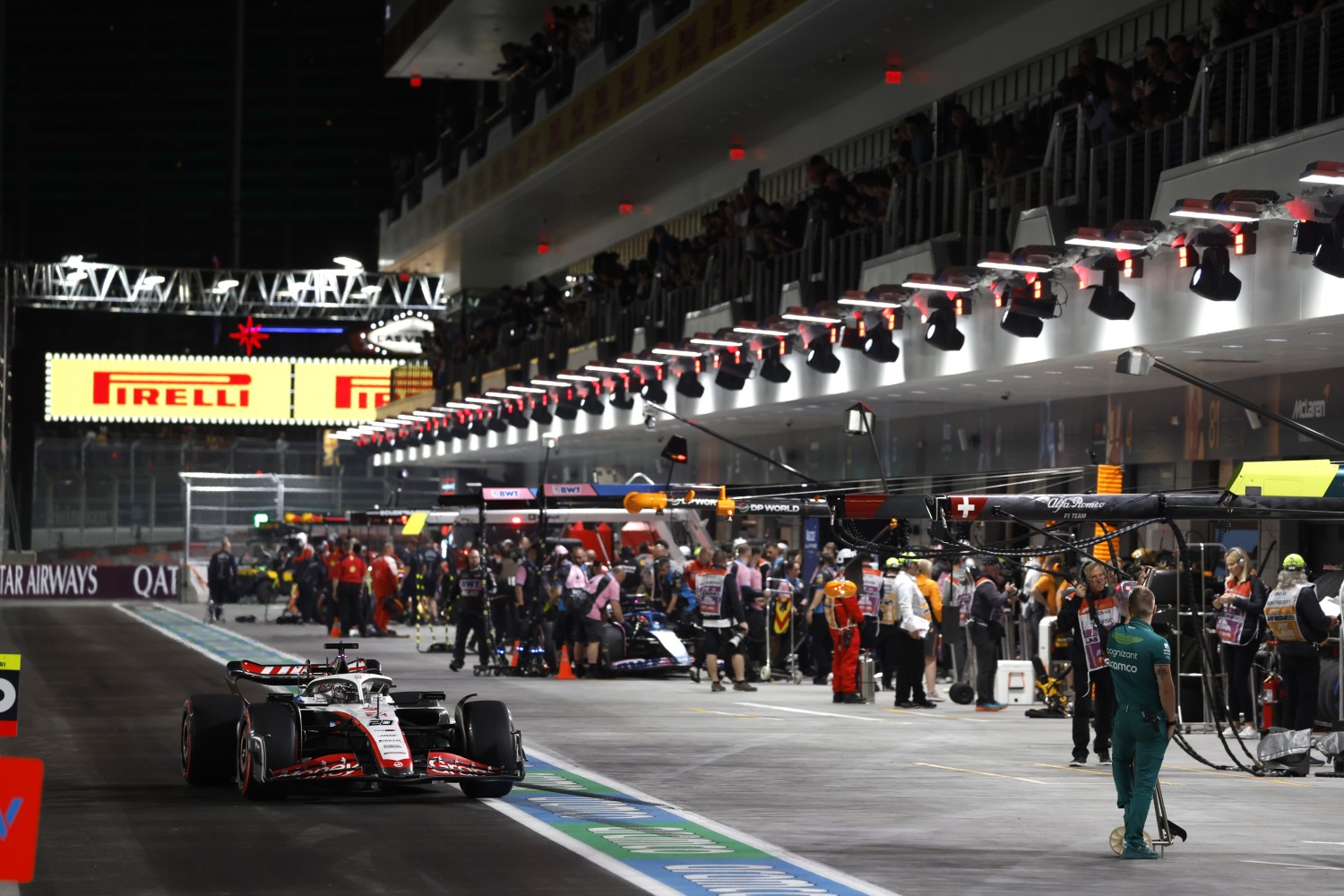 Nico Hulkenberg (13th, 1:33.979): "I think we have the pace, and clearly we have it as Kevin is up there. I had it too but unfortunately, I didn't have a clean lap on the ultimate lap that mattered as I locked up into Turn 7. I feel like we still do have half a chance here of having a race or a fight on our hands tomorrow. The cooler temperatures hopefully help us so it's just about graining, but I think all cars have similar issues. We're expecting graining, hence it's about avoiding it as best as possible. No one has ever raced here though, so it leaves some question marks and maybe we have a shot."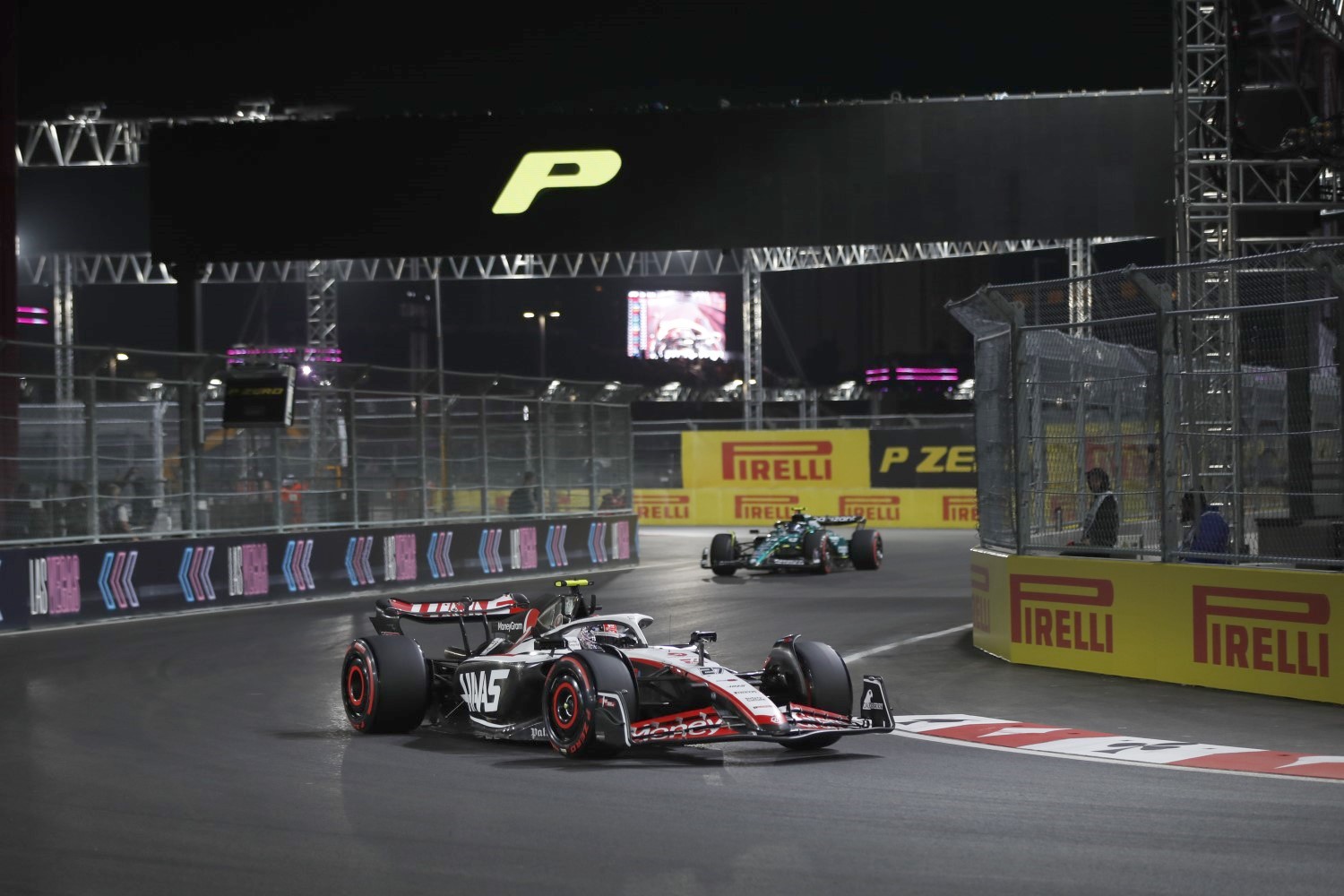 Guenther Steiner, Team Principal: "It's been a pretty good day for us today. FP3 was a constructive session, following on from yesterday – we got all the laps in, we got more data and most importantly prepared well for qualifying. We got one car into Q3 and one just outside, with Nico locking up going into a corner. Kevin said it wasn't his best lap, the money lap, but we're happy to be starting P8 and P13."
Scuderia AlphaTauri
Daniel Ricciardo (15th, 1:34.308): "I think, as a team, we're struggling to extract the grip on this low-grip and new asphalt this weekend, which is shiny and open to the public during the day. We made some fairly big changes and steps forward overnight, but today, we couldn't do much more. I'm happy with the improvements we made that allowed me to get into Q2, as we're definitely struggling more with one-lap pace and getting the tires to really work. I'm more optimistic for tomorrow because I think we're stronger in the long run. I don't know what to expect for the race, but I think it's going to be very close."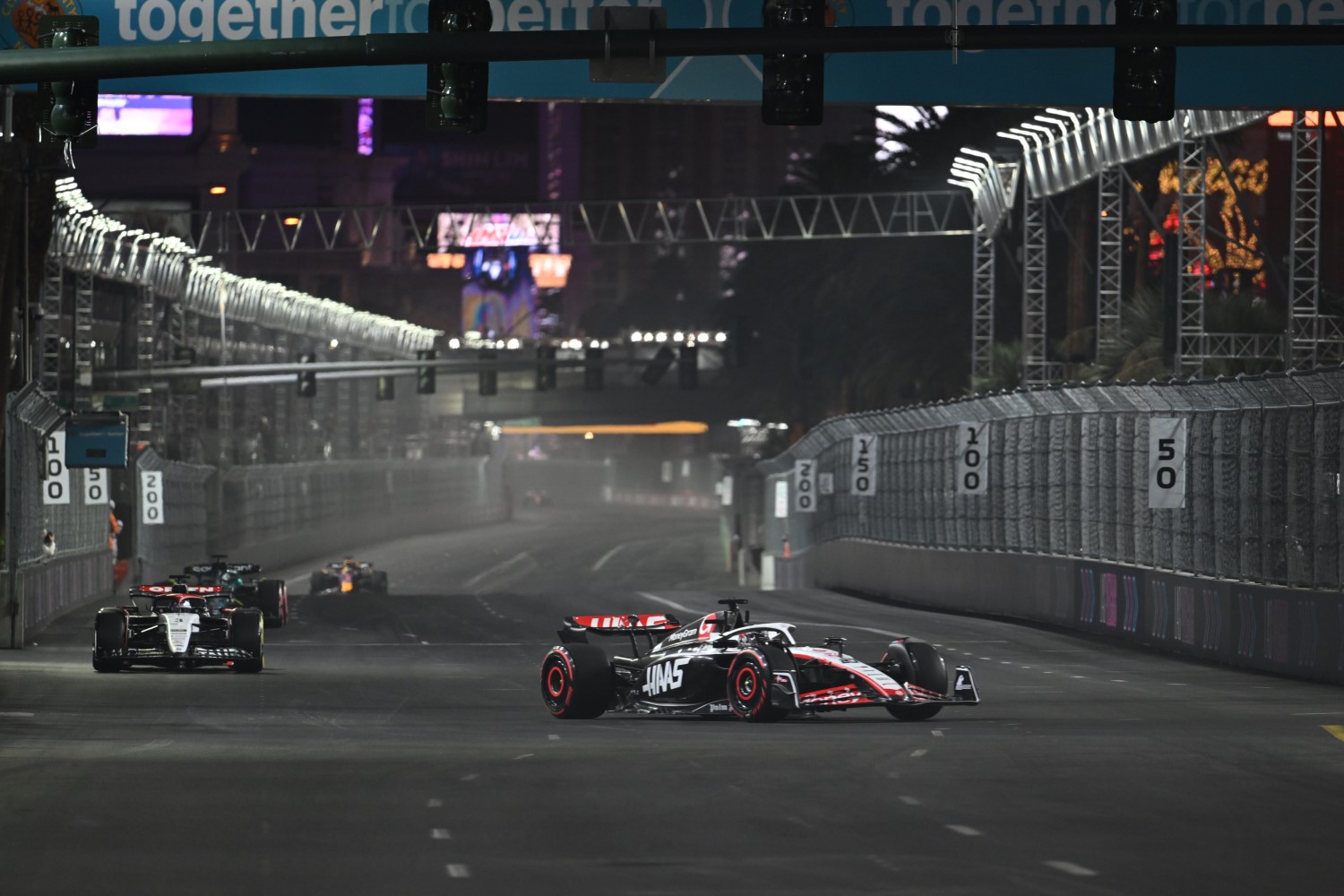 Yuki Tsunoda (20th, 1:36.447): "There isn't much to say today. I feel we didn't maximize our performance and could've done better, so it's a shame. I tried my best, but it didn't work. We know we struggle with straight-line speed and expected it to be challenging this weekend. We changed my setup a little, but I didn't have enough temperature in my tires before my final push lap because there was traffic in the last sector, so I had no grip and locked up. The pace of the car isn't bad, and you never know what can happen in the race tomorrow because the grip is low on this track, so I'll keep it clean and try my best to make up as many positions as possible."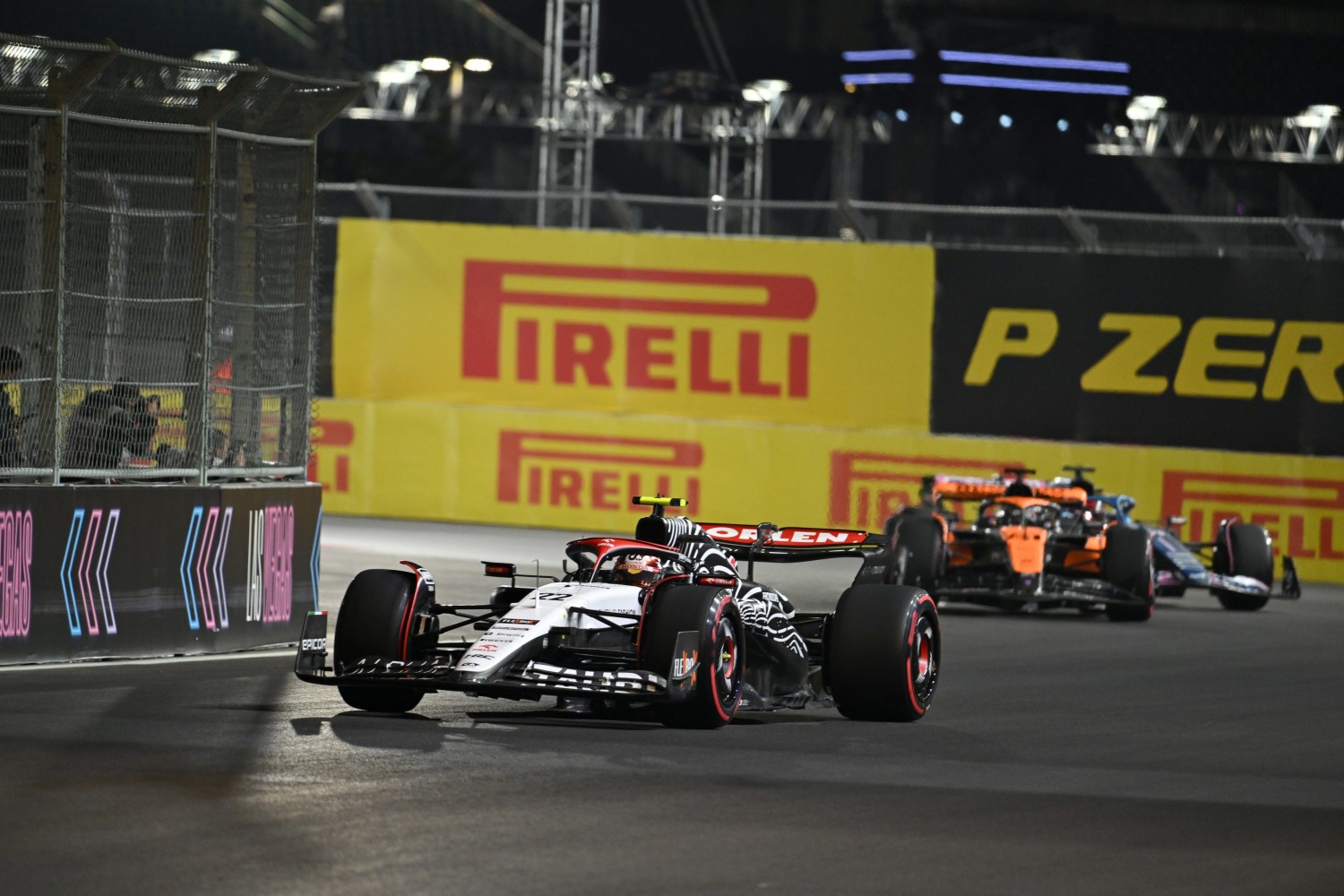 Jody Egginton, Technical Director: "The setup direction that was taken for both sides of the garage overnight was okay, but further setup changes in the same direction were required between FP3 and qualifying to try and extract more from the car. Yuki struggled with his car in qualifying, and we need to investigate why. Daniel managed to extract the most from his car in Q1, but then we struggled to get his new set of soft tires into the right window for the start of Sector 1 in Q2, meaning he was only the 18th quickest through this sector. It meant that, even though Sectors 2 and 3 were quick enough to put him in the fight for Q3, it was not to be. Sector 1 has been the most challenging part of the circuit for both cars this weekend and is something we need to investigate further. We haven't managed to get our cars as far forward for the race as we expected, which makes things harder. In addition, our closest competitors' long run pace in FP2 looked fairly strong, so we need to focus on getting both cars moving forward as quickly as possible in tomorrow's race."
Williams Racing
Alexander Albon (6th, 1:33.322): "We executed very well today; we've known this track was going to suit us but it's always a bit scary coming in when there's a bit of hype and pressure, so I'm really happy with how that went. I've been struggling with the brakes all weekend and after my off in FP3, I had to reset my confidence a little bit. I also just want to say thanks again to the team for their hard work in getting the car ready for Qualifying. Tomorrow is going to be all about the graining, with cars that suffer probably going a second and a half slower, and vulnerable to anyone overtaking. We did have some graining on Friday, but we've made some setup changes that should hopefully help mitigate this. I'm obviously excited for Logan as well, so to be starting P5 and P6 due to penalties, we now just need to finish it off tomorrow."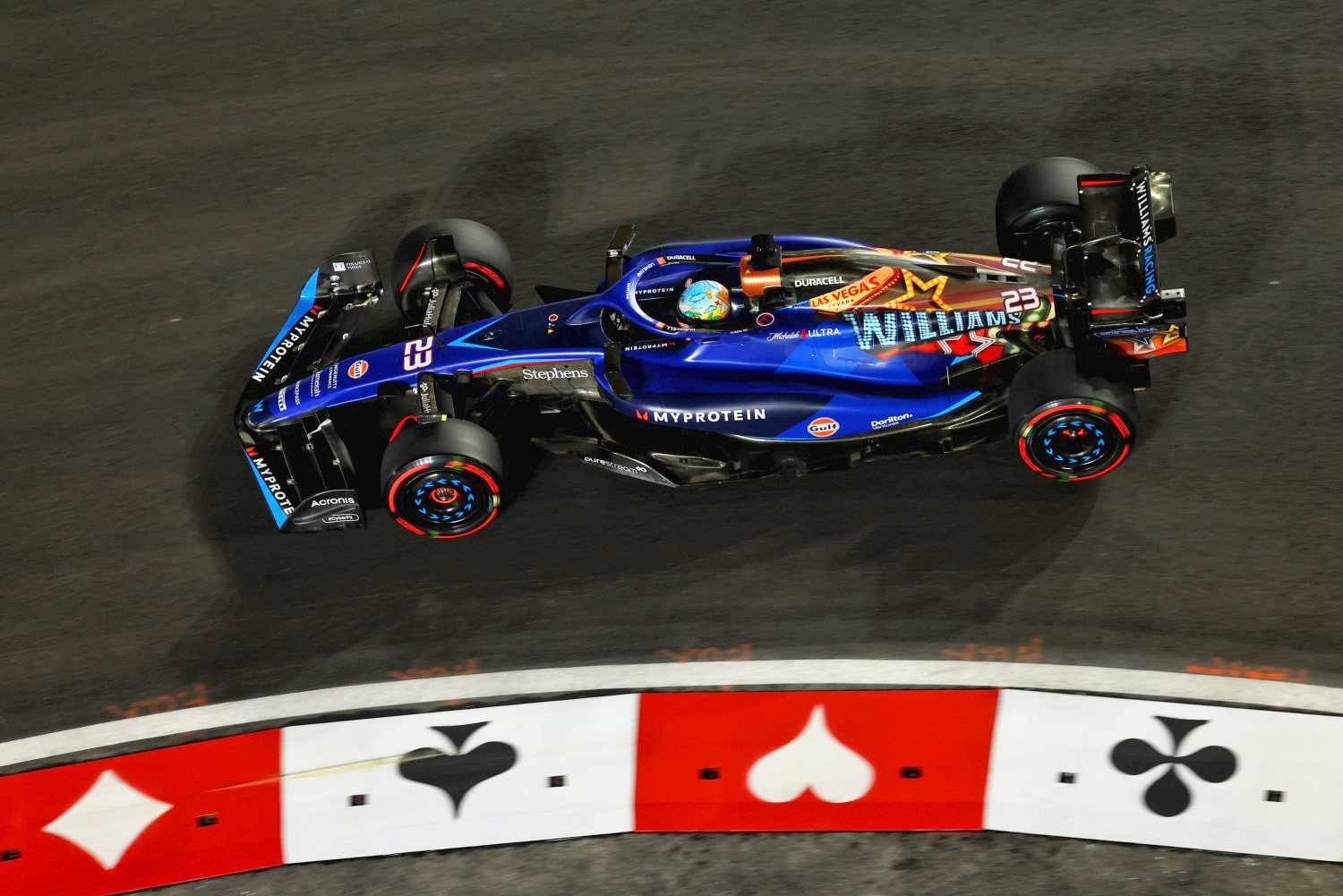 Logan Sargeant (7th, 1:33.513): "Today felt really good from FP3 onwards. I'm very happy to execute over three separate sessions and finally extract the potential that we've had. To do it here in Vegas is extra special which is highlighted by the fact we have a great car here. It's not easy to deliver on that performance, so the fact we're able to continuously do that throughout the session is awesome. It's been a great day for the team and congrats to everyone. We've worked hard and knew this weekend was a good opportunity and we're off to the right start. Most importantly we have two cars near the front of the grid. We have a very annoying car down the straights for others, so we'll try and use that to our advantage. Hopefully we can continue this level of performance and have a strong race."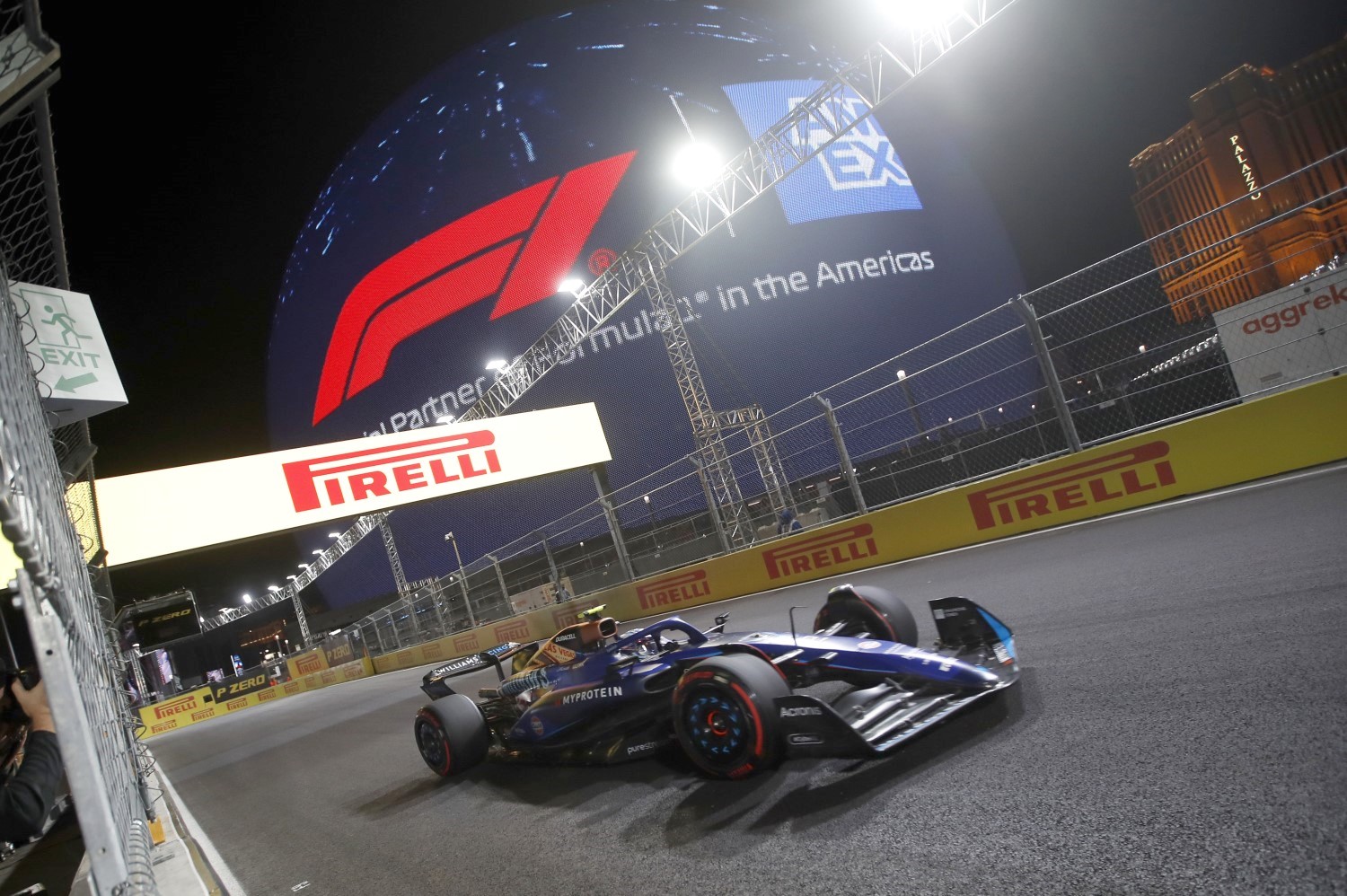 Dave Robson, Head of Vehicle Performance: "We had an excellent result today with both drivers completing a brilliant qualifying session. The car was working well and both drivers were able to make the most of that to get into Q3 and qualify in very strong positions for the Grand Prix. Q1 was a little closer than we had anticipated, with the decision to get Alex into Q2 using only a single set of Soft tires becoming riskier than we had expected. However, he held his nerve and completed a good final lap on tires that were past their best. Logan used a 2nd set in Q1 and qualified more comfortably. Both eased through Q2 and put themselves in a great position to push hard in Q3. Following Alex touching the wall in FP3, the team had to work extremely hard to get his car ready for Q1, but they tackled the work very well and gave him a great car that he could take into Qualifying with confidence. The result is a fair reward for the continued dedication and efforts of the team in Las Vegas and in Grove; supporting this race from the UK is as demanding as dealing with jet lag and the team there have supported the trackside team expertly throughout this week. Today has been good, but the result needs to be secured tomorrow, and we now need to convert the single lap pace into solid race pace. The work we did overnight should help improve the tire management, which should give us a good opportunity to fight for good point scoring positions with both cars."
Pirelli Tires
It was clear in the third free practice session that the track being reopened to road traffic overnight had significantly reset the condition of the track surface. Therefore, throughout the session, lap times came down considerably as the track evolved and this continued into qualifying to the extent that by the end, the fastest time was not that far off the one predicted by earlier simulations.
MARIO ISOLA – PIRELLI DIRECTOR OF MOTORSPORT     
"This was definitely a spectacular evening, with some surprises as well as some predictable results. From a purely technical point of view, we saw a qualifying session in which teams adopted various different approaches. There were some who did a preparation lap after their out-lap and others who pushed hard right away, which allowed for a long run in Q1, doing one quick lap, followed by one or two cool down laps, while others tried to make the best use of the greater grip offered by new rubber. It's hard to say which method proved most effective because track evolution was very significant, more important than any other factor. This was entirely predictable, partly because it was clear that the track was almost back to the condition it was in at the start of yesterday, mainly down to the fact it had been reopened to normal traffic.
Looking ahead to tomorrow night's race, it's clear that the Hard and Medium are the compounds best suited to tackle the scheduled 50 laps. There are various options on the table, both in terms of which sets the teams will choose to give back at the end of the day, and based on the impact of graining, which was significant again today, because of the aforementioned comments on the state of the track. If tomorrow, this phenomenon becomes less of a factor as the track rubbers in, then the one-stop should be quickest, otherwise a two-stop could prove to be competitive. Then, the choice of which compound to use the most will also depend on choices made today and, maybe, it could also open a window for the Soft for the final part of the race."