Formula 1 News: The Las Vegas GP exceeded all expectations
(Update)
CORRECTION: The 2023 Las Vegas Grand Prix recorded 99 overtakes, not the 82 we noted below.  It was the most of any dry F1 race since China in 2026.
Zandvoort this year had off and on rain that required many pitstops by the drivers (winner Verstappen stopped 6 times for tire changes) and jumbled the standings a lot that resulted in a record 186 overtakes
---
November 20, 2023
There was a lot of negativity published about the Las Vegas GP before the event, but the race turned out to be the best race on the F1 calendar, sending the small-minded critics back into the holes from which they came.
–by Mark Cipolloni–
"Viva Las Vegas! Viva Las Vegas!" sang race winner Max Verstappen, one of the early critics, as he crossed under the checkered flag waved by Justin Bieber.
A traditionalist at heart, Verstappen had slammed Saturday night's spectacle at every chance, yet changed his tune after he took the victory on the famed Las Vegas Strip on a track that produced excellent racing.
There were 82 separate overtakes during the Las Vegas Grand Prix, ranking it #2 in the 2023 season overall behind Zandvoort.
It was 90 action-packed and spectacular minutes of racing, which must have pleased all the spectators in attendance at Las Vegas Saturday night and the 100+ million watching on television or on-line.
Overtaking, collisions, safety cars, mistakes and great feats of driving: the best of what this sport has to offer was all there condensed into 50 laps. It was the best possible advertisement for Formula 1 in the United States, a perfect combination of the racing side and the show.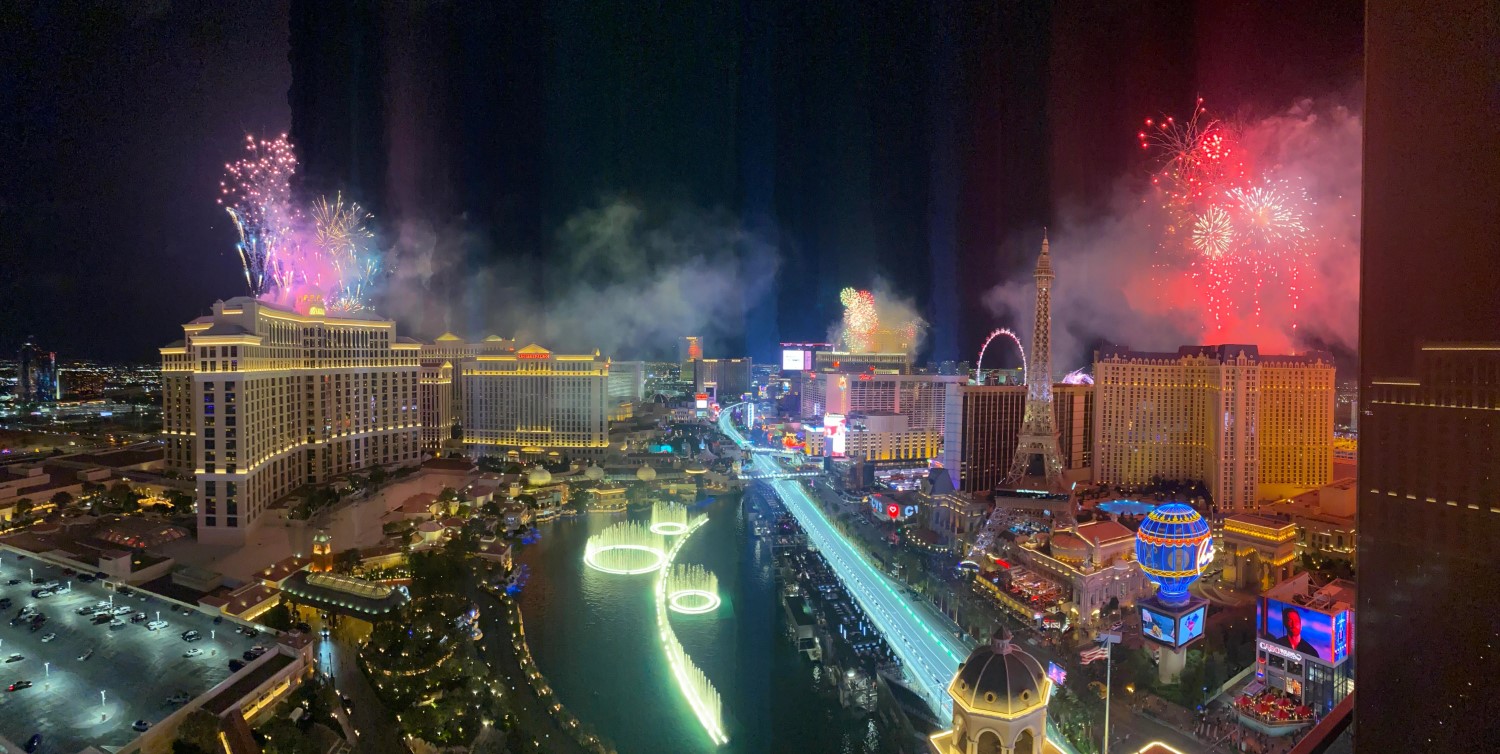 "I hope everyone enjoyed it, we definitely did. Excited to come back here next year and try to do something similar," said Verstappen, who had markedly reversed his weeklong position on the Las Vegas spectacle.
"It was a fun race. I enjoyed it," he conceded.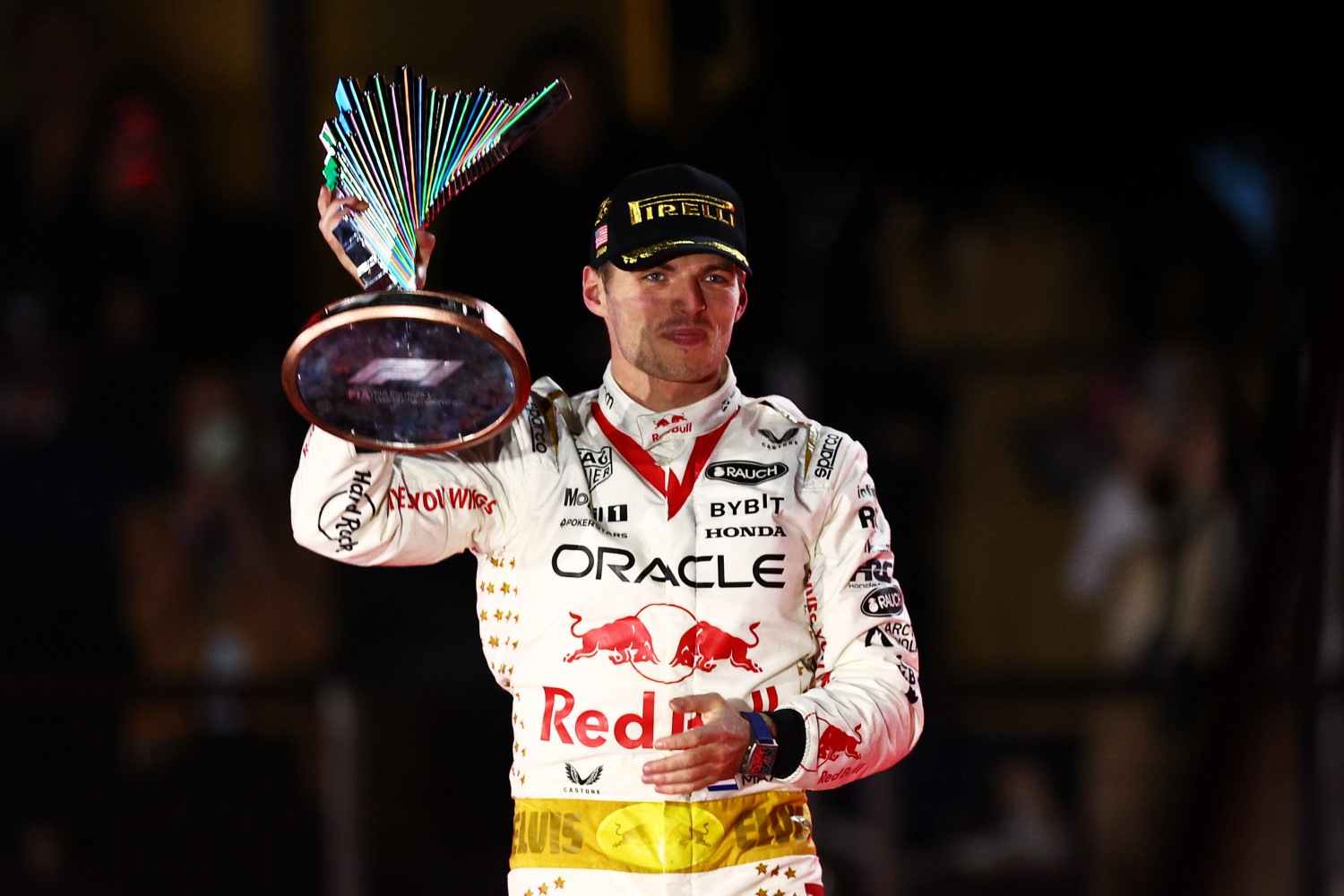 Verstappen overcame a penalty and a broken right front wing to pass Charles Leclerc with 13 laps remaining to continue his season-long dominance. Verstappen, Leclerc and Sergio Perez were driven in a Rolls-Royce to a stage located near the Bellagio — "we go straight to the nightclub," Verstappen told his fellow podium finishers — but they were instead treated to the casino's famed fountain show.
After receiving their trophies, they were treated to a New Year's Eve-style fireworks show over the Strip.
With music entertaining those who paid a lot of money for the best seats in the house at the most expensive spectator race of the season, celebrities danced along on the grid and everyone had a smile on their face.
The stars in attendance included Travis Kelce, Patrick Mahomes, Brad Pitt, Rihanna, Usain Bolt and Shaquille O'Neal as F1 said it drew more than 315,000 spectators over the weekend and estimated an economic impact of $1.7 billion to Las Vegas.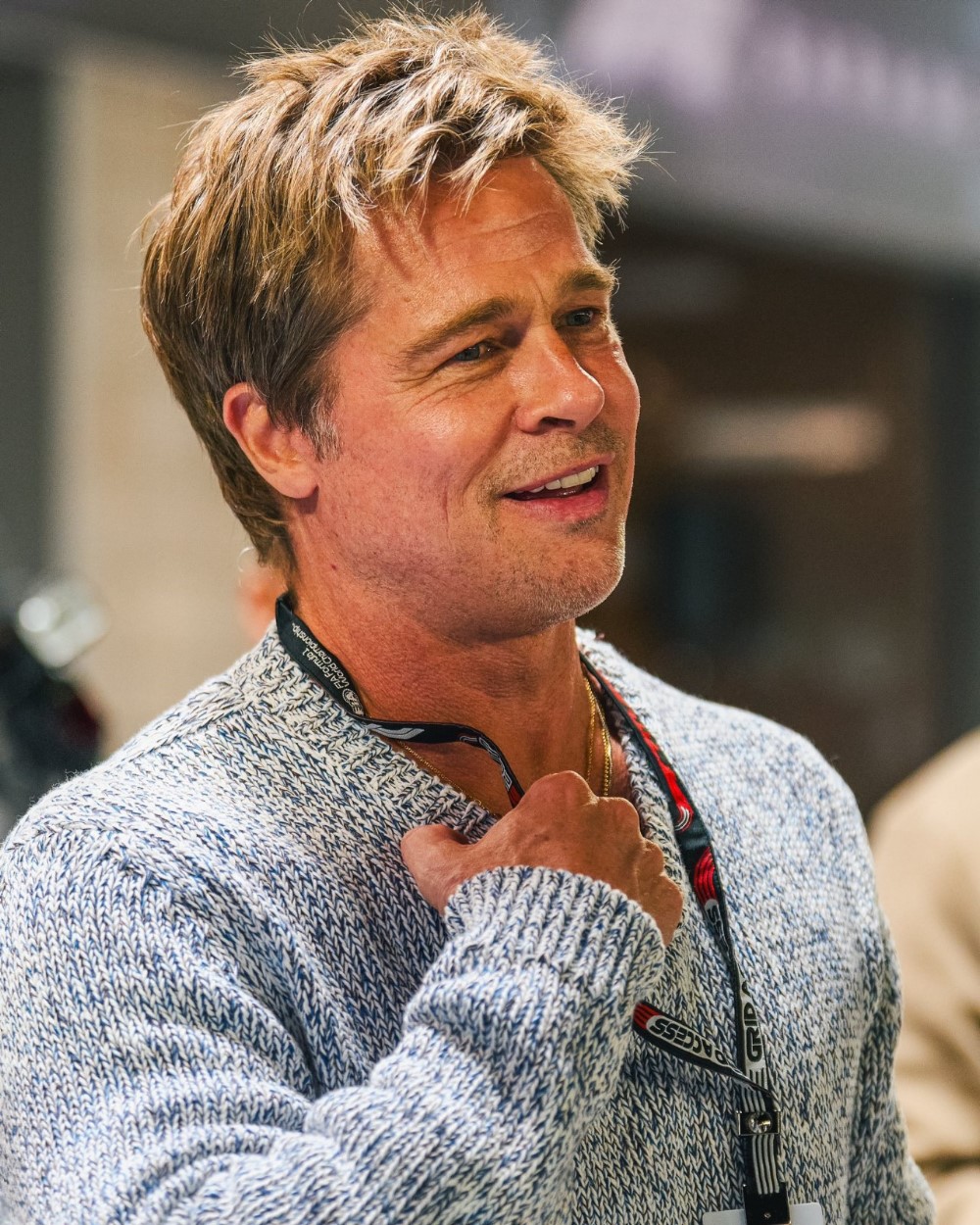 Brad Pitt thinks F1 is here to stay pic.twitter.com/HCNedXtcsp

— Las Vegas Locally 🌴 (@LasVegasLocally) November 19, 2023
"I really enjoyed it, and I am especially happy that we finished the weekend on a high note because it was hurting me to see the sport that I love so much starting so wrong on Thursday," said Leclerc. "The fact that we had an amazing race makes it all better."
After all the pre-race criticism, it was essential for F1 to deliver a good race on Saturday night and, even though it was Verstappen's sixth consecutive victory and 18th of 21 this season, it was one of the most competitive events of the season up and down the grid against a Las Vegas Strip backdrop that has no equal.
Additionally, a track that had been mocked as a "flying pig" because of its layout shape was later praised for its great racing.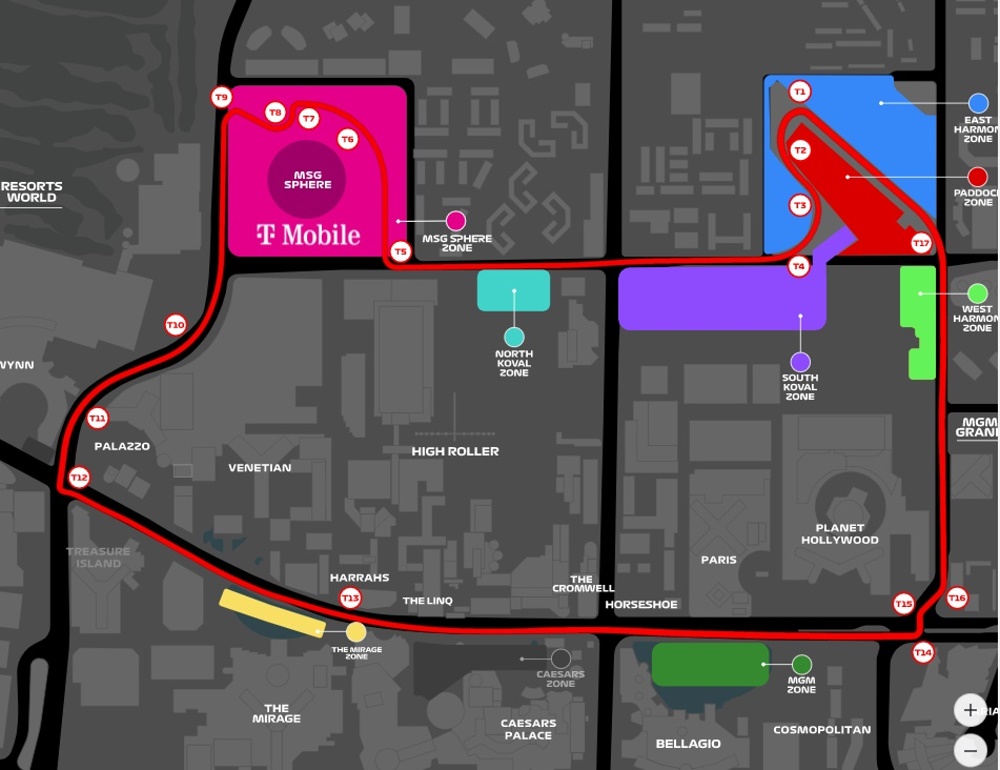 Seven-time F1 champion Lewis Hamilton, who finished seventh for Mercedes, said the circuit "provided a better race than most of the tracks we go to."
The Las Vegas GP satisfied those there for the show and entertainment, as well as the traditionalists there for pure racing, proving both can mix if done Vegas Style.
As the Strip got back to its usual bumper-to-bumper traffic Sunday, hours after cars were racing on it at 200 mph, resort executives affirmed what they had predicted all along — that Southern Nevada appears to have had the best week financially in its history, thanks to the Formula One Las Vegas Grand Prix.
IndyCar owners Roger Penske and Greg Penske are both reported to have attended the Las Vegas GP to see how a real racing series is run.
Mercedes F1 boss Toto Wolff said: "That was an awesome weekend. The drain cover was nothing, like I said (on Thursday). Spectacular race, great audiences, mega event, some good racing at the front. That's what I will remember of the inaugural las Vegas race that ticked all the boxes."
Ferrari's Frederic Vasseur added: "This will probably be a new standard for the F1 and I appreciated it. We were a bit scared of the sporting side but it was also probably the best race of the season."
"The upside of this I thought was clear from the beginning, and that's what we experienced over the last number of days," Las Vegas Convention and Visitors Authority President and CEO Steve Hill told the Las Vegas Review Journal Sunday. "It's going to be a record weekend for Las Vegas from an economic standpoint. It's going to generate a lot of tax revenue and properties around the circuit did exceptionally well."
"We were completely full," said Sean McBurney, regional president for Caesars Entertainment.
"Our properties in particular were within the heart of the circuit, and there are a lot of logistical complications as a result of that," McBurney said. "How do team members get in, how do vendors get in, how do guests get around? But it was unbelievably smooth. And I spent four days at the race and talking to a lot of customers. I don't know if I've been to an event where the feedback was so unanimously positive. For an event this complicated in year one, it was incredible. Absolutely incredible."
Andrew Lanzino, MGM Resorts' vice president of citywide events strategy, said the company had record performance at Aria, Cosmopolitan, MGM Grand and Park MGM.
"I think, regardless of where the properties were located, whether it was near the track or not, performed as if it was New Year's Eve," said Lanzino, who spent much of his time at the Bellagio Fountain Club.
"The Las Vegas Grand Prix has achieved much in its inaugural year," Wynn CEO said Craig Billings said in an emailed statement to the Las Vegas Review Journal. "Standing up an event of this scale is no small feat. Wynn Las Vegas was proud to partner with F1, a number of teams, manufacturers and drivers on numerous events during the week and the reception from our patrons was exceptional. The Las Vegas Grand Prix achieved a level of spectacle that can only happen in Las Vegas."
"I think the best thing overall probably was the kind of exposure that this event brought to Las Vegas on an international level," said Virginia Valentine, president and CEO of the Nevada Resort Association. "People all over the world are seeing the skyline that we see every day and maybe take for granted. But when you see it lit up at night like that, it's pretty impressive."
"We proved that Vegas is a town that can host anything and everything and why it's become the sports of entertainment capital of the world," said Brendan Bussmann, a gaming industry analyst with Las Vegas-based B Global.
"Very few towns can do what we do not just on a daily basis but be able to host major events like F1, like the Super Bowl, like a CES, all those different things that are different events."
Now everyone can't wait for the next edition of the Las Vegas GP in November 2024, while the jealous critics crawled back to their dark holes, silenced for another year.