NASCAR mid-week races under consideration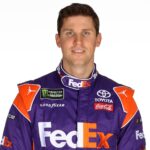 Denny Hamlin. How far will fans travel for a midweek race if they have to work the day before and after?
In this week's edition of the Dale Jr. Download, guest star Denny Hamlin revealed the existence of a secret driver's council and the possibility that mid-week Cup races could happen in the foreseeable future.
The Driver's Council has been around in an official capacity since 2016, but Hamlin told Dale Earnhardt Jr. that it has now been broken into various groups.
And Hamlin says that he is part of a "different, secret council now. … I meet with all the industry leaders, the track presidents, the team presidents, NASCAR. I feel like they give us a great platform to go in there and speak our minds and tell them about the schedule."
One of the items under discussion? A mid-week race.
The question has been raised, "can we get some mid-week races going on? How can we do that? Let's start it now, so I think there are some big things on the horizon. … I see it within the next couple of years: You're gonna see something Wednesday, Thursday."
— NBC Sports —