Garcia shatters record to claim pole at Lime Rock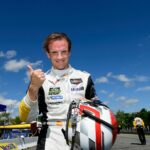 Antonio Garcia
"Blistering" was the only word to use following qualifying for the GT-only Northeast Grand Prix at Lime Rock Park.
After the 15-minute session, seven of the eight GTLM entries bested the previous track record with the top three – from three different manufacturers – all breaking the 50-second mark.
Antonio Garcia will start from the IMSA WeatherTech SportsCar Championship GT Le Mans (GTLM) class and overall pole for today's race earning the top spot with a record-breaking qualifying lap in his No. 3 Corvette Racing Corvette C7.R.
His pole-winning lap of 49.754 seconds (106.652 mph) was the first sub-50 second GT lap at the 1.474-mile Connecticut bullring, shattering the previous track record set one year ago by the Porsche 911 RSR of Gimmi Bruni (50.404 seconds, 105.3 mph). It was Corvette Racing's second pole of the season, with Garcia's co-driver Jan Magnussen starting from the pole at the season-opening Rolex 24 At Daytona in January.
[adinserter name="GOOGLE AD"]"It's pretty awesome to be able to run on the low fuel and fresh tires around here because this afternoon is going to be completely different," said Garcia. "For the first time, we don't have cars ahead of us. So it's definitely the best start position so now we will see how strategy plays out here because it's very important."
Garcia will be joined on the front row by the No. 912 Porsche 911 RSR of Laurens Vanthoor, who missed the top spot by 0.166 seconds with a lap of 49.920 seconds (106.297 mph). Dirk Mueller, meanwhile, qualified third in the No. 66 Ford GT at 49.945 seconds (106.244 mph).
ANTONIO GARCIA, NO. 3 MOBIL 1/SiriusXM CHEVROLET CORVETTE C7.R – POLE-WINNER: "It felt really good… fast for sure. This is the first time a GT car has been under 50 seconds here. It's pretty awesome to be able to run on low fuel and good tires; this afternoon will be completely different. This is the fun part… not taking care of the tires! But the race today will be the complete opposite."
HOW IMPORTANT IS IT NOW TO HAVE A COMPLETELY CLEAR TRACK FOR THE FIRST SEVERAL LAPS? "We are not used to that! For the first time in awhile, we don't have cars in front of us. This is definitely the best starting position. We will see how the strategy plays out here. Let's see how our Corvette is here on a long stint. But we have proven that we are always good on race pace. Let's hope this is a good sign."
In GTD, Patrick Long carried over his speed from Friday's practice sessions to grab his first-ever WeatherTech Championship Motul Pole Award in the No. 58 Wright Motorsports Porsche GT3R. Long has two previous pole positions from the American Le Mans Series and three from the GRAND-AM Rolex Series.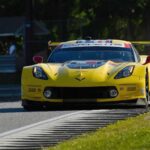 Garcia rips off record lap
Long's time of 51.491 seconds (103.054 mph) bested the previous track record set by Madison Snow last year in the No. 48 Lamborghini Huracan GT3 by 1.017 seconds. Long – who is currently tied with Corvette Racing's Oliver Gavin and Magnus Racing's Andy Lally for the most Lime Rock Park wins among active drivers with four – will co-drive the No. 58 Porsche with Christina Nielsen.
"The 911 has always been strong here at Lime Rock," said Long. "It brings back great memories here with Joerg (Bergmeister) with Petersen White Lightning and Flying Lizard, but today is all about Wright Motorsport, it's about Porsche and the GT3.R. We've had a slumpy season and it reminds everybody on the crew that winds change quickly in motorsport. The lows teach you to kind of band together and then you have something like this with a pole position and it makes it that much sweeter."
The two 3GT Racing Lexus RC F GT3s in the field followed Long, with the No. 14 of Daniel Baumann in second and the No. 15 of Jack Hawksworth in third. Cooper MacNeil qualified the No. 63 WeatherTech Racing Scuderia Corsa Ferrari 488 GT3 in fourth.
The Northeast Grand Prix begins at 3 p.m. ET today and will be televised on a delayed basis starting at 4 p.m. ET on FS1. The race will be carried live by IMSA Radio on IMSA.com, RadioLeMans.com and SiriusXM Radio (Sirius 138/XM 202/App 972).
RESULTS: Qualifying