PPG renews with Team Penske for NASCAR and IndyCar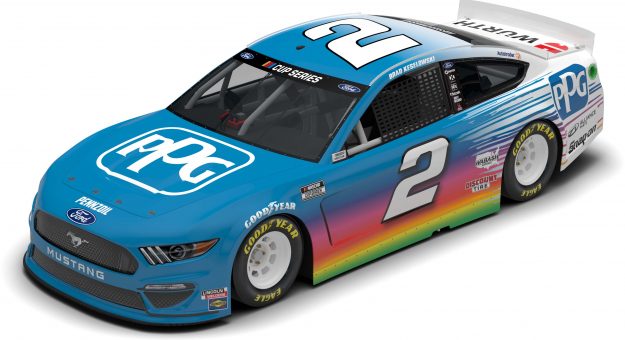 Brad Keselowski PPG livery
PPG announced that it is continuing its long-standing support of Team Penske by serving as a primary sponsor for numerous races throughout the 2020 season in the NASCAR Cup Series (NCS), the NASCAR Xfinity Series (NXS) and the NTT IndyCar Series. The sponsorship marks PPG and Team Penske's 36th year of working together, making it one of the longest-tenured partnerships in all of motorsports.
This year PPG's sponsored races run from March 14 through August 16, beginning with Austin Cindric driving in the NXS event at Atlanta Motor Speedway. The sponsorship covers eight additional races in the three series at locations across the United States.
"It doesn't get more exciting than being involved with a group like Team Penske," said Bill Shaw, PPG director, marketing and strategic sales, automotive refinish. "Each year we look forward to sponsoring the great races and dynamic drivers. There's also a fair amount of pride knowing that Team Penske is sporting PPG paint colors."
PPG will be the primary sponsor of Cindric's No. 22 Ford Mustang in a total of two NXS races. The NCS will see the PPG logo riding on the side of Brad Keselowski's No. 2 Ford Mustang in two races, while Josef Newgarden will pilot the No. 1 PPG Dallara/Chevrolet for five IndyCar Series events during the course of the season.
"We are proud of our longtime partnership with PPG. Together, we have built a relationship that is mutually beneficial and truly adds value for both companies," said Roger Penske. "No one would have known 36 years ago when we began working with PPG that we would build one of the longest and strongest partnerships in motorsports. Our bond has grown to extend beyond just racing to our Penske businesses and across many marketing platforms."
PPG's primary sponsorship of Team Penske cars in 2020 races includes:
NASCAR Xfinity Series
Saturday, March 14, Atlanta 250 and Georgia 500 Doubleheader, Atlanta Motor Speedway, Atlanta, Georgia
Saturday, May 30, Mid-Ohio 170, Mid-Ohio Sports Car Course, Lexington, Ohio
NASCAR Cup Series
Saturday, May 9, NASCAR Cup Series Race at Martinsville Speedway, Martinsville, Virginia
Sunday, June 7, FireKeepers Casino 400, Michigan International Speedway, Brooklyn, Michigan
NTT IndyCar Series
Sunday, April 5, Honda Grand Prix of Alabama, Barber Motorsports Park, Birmingham, Alabama
Sunday, April 26, AutoNation IndyCar Challenge, Circuit of the Americas, Austin, Texas
Sunday, June 21, REV Group Grand Prix at Road America, Elkhart Lake, Wisconsin
Saturday, June 27, Indy Richmond 300, Richmond Raceway, Richmond, Virginia
Sunday, August 16, Honda Indy 200 at Mid-Ohio Sports Car Course, Lexington, Ohio