Weather forecast perfect for Rolex 24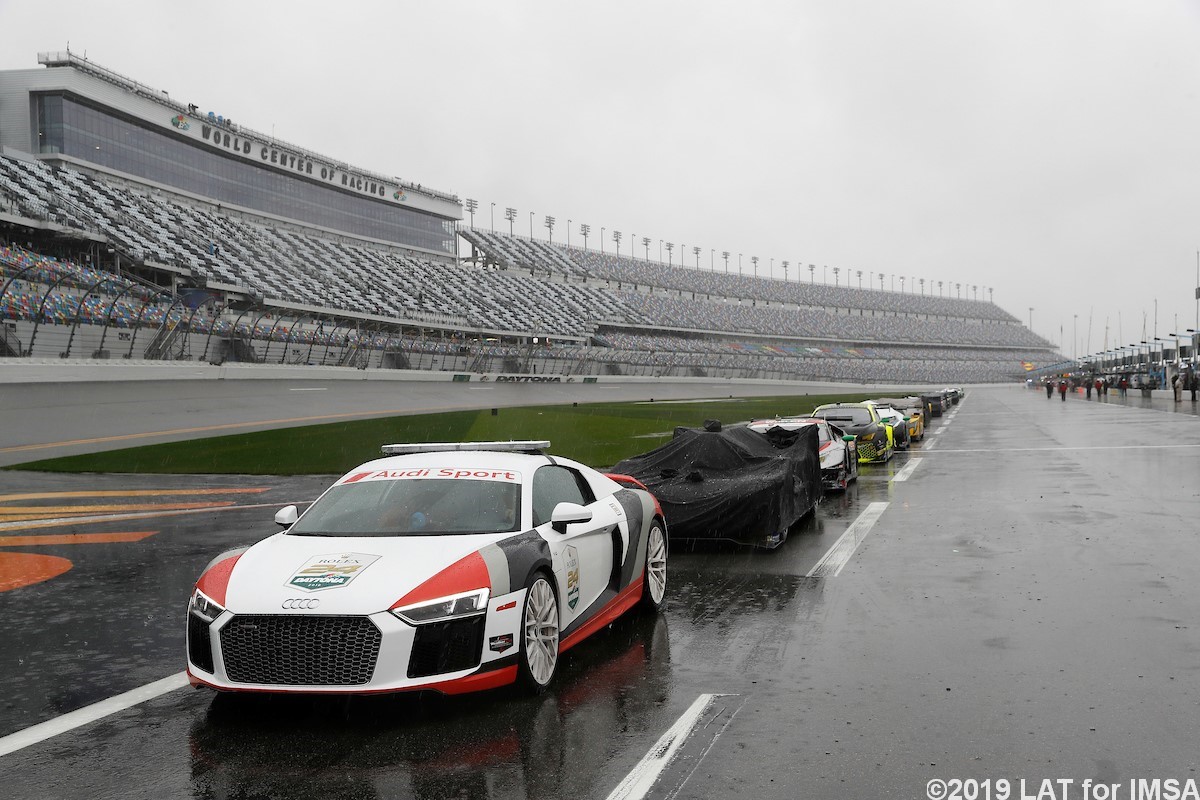 The wet finish to last year's race
Whereas last year's Rolex 24 was hit by heavy rain and the race finished under a red flag, this year's Rolex 24 will be run under perfect Florida weather conditions in Daytona Beach.
The chance of rain is 0% with daytime highs in the mid-60s and sunny.
The only negative is the rather cold temperatures in the wee hours of Sunday morning when they dip into the mid-40s, which can catch some drivers out on cold tires on their out-lap.
TV Times – All times Eastern
| | | | |
| --- | --- | --- | --- |
| Saturday, January 25, 2020 | Location | TV Times | Network |
| Rolex 24 Start | Daytona | 1:30pm – 2:30pm (Live) | NBC |
| Rolex 24 Race | Daytona | 2:00pm – 6:00pm (Live) | NBCSN |
| AMA Supercross Qualifying | Glendale | 4:00pm 6:00pm (L) | NBC Sports Gold |
| AMA Supercross Race | Glendale | 9:00pm –Midnight (L) | NBC Sports Gold |
| FIA Formula E Championship | Santiago | 4:30pm – 5:30pm (R) | FS2 |
| Rolex 24 Race | Daytona | 6:00pm – 11:00pm (Live Stream) | NBCSN App |
| Rolex 24 Race | Daytona | 11:00pm – 3:00am (Live) | NBCSN |
| Sunday, January 26, 2020 | Daytona | TV Times | Network |
| Rolex 24 Race | Daytona | 3:00am – 6:00am (Live Stream) | NBCSN App |
| Rolex 24 Race | Daytona | 6:00am – 12:30pm (Live) | NBCSN |
| NHRA in 30 | N/A | 11:00am – 12:30pm | FS2 |
| Rolex 24 Finish | Daytona | 12:00pm – 2:00pm (Live) | NBC |
| AMA Supercross Race | Glendale | 2:00pm – 5:00pm (Replay) | NBCSN |