Rolex 24 entries keep plummeting (Update)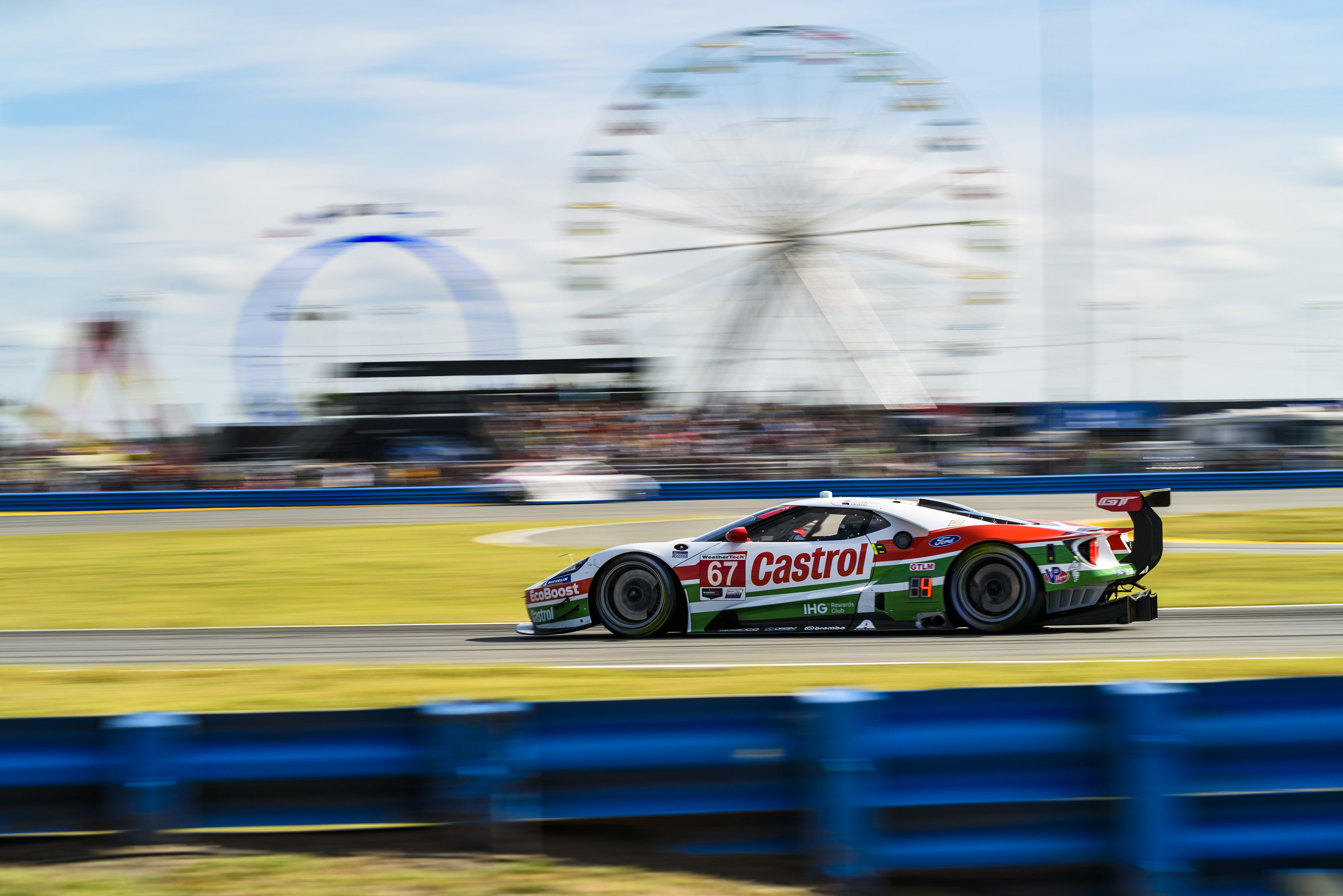 With races on NBCSN (minuscule TV ratings) more and more teams are deciding to skip the Rolex 24
UPDATE Rick Ware Racing has withdrawn its LMP2 entry from this weekend's Rolex 24 at Daytona, bringing the overall car count down to 38 cars for the IMSA WeatherTech SportsCar Championship season-opener.
The team's Riley Mk. 30 Gibson was due to be driven by Cody Ware and Aston Martin Autosport BRDC Young Driver Award winner Johnathan Hoggard.
In a statement issued Monday, the team said its withdrawal is due to "circumstances outside the team's control" regarding driver requirements and the funding required to be "competitive at the top" of the class.
01/16/20 In 2017 there were 55 entries for the Rolex 24
In 2018 there were 50 entries for the Rolex 24
In 2019 there were 47 entries for the Rolex 24
In 2020 there are only 39 entries for the Rolex 24, despite a booming economy, down 29.1% from 2017
Rolex 24 Press Release
Another star-studded field featuring world-class sports cars and drivers are set to take on the grueling, twice-around-the-clock classic challenge that is the Rolex 24 At Daytona at the end of next week on the iconic 3.56-mile, Daytona International Speedway road course.
The field includes race cars from 12 different manufacturers and includes 42 drivers with at least one previous Rolex 24 victory. It also includes a two-time and reigning NASCAR Cup Series champion, the 2019 Indianapolis 500 winner among six Indy 500 winners and five IndyCar champions in the field, 26 24 Hours of Le Mans winners and 30 IMSA premier series champions.
There is a total of 39 entries spread between four classes of competition: Daytona Prototype international (DPi) with eight, LMP2 with six, GT Le Mans (GTLM) with seven and GT Daytona (GTD) with 18. Nearly every entry will compete in the full 2020 WeatherTech Championship season. The race also will include drivers from 22 different countries and five continents.
On-track activity for the 58th Rolex 24 At Daytona begins Thursday, Jan. 23 with practice and qualifying. NBC will have live network coverage of the start of the race beginning at 1:30 p.m. ET on Saturday, Jan. 25, and also will televise the race finish beginning at 12 p.m. ET on Sunday, Jan. 26 as part of NBC Sports' complete coverage of the event that includes windows on NBCSN and the NBC Sports App and TrackPass on NBC Sports Gold.
IMSA Radio also will have live coverage throughout race weekend on IMSA.com and RadioLeMans.com, with complete race coverage also airing on SiriusXM Radio (XM 202, Sirius 216, Online 972).
Tickets for the 58th Rolex 24 At Daytona are available on DaytonaInternationalSpeedway.com.
Here's a closer look at the accomplishments of drivers, teams and manufacturers in the 2020 Rolex 24 At Daytona:
Previous Rolex 24 At Daytona-Winning Drivers in 2020 Field
| | | |
| --- | --- | --- |
| Wins | Driver, Car/Class | Class/Years |
| 5 | Andy Lally, No. 44 Lamborghini GTD | SRP2 – 2001; GT – 2009, 2011, 2012; GTD – 2016 |
| 4 | Joao Barbosa, No. 5 Cadillac DPi | GTS – 2003; DP/Overall – 2010; P/Overall – 2014, 2018 |
| 3 | Scott Dixon, No. 10 Cadillac DPi | DP/Overall – 2006, P/Overall – 2015, GTLM – 2018 |
| 3 | Juan Pablo Montoya, No. 6 Acura DPi | DP/Overall – 2007, 2008, 2013 |
| 2 | Bill Auberlen, No. 96 BMW GTD | GTS-3 – 1997, GT3 – 1998 |
| 2 | Spencer Pumpelly, No. 44 Lamborghini GTD | GT – 2006, 2011 |
| 2 | Antonio Garcia, No. 3 Corvette GTLM | DP/Overall – 2009, GTLM – 2015 |
| 2 | John Potter, No. 44 Lamborghini GTD | GT – 2012, GTD – 2016 |
| 2 | Filipe Albuquerque, No. 31 Cadillac DPi | GT – 2013, P/Overall – 2018 |
| 2 | Sebastien Bourdais, No. 5 Cadillac DPi | P/Overall – 2014, GTLM – 2017 |
| 2 | Ryan Briscoe, No. 10 Cadillac DPi | GTLM – 2015, 2018 |
| 2 | Jordan Taylor, No. 3 Corvette GTLM | P/Overall – 2017, DPi/Overall – 2019 |
| 2 | Mirko Bortolotti, No. 88 Audi GTD | GTD – 2018, 2019 |
| 2 | Rolf Ineichen, No. 88 Audi GTD | GTD – 2018, 2019 |
| 1 | Patrick Long, No. 16 GTD | GT – 2009 |
| 1 | Ryan Dalziel, No. 8 ORECA LMP2 | DP/Overall – 2010 |
| 1 | Jonathan Bomarito, No. 55 Mazda DPi | GT – 2010 |
| 1 | AJ Allmendinger, No. 57 Acura GTD | DP/Overall – 2012 |
| 1 | Oliver Jarvis, No. 77 Mazda DPi | GT – 2013 |
| 1 | Nick Tandy, No. 911 Porsche GTLM | GTLM – 2014 |
| 1 | Patrick Pilet, No. 9 Porsche GTD | GTLM – 2014 |
| 1 | Colin Braun, No. 81 ORECA LMP2 | PC – 2014 |
| 1 | Townsend Bell, No. 12 Lexus GTD | GTD – 2014 |
| 1 | Ben Keating, No. 52 LMP2/No. 74 GTD | GTD – 2015 |
| 1 | Pipo Derani, No. 31 Cadillac DPi | P/Overall – 2016 |
| 1 | Oliver Gavin, No. 4 Corvette GTLM | GTLM – 2016 |
| 1 | Tommy Milner, No. 4 Corvette GTLM | GTLM – 2016 |
| 1 | Marcel Fassler, No. 4 Corvette GTLM | GTLM – 2016 |
| 1 | Misha Goikhberg, No. 57 Acura GTD | PC – 2016 |
| 1 | Chris Miller, No. 85 Cadillac DPi | PC – 2016 |
| 1 | Ricky Taylor, No. 7 Acura DPi | P/Overall – 2017 |
| 1 | Kyle Masson, No. 38 ORECA LMP2 | PC – 2017 |
| 1 | Nick Boulle, No. 52 ORECA LMP2 | PC – 2017 |
| 1 | Michael De Quesada, No. 14 Lexus GTD | GTD – 2017 |
| 1 | Daniel Morad, No. 88 Audi GTD | GTD – 2017 |
| 1 | Franck Perera, No. 11 Lamborghini GTD | GTD – 2018 |
| 1 | Renger van der Zande, No. 10 Cadillac DPi | DPi/Overall – 2019 |
| 1 | Kamui Kobayashi, No. 10 Cadillac DPi | DPi/Overall – 2019 |
| 1 | Augusto Farfus, No. 24 BMW GTLM | GTLM – 2019 |
| 1 | Connor De Phillippi, No. 25 BMW GTLM | GTLM – 2019 |
| 1 | Philipp Eng, No. 25 BMW GTLM | GTLM – 2019 |
| 1 | Colton Herta, No. 25 BMW GTLM | GTLM – 2019 |
Previous Rolex 24 At Daytona-Winning Entrants in 2020 Field
| | | |
| --- | --- | --- |
| Wins | Team, Cars/Class | Class/Years |
| 5 | Porsche, Nos. 911/912 GTLM | Proto 2000 – 1966, 1967; Sports 2000 – 1966;Overall – 1968; GTLM – 2014 |
| 3 | Mazda, Nos. 55/77 DPi | GTU – 1979, GTO – 1982, 1983 |
| 3 | Corvette Racing, Nos. 3/4 GTLM | Overall – 2001, GTLM – 2015, 2016 |
| 3 | Wayne Taylor Racing, No. 10 DPi | DP/Overall – 2005, P/Overall – 2017,DPi/Overall – 2019 |
| 3 | Action Express Racing, No. 31 DPi | DP/Overall – 2010, P/Overall – 2014, 2018 |
| 2 | BMW, Nos. 24/25 GTLM | Overall – 1976, GTLM – 2019 |
| 2 | Joest, Nos. 55/77 DPi | Overall – 1980, 1991 |
| 2 | Penske, Nos. 6/7 DPi | GT/GTO – 1966, Overall – 1969 |
| 2 | CORE autosport, Nos. 911/912 GTLM | PC – 2014, GTLM – 2014 |
| 2 | Magnus, No. 44 GTD | GT – 2012, GTD – 2016 |
| 2 | GRT Grasser, Nos. 11, 19, 44 | GTD – 2018, 2019 |
| 1 | Shank, Nos. 57/86 GTD | DP/Overall – 2012 |
| 1 | Riley, No. 74 GTD | GTD – 2015 |
| 1 | JDC-Miller Motorsports, Nos. 5/85 DPi | PC – 2016 |
| 1 | Performance Tech, No. 38 LMP2 | PC – 2017 |
| 1 | DragonSpeed, No. 81 LMP2 | LMP2 – 2019 |
| 1 | Rahal Letterman Lanigan, Nos. 24/25 GTLM | GTLM – 2019 |
Previous Rolex 24 At Daytona-Winning Manufacturers in 2020 Rolex 24 Field
| | |
| --- | --- |
| Wins | Manufacturer |
| 69 | Porsche |
| 22 | Mazda |
| 19 | Chevrolet |
| 9 | Ferrari |
| 8 | BMW |
| 3 | Cadillac |
| 3 | Lexus |
| 2 | Acura |
| 2 | Audi |
| 2 | Lamborghini |
24 Hours of Le Mans-Winning Drivers in 2020 Rolex 24 Field
| | | |
| --- | --- | --- |
| Wins | Driver, Car/Class | Class/Years |
| 5 | Oliver Gavin, No. 4 Corvette GTLM | GTS – 2002, 2004; GT1 – 2005, 2006;GTE Pro – 2015 |
| 4 | Nicolas Lapierre, No. 8 ORECA LMP2 | LMP2 – 2015, 2016, 2018, 2019 |
| 3 | Antonio Garcia, No. 3 Corvette GTLM | GT1 – 2008, 2009; GTE Pro – 2011 |
| 3 | Marcel Fassler, No. 4 Corvette GTLM | LMP1/Overall – 2011, 2012, 2014 |
| 2 | Patrick Long, No. 16 Porsche GTD | GT – 2004, GT2 – 2007 |
| 2 | Tommy Milner, No. 4 Corvette GTLM | GTE Pro – 2011, 2015 |
| 2 | Toni Vilander, No. 63 Ferrari GTD | GTE Pro – 2012, 2014 |
| 2 | Earl Bamber, No. 912 Porsche GTLM | LMP1/Overall – 2015, 2017 |
| 2 | Daniel Serra, No. 62 Ferrari GTLM | GTE Pro – 2017, 2019 |
| 1 | Jeroen Bleekemolen, No. 54 Porsche GTD | LMP2 – 2008 |
| 1 | Ryan Dalziel, No. 8 ORECA LMP2 | LMP2 – 2012 |
| 1 | Pedro Lamy, No. 98 Aston Martin GTD | GTE Am – 2012 |
| 1 | Loic Duval, No. 5 Cadillac DPi | LMP1/Overall – 2013 |
| 1 | Harry Tincknell, No. 55 Mazda DPi | LMP2 – 2014 |
| 1 | David Heinemeier-Hansson, No. 8 ORECA LMP2 | GTE Am – 2014 |
| 1 | Nicki Thiim, No. 23 Aston Martin GTD | GTE Am – 2014 |
| 1 | Nick Tandy, No. 911 Porsche GTLM | LMP1/Overall – 2015 |
| 1 | Jordan Taylor, No. 3 Corvette GTLM | GTE Pro – 2015 |
| 1 | Sebastien Bourdais, No. 5 Cadillac DPi | GTE Pro – 2016 |
| 1 | Townsend Bell, No. 12 Lexus GTD | GTE Am – 2016 |
| 1 | Oliver Jarvis, No. 77 Mazda DPi | LMP2 – 2017 |
| 1 | Dries Vanthoor, No. 88 Audi GTD | GTE Am – 2017 |
| 1 | Laurens Vanthoor, No. 912 Porsche GTLM | GTE Pro – 2018 |
| 1 | Matt Campbell, No. 911 Porsche GTLM | GTE Am – 2018 |
| 1 | James Calado, No. 62 Ferrari GTLM | GTE Pro – 2019 |
| 1 | Alessandro Pier Guidi, No. 62 Ferrari GTLM | GTE Pro – 2019 |
NASCAR Cup Series Champions in Rolex 24 Field
| | | |
| --- | --- | --- |
| Titles | Driver, Car/Class | Years |
| 2 | Kyle Busch, No. 14 Lexus GTD | 2015, 2019 |
Indianapolis 500 Winners in Rolex 24 Field
| | | |
| --- | --- | --- |
| Wins | Driver, Car/Class | Years |
| 3 | Helio Castroneves, No. 7 Acura DPi | 2001, 2002, 2009 |
| 2 | Juan Pablo Montoya, No. 6 Acura DPi | 2000, 2015 |
| 1 | Scott Dixon, No. 10 Cadillac DPi | 2008 |
| 1 | Ryan Hunter-Reay, No. 55 Mazda DPi | 2014 |
| 1 | Alexander Rossi, No. 7 Acura DPi | 2016 |
| 1 | Simon Pagenaud, No. 6 Acura DPi | 2019 |
IndyCar Champions in Rolex 24 Field
| | | |
| --- | --- | --- |
| Titles | Driver, Car/Class | Years |
| 5 | Scott Dixon, No. 10 Cadillac DPi | 2003, 2008, 2013, 2015, 2018 |
| 4 | Sebastien Bourdais, No. 5 Cadillac DPi | 2004, 2005, 2006, 2007 |
| 1 | Juan Pablo Montoya, No. 6 Acura DPi | 1999 |
| 1 | Simon Pagenaud, No. 6 Acura DPi | 2016 |
| 1 | Ryan Hunter-Reay, No. 55 Mazda DPi | 2012 |
IMSA Premier Series Champions in Rolex 24 Field
| | | |
| --- | --- | --- |
| Titles | Driver, Car/Class | Class/Years |
| 6 | Oliver Gavin, No. 4 Corvette GTLM | GT1 – 2005, 2006, 2007, 2009; ALMS GT – 2012; GTLM – 2016 |
| 3 | Bill Auberlen, No. 96 BMW GTD | GTS-3 – 1997; GRAND-AM GT – 2002, 2004 |
| 3 | Andy Lally, No. 44 Lamborghini GTD | SRP2 – 2001, SGS – 2004, GRAND-AM GT – 2006, |
| 3 | Patrick Long, No. 16 Porsche GTD | GT2 – 2005, 2009; ALMS GT – 2010 |
| 3 | Antonio Garcia, No. 3 Corvette GTLM | ALMS GT – 2013; GTLM – 2017, 2018 |
| 3 | Dane Cameron, No. 6 Acura DPi | GTD – 2014, P – 2016, DPi – 2019 |
| 2 | Tommy Milner, No. 4 Corvette GTLM | ALMS GT – 2012, GTLM – 2016 |
| 2 | Tim Pappas, No. 54 Porsche GTD | GTC – 2010, 2011 |
| 2 | Jeroen Bleekemolen, No. 54 Porsche GTD | GTC – 2010, 2013 |
| 2 | Cooper MacNeil, No. 63 Ferrari GT3 | GTC – 2012, 2013 |
| 2 | Jordan Taylor, No. 3 Corvette GTLM | DP – 2013, P – 2017 |
| 2 | Joao Barbosa, No. 5 Cadillac DPi | P – 2014, 2015 |
| 2 | Colin Braun, No. 81 ORECA LMP2 | PC – 2014, 2015 |
| 2 | Christina Nielsen, No. 19 Lamborghini GTD | GTD – 2016, 2017 |
| 2 | Alessandro Balzan, No. 63 Ferrari GTD | GTD – 2016, 2017 |
| 1 | Ian James, No. 23 Aston Martin GTD | P2 – 2004 |
| 1 | Simon Pagenaud, No. 6 Acura DPi | LMP – 2010 |
| 1 | Patrick Pilet, No. 9 Porsche GTD | GTLM – 2015 |
| 1 | Townsend Bell, No. 12 Lexus GTD | GTD – 2015 |
| 1 | Renger van der Zande, No. 10 Cadillac DPi | PC – 2016 |
| 1 | Ricky Taylor, No. 7 Acura DPi | P – 2017 |
| 1 | Felipe Nasr, No. 31 Cadillac DPi | P – 2018 |
| 1 | Madison Snow, No. 48 Lamborghini GTD | GTD – 2018 |
| 1 | Bryan Sellers, No. 48 Lamborghini GTD | GTD – 2018 |
| 1 | Juan Pablo Montoya, No. 6 Acura DPi | DPi – 2019 |
| 1 | Laurens Vanthoor, No. 912 Porsche GTLM | GTLM – 2019 |
| 1 | Earl Bamber, No. 912 Porsche GTLM | GTLM – 2019 |
| 1 | Matt McMurry, No. 86 Acura GTD | LMP2 – 2019 |
| 1 | Trent Hindman, No. 57 Acura GTD | GTD – 2019 |
| 1 | Mario Farnbacher, No. 86 Acura GTD | GTD – 2019 |