Practice 2 cut short ahead of Qualifying, Rowland fastest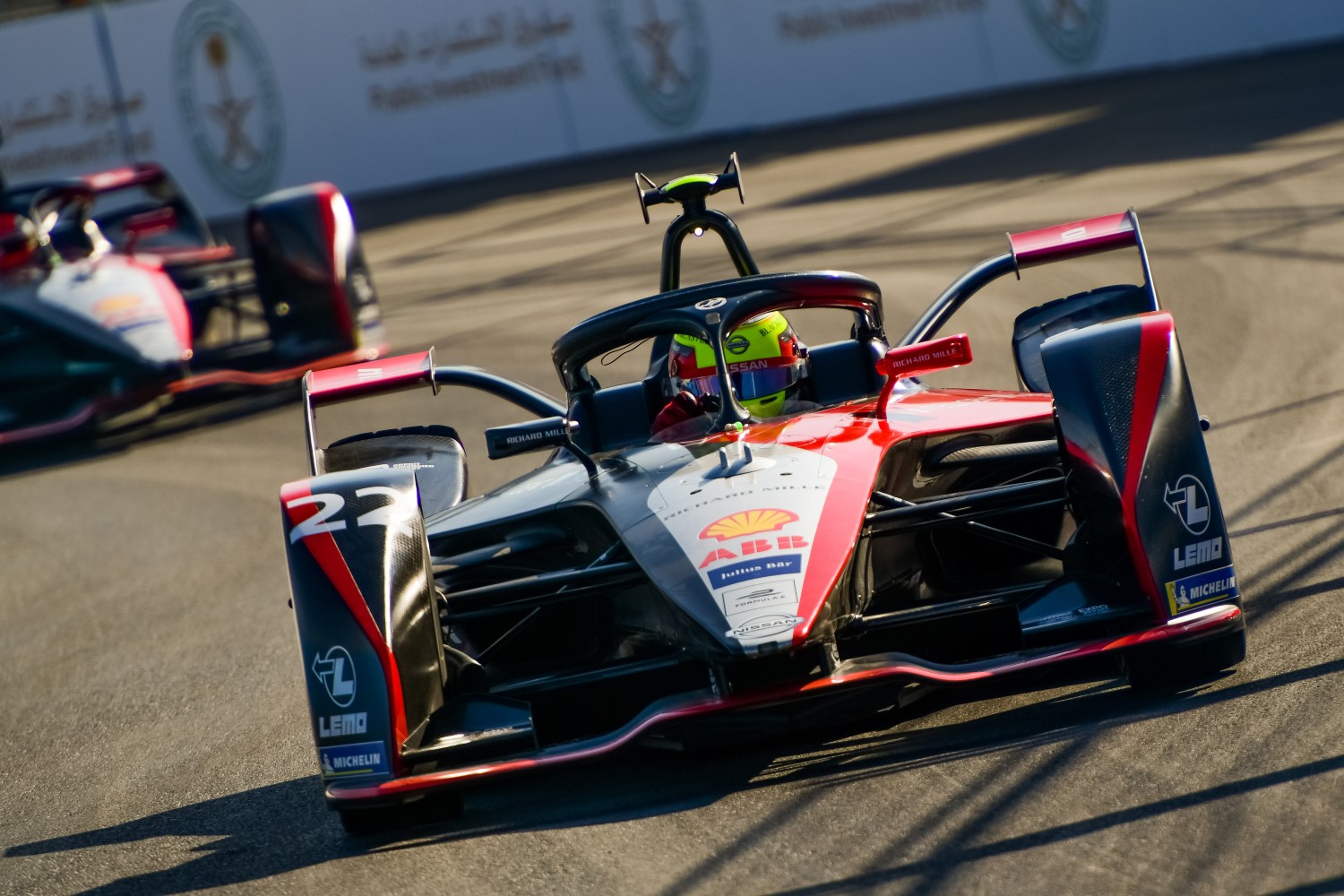 Oliver Rowland
Following a smooth first Practice session in the morning, the second session of the day saw two Red Flags, which ultimately brought the session to a close early. Despite the disruption on track, it was Nissan e.dams's Oliver Rowland who went fastest as one of the few drivers who completed a full power lap (1:04.799). Behind the Brit was Rokit Venturi Racing's Felipe Massa with a time of 1:04.930 and Panasonic Jaguar Racing's Mitch Evans with a time of 1:05.046.
Despite many of the drivers being unable to complete a full power lap, 13 cars finished within a second of each other around the Parque O'Higgins circuit.
Halfway through the session, the Red Flag came out after debris was cleared from the track from Brendon Hartley's (Geox Dragon) car. Just minutes later, the Red Flag returned as NIO 333 driver Ma Quinghua collided with the wall, damaging the front diffuser. Stranded, the Chinese driver and his car were rescued and returned to the pits.
With less than a minute left, the session ended with seconds on the clock leaving many drivers unable to complete a full power lap on the new track layout ahead of Qualifying.
Practice 2 Times

| | | | | | | |
| --- | --- | --- | --- | --- | --- | --- |
| POS | DRIVER | TEAM | CAR | TIME | GAP | LAPS |
| 1 | Oliver Rowland | e.dams | Nissan | 1m04.799s | 0.000s | 15 |
| 2 | Felipe Massa | Venturi | Mercedes | 1m04.930s | 0.131s | 12 |
| 3 | Mitch Evans | Jaguar | Jaguar | 1m05.046s | 0.247s | 8 |
| 4 | Max Guenther | BMW | BMW | 1m05.120s | 0.321s | 11 |
| 5 | Andre Lotterer | Porsche | Porsche | 1m05.257s | 0.458s | 11 |
| 6 | Antonio Felix da Costa | DS Techeetah | DS | 1m05.280s | 0.481s | 12 |
| 7 | Edoardo Mortara | Venturi | Mercedes | 1m05.327s | 0.528s | 12 |
| 8 | Oliver Turvey | NIO | NIO | 1m05.398s | 0.599s | 12 |
| 9 | Daniel Abt | Audi | Audi | 1m05.469s | 0.670s | 12 |
| 10 | Brendon Hartley | Dragon | Penske | 1m05.540s | 0.741s | 9 |
| 11 | Nyck de Vries | Mercedes | Mercedes | 1m05.586s | 0.787s | 14 |
| 12 | Pascal Wehrlein | Mahindra | Mahindra | 1m05.598s | 0.799s | 13 |
| 13 | James Calado | Jaguar | Jaguar | 1m05.634s | 0.835s | 10 |
| 14 | Stoffel Vandoorne | Mercedes | Mercedes | 1m05.899s | 1.100s | 11 |
| 15 | Jean-Eric Vergne | DS Techeetah | DS | 1m06.258s | 1.459s | 10 |
| 16 | Lucas di Grassi | Audi | Audi | 1m06.283s | 1.484s | 8 |
| 17 | Alexander Sims | BMW | BMW | 1m06.349s | 1.550s | 11 |
| 18 | Jerome d'Ambrosio | Mahindra | Mahindra | 1m06.368s | 1.569s | 11 |
| 19 | Nico Muller | Dragon | Penske | 1m06.660s | 1.861s | 9 |
| 20 | Robin Frijns | Virgin | Audi | 1m06.857s | 2.058s | 6 |
| 21 | Sebastien Buemi | e.dams | Nissan | 1m06.904s | 2.105s | 13 |
| 22 | Sam Bird | Virgin | Audi | 1m07.007s | 2.208s | 9 |
| 23 | Neel Jani | Porsche | Porsche | 1m07.056s | 2.257s | 11 |
| 24 | Ma Qinghua | NIO | NIO | 1m08.364s | 3.565s | 10 |