Torrence, Pedregon, Enders, Savoie Win at zMax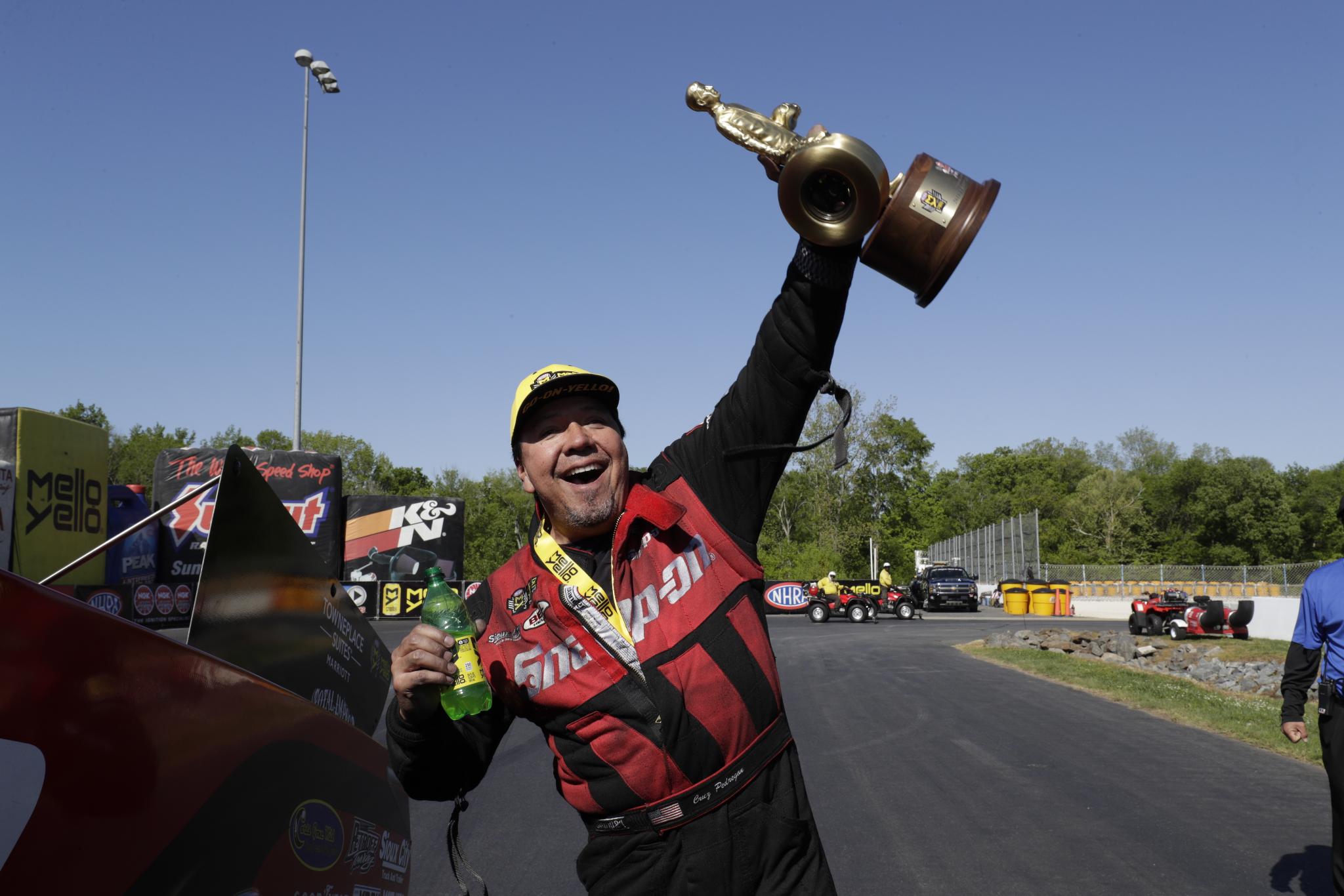 Cruz Pedregon
HHP/Harold Hinson
Cruz Pedregon snapped a 92-race winless streak with a victory in the Funny Car final in Sunday's ninth-annual NGK Spark Plugs NHRA Four-Wide Nationals at zMax Dragway.
Pedregon took his independently-owned team to victory over two of the powerhouse teams in NHRA by besting John Force, Courtney Force and Don Schumacher Racing driver Tommy Johnson, Jr. for his first victory since Englishtown in June, 2014
Steve Torrence (Top Fuel), Erica Enders (Pro Stock) and Jerry Savoie (Pro Stock Motorcycle) joined Pedregon in the Winner's Circle collecting win in their respective categories.
Sunday's race was the second four-wide race of the season following the inaugural four-wide race earlier this month at the Strip at Las Vegas Motor Speedway. The unique racing format features four drivers racing against one another, with the top two in each quad advancing to the next round.
Pedregon topped both the first-round and second-round quads of four drivers, but they weren't pretty.
In the opening round, Pedregon was first out of the gate but lost power halfway through the run but was able to coast to the victory as Johnson, Jr., Matt Hagan and John Smith all had problems of their own – including Hagan blowing the body off of his Dodge Charger. Johnson, Jr. finished second to advance to the next round.
Pedregon was a little bit slower on the start in the second round but powered to another round victory after Robert Hight hazed the tires at the 400-foot mark and got out of the gas. Pedregon was firing on all cylinders at the finish line but lost his parachutes and was lucky to get the car stopped in time.
In the final, Pedregon was first off the line with a .032 light while Johnson and Courtney Force were off the gas before making it halfway. John Force stayed under power but couldn't catch Pedregon, who ran 4.059 seconds at 310.84 mph for his 36th-career NHRA victory.
"I knew we had our work cut out for us when I pulled up to the starting line in the finals, and I actually didn't believe my ears when my team manager told me that I won," Pedregon said. "It was surreal, and I cannot believe that I won this race."
The victory moves Pedregon to fifth-all time in Funny Car victories, breaking a tie with Don "The Snake" Prudhomme.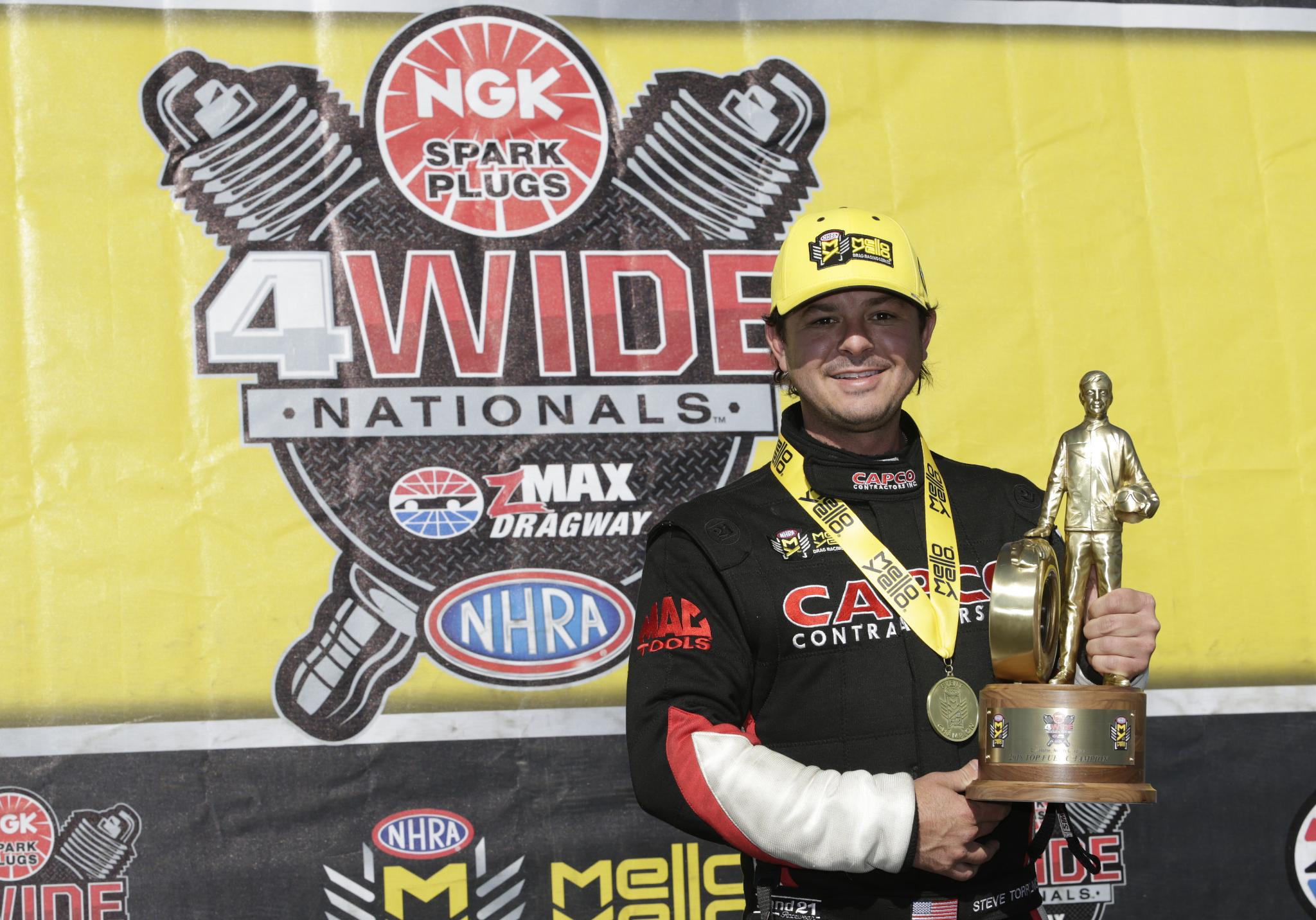 Steve Torrence
HHP/Garry Eller
In Top Fuel, Steve Torrence scored his third-straight four-wide victory after topping last year's event at zMax and the inaugural event at Las Vegas earlier this month.
Torrence won his opening-round quad, posting low ET of the round, and then finished second behind Terry McMillen in the second round to advance to the finals.
Going up against McMillen, Doug Kalitta and Clay Millican in the finals, Torrence was first off the line and easily outdistanced Kalitta as McMillen and Millican both lost power, running 3.813 seconds at 326.56 mph for his third victory of the season and 19th of his career.
"It's pretty unbelievable," said Torrence of winning three straight four-wide events. "The car performed flawlessly. It did everything it was supposed to. The team deserves the success. I just drive the race car and try not to do anything dumb. They cover my butt.
"If I honestly knew what the recipe (to winning four-wide races) was, I'd try to write it down so I wouldn't forget."
Torrence's victory gives him sole possession of the Top Fuel points standings by 77 points over Tony Schumacher.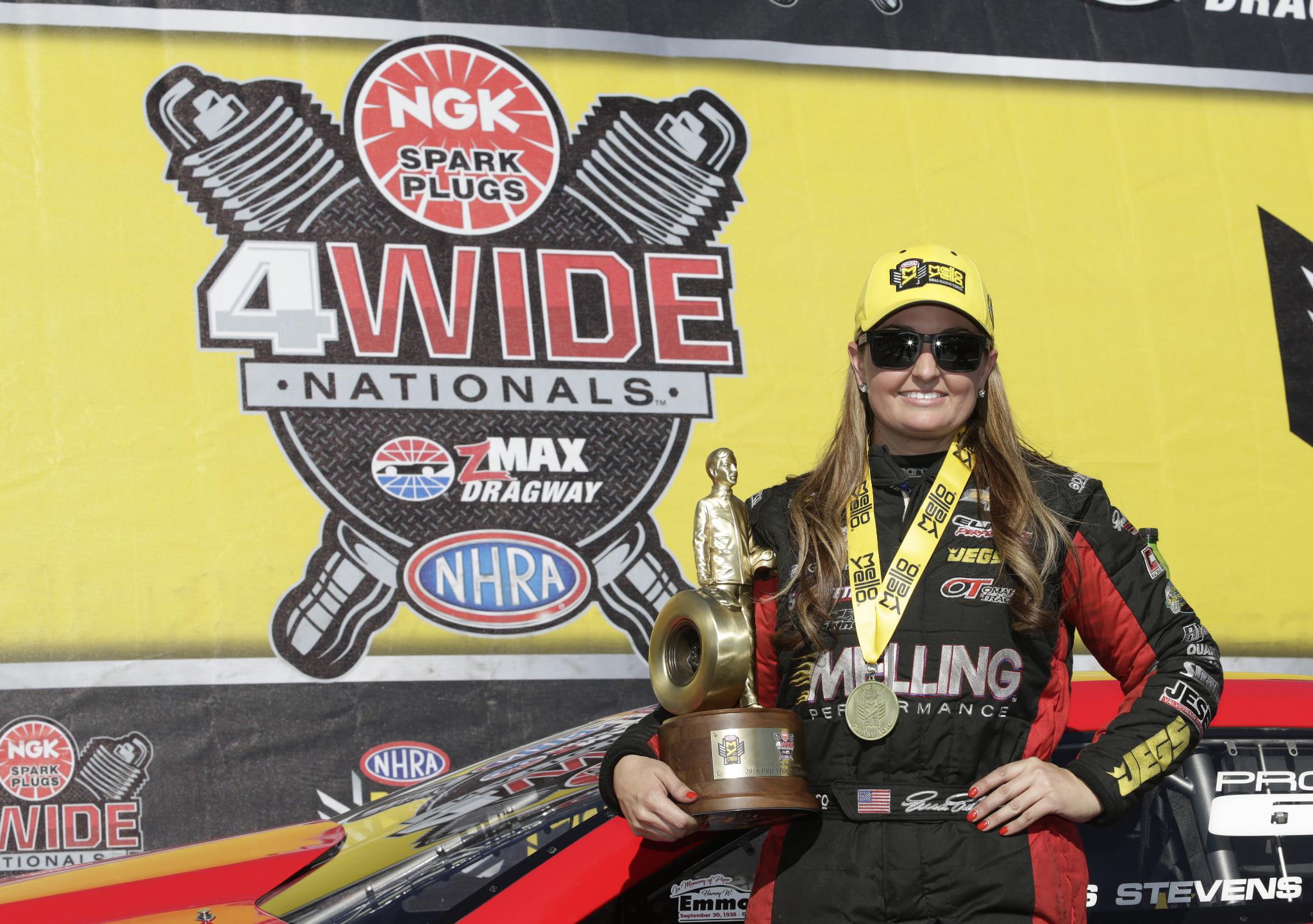 Erica Enders
HHP/Garry Eller
Erica Enders scored her first victory of the season and her first ever zMax victory with a holeshot win over Vincent Nobile, Chris McGaha and top qualifier Drew Skillman.
Enders ran low ET in each of the first two rounds to advance to her second final round in her last two events and her second final round appearance in the Four-Wide Nationals.
At the start, McGaha held the early lead but quickly got loose and got off the gas, giving the lead to Enders who powered to her 23rd-career victory with a run of 6.535 at 212.73 seconds, beating out Nobile who ran a quicker 6.520, 212.69. Skillman finished fourth after spinning the tires right at the starting line.
"In my opinion I have the best team in all of motorsports, so I am really lucky to be their driver," Enders said. "We made a car change going into our home race in Houston last week and we made it to the finals, so we came into this race with some confidence and this is definitely a special victory for me."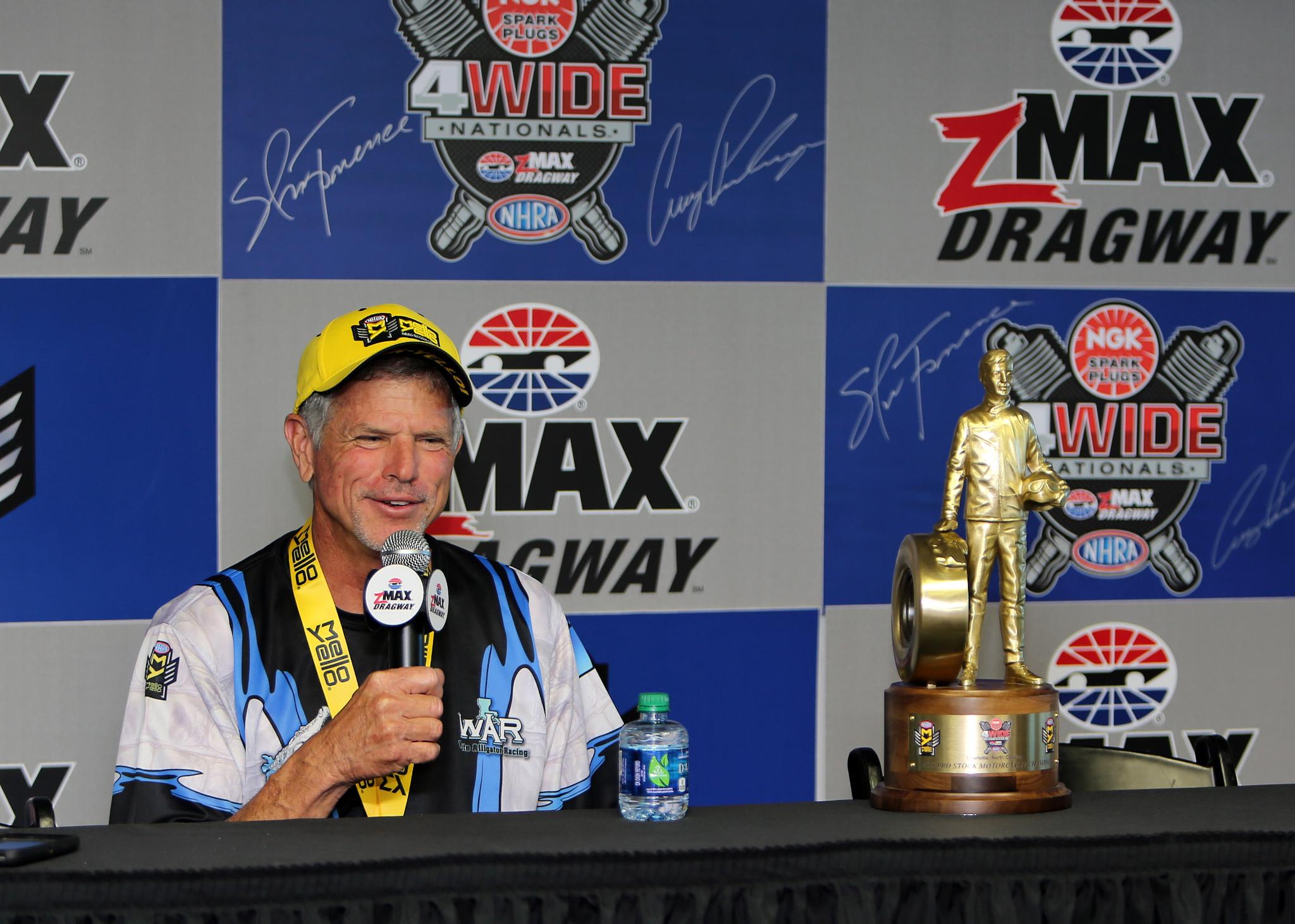 Jerry Savoie
HHP/Tim Parks
Louisiana alligator farmer Jerry Savoie picked up his first-ever zMax victory in a hard-fought victory in the Pro Stock Motorcycle final over Andrew Hines, Scotty Pollacheck and Matt Smith.
Savoie was second to top qualified LE Tonglet in his opening round quad and then beat out Hines in the second round to advance to his first ever zMax final round.
In the final round, all four riders left the starting line within a two-tenths of a second of each other with Hines taking the early advantage, but Savoie powered past to claim his first victory of the season and ninth of his career, running 6.784 at 195.73 mph over Hines' 6.873, 197.05 and Pollacheck's 6.865, 193.79. Smith crossed the centerline and was disqualified.
"We struggled all weekend, but my team worked really hard to get things right so we went out and gave it all we got and figured some things out," Savoie said. "My reaction times on this bike are traditionally not great, but I was able to do pretty well today and we had the power on this bike to get a win."