Jimmie Johnson, daughter part of winning ski team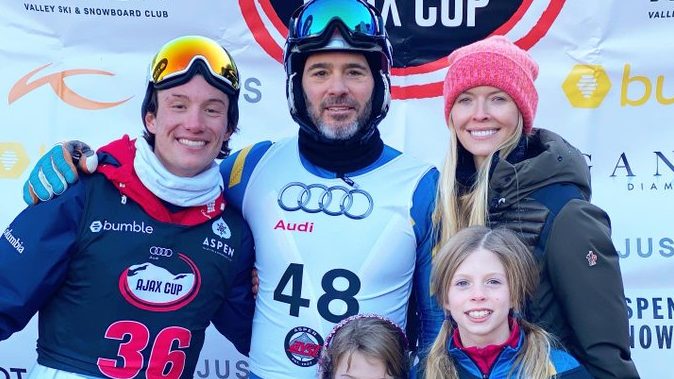 Johnson with his wife and two daughters
Aging Jimmie Johnson is too slow to win a NASCAR Cup race now, but he's still a good skier.
Johnson, a part-time Aspen resident who is without question one of the greatest drivers of all time, got the biggest win of his amateur skiing career Monday when his team, the "West Side Hillbillies," won the 10th annual Audi Ajax Cup on Aspen Mountain.
"I did not expect to win anything this morning and we ended up winning the Ajax Cup and it's really awesome," Ferreira said. "To partner with Jimmie was absolutely fantastic. He is a wonderful human being and he is very much a part of this community by doing this event. He just wants to give back, and so do I, so I think just that energy, maybe that was the missing piece to the puzzle for us to win it?"
The seven-time Cup Series champion and his oldest daughter, Evie, were part of the winning team in the Audi Ajax Cup, an amateur skiing competition that is the largest fundraiser for the Aspen Valley Ski and Snowboard Club. Johnson is a part-time resident of Aspen, Colorado.
The event sees 16 teams of six members each, including a randomly assigned professional, competing in a dual giant slalom format set of races.
Johnson and his nine-year-old daughter were part of a team – the "West Side Hillbillies" – that was paired with Alex Ferreira, an Olympian and an X-Games gold medalist.
Ferreira, the team's pro, won the Gorsuch Cup on the final race of the afternoon.