Ferrari IMSA team next new IndyCar team?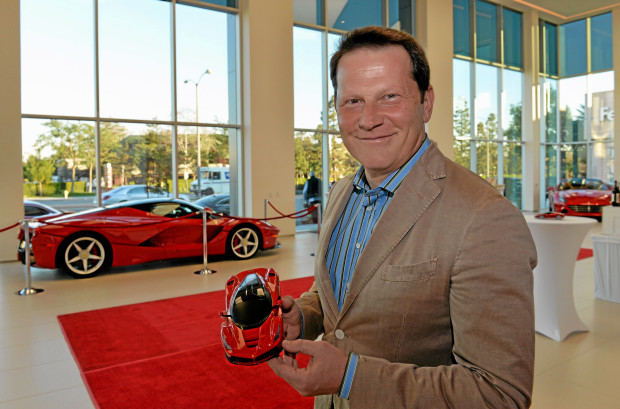 Giacomo Mattioli
IMSA WeatherTech SportsCar championship team Scuderia Corsa has claimed that they are interested in putting together a full-time effort for the Verizon IndyCar Series. The team will make their debut in the series in next month's Indianapolis 500 with Oriol Servia at the wheel of their #64 car in conjunction with Rahal Letterman Lanigan Racing.
The team's owner, Giacomo Mattioli, stated his intentions in a recent interview with RACER, saying that he would love to have his team compete in both IMSA and IndyCar in the future and that he was using his team's upcoming debut at Indianapolis in May as the first stage toward achieving that goal.
"Absolutely, we are interested in a full-season entry," Mattioli told RACER, "We're not there yet, but we are definitely looking at it. IndyCar has done a fantastic job – the product they offer, the platform, the new car looks great, and there's a lot of interest in it. We're working diligently towards it. We don't know whether it will be next year or the year after, but we are working towards it.
"IndyCar racing has been spectacular for a few years – very competitive, many winners. Now, everybody is complaining about Formula 1; its always one team [dominating] or another, but in IndyCar, you don't have one team that dominates, which makes it very interesting."
Scuderia Corsa will make their single-seater racing debut when they take to the track for the 2018 Indianapolis 500 next month. The team are partnering with Rahal Letterman Lanigan Racing to field Oriol Servia in the #64 Honda. The team came into being back in 2012 when they made their debut in IMSA and have since won the GTD class of the WeatherTech SportsCar championship for the last three years. They have also won two of the biggest endurance races in the world; the 12 hours of Sebring and 24 hours of Le Mans.
If Scuderia Corsa manages to expand into the Verizon IndyCar Series full-time, they would not be the first IMSA team to commit to both championships simultaneously. Currently, Chip Ganassi Racing, Meyer Shank Racing, Rahal Letterman Lanigan Racing and Team Penske all compete in both championships at once; with Mattioli citing Penske as an inspiration for what he would like to achieve with Scuderia Corsa.
"If you look at Penske, which personally I always look at in the car business and in motorsport, the platform that they offer is amazing; it's one of a kind," he said. "And that's kind of the aim here. It brings Scuderia Corsa to a larger platform to allow our partners and sponsors to reach out to a wider audience."
The first official day of practice for this year's 102nd running of the Indianapolis 500 takes place on May 15. Qualifying will take place on the following weekend on May 19 and 20, where Scuderia Corsa and other teams will have to run fast enough to avoid being bumped from the field. The 2018 Indianapolis 500 itself will take place on May 27.