Earnhardt, Jr. Prepares For His Last Cup Series Ride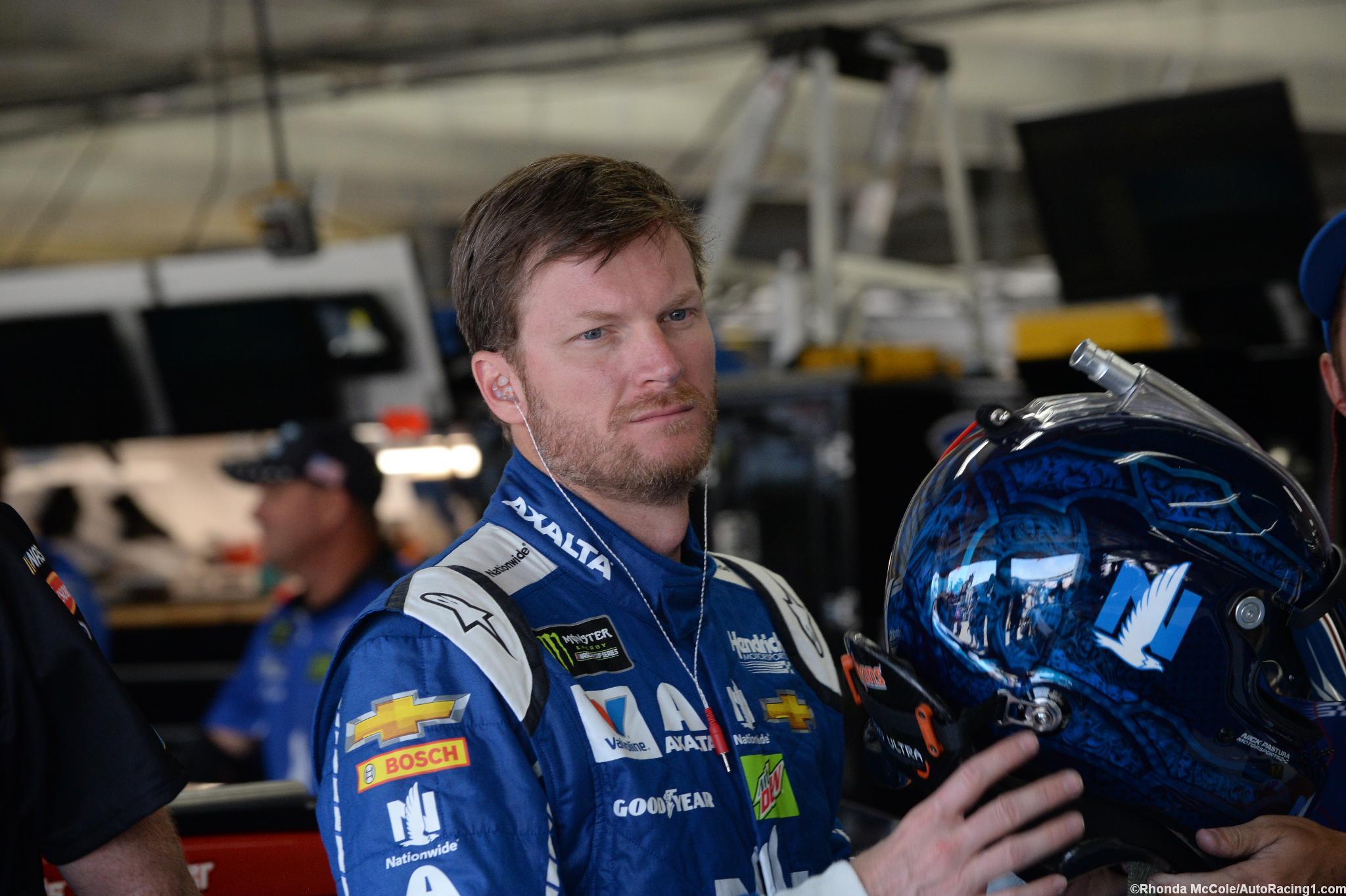 Dale Earnhardt, Jr. prepares to strap into his no. 88 Chevrolet for Coca Cola 600 practice in May, 2017
Rhonda McCole/AR1
This Sunday's Monster Energy NASCAR Cup Series finale will not only be the end of the 2017 season, but will also mark the end of another legendary career – and the closing of a chapter of one of NASCAR's most legendary racing families.
Dale Earnhardt, Jr., the son of the late seven-time champion Dale Earnhardt, Sr., will retire from full-time competition at the end of season, and while it might not be the last NASCAR start of Junior's career, not having him on the track is sure to leave a hole in the hearts of many of his fans.
For the third time in as many years, NASCAR fans are bidding goodbye to another legendary driver. But while Jeff Gordon might have had the boardroom charisma, and Tony Stewart might have had the hardnosed driving style that appealed to the grassroots fans – it was Junior who had the hearts of the fans.
Both his own fans, and those of his father.
Since the death of his dad, Junior has carried the torch for the fans who still hold the Intimidator dear in their hearts. Indeed, it was always Earnhardt, Sr.'s plan for Junior to carry on the Earnhardt legacy, and maybe even take over the driver's seat of the famed black No. 3.
[adinserter name="GOOGLE AD"]Although Junior never reached the same lofty milestones that his seven-time championship-winning father did, he still made his mark in the sport.
Twenty-six wins, two Daytona 500 victories, and a winner of NASCAR's Most Popular Driver award for 16 years straight from 2003 to 2016.
And Junior has come a long way since winning Rookie of the Year in the Cup Series back in 2000. Earnhardt, Jr. now owns his own race team – JR Motorsports – who are fielding three of the four championship hopefuls in this weekend's Xfinity Series finale.
And Junior now has a family of his own with wife, Amy, and a baby girl on the way.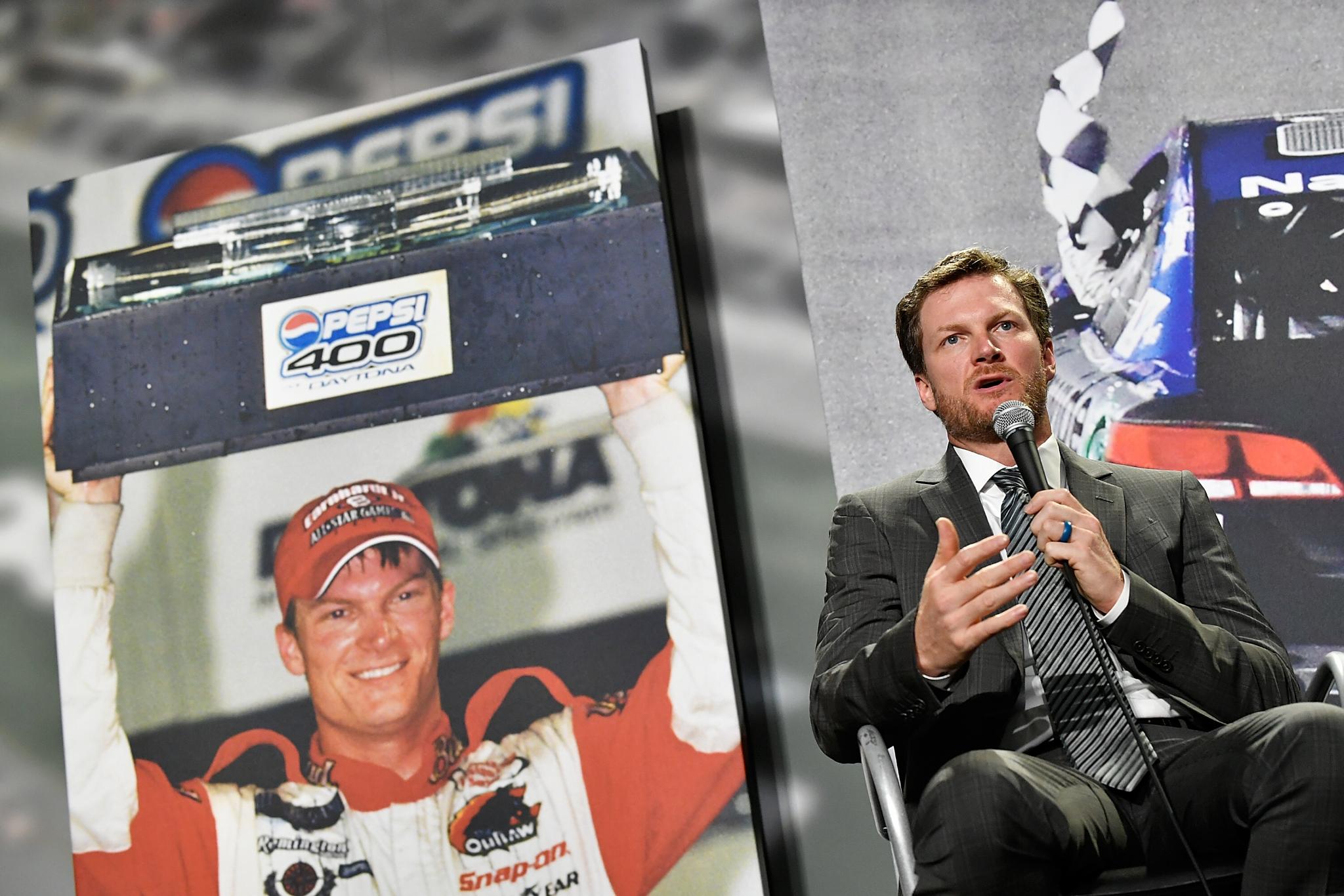 Dale Earnhardt, Jr. announces his retirement on April 25, 2017
Mike Comer/Getty Images
In fact, it was his family that played a major role in his decision to retire. With a history of concussions – including one that caused him to have to sit out the last half of the 2016 season – Junior wanted to go out on HIS terms: racing into the sunset, not forced to sit on the sidelines.
"My heart loves being in the car. I love driving, and I enjoy it as much as I ever have," said Earnhardt, Jr. "(But) I wanted to be able to make that decision myself on retiring and not really have it made for me."
Despite not winning a Cup Series title in his 19-year career, Junior has always said the stats were never that important to him.
"At a very young age all I wanted to do was be able to make a living driving cars. I didn't set goals," Earnhardt, Jr. said. "I didn't dream of winning championships or Daytona 500s or working with one of the best owners in the business driving for one of the best organizations. I just wanted to do it. I just wanted to be able to do it. I was afraid of not being able to do it. So I guess what I'm saying is have I accomplished way more than I've ever dreamed. Way more than I ever thought I'd accomplish.
"So I'm good, you know? I'm good on that front. I'm so blessed and fortunate as far as what I was able to achieve."
Earnhardt, Jr. seemed to be the last of a dying breed in NASCAR – a North Carolina boy who cut his teeth on short tracks in towns like Kannapolis, Concord and Robersonville. There was a time when half the drivers in the field were from North Carolina, but now, only Junior and the Dillon brothers – Austin and Ty – represent the Tar Heel state in the Cup Series.
It might be those backwoods North Carolina roots that made Earnhardt, Jr. so appealing to fans who still remember NASCAR drivers duking it out on dirt tracks back in the day.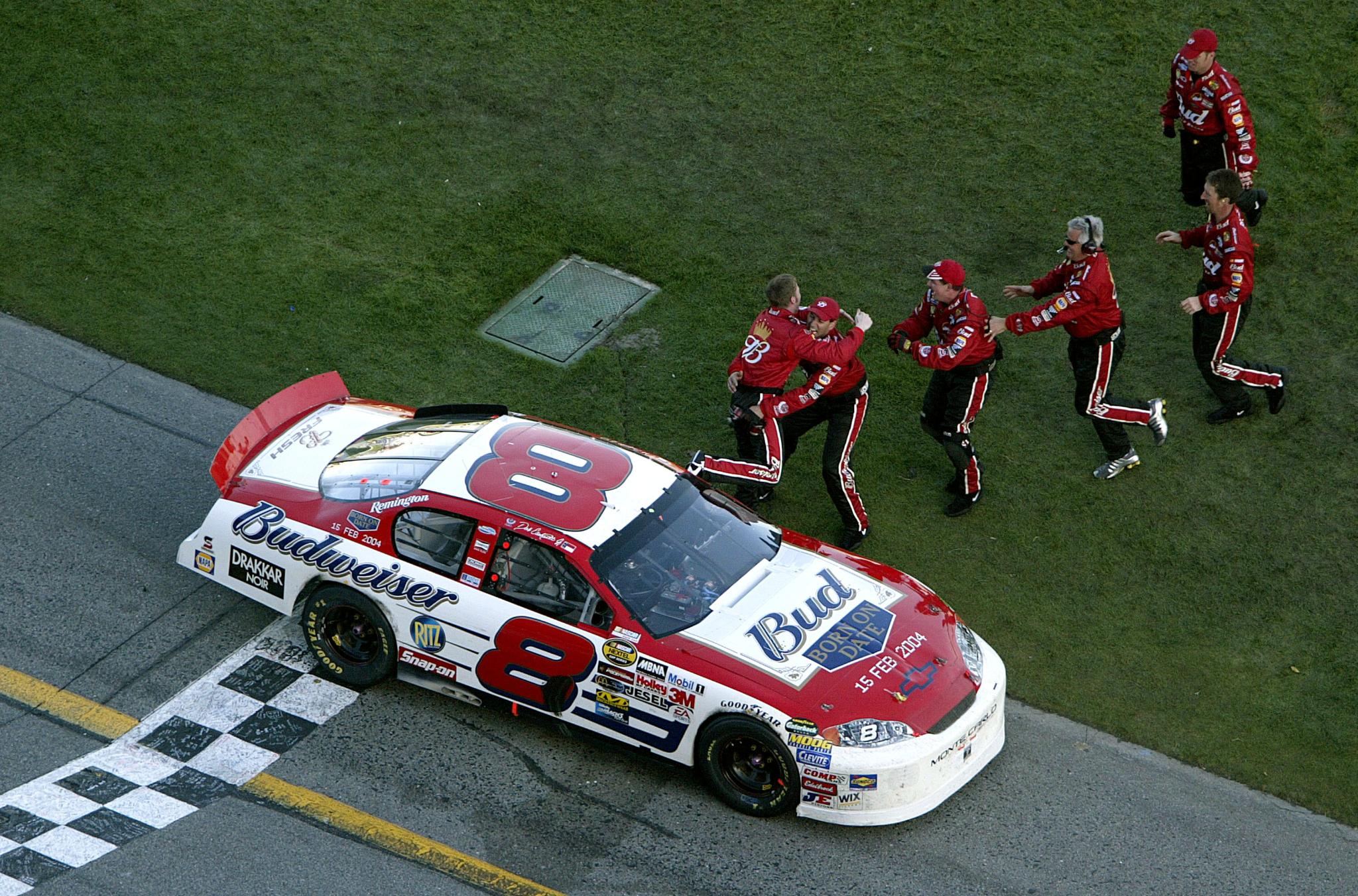 Dale Earnhardt, Jr. celebrates his first Daytona 500 victory on Feb. 15, 2004
Jonathan Ferrey/Getty Images
Junior himself was something of a NASCAR history buff, having practically grown up at the race track – joining his father on road trips to tracks like Daytona and Talladega when he was as young as eight. Some of his closest friends were the children of other famous drivers – like Kyle Petty's son, Adam.
After starting his racing career driving street stock at the age of 17, Earnhardt, Jr. moved up to the Xfinity Series in 1996 driving for his father's race team, Dale Earnhardt, Inc., and within two years captured the first of two Xfinity Series titles.
Junior began racing full-time in the Cup Series in 2000, and scored his first victory in just his 12th series start, winning at Texas Motor Speedway.
The victory at Texas, as well as a victory later at Richmond, qualified him to race in the All Star race at Charlotte Motor Speedway, where Earnhardt, Jr., passed race leader Dale Jarrett with two laps to go to become the first rookie to win the all-star event.
The Earnhardts started the 2001 season with highest of expectations – adding a third DEI car with longtime family friend Michael Waltrip behind the wheel.
The season opening Daytona 500 came down to a battle between Waltrip and Junior, with Dale, Sr. riding shotgun trying to hold off the field so his son and his best friend could duke it out for the lead.
By the time Waltrip crossed the finish line to claim his first-career victory, his friend and car-owner was already dead.
Earnhardt, Jr. was at his father's side at the hospital, and later shared a video message with his fans – we'll get through this. He proved them right by winning at Daytona later that July, in one of the most memorable victory celebrations in NASCAR's history.
Junior would go onto win two Daytona 500s himself, but after the death of his father, he found himself at a crossroads – rather than just being the young hotshoe driver of a famous racer, Junior now had to carry on the burden of leading his father's company through its darkest hour, as well as carry on his father's legacy.
It was almost too much. He thought of hanging it all up right then and there.
"I wanted to quit before the next race," Earnhardt told NBC Sports, "but I wondered if I could carry that regret the rest of my life. Glad I chose to carry on.''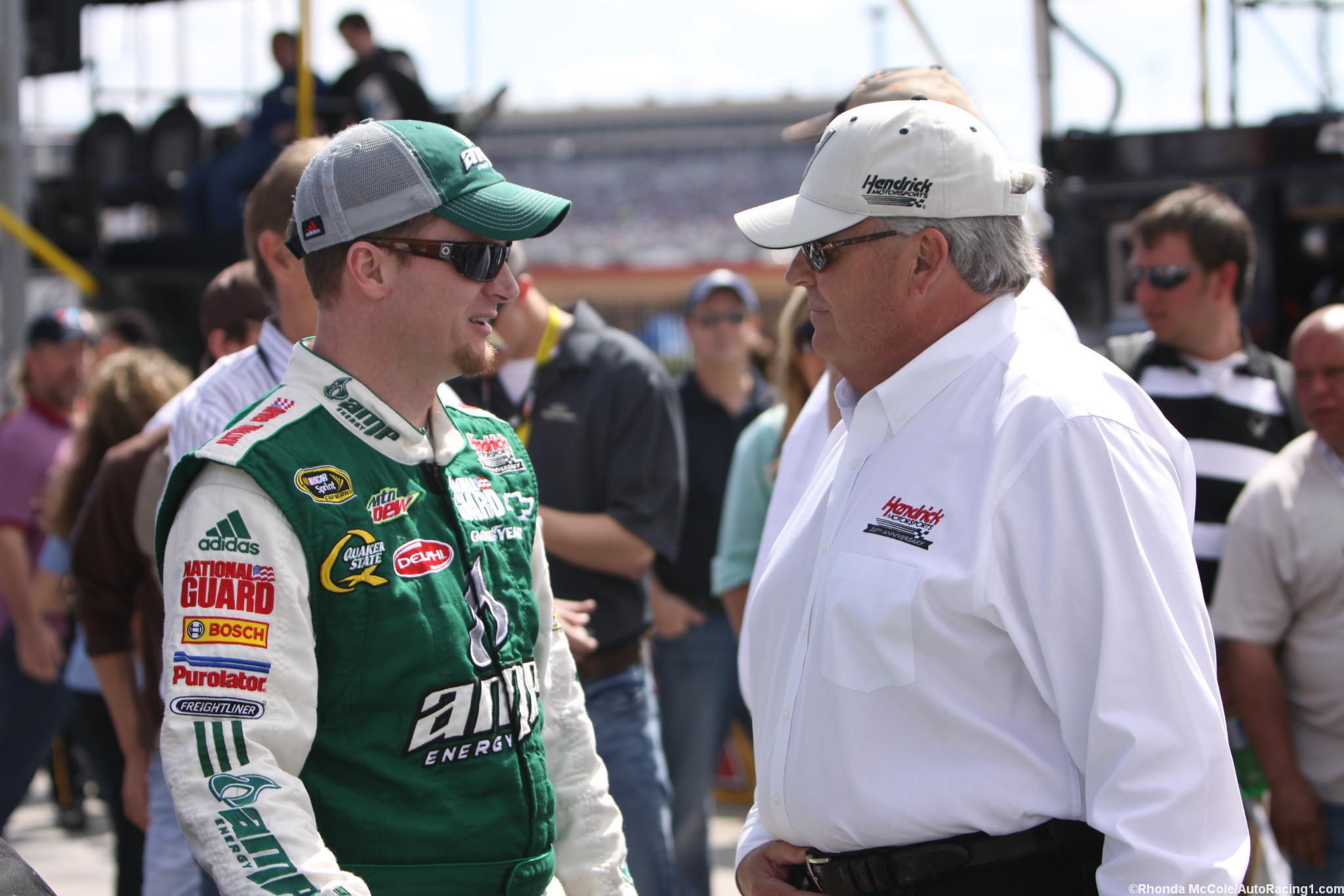 Dale Earnhardt, Jr. (left) and car owner Rick Henedrick at Atlanta Motor Speedway in 2009
Rhonda McCole/AR1
After six more seasons at DEI, Junior left the team after falling out with his step-mother, Teresa Earnhardt, and moved on to Hendrick Motorsports in 2008. There, he found a kindred spirit in car owner Rick Hendrick. Hendrick had lost his son Ricky, in a place crash that also took the lives of Rick's brother John and eight others while en route to a Cup Series race at Martinsville, Virginia in 2004.
"I don't want to take his father's place, but I think we offer something that both of us are missing,'' Hendrick said at the time. "It's not that he's looking for me to be his dad, or I'm looking for him to be my son.
"We have a common bond that we both lost somebody … so there's something there.''
Junior would run the next 10 seasons for Hendrick, tallying his final nine victories, but was never able to win that elusive Cup Series title. The closest he came was third in points, back in 2003.
To some, the very fact that Earnhardt, Jr. was never able to win a Cup Championship made it seem like his career was unfulfilled. After all, his dad was a seven-time champion.
But while he might not have seven championship trophies on his mantle, as far as he's concerned he's accomplished more than he expected in his NASCAR career, and in the end, he hopes his father would have been proud of the legacy he's build for himself.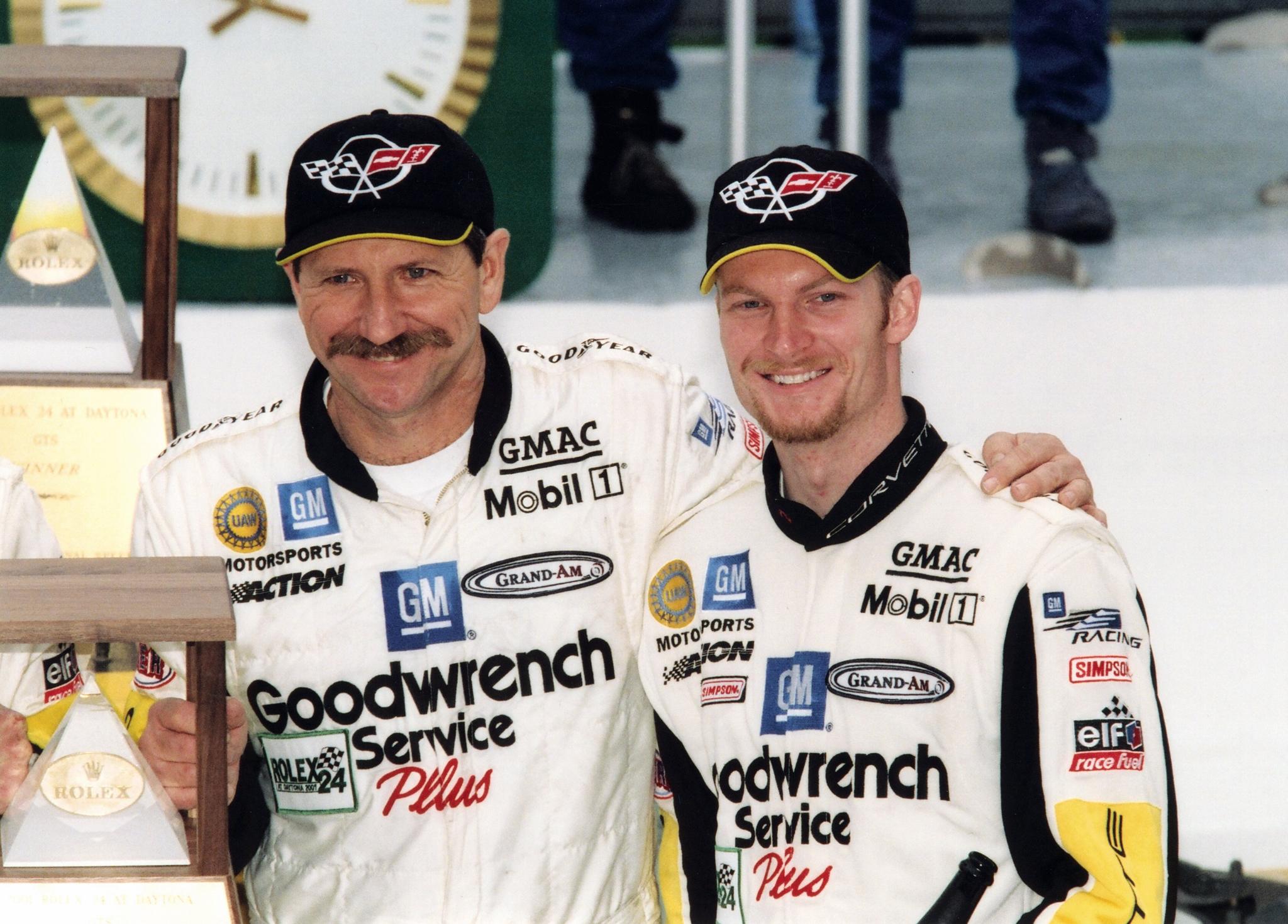 Dale Earnhardt, Jr. (right) poses with his father, Dale Earnhardt, Sr., prior to the Rolex 24 at Daytona on Feb. 4, 2001
ISC Archives via Getty Images
"You know, I'll always let other people tell me what they think dad would think in a certain situation. I've always â€'â€' I never would have assumed that he was proud of me when he was alive. Certainly wouldn't make that mistake after he passed," Earnhardt, Jr. said. "I think there are a lot of things I've done over the last several years that he'd be super surprised. He'd probably be somewhere already surprised.
"So I think he would have â€'â€' he wouldn't tell me to my face, but he would probably tell Rick (Hendrick) or anyone else that would listen here today that he was very proud of me, and then I'd have to go hear it from Rick."
So when Earnhardt, Jr. takes his last laps around Homestead this weekend, it will mean more than just the end of his Cup Series career, it will also bring to a close one of the most enduring family legacies the sport has ever known.
And even if Junior never seems to be able to move too far from his father's shadow, that's just fine with him.
"I read something on Twitter the other day about my brother (Kerry Earnhardt), he said he has always lived under Dad's shadow and that is not such a bad thing. I don't know that you are always out from under it, but it didn't bother me," said Earnhardt, Jr. "I just miss him so bad and wish he were here today to see all this happening.
"I think you will always be compared to him one way or another for better or for worse as long as I'm around, I guess."
Even though Junior won't be running full time anymore, he's not hanging up his helmet for good, as the 43-year-old driver still plans to run a few Xfinity Series races for his own team next season.
And of course, this weekend's final race will be an emotional one – for Junior and for his fans – but he has no regrets about going out on his own terms.
"I don't need to reconsider. This is great timing for me. It's time for somebody else to get in that car and get out of it what they can," said Earnhardt, Jr. "I've felt very good about that decision before the race in Daytona started in February, that this was it.
"With everything we've been through, with the concussion and trying to come back, the emotion was man, I'm so glad I get to run this last year. It was always this is the last year. And I'm glad I get to run it. And, when I started in Daytona, I didn't know whether I would finish, you know, feeling delicate and feeling compromised and knowing how easily that could happen again"
"I'm going to run this last race. And I got all the way through the year, so I feel blessed. I feel really good with it."