Carl Edwards Ready To Take On Bristol Again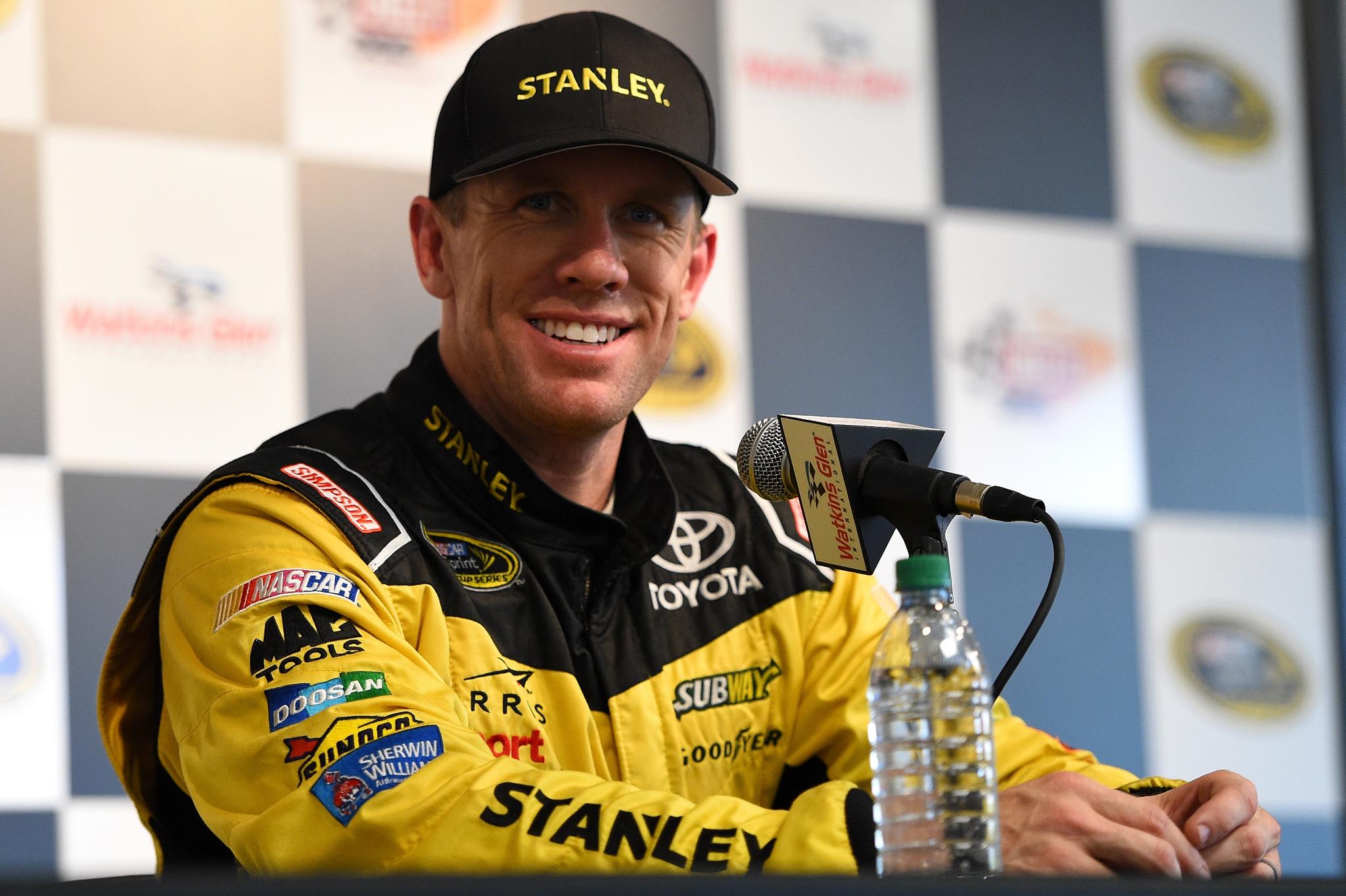 Carl Edwards
Josh Hedges/Getty Images
Fellow NASCAR Sprint Cup Series drivers should fear Carl Edwards this weekend.
The No. 19 Joe Gibbs Racing wheelman claims he's more prepared to tackle Bristol Motor Speedway in Saturday's Bass Pro Shops NRA Night Race than he was when he led a race-high 276 laps on his way to victory at the Tennessee track in April.
"We're going back with what we think is a better plan, a better car, and hopefully we can go qualify well again and put the Stanley Toyota in Victory Lane," Edwards said.
Showcasing his racing prowess at Bristol is nothing new for Edwards. His four wins at "The Last Great Colosseum" are his most at any track. He also has six top-five and 11 top-10 finishes in 24 career starts there.
"You've really got to plan your passes," Edwards said. "You've got to work traffic. Hopefully we can start up front, stay up front and play the game the right way."
[adinserter name="GOOGLE AD"] Edwards will attempt to become the first driver to sweep Bristol since his Joe Gibbs Racing teammate Kyle Busch achieved the feat in 2009. The four current JGR drivers – Edwards, Kyle Busch, Matt Kenseth and Denny Hamlin – have accounted for 14 wins in the last 22 Bristol races (though some of those victories came while they were with different teams). They will try to snap Joey Logano's streak of two consecutive wins in the August Bristol night race.
But unlike last April, drivers have a no challenge to deal with, after the track went through a "facelift" several weeks ago. The lower groove has been "polished" with a special substance that track officials hope will increase grip and add a second groove to the track.
For the last several races, Bristol had transformerd into a one-groove race track, with cars running only on the top of the track, greatly reducing the amount of passing.
Fans were apoplectic after seeing racing at Bristol – which in the past had been some of the most exciting in all of NASCAR – reduced to a 500 mile game of "follow the leader".
So far, the changes to the racing surface have had the opposite effect, with the lower groove proving to be very slick and hard to find grip on. However, following Wednesday night's Camping World Truck Series race and several Xfinity and Cup Series' practices, more driver have been trying the lower groove.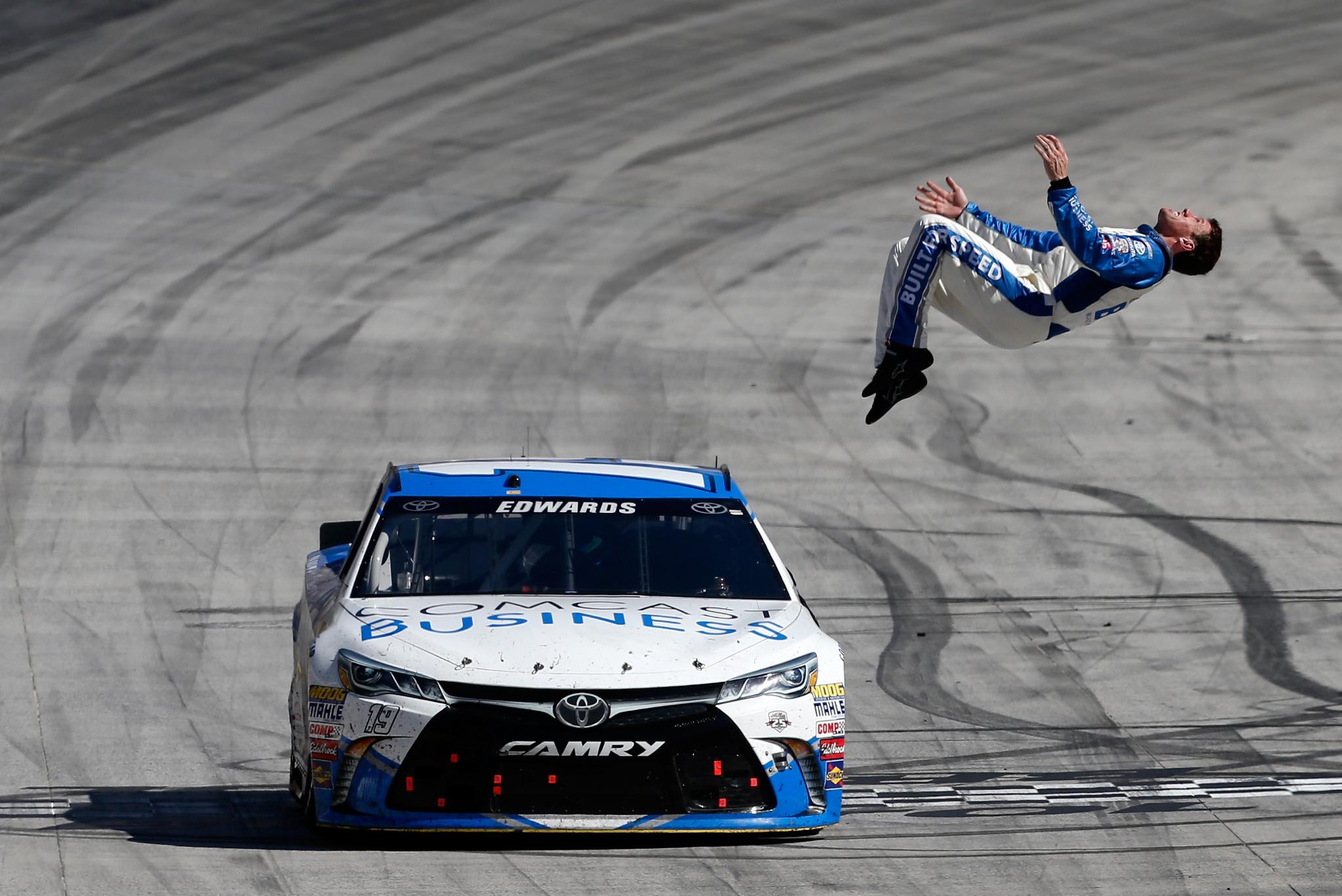 Carl Edwards does his signature backflip after winning at Bristol last April
Matt Sullivan/Getty Images
"The track is a lot different right now," said Edwards. "There's a lot that's going to happen here in the next practice, qualifying and then the race. I don't know if anyone really knows where the groove is going to be so during practice we kind of moved around a lot and tried some different things.
"I'm excited about the prospect of having not only multiple lines, but having the line be on the bottom is a lot of fun. Multiple lines and having the bottom I think is going to make for a much more dynamic race and a lot more fun for the drivers and hopefully the fans enjoy it."
A bigger question mark for Saturday night's race will be the weather, with scattered showers threatening to put a damper on race action throughout the weekend.
Edwards says, that's all part of the experience of being a race car driver.
"Part of the excitement of this job and this sport is going to a new place or running a different package or a track that makes a change," said Edwards. "I think it's good, it mixes it up and that's what this is about is being able to problem solve and I think it's good.
"I guess it remains to be seen how the weather will hold out the rest of the day so we're trying to decide now what we're going to do for the second practice, but having fun."
[adinserter name="GOOGLE AD"]