Torrence, Capps, Line No. 1 Qualifiers at Bristol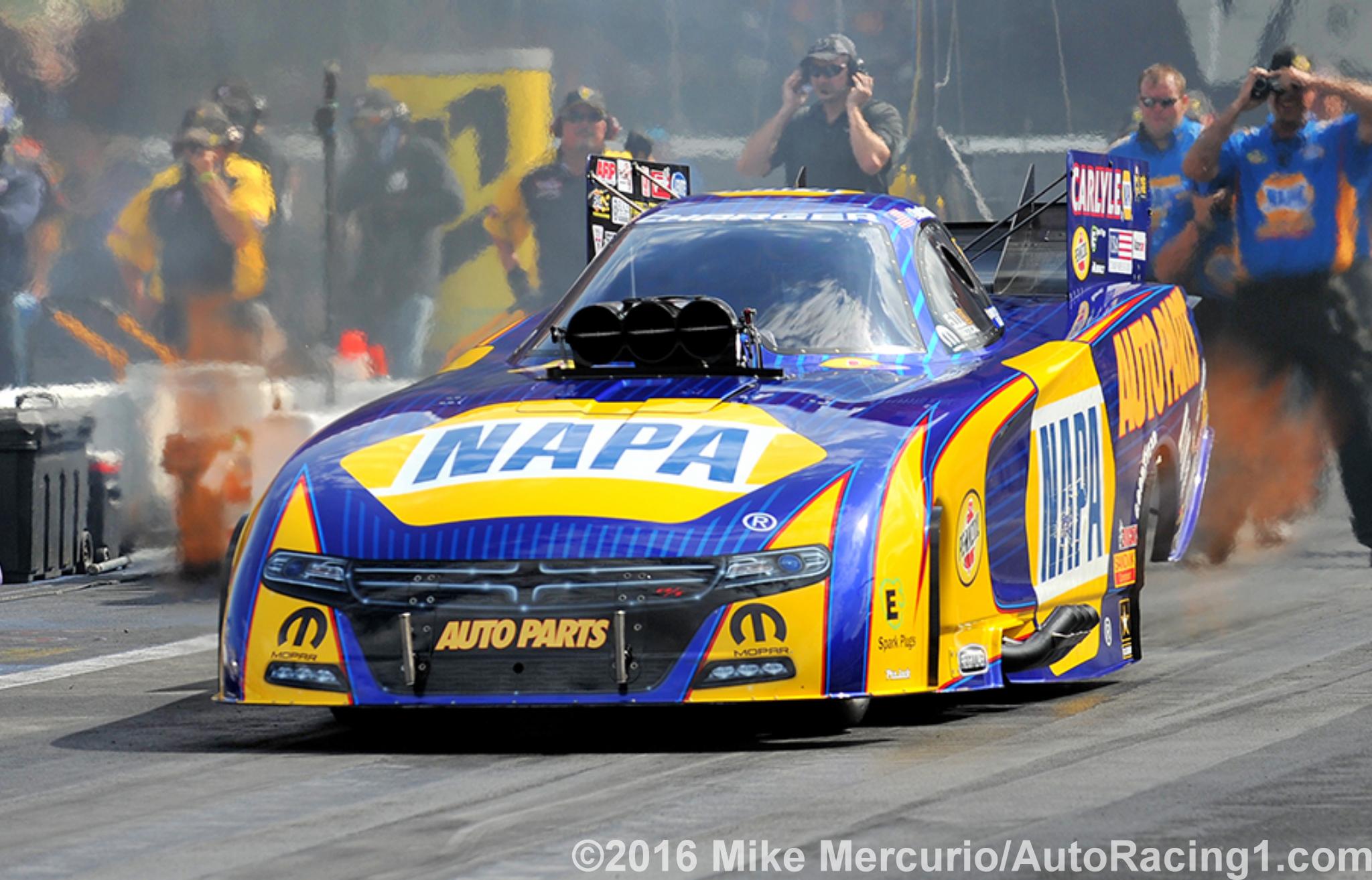 Ron Capps
Mike Mercurio/AR1
Ron Capps captured his third straight no. 1 qualifier on Saturday after leading all Funny Car drivers through the final round of qualifying for Sunday's 16th annual NHRA Thunder Valley Nationals at Bristol Dragway.
Steve Torrence (Top Fuel) and Jason Line (Pro Stock) also led their respective divisions in Saturday's sessions.
Capps had turned in a record-setting pass on Friday that held up through both of Saturday's sessions, as almost the entire top 10 remained status quo from their finishing order in Friday.
Capps turned in a low ET of 3.884 seconds at 323.66 mph to top the track ET record, earning his four no. 1 qualifying spot of the season and his third in as many events – winning from the pole at both Epping, N.H. and Englishtown, N.J.
[adinserter name="GOOGLE AD"] Capps, a three-time NHRA Thunder Valley Nationals winner, will be looking to make it three in a row when he takes on Jim Campbell in the opening round of Sunday's eliminations.
"We're glad we can continue on to the next race," Capps said of the win streak. "The streak, starting in Epping, then going to completely different weather conditions and track conditions in Englishtown, and then here, again completely different, just shows the versatility that (crew chief Rahn) Tobler has. Then the NAPA guys continually give him a car without nuts or bolts loose and nothing strange. It's a fun car to drive right now."
Del Worsham took the second qualifying spot with a run of 3.888 seconds at 329.42 mph to eclipse the track speed record. Robert Hight (3.897, 321.27), Matt Hagan (3.914, 327.51) and Courtney Force (3.938, 322.81) rounded out the top five qualifiers. Jack Beckman was the only driver in the top ten to improve his position, moving up from tenth to ninth over Alexis DeJoria.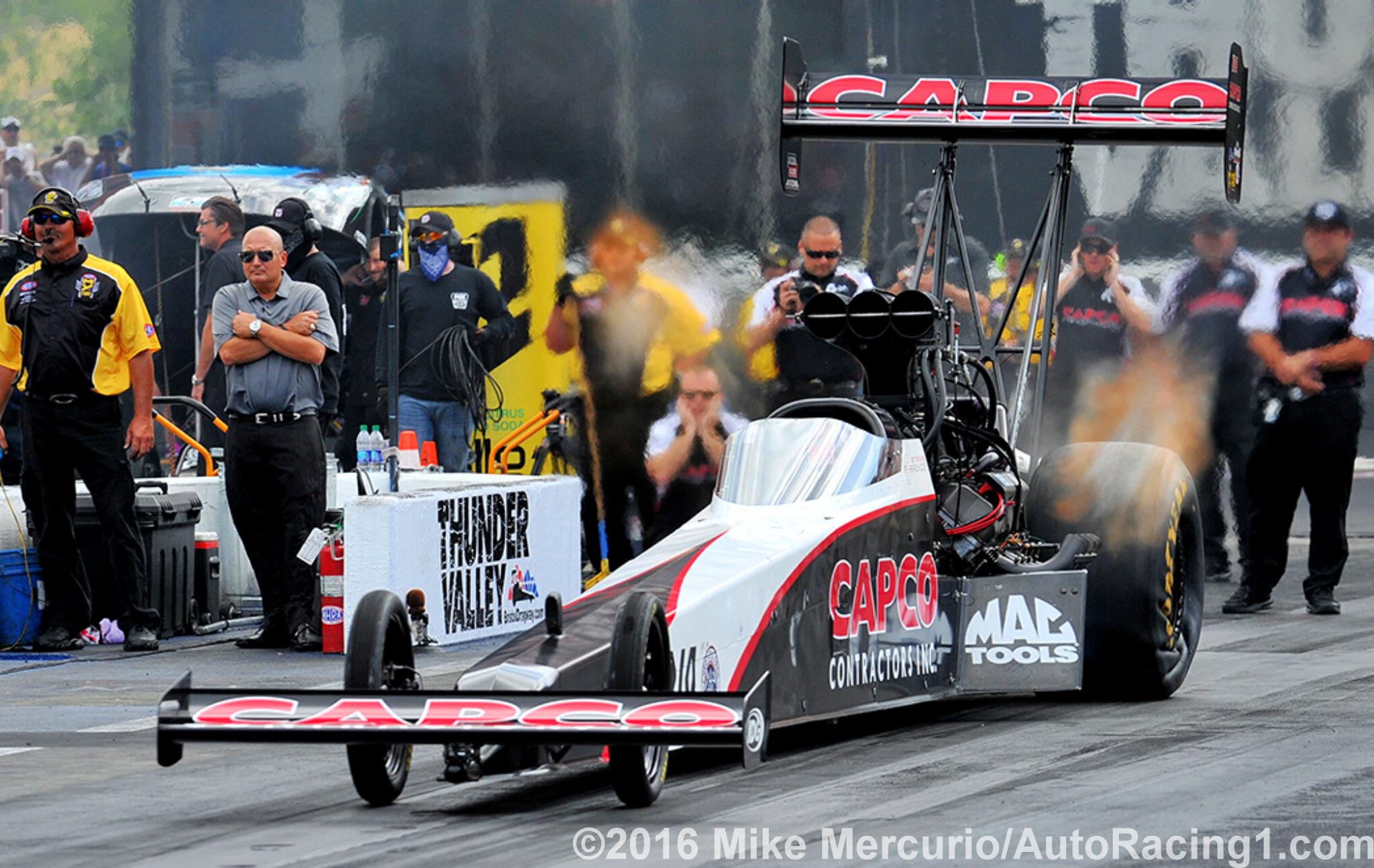 Steve Torrence
Mike Mercurio/AR1
Torrence scored his sixth no. 1 qualifier spot of the season to lead the Top Fuel division, standing on a 3.745-second, 324.1-mph pass from Friday that held up through Saturday's two qualifying sessions, earning Torrence his second-straight top qualifier and 11th of his career.
Torrence, the 2013 winner of this event, will face Terry Haddock in the first round on Sunday.
"It feels great and I did win here a few years ago and it's always Father's Day when we race and this year I have my dad with me so that adds a lot to it," said Torrence. "To be able to share success with him while he's here, with the way the car is running and with the team, the moral is at an all-time high. We're going to try to repeat and go all the way."
Top Fuel points leader Doug Kalitta held onto the second qualifying spot with a time of 3.767 seconds at 323.97 mph from Friday. Brittany Force (3.773, 323.04), Antron Brown (3.774, 317.34) and Leah Pritchett (3.799, 323.35) also all stood on their time from Friday's sessions.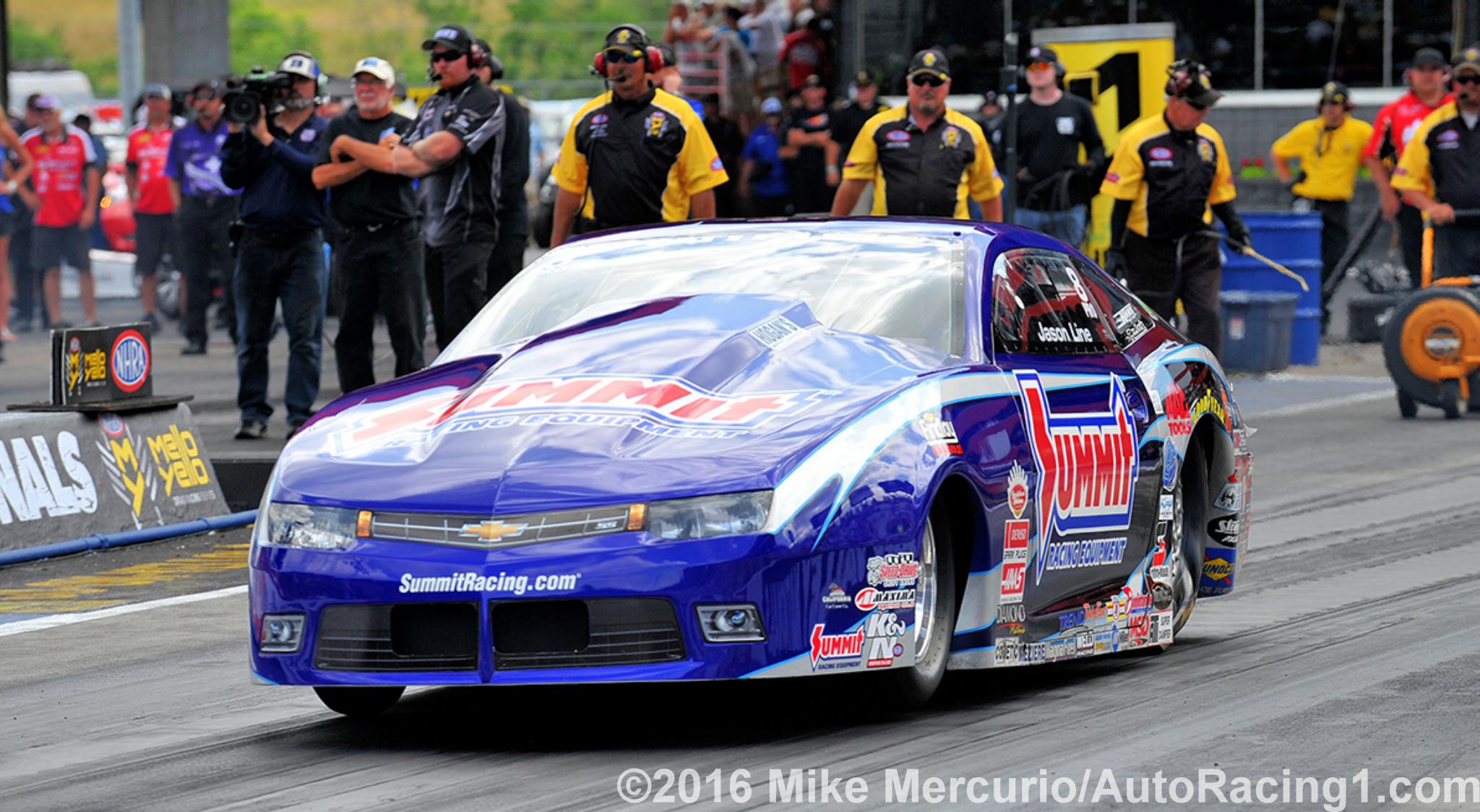 Jason Line
Mike Mercurio/AR1
In Pro Stock, points leader Jason Line grabbed the pole for the fourth-straight event as he raced his way back to the top of the ladder in Saturday's final qualifying session.
Line had led through Friday's session but faced a stout challenge from his teammate Greg Anderson in Saturday's opening round, as the two posted nearly identical 6.675-second passes.
In the final round, Line and Anderson made up the final pair to take to the track but Line pulled out an impressive 6.652-second run to beat Anderson for the no. 1 qualifying spot. Anderson was unable to improve on his 6.675-second ET and will start second.
"I wasn't expecting to run that quick, so that was a really good run," said Line, who will face Dave River in Sunday's opening round. "I was pretty excited about that. It's a lot of fun. This is not going to last forever and I'll spare you of the 'They're Gaining on Us' speech, but that was a really good run. We were missing something on the previous runs and I think we figured out why. It feels good and we should have three really fast (Ken Black Racing) hot rods for tomorrow."
Bo Butner was took the third qualifying spot with a time of 6.689 seconds at 209.26 mph, followed by Drew Skillman (6.695, 206.70) and Vincent Nobile (6.700, 206.54).
[adinserter name="GOOGLE AD"]