F3 America race again confirmed for Road America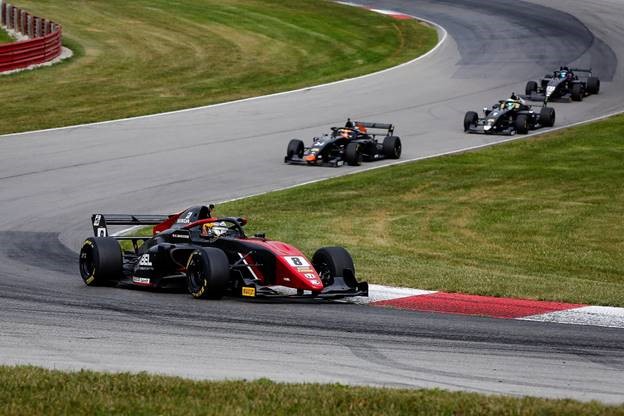 F3 Americas action
F3 Americas Championship Powered by Honda finalized its schedule, adding Road America to its already impressive list of circuits for the 2019 season. As one of the newest FIA regional single-seater, single-chassis championships, the groundbreaking series joins an already stout ticket, supporting the NASCAR XFINITY Series, the Stadium Super Truck Series and the SCCA Pro Racing Trans Am Series presented by Pirelli Aug. 22-24.
The announcement marks the second consecutive year for F3 Americas acting as the support series to a NASCAR XFINITY Series event.
"We are excited to secure this fantastic venue for our final F3 Americas Championship date," SCCA Pro Racing General Manger Sydney Davis Yagel said. "I can't wait to see and hear our Ligier JS F3 cars come to life on this iconic track for our penultimate round."
A fleet of Ligier JS F3 cars, powered by a 303 HP Honda Civic Type R engine and equipped with Hankook tires, will take on Road America's legendary four-mile, 14-turn road course that has challenged the world's best drivers for more than 60 years for two practice sessions, qualifying and two 35-minute races throughout the weekend. The final event schedule will be released closer to the event.
"Many racers have started their careers at Road America and climbed the ladder to the top levels of motorsport," said Mike Kertscher, Road America's President and General Manager. From racing karts at our CTECH Manufacturing Motorplex, to open wheel racing, then advancing to INDYCAR, IMSA and even NASCAR. We are very excited to host the F3 Americas Championship and serve as a unique venue where today's up and coming racers can gain experience and establish lifelong memories at America's National Park of Speed."
F3 Americas opens its 2019 season at Barber Motorsports Park with IndyCar April 3-5 with stops at Road Atlanta, Pittsburgh International Race Complex, Virginia International Raceway and Sebring International Raceway.
For more information about the F3 Americas' schedule or season, visit F3Americas.com.
F3 2019 Schedule
April 5-7: Barber Motorsports Park with IndyCar Series
April 18-20: Road Atlanta with F4 U.S and FRP
June 21-23: Pittsburgh International Race Complex with F4 U.S.
July 26-28: Virginia International Raceway with F4 U.S. and FRP
Aug. 22-24: Road America with NASCAR XFINITY Series, Stadium Super Truck Series and SCCA Pro Trans Am
Sept. 13-15: Sebring International Raceway with F4 U.S.