J.R. Todd 2019 NHRA Spring Training Quotes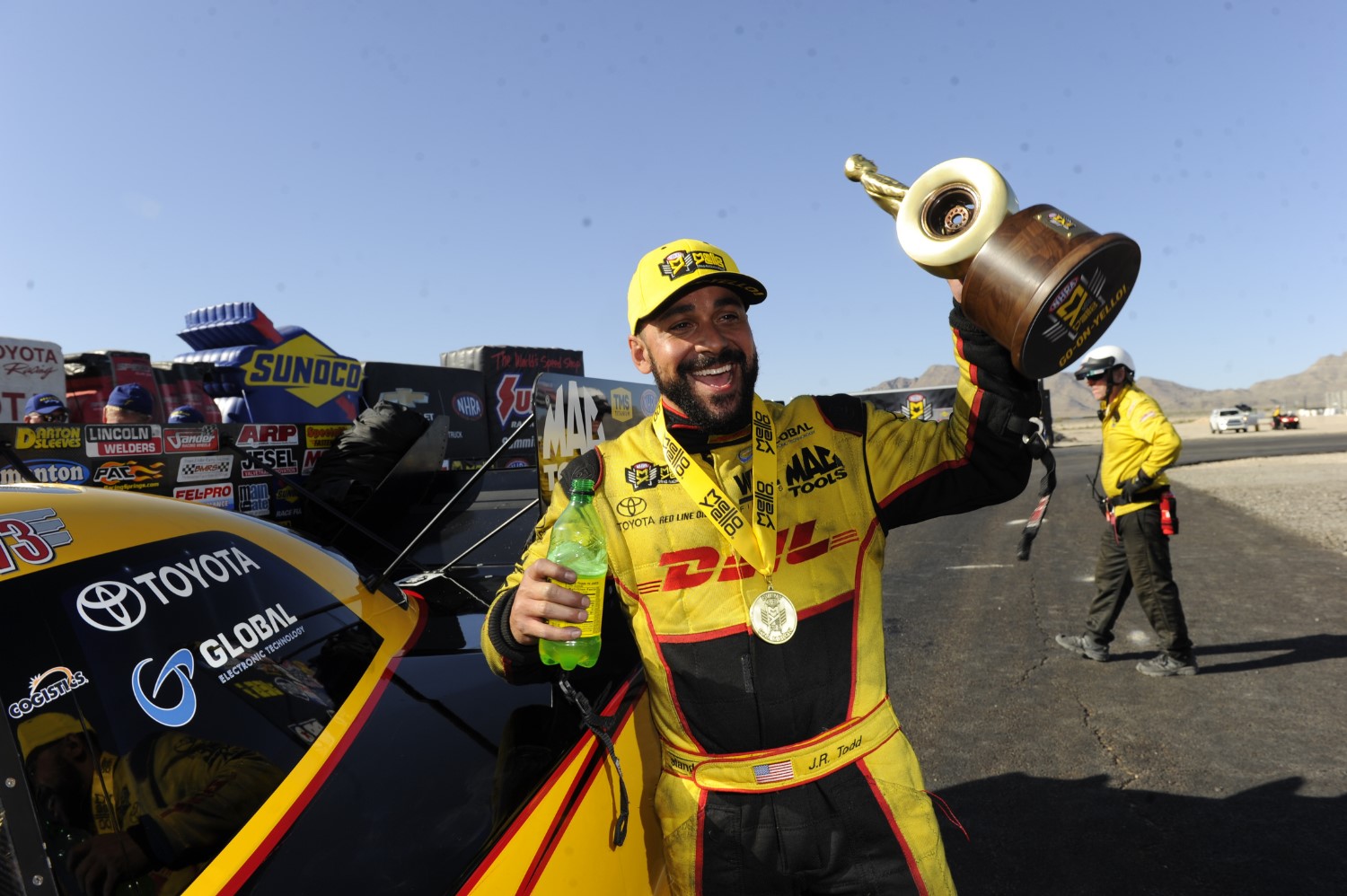 J.R. Todd
What was your off-season like as the reigning NHRA Funny Car champion?
I wouldn't say it was any different than any other off-season. I actually went on vacation, traveling over to Qatar. I raced there in 2011 and hadn't seen a lot of the people over there since then and it was nice to go over there and support their race series. It was a cool venture. It seemed like the off-season flew by and I'm not opposed to that. I'm glad to be back out here testing and getting ready for the first race of the year.
From a personal standpoint, how does it feel to know that you've won the world championship and nobody can ever take that away from you?
That's pretty much been a life-long dream since I was 10 years old and started racing junior dragsters. You hope that you can make it as a professional some day, then when you get to that point, you want to win your first race. After you do that, you want to contend for a championship and win a championship. I'm glad that we could do it and it definitely doesn't get old when people start calling you champ. I'm trying to enjoy everything that comes with being a Funny Car champion. I'm just trying to represent the sport the best that I can and defend the championship.
Any fear of complacency after winning the title?
If I was complacent, I guess I would have retired after 2018. Once you win, it just makes you want to win more. We're here testing new parts and pieces in Arizona to try to hit the ground running when we get to Pomona. The goal is to keep that number one on the car going into 2020. It's going to be tough. There hasn't been a back-to-back Funny Car champion since 2002. We have our work cut out for us, but I have a great group of guys behind me with some great sponsors and we're definitely up to the task.
Does winning a championship change the team's approach to 2019?
It gives you more confidence, but I'm not going to change my approach to the way I drive and I don't think the team is going to change how they prepare the car. We need to go out and approach it the same way we did at the end of 2018. We're going to try to stay consistent and win as many races as we can.
You were quickest over the first two days of testing, how are things going on your end?
So far it's been going very well. We've been trying some different parts and pieces and it's producing some really good numbers. We've already been near my career-best run in our DHL Toyota Camry. The numbers on the scoreboard don't really mean a lot until you get to Pomona, but it gives us something to work with and it gives us some confidence to start the season.
Tell us about the team's relationship with TRD
We have some things that are still in development so we can keep moving forward – and that's the great thing about having Toyota Racing Development on our side. They're exclusive with us now, so that's an advantage we have over everyone else. Slugger Labbe has been out here with us all week during testing trying different things. We have a new Toyota body that we're shaking down for Pomona that's lighter than what we ran last year. Little things like that add up and make a difference.
What are the goals for Pomona?
We want to go out there and qualify solid and then come out of there with a Winternationals trophy, that's the goal. We won the Winternationals in Top Fuel in 2007. It would be huge to win here in Funny Car because there are only a few people that have won the Winternationals in both Top Fuel and Funny Car (Don Prudhomme, Kenny Bernstein and Gary Scelzi). If I could add my name to that list of drivers it would be pretty special for me because those guys are all my heroes.
What are you looking to accomplish in 2019?
The goal is just to go out there and win as many races as possible and be near the top when the Countdown starts. Then just go out and win some more races and let the championship take care of itself. It would be nice to do what Steve Torrence did in the Countdown last year and win every race. It's going to be tough. It's a long season and we just have to make it count when we need to.
What's the key to the team's success?
We have a great team at Kalitta Motorsports, but we couldn't do it without the support we get from DHL and Toyota. DHL gives us the sponsorship and support to go out and contend for a championship, while Toyota helps us so much on the technical side. We're not out here just to make runs and have a good-looking DHL Toyota Camry. We need to pay them back with wins and championship trophies and get them the exposure they deserve. I saw that our championship trophy showed up at the Toyota headquarters. It's great to be able to represent them on a scale like that and for them to show off what we did means a lot to me personally as a driver and for us as a team. Last week we went to DHL's hub in Cincinnati and we were able to meet the employees, sign autographs and take pictures with them. It's nice to be able to do that right outside my hometown. Things like that just get everyone involved in what we're doing and show that it's truly a team effort.
Jon Oberhofer, Co-crew chief DHL Toyota Camry Funny Car:
After winning the title last year, what are you looking for in 2019?
The approach is the same. We're shaking things down and running some new parts here in testing. We always have high expectations. You want to win the battles and then win the war in the end. Yet, We're still going with the same approach as we had at the end of last year that won us a title.
Having already a title, it's easy to forget J.R. has run only two years in a Funny Car, is he still getting better?
Absolutely. As hard as we work on improving the tune-up, J.R. works on improving his driving. He's a really good driver and we are blessed to have him. He's doing an outstanding job.