Microsoft & Hendrick Motorsports Extend Pact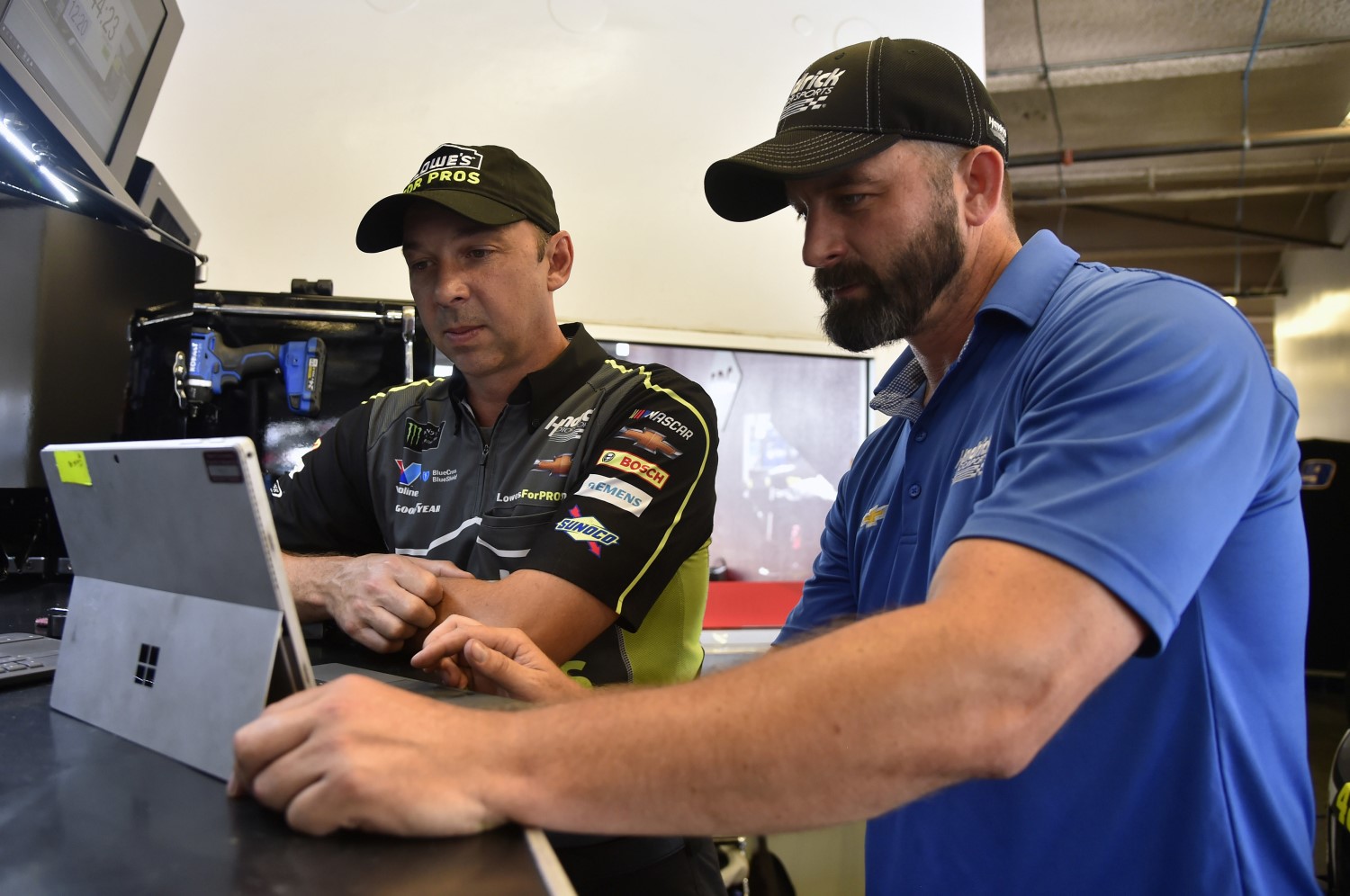 Chad Knaus checks out a Microsoft Surface
Microsoft will become the Official Cloud Partner of Hendrick Motorsports after renewing its marketing and technical relationship with the 12-time NASCAR Cup Series champions for the 2018 and 2019 racing seasons.
Under the new agreement, Hendrick Motorsports will use Microsoft technologies, including Azure cloud services, Windows 10, Office 365 with Microsoft Teams for group chat, and artificial intelligence (AI) and machine learning, to strengthen performance at NASCAR's highest level.
"What makes this partnership so powerful is the continued confidence and trust Hendrick Motorsports has in Microsoft cloud technology and our team," said Anthony Morgante, director of partner development, Microsoft. "We started on this journey nearly three years ago with a goal of taking the burden of data analysis off the IT group. That's been transformational by freeing up IT to focus on other critical areas. Now we are working together to change the way Hendrick Motorsports uses data to make more informed real-time decisions to help their teams be safer, faster and more effective on the track."
By using AI and machine learning capabilities from Microsoft, Hendrick Motorsports aims to improve its operational efficiencies leading up to NASCAR Cup Series race weekends, as well as add agility to adjusting the team's competition strategies in real time. Hendrick Motorsports currently uses Microsoft's cloud and machine learning capabilities to analyze large amounts of data, which the team can collect from a variety of sources and push to the cloud for valuable analysis and information.
"We have tremendous confidence in Microsoft," said engineer Alba Colon, director of competition systems for Hendrick Motorsports. "The partnership gives our team access to tools and expertise that is enabling unprecedented insights. With all the information and data available to us today, we're constantly looking for ways to learn faster and make quicker, more informed decisions. From the power of the cloud to artificial intelligence and machine learning, our continued collaboration with Microsoft will help us do that and much more."
Microsoft interviewed Colon about the importance of data and digital technology in the NASCAR Cup Series and how Hendrick Motorsports' partnership with Microsoft pays dividends on the racetrack. Read the question-and-answer session here.
Microsoft's marketing and promotional opportunities with Hendrick Motorsports will include at-track entertainment, driver appearances and exclusive original content. The relationship began in 2015 with Microsoft's primary sponsorship of the team's No. 88 Chevrolet to promote the launch of Windows 10 and a successful technical collaboration highlighted by Hendrick Motorsports' adoption of the Windows 10 and Azure platforms. The organization won its NASCAR record 12th Cup Series championship in 2016.