Sunday morning update from Long Beach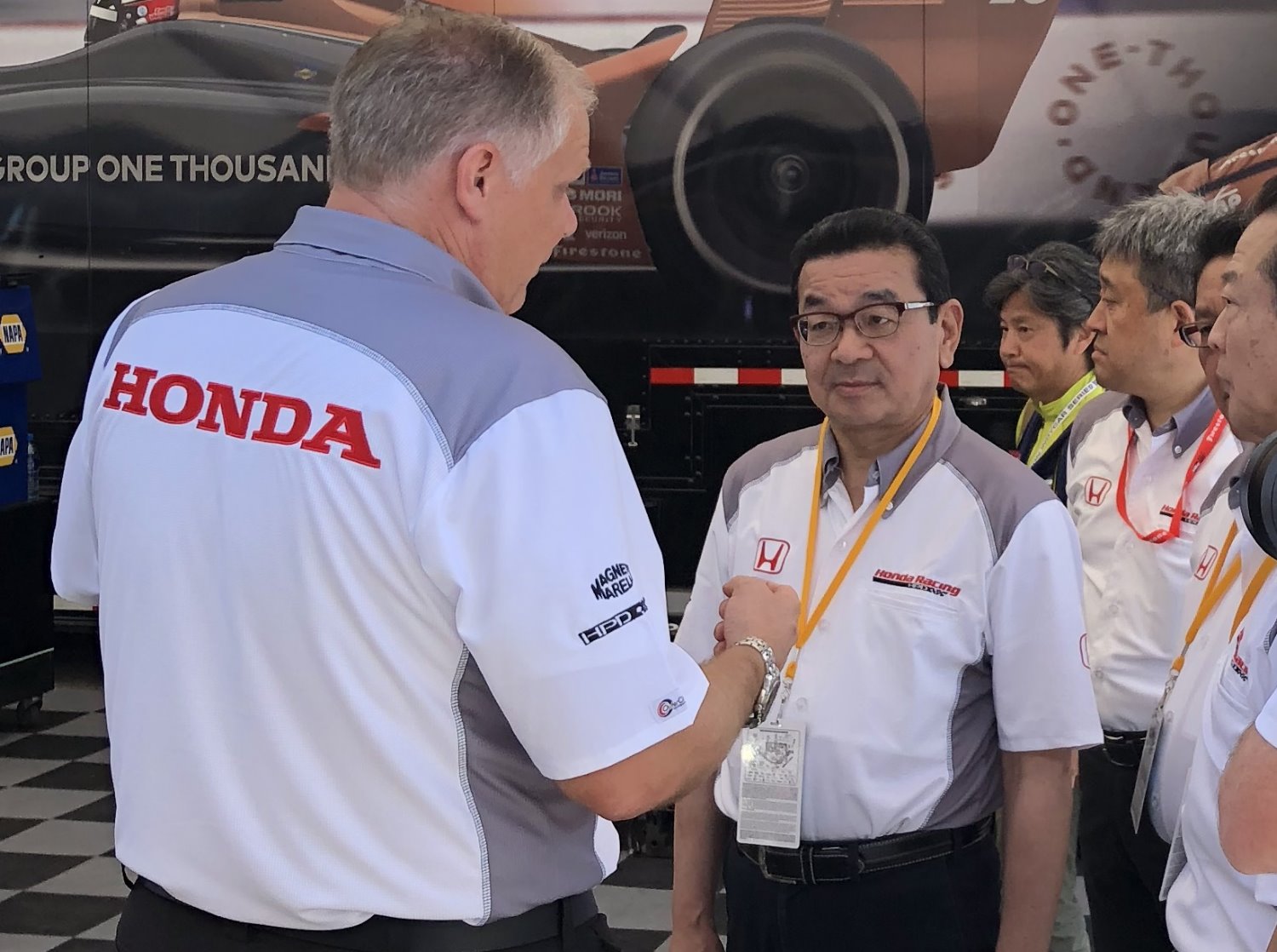 Art St. Cyr talks to Honda Global CEO, Mr. Hachigo
UPDATE Added photos below.
04/15/18 Sunday has dawned sunny and a little cooler here in Long Beach, California. A big crowd is expected to be on hand to watch the IndyCars do battle on the 1.97-mile famous beachside street circuit. The 3-day total is expected to top 200,000
It's a big day for Honda as the Honda Global CEO, Mr. Hachigo, will be here today to see the race. The Honda folks were ecstatic with Alexander Rossi yesterday who beat the two Penske Chevys and put Honda on pole. If he, or one of the other Honda drivers, delivers a win for Honda today, rest assured Honda will be happy and their future in IndyCar brighter.
Honda IndyCar boss Art St. Cyr is happy with the season so far.
"Yeah, the start of the IndyCar season has been really good for us, especially looking at Phoenix. It's no secret that Honda has struggled on the short ovals the last few
years. It was very gratifying to be in the mix. The competition knew we were there, which was a little bit different than we've had in the past.
"I think the best thing I can say about the Phoenix race is we were really, really disappointed not to win that race. We had the pace to win that race. There were some
strategy calls at the end. Got to give the competition credit. But overall we feel that obviously at St. Pete, we got one through six in St. Pete, two through six at Phoenix. I
prefer going back to the winning race here.
"It's a very tough track here. But our teams are strong. We got strong drivers. The engine's strong. Everything is looking promising that we should be pretty competitive
here today in qualifying and tomorrow as well.
"Long Beach is a special race for us because our corporate office is here. HPD is just up the road. There's a lot of attention on us. Similar to St. Petersburg, though, our
engine package, our driver package, our teams, I think it was yesterday every one of our teams was represented in the top 10.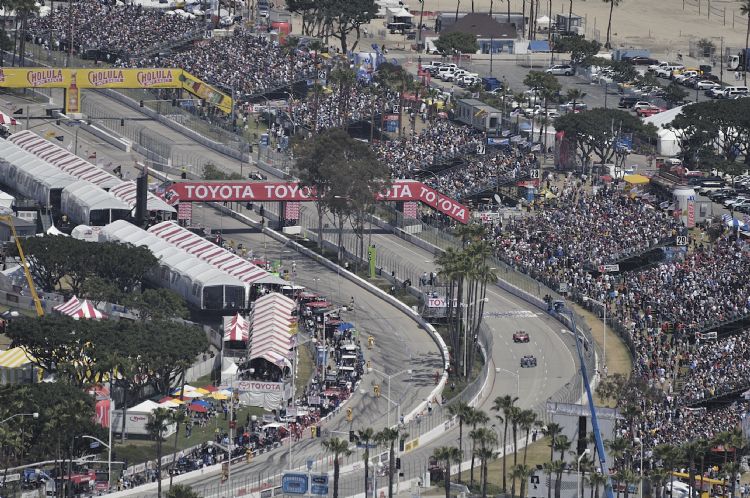 Long Beach
"Overall it looks like we're looking strong. Obviously the other side is not going to be letting down for us. We got to keep moving forward, keep progressing, keep going
faster.
"From top to bottom our teams are looking strong. We're ready to go. We love this place. We're hoping to put on a good show for everybody."
St. Cyr was asked if their Indy 500 lineup was locked down or whether there was room for one more entry, but he sounded doubtful.
"Honestly, our kind of max capacity is 18, so we have. We actually had lots of discussions with other groups, other teams over the last several months. But we have had to
limit it to these cars.
"One of the reasons we can do it is because they're all affiliated with our existing teams so it helps us from an overall support standpoint. There has been more interest, but
right now this is all we can do.
"We made all our driver announcements that we know of. We'll have 19 cars total, which is the most that we've done since we've returned to competition. Obviously when
we were doing all the cars, sole supplier, we did more than that. But 19 cars is a pretty big number for us.
"It's worked out for us because we learned about it early enough, so we've been able to start preparations for that. But that's one of the advantages of HPD having such a
wide portfolio of racing. We're pulling support from all our other series to help run that race. 19 engines is quite a hefty, hefty chunk.
"We expect, much like the season has been so far, to be competitive all 19 of those cars. It's nice to have Oriol Servia running. He did the development for the universal
aero kit about a year ago this time. It's actually good getting to see him in the car racing.
"We're excited about our prospects. Our teams are ready. Our teams are focused. That is always one of our No. 1 goals at HPD, is to do well at the Indy 500. There's no
reason we're not going to be competitive like we try to be every year.
Engine Musical Chairs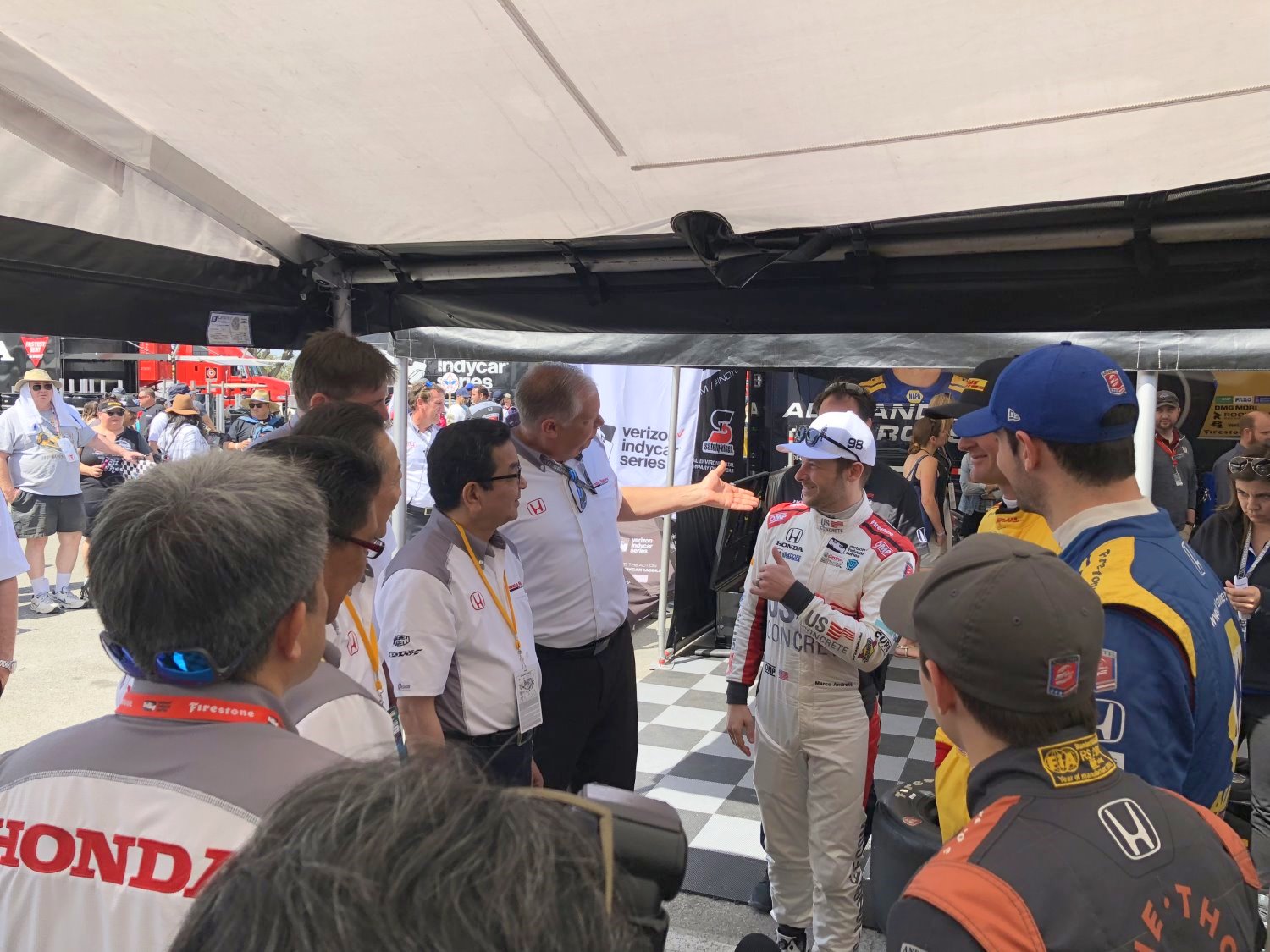 Honda Global CEO, Mr. Hachigo, meets Marco Andretti, Ryan Hunter-Reay and Alexander Rossi
Each IndyCar gets 4 engines per year, any more than that and the driver is penalized. However, an engine can be swapped out, put aside, and used several other times
until Honda feels it has reached its limit.
"The engine rotation for the Indy 500 is unique, as you know," said St. Cyr.
"In general, we will put a fresh engine in for the Indy 500 no matter what.
"You'll have to talk to Alan Miller about the mechanics of what day it's going in. But most of our full season drivers will put a fresh engine in for the Indy 500.
"With that being said, there isn't actually a 2500 mile limit any more. The limitation is you get four engines. Obviously with the season being about 10,000 miles, you can
do the math on that. But we'll run this first engine to 25ish hundred miles. We'll swap it out for the second engine. Then depending on what the team wants to do, we
have the option to switch out to the third engine for the race, but then you have to go back and use that second engine.
"That's the same as it's been done with every other year. But the switching to engine two will happen when it's mileaged out. There will be some, I would imagine, that will
change after Barber, but some may not change until after the Indy road course. There is the Indy open test that puts miles on, as well. Somewhere in that range you'll see
most of our drivers changing engines.
Due Date for IndyCar to decide on New Engine Specs
What is the date to have the engine spec decision locked down so you can design, build and test the new engine and be ready for 2021?
"As far as the new engine, we don't have a date, per se. It's just a question of what is our development schedule for that. We have been working with IndyCar. We've
been working with the other partners in this to try to lock down the specification of that one.
"The earlier you can do it, the better it is, the smoother your development can go. But as far as when those rules will be issued, that's actually not my news to make. I
would direct you to IndyCar to talk about that.
"But from our engine development standpoint, obviously the sooner the better to have that done. But we're prepared to do it whenever the rules finally get fixed."
He went on to tell us he had hoped they would be finalized by now.
New Kanaan Coming
AJ Foyt ABC Chevy driver Tony Kanaan's wife Lauren is 4-month pregnant and expecting the baby in the September timeframe.
Mark C. reporting live from Long Beach