F1 news in brief – Wednesday
Carlos Sainz Jr. says Renault three years from winning

Victory could take three years – Sainz Jr.

Ecclestone thinks Brawn wants top F1 job
Ecclestone backs calls for engine equalization
'No panic' at struggling Force India – Ocon
Kubica not 'teacher' for Williams drivers
New Ricciardo deal must be 'beneficial' – Marko
Gasly backs Honda to improve
FIA staff should be free to join teams – Zander
Mercedes that all teams have its 'party mode' engine performance settings
Sainz Jr. says Bahrain race is unique
Brawn: Accusations of dumbing down F1 'personally offensive'
Ferrari select most ultra-softs for Chinese GP
Victory could take three years – Sainz Jr.
(GMM) Carlos Sainz thinks victory for Renault may require a wait of up to three years.
The Spaniard is actually 'on loan' to the French works team from Red Bull just for 2018.
So when asked how the season has started for him, Sainz told Antena 3 television: "You have to bear in mind that Mercedes, Ferrari and Red Bull are one step ahead of everyone else.
"Then there is McLaren and Renault. They (Renault) are investing a lot of people and money to try to win as they did in 2005 and 2006 with Fernando Alonso.
"To win, we will need a period of two or three years, but I trust Renault," Sainz added.
The 23-year-old also said he is feeling better ahead of Bahrain, after almost vomiting in his helmet during the Melbourne season opener.
"Half an hour before the race I had two bites of a banana that did not go down well," Sainz revealed.
"Then in the first 20 minutes of the race, the water did not stop coming but I couldn't move the tube because the radio microphone would get wet.
"On lap 20 I couldn't take it anymore and so I ended up being covered in the red isotonic liquid. I almost vomited but I didn't want to find out what would happen if I did at that speed. I hope I never do!" he said.
Ecclestone thinks Brawn wants top F1 job
The engineer in him probably has no desire to deal with the CEO role
(GMM) Bernie Ecclestone thinks Ross Brawn is eyeing the top job in F1.
Before being ousted as F1 supremo, Ecclestone said he did not want to work alongside the former Ferrari and Mercedes chief at Formula One Management.
Liberty Media has since taken over the company, who ousted Ecclestone and installed Brawn as F1 sporting boss.
But Ecclestone thinks Brawn is now eyeing CEO Chase Carey's job.
"There are rumors that Ross wanted me to leave. If that is so, then he is happy about it now but he'll be just as happy one day when he gets rid of Chase Carey," he told the German newspaper Welt.
Actually, Brawn already has a top management job, alongside Carey and Sean Bratches.
Asked which of the three would win in a typical F1 power struggle, Ecclestone answered: "Ross.
"Chase does not want to live in England and it's the same for Sean. They're Americans with a different attitude to life.
"Ross wants to live in England, the silicon valley of formula one. But if as I believe they want to relocate FOM to the US, Ross will still manage formula one in England as the top man.
"Ross didn't stop his retirement to play a servant role to two Americans," the 87-year-old added.
When asked if he thinks Brawn could handle that top job, Ecclestone said: "We'll see, rather than him just clinging to what he did in the past."
Ecclestone backs calls for engine equalization
Ecclestone knows that F1 is 99% engineering, 1% driver skill
(GMM) Bernie Ecclestone has backed calls for performance to be equalized in formula one.
The former F1 supremo thinks the Mercedes-dominated 'power unit' era has been bad for the sport.
And when asked if he thinks Liberty Media has done a good job for F1 so far, he told Welt newspaper: "All I know is that Liberty Media now has the same contracts that I did.
"Not much has changed in the technical and sporting regulations. But that's surprising because the biggest problem is that we urgently need exciting races.
"I'm a big fan of Mercedes and I have great respect for their performance, but they win too much.
"If they had sold or rented their engine to a top team like Red Bull, we would have better and more exciting races and maybe other world champions.
"We would not have had this total dominance, which in my opinion would have better for Mercedes as well," Ecclestone added.
Asked what Liberty should do, Ecclestone appeared to back recent calls for engine equalization or perhaps a banning of Mercedes' so-called 'party mode'.
"They should, or they must, achieve a certain equality of opportunity among the teams as far as the engines are concerned," he said.
"The manufacturers must understand that it's necessary to make the sport more attractive. The public must not know who wins even before the race just because one or two engines are so much better," Ecclestone added.
'No panic' at struggling Force India – Ocon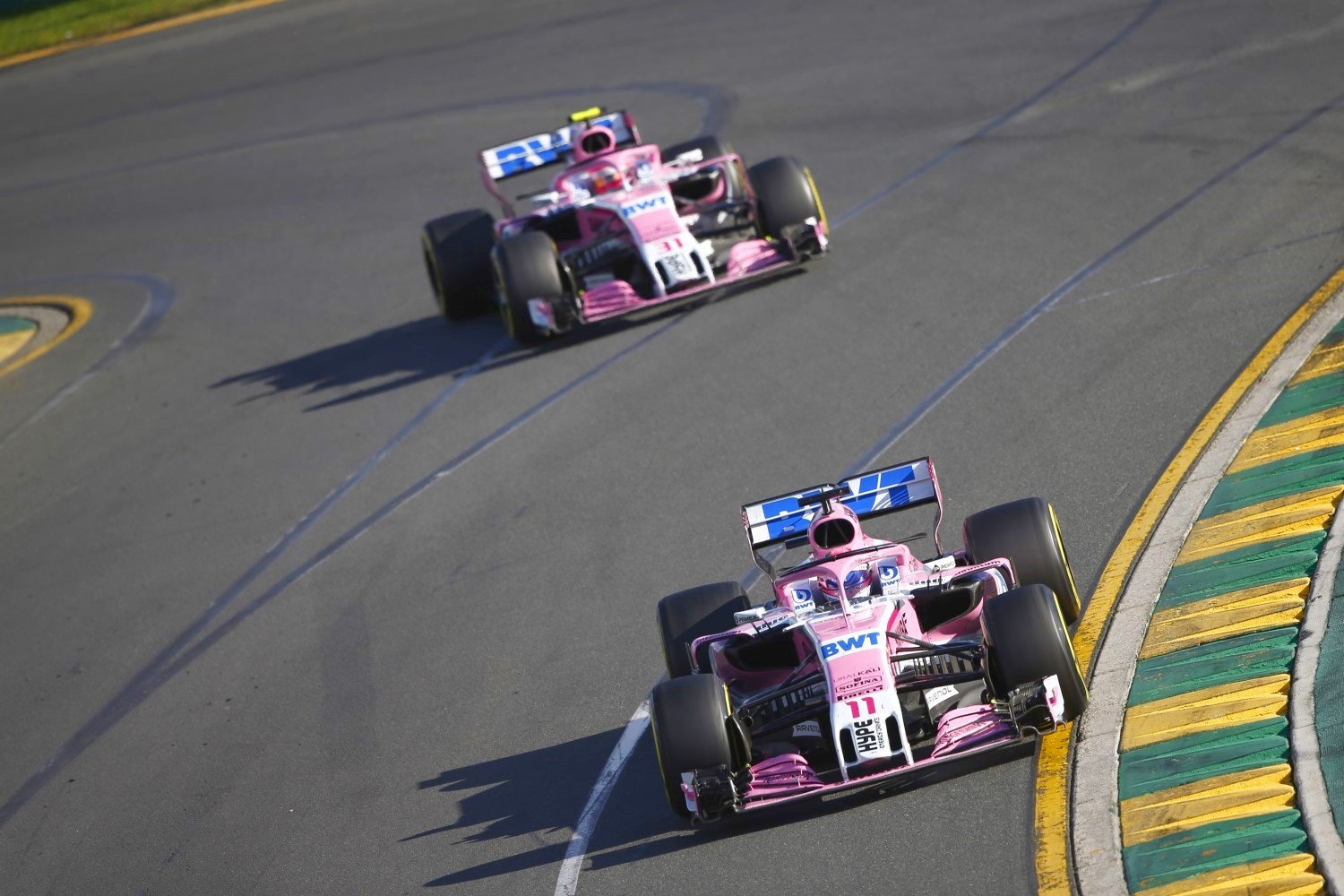 The pink Force India cars have the Mercedes 'party' mode engine
(GMM) Esteban Ocon insists there is "no panic" after a bad start to the season for Force India.
The small Silverstone based team finished fourth overall in 2016 and 2017, but now Renault, McLaren and even Haas look set to displace Force India this year.
"I suppose some (fans) are afraid that after Melbourne things will continue to be like that," Ocon told France's Auto Hebdo.
"So that there is no misunderstanding, I want to tell everyone that there is no panic. Yes we are behind and there is a lot to do to return to the fight for the top five positions.
"But I'm not worried," the French driver added. "Everything changes very quickly in formula one and our car has great potential for improvement.
"We learned a lot about the chassis in Australia and we are preparing a lot of new parts — some of them will be on the car in Bahrain already.
"Last year we struggled in Melbourne too but we quickly made progress. The season is long," the 21-year-old added.
"Our car is better and faster than its predecessor, but our rivals made more progress. But the key to success is development.
"We already made a big step forward in comparison to the tests, as it was easier to drive the car in Australia," said Ocon.
"We do not believe that we have failed already — we only have small problems, and believe me, now we are trying to put everything right."
Kubica not 'teacher' for Williams drivers
Kubica not there to teach the rich youngsters
(GMM) Robert Kubica insists he does not see himself as a "teacher" at Williams.
The British team has come under fire for its heavily sponsored and notably young and inexperienced lineup of Lance Stroll alongside Sergey Sirotkin.
But Kubica, the experienced former BMW and Renault driver, is the official reserve.
"I would not say that I'm a teacher and they're my students," he told TVP Sport.
"But they do have little experience — like anybody when they start. F1 is a complicated sport," Kubica added.
"Lance and Sergey come to me with questions, more so Stroll than Sirotkin. It's nothing personal with Sergey — perhaps Lance just has some experience already and so he knows what to ask."
Russian Sirotkin told the Russian media ahead of this weekend's Bahrain grand prix that his and Williams' performance in Australia was disappointing.
"We expected more when we went to Melbourne," he admitted.
"In particular, I expected more from myself. But it's not as terrible as it looked in qualifying, so we have high hopes that we can progress in the near future.
"Our goal is to gain a foothold in the middle group, which means getting into the second segment of qualifying, fighting to get into the final one, and fighting for points," said Sirotkin.
"Yes, we were pretty far from that in Australia, but I really hope that it was just one of those failures that is always lying in wait for you during a season."
New Ricciardo deal must be 'beneficial' – Marko
Ricciardo ready to walk
(GMM) Dr Helmut Marko says he wants Daniel Ricciardo to stay at Red Bull.
Actually, Australian Ricciardo has gone onto the driver market for 2019, and is already linked with a move to Mercedes.
"I have a good relationship with Daniel," Marko told France's Auto Hebdo when asked about speculation regarding Ricciardo's expiring contract.
"We really like him and want him to stay, but not under any conditions. The contract should be beneficial to us both," the Red Bull official added.
If Ricciardo does go, it appears most likely that Red Bull would pull Carlos Sainz back after the Spaniard was 'loaned' to Renault this year.
That is because the junior team Toro Rosso's new driver lineup may not be ready for the leap to Red Bull Racing.
Indeed, when a vacancy emerged at Toro Rosso last year, Red Bull re-called its former junior Brendon Hartley to fill the gap.
"At the time, we did not have any young drivers ready to go to formula one," Marko admits.
"But I always understood that Brendon had speed and we had always continued to support him."
As for Pierre Gasly, Marko added: "In 2016 he won GP2 but he made mistakes, so we decided he was not ready for F1. We sent him to Super Formula but the first race was horrible.
"Then he learned to focus on himself, not blame others, and basically he grew up and started to cope. Now Pierre has become a much more mature person," he added.
Gasly backs Honda to improve
Gasly confident Honda will get their act together
(GMM) Pierre Gasly has backed Honda to up its game in 2018.
Following the McLaren-Honda split, Toro Rosso's hopes were high for its new engine partnership following a promising winter.
But then Australia was another bad race weekend for Honda.
"Honda is pushing hard because they want to show everyone that they can make good engines," Frenchman Gasly is quoted by Italy's Tuttosport.
"From the point of view of development, they are doing everything possible and we can already see some really positive progress," he said.
"We are working on upgrades but of course we know that we only have three engines for the season so we will have to see what is the best time to introduce them.
"Everything is going well," Gasly continued, "but it is necessary to give Honda time, because this is F1. Everyone is always making progress.
"For sure Honda cannot recover everything in three or four months, but in terms of a medium-long term collaboration, I think they have a great plan and are doing all the right moves," he added.
FIA staff should be free to join teams – Zander
Jorg Zander
(GMM) Sauber technical boss Jorg Zander says FIA personnel should be free to move to F1 teams.
Recently, the moves of engineers Marcin Budkowski and Laurent Mekies from prominent FIA roles to Renault and Ferrari respectively have made waves in the paddock.
But Zander says any 'gardening leave' requirements should not be too stifling.
"Of course you want to protect your own developments, but you also have to see both sides," he told Speed Week.
"I would not like to block people. Of course it would be stupid to have someone with access learning everything and then joining a team right away.
"But you have to see it from the point of view of the employer and the employee too," Zander explained.
"You also cannot fool yourself: if someone wants to work for a team then he will, regardless of the contracts."
Mercedes that all teams have its 'party mode' engine performance settings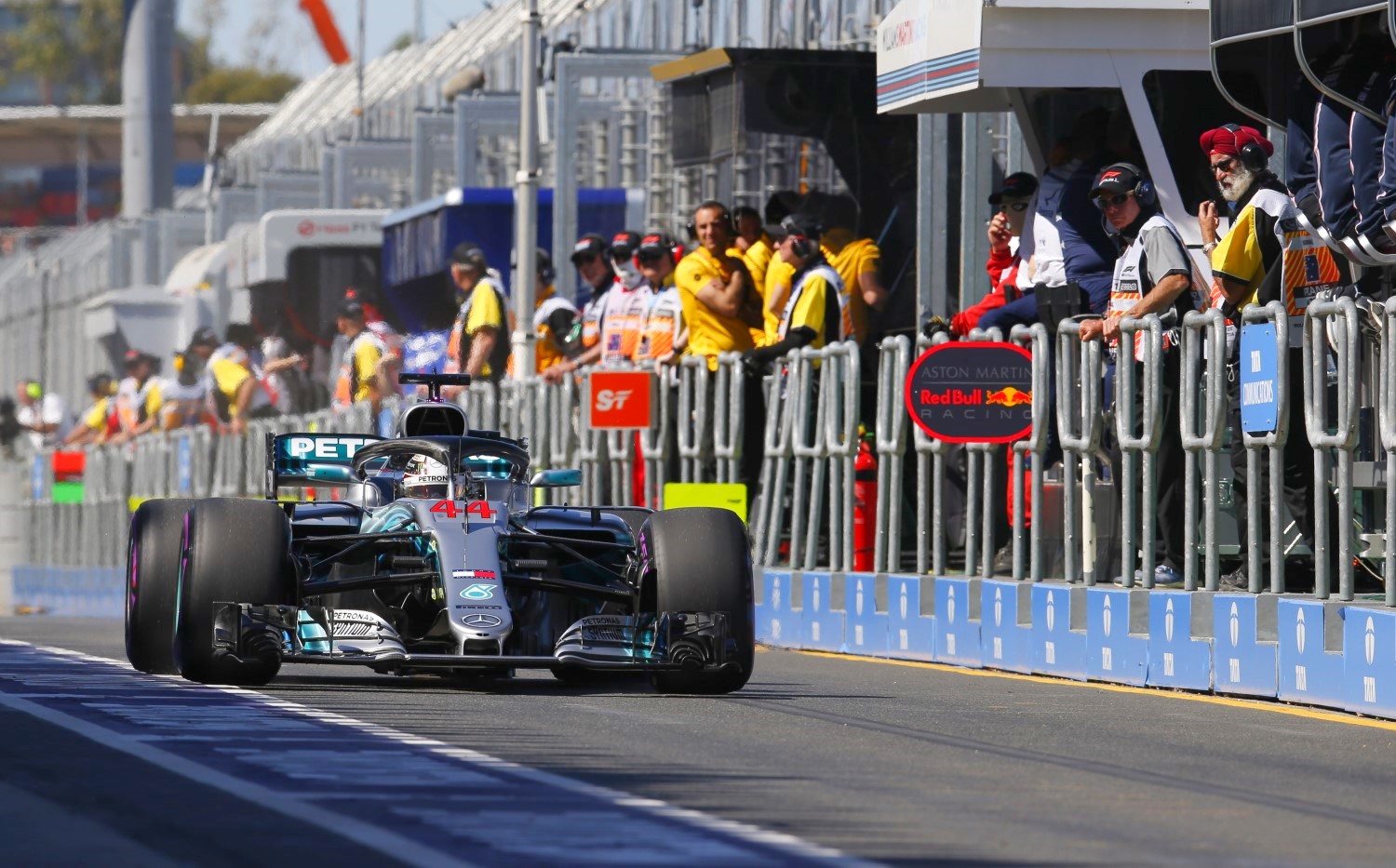 All Mercedes powered cars have the same 'party' mode setting. Why are they not locking out rows 1 thru 3? Because Aldo Costa does not design their car.
Mercedes has shed new light on how it operates the power modes on its F1 engine following the intrigue surrounding its so-called "party mode" at last week's Australian Grand Prix.
During a pre-race media event Lewis Hamilton referred to the team's high performance engine setting as "party mode". This prompted questions over whether Mercedes had added a new setting in addition to the previous modes which were already known about and how powerful their modes are.
In a briefing issued ahead of the Bahrain Grand Prix the team revealed during a race weekend it uses "three basic modes" on its engines: "one for the majority of the free practice sessions, one for the majority of qualifying and one for the majority of the race."
Mercedes said "all three can be altered with various sub-settings for different situations, which control whether electrical energy is being net deployed over a lap, recovered or used in a balanced manner (with energy deployment and recovery balancing each other out)."
"Both Lewis Hamilton and Valtteri Bottas switched their race mode to lower performance during the Australian GP when they were stuck in traffic and the turbulent air of the cars ahead, in order to cool the engines and prevent them from overheating," it added. "A Safety Car presents a similar challenge – drivers want to conserve energy and the power unit, so the engine mode is set to reduce the duty and cool the hardware."
Mercedes motorsport director Toto Wolff confirmed in Australia the high-performance qualifying mode was not used by its drivers until Q3. The team said its qualifying mode "is only required for a few laps each race weekend, and usage varies according to the competitive context – sometimes this qualifying mode will be used throughout qualifying, sometimes only in the final Q3 session."
For 2018 power unit manufacturers are required to allow their customer teams to operate their engines in the same way as they do. Mercedes explained how this is managed.
"The available mileage is dictated by what is termed the 'phase document', which defines the limits to which the power unit may be used during each race weekend, and which is the same for the works cars and the Mercedes customer teams.
"PU modes are defined when the first set of hardware is tested in Brixworth and the mileage limit is determined by the success of the long-run program. Some of these are circuit-specific, others are more general. Making the call on which mode to use can either be the driver's decision, or through the advice of the engineering team – who will communicate over the radio which settings to adjust and which mode to switch to."
The power unit settings alter how the engine operates and how it stores and deploys its electrical energy.
"The ICE performance is changed, for example, by varying the amount of fuel that is injected into the combustion chamber or by changing the timing of the ignition. For the hybrid side of the power unit, the modes will alter the interaction and scheduling of the electrical energy for both deployment of the 120kW (maximum) MGU-K and recovery of both the MGU-K and MGU-H."
Sainz Jr. says Bahrain race is unique
Bahrain
Carlos Sainz Jr. says the 2018 Bahrain Grand Prix is "one of the more unique" races on the 2018 FIA Formula One World Championship calendar.
The race in Sakhir was moved to a night race in 2014 and drivers have raced under the lights ever since.
"It's always cool racing at night and under the lights, which makes this race one of the more unique of the calendar." said Sainz.
The track is notorious for being tough on the brakes, last year saw Max Verstappen retire after a brake failure and that element has been noticed by Sainz.
"The circuit can be tough on the braking system, and some braking points change slightly throughout the weekend due to the timings of the sessions."
Sainz had a troubled time last year in Bahrain after colliding with the Williams Martini Racing car of Lance Stroll when exiting the pit lane.
The Spaniard opened his Renault Sport Formula One Team account in Melbourne last time out with a tenth place finish and believes the car has pace.
"Scoring points at the first Grand Prix of the year is always important and the pace was there, so I can't wait to jump into the car in Bahrain."
Brawn: Accusations of dumbing down F1 'personally offensive'
Ross Brawn fires back
Formula One's managing director of motorsports Ross Brawn says he found it "personally offensive" when Ferrari's chairman Sergio Marchionne accused him of dumbing down the sport.
Red Bull team boss Christian Horner has encouraged Formula One to present its teams with a take-it-or-leave-it set of regulations for 2021.
In his current role in F1's management, Brawn is responsible for coming up with a new direction for the sport once the existing commercial agreements expire after 2020. He has proposed a new set of simplified engine regulations and a budget cap to help contain costs and make the sport more competitive, but has met resistance from Ferrari and Mercedes.
Ferrari threatened to quit over the winter if the proposed engine regulations are introduced and Marchionne accused Brawn of taking F1 in "a direction that is not in the DNA of the sport". Speaking in a recent interview with Radio Sport New Zealand, Brawn said his plans have always had the good of the sport in mind.
"It's critical that we have a vision of where we see Formula One," he said. "I find it very frustrating when people accuse us of spoiling the DNA of this, that or the other. F1 has a long history of incredible competition, and it's the pinnacle of motorsport and why would we choose to damage that?
"I find it personally offensive when people accuse me of dumbing down the sport because we know if we did that we'd spoil the sport at its core, and we'd spoil the commercial basis of the sport as well. The teams at the top are probably spending two or three times what they were spending five or six years ago, and yet you wouldn't say five or six years ago that the sport was dumb. So it's just a question of degree.
"We have to help the teams at the top recognize and realize that to have a sport for the future we've got to rebase the commercial revenues for the teams, we've got to rebase the amount of scope that the teams are allowed to explore technically in order to give a more exciting competition." ESPN
Ferrari select most ultra-softs for Chinese GP
Ferrari has chosen the most aggressive tire selection of the top three teams for the Chinese Grand Prix, picking eight sets of the ultra-soft tires for each of its drivers.
The third round of the championship at the Shanghai International Circuit is the first where Pirelli has put a 'step' in its tire compound selections. The super-soft, which is the next harder compound after the ultra-soft, has not been selected. The soft and medium tires are available.
McLaren, Haas and Williams have also selected eight sets of the ultra-softs for each of their drivers. In contrast Red Bull have taken seven sets and Mercedes just six.
Lewis Hamilton has chosen more soft tires than any other driver with six sets.