IndyCar struggles to make current drivers household names (2nd Update)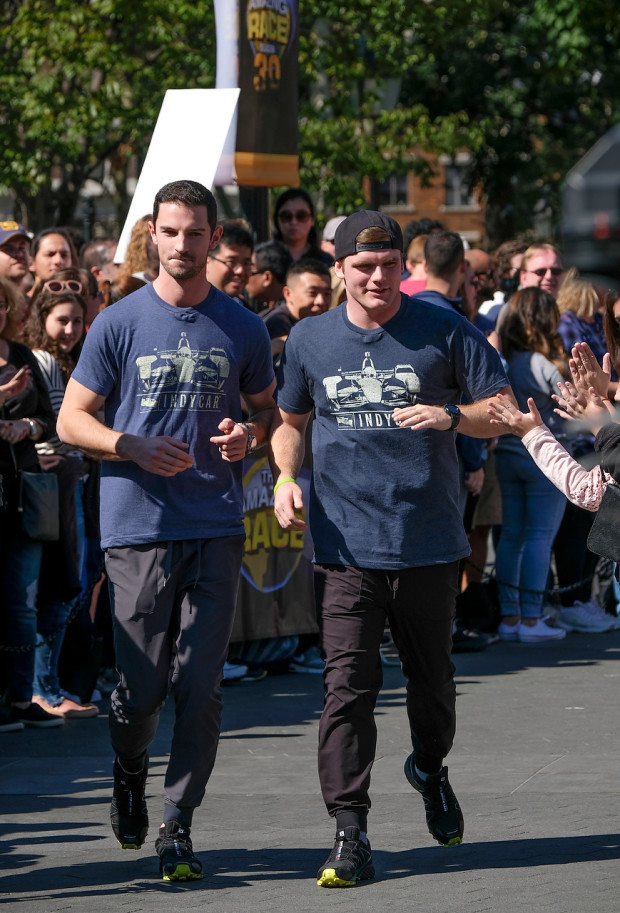 Rossi and Daly on The Amazing race
UPDATE
Another reader writes, Let's not get ahead of ourselves. Indycar has to matter before the drivers can. You need people to care about the racing before any driver can earn hero status. Viewership and good sponsors willing to commit themselves to the $ it takes to push the series via media and pr is where this starts. As far as driver exposure all that comes to mind is:
– Honda has gotten behind Indycar in the past and they are running ads with Hinchcliffe right now.
– Danica gets some play right now as well….. but is she really identified as an Indycar driver at this point? She is toast for any promo Indycar can do with her after May.
– The Amazing Race has Rossi and Daly, but who outside of an Indycar fan cares? The series has 4.3 million viewer and a .84 rating as of February. The show does do a bit better than Indycar in viewership. St. Petersburg had 1.4MM viewers and a .81 rating. Danny Sullivan was on Miami Vice and as an 18 year old, it was the first time I made the connection with a driver and a race series. So, maybe this is the best bet currently.
– Arie Luyendyk Jr. was on The Bachelor, I didn't watch it but from what I understand he was a jerk. The viewership was 7.4MM with a 2.2 rating, the largest audience to mutter the word "Indycar" in front of. You can't really call Jr. a racer, but that may have been a squandered opportunity for Indycar to polish him up and put him in a car? Maybe they still can?
– Mario has some elevated visibility, but he is a sage racer of the old school. How may people make the leap from Mario to modern day Indycar?
– Helio had the Dancing with The Stars blip. That was eleven years ago. That visibility is long gone as is he.
In the 90's you had tobacco, beverage, manufacturer, tires, and sponsor $ to "activate" (monetize) the financial commitment and put the mechanisms in place to make the series and the drivers "stars". The sponsors could spend as much to activate their race programs as they did to display their logo on the cars and hauler. Millions were spent on hospitality tents, free tickets, cross promotion with sponsor brands..sweepstakes, ad campaigns, retail signage, event appearance. Target and Kmart excelled at this but others did a fine job. Interested spectators and $ drove driver exposure… not the other way around.
Activation is a bygone era in Indycar. The current sponsors commit their measly budgets for some limited television and light hospitality returns or because a CEO or CMO is a great personal fan or racing. The $ isn't around anymore. Even the wunderkinds of NASCAR and F1 struggle. As far as drivers, maybe a few will break through with some notoriety. But it won't be hero status for bravery and talent. It will be marketability. Those will be few.
Forget the drivers. It's an old drill by now, the series needs the attention. At this point… maybe we are asking too much of the sport itself. Maybe we should enjoy the hear and now and lower our expectation of a return to a "better time". Curt Olson
Dear Curt, All great points, but there is a difference between being well known and being a hero. A hero moves the needle for people to want to watch a race, or buy a ticket to attend a race.
Case in point – Danica Patrick. She was a hero to a lot of females for a period of about 5 years and a lot of woman made it a point to come out and see her. The IRL and later NASCAR benefitted. But after a while her poor on-track performance made it clear she was no hero – and her fanbase faded, leading to her retirement.
Being well known as an athlete will not draw fans. Rossi, Daly, and Hinch may be well known from their recent TV exposure, but the average Joe on the street, who may now know their name, is not going to buy a race ticket just because they were on TV.
Only heroes will draw people who are fringe racing fans, or not motorsports fans at all. Heroes do extraordinary things that leave you impressed. They do things the ordinary athlete can't. They dominate their sport. They make the 'Walter Mitty' in us want to be them.
When you do extraordinary things, then the series and sponsors have something to use (on film) in their material to make you bigger than life to a wider audience. Compelling stories can be told about you. Documentaries can be made. Your 'heroship' grows.
The heroes of yesteryear made compelling stories for what they accomplished on the race track
If you are not extraordinary you will never be a hero, or a hero for very long, and hence you will not have regular people follow you every race weekend.
So in closing, yes, the added exposure is of course a good thing for IndyCar, but it won't move the needle until the sport contains heroes. How many IndyCar fans have their favorite driver's number in their back window or on their bumper? None, because none of them are heroes…..at least not yet.
As for sponsor activation – who wants to activate on a TV network with such low ratings? They needed the new TV deal to be 100% network and 0% cable to move the exposure needle. That didn't happen and now all the international exposure is going dark with the loss of ESPN International – a loss that will have profound effects in the coming years. Mark C.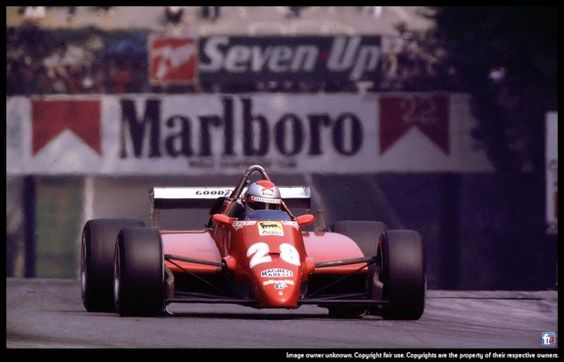 A hero steps into a car he never drove, and at the relatively old age of 42, puts the car on pole at Monza – Andretti 1982 Italian GP
04/03/18 A reader writes, Dear AR1.com, I keep reading that IndyCar wants to make their young drivers stars.They are totally clueless. You do not 'make' a star. As noted by your photo captions below, The Mario Andrettis, AJ Foyts and others did extraordinary things on the race track. They went into other series and beat the regulars at their own game. They became heroes because they did heroic things.
IndyCar somehow thinks you can make any pretty face a hero just by putting them out there and writing a lot of articles about that person.
Case in point – Marco Andretti. He has the Andretti name, has had plenty of media exposure, yet will never become a hero until he begins to regularly beat everyone else and breaking pole, laps led and win records.
These ride-buyers of today think you can buy your way to become a hero and IndyCar thinks they can use the media to make a driver a hero.
I got news for them, 'heroship' is earned not bought or made. Mordichai Rosen, Los Angeles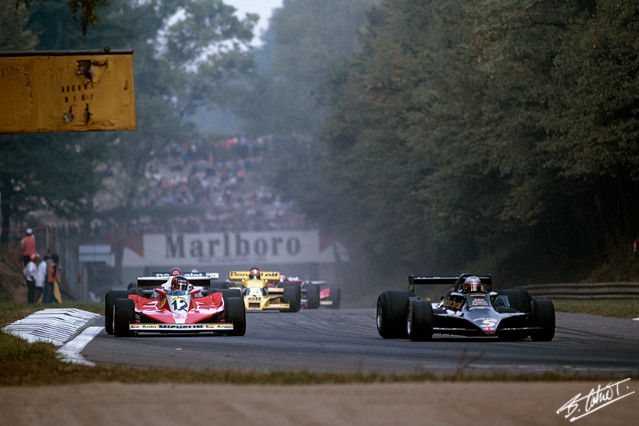 Mario Andretti took on the greats of F1 and beat them at their own game, here outdueling Gilles Villeneuve at Monza in 1978 in one of Andretti's greatest drives. As an IndyCar driver he won the respect of the millions of F1 fans. Today American drivers don't get a shot at F1, including from the Anti-American Haas team who shunned Alexander Rossi who won so many GP3 and GP2/F2 races and finished 2nd to Stoffel Vandoorne. If that doesn't qualify to get an American a ride in F1, then there will never be an American in F1 in a competitive ride again
04/02/18
This article by Michael Knight for AZCentral makes a lot of accurate points, but see photo captions as AR1.com weighs in on why IndyCar drivers, as great as they are, will probably not become household names like AJ Foyt and Mario Andretti.
This roars of the anonymity under which IndyCar drivers mostly compete:
Mario Andretti, being celebrated at ISM Raceway before Saturday evening's Desert Diamond West Valley Casino Phoenix Grand Prix, remains far better known than any current series racer a quarter-century after that 1993 checkered flag at what was Phoenix International Raceway signaled his 52nd and last victory.
That's "grossly unfair," Andretti admits.
It is, however, an unfortunate truth: Recent champions Scott Dixon, Ryan Hunter-Reay, Sebastien Bourdais, Simon Pagenaud and Will Power don't glisten in the spotlight reserved for national sports celebrity heroes. Andretti, A.J. Foyt, the Unsers, Johnny Rutherford, Rick Mears, Tom Sneva and others did before the wreck that was two rival open-wheel tours from 1996 until 2008.
Now IndyCar — much like NASCAR — is rolling out an under-30 class of drivers, led by Josef Newgarden, last year's champion. Yet it's an unlucky reflection of the series' challenges, which include participation by more young Americans, that some who read or hear Newgarden's name assume he's European.
Not so. Newgarden comes from NASCAR country, Hendersonville, Tenn.
New names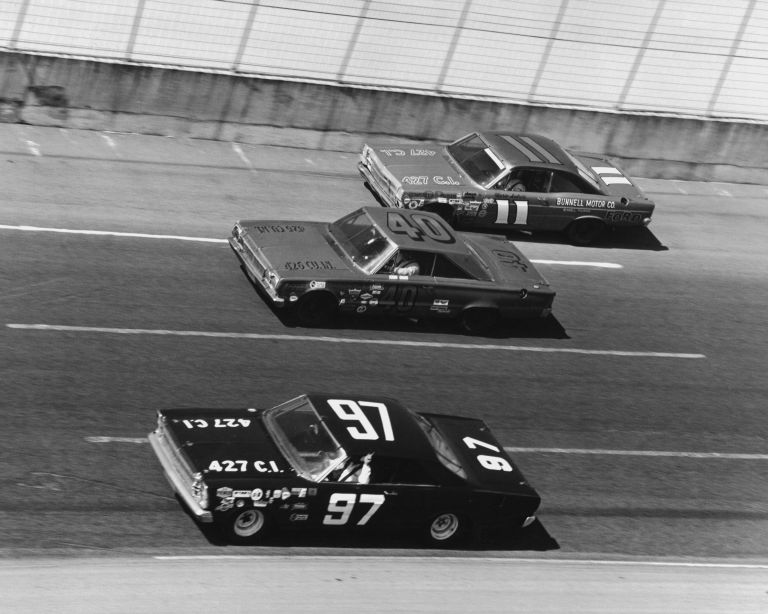 Mario Andretti passing cars in the grey non-rubbered asphalt against the wall to win the 1967 Daytona 500. Only Andretti and Foyt went to Daytona and beat the NASCAR drivers at their own game, making them heroes outside the IndyCar fanbase.
Robert Wickens, Spencer Pigot, Matheus Leist, Zach Veach and Kyle Kaiser are some of the names likely unfamiliar to Valley racegoers. IndyCar needs at least a few of them to emerge not only as race winners, but also exciting TV performers, media charmers, ticket-sellers, and effective salesmen for the products and services offered by corporate sponsors.
But while the NASCAR industry is heavy promoting Chase Elliott, Kyle Larson, Alex Bowman, William Byron, Daniel Suarez and Erik Jones, the organization that also owns the Indianapolis 500 appears to be laps behind.
"We're investing as we can," said IndyCar CEO Mark Miles, former head of Indianapolis' Super Bowl host committee and the ATP men's tennis tour. "Overall, our marketing and advertising spends are up some. I don't know if you would think of it as significant. The great bulk of that is digital, which gives us a better ability to focus on individual drivers.
"I think we're making progress and this could be a real breakout year for the next generation. They've arrived as drivers and begin to get to the next level for notoriety."
Getting there would seem to be a long road. Verizon, IndyCar's fourth title sponsor in 20 years, is exiting at season's end. The ABC TV audience for the March 11 season opener on the streets of St. Petersburg, Fla., was 1.14 million. That same day, NASCAR at ISM Raceway averaged 4.6 million viewers on Fox. Proving again the power of superstardom, an on-the-leaderboard Tiger Woods drew 6.9 million watchers for the PGA Tour's Valspar Championship on NBC.
A cautionary tale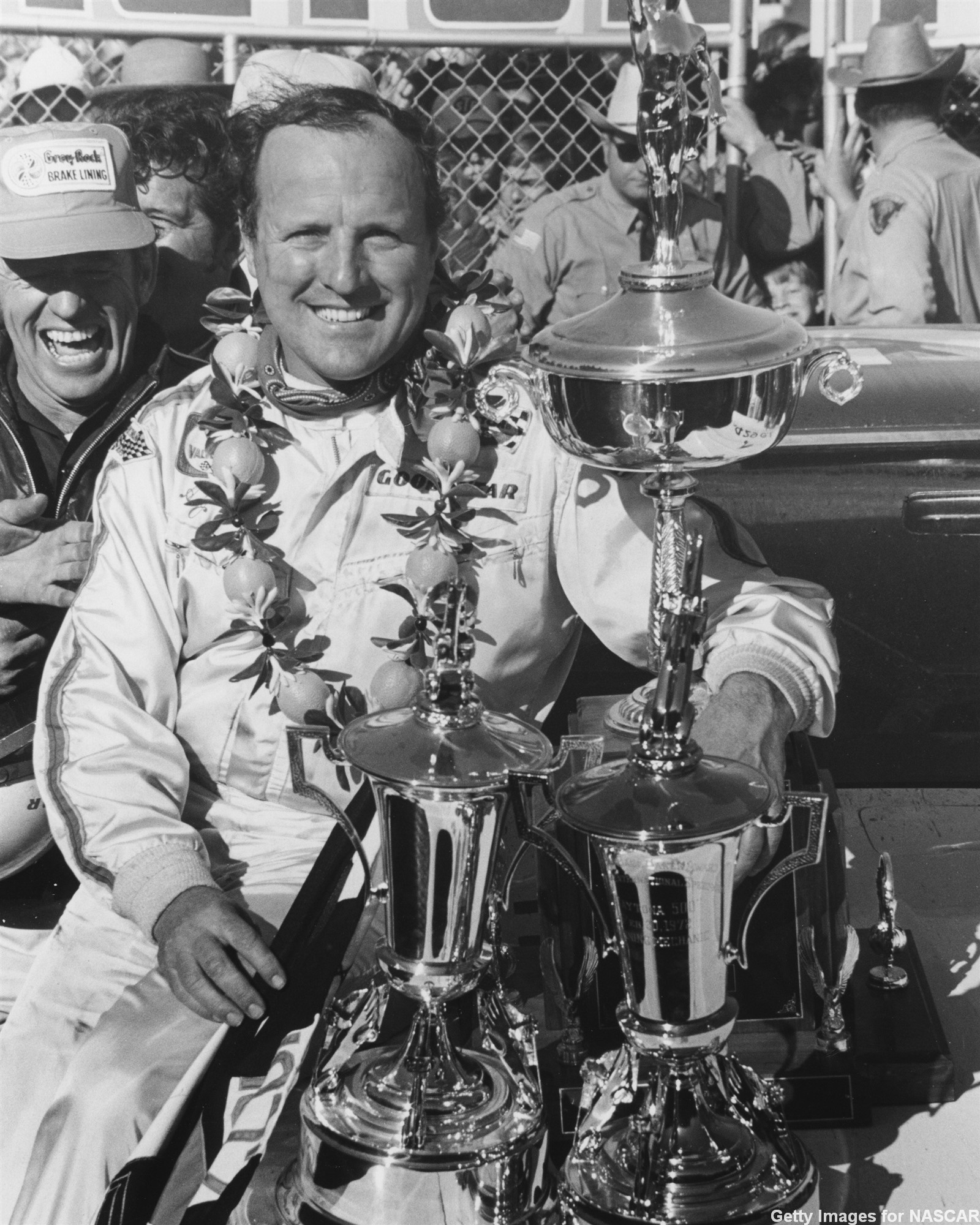 AJ Foyt winning Daytona in 1972
If IndyCar's marketers had tried to design an ideal driver to become its public face, they couldn't have done much better than Hunter-Reay.
The athletic Floridian earned the 2012 series title. Two years later, Hunter-Reay made one of the most audacious winning passes anyone's pulled off in the Indianapolis 500's century of racing, a breath-taking inside-line pass of Helio Castroneves in the closing laps. His aggressive style is crowd-pleasing — watch him on restarts Saturday evening — and complements an engaging personality who interacts well with fans, media and sponsors DHL, Butterball (who features him in a TV commercial) and Honda.
Yet, that victory didn't resonate much beyond Indiana.
"I wish they (IndyCar) would have used me a lot more after winning the championship and the Indy 500," Hunter-Reay said. "I told them I was willing and more than able to get out there.
"We have a lot of improving to do in that regard. We have some great personalities behind the wheel of these cars. I wish more people knew that."
Next stars?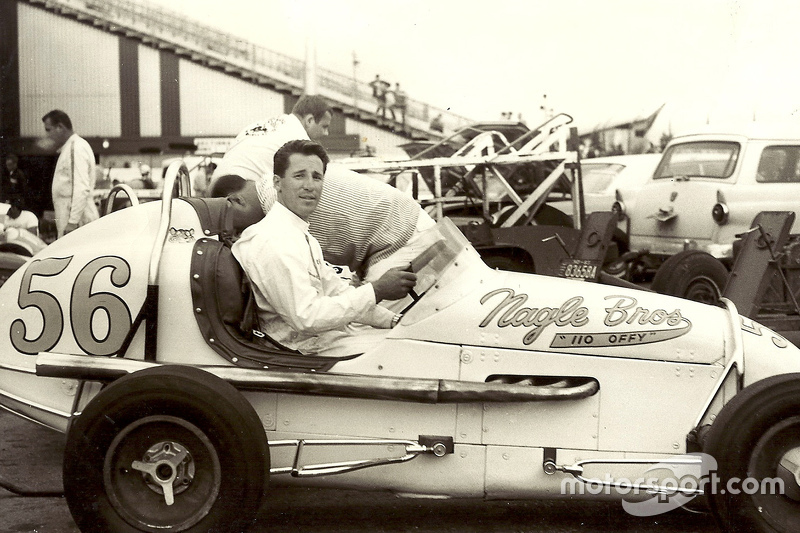 The greats of yesterday drove sprint and midgets too. Now those drivers go to NASCAR – taking their dirt track fanbase with them
Tony Kanaan, IndyCar's most popular driver — especially with Castroneves having been shifted to team owner Roger Penske's new Acura program in the IMSA sports car series — likely is in his last couple of seasons at age 43.
As Kanaan and Castroneves marked their 20th IndyCar season last year, Kanaan said: "Tony and Helio will have to go away for (young drivers) to actually grow (in popularity.) As long as we're here, we're going to steal (fans) from them."
So who are some top candidates to Make IndyCar Rate Again?
Newgarden (No. 1 Verizon Chevrolet): After gaining five years' experience for smaller teams, Newgarden, 27, was signed by Penske to take over for Juan Pablo Montoya. Calm and friendly but unafraid to make bold moves, he responded with four victories and the championship. To win on the oval near St. Louis, Newgarden dove under Pagenaud entering Turn 1, bumping his teammate and forcing him to slow.
"Josef seems to have caught a lot of people's eye," Penske said. "We have to do as NASCAR is. We have to promote people who can make a difference.
"It's going to take time to build these names. The Andretti name didn't happen overnight. To me, it's going to have to be someone who stands out."
Newgarden agrees IndyCar needs to "create stars. I'm never shy to help out. NASCAR is pushing their new generation and . . . we're going through a very similar transition."
His mother is Danish so "that's a little of where the (first name) spelling comes from."
"I've had more people recently tell me that their kids' names are spelled the same as mine. I guess all we can do is try to make J-O-S-E-F a cool name in America."
Graham Rahal (No. 15 One Cure Honda): At 19, the son of 1986 Indy 500 winner and three-time champion Bobby Rahal, became the youngest IndyCar race winner in 2008. A decade later he was on the road for almost 270 days last year, most of it promotional work, meeting potential sponsors and watching wife Courtney Force race in NHRA.
"The sport needs to continue to do a better job of promoting the young names," said the outgoing Rahal, who won twice in 2017. "I think the drivers have to promote. I do it but I see a lot of guys who, when the weekend is over, go home and hang out. I'd like to do that but it's not going to help me build my brand or businesses.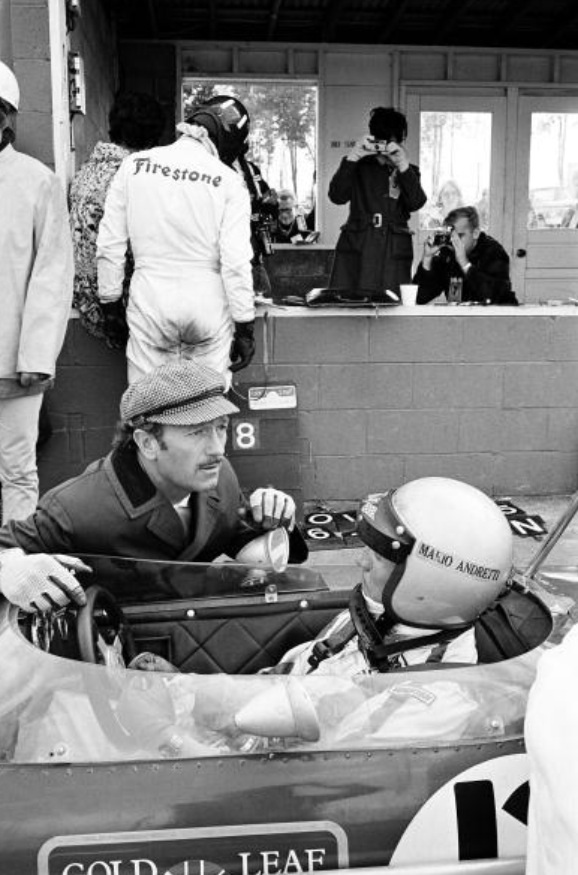 Mario Andretti with Colin Chapman at Watkins Glen in 1968. Andretti won pole in his very first F1 race that weekend. It's those kind of accomplishments that prove you are the best – it's what heroes are made of
"You've got to be on the gas at all times. Sometimes, I'm on it a little too much."
Alexander Rossi (No. 27 MilitaryToMotorsports.com Honda): The upset winner of the 100th Indy 500 in 2016, Rossi, 26, says outreaching to possible new fans is "something I'm taking quite an interest in as my obligation as one of the young American guys."
Rossi was a contestant on the CBS' reality series "The Amazing Race" and hosts a podcast with fellow driver James Hinchcliffe, 31, whose own profile has risen with a series of Honda TV commercials.
"You have to convey your passion for the sport," Rossi said. "I've found if you get someone to the racetrack, they become a fan. I had a perfect experience with this. I hated hockey. I thought it was boring to watch on TV. I went to a game and thought, 'All right, that's pretty badass.' I came back."
Rossi's off-track personality is reserved. On-track he can be much more assertive. Rossi bumped leader Wickens trying to pass on the next-to-last lap of the season-opener in St. Petersburg, Fla., opening the way for Bourdais to win.
Ed Jones (No. 10 NTT Data Honda): Last season's top rookie finished third in his first Indy 500 and became Dixon's teammate at Chip Ganassi Racing. From Dubai, UAE, he's 23, the 2016 Indy Lights series titlist and understands his position in a high-profile team will attract increased attention — and scrutiny.
"I do everything I can to get involved with the fans," said Jones. "IndyCar, compared to other series, is a lot more fan friendly. My natural way is I'm very relaxed and take things as they come. I don't get phased by that. I must be doing something right if I get more attention."
Others who IndyCar insiders have hopes for are: Wickens, the 29-year-old Canadian who won the St. Petersburg street course pole position and led the most laps in his first-ever start; Pigot, 24, of Orlando, who has advanced from a partial schedule to full-time in Ed Carpenter Racing's Fuzzy's Vodka Chevrolet; and Veach, 23, who has shown promise in various developmental series, in a Michael Andretti-owned Honda. Marco Andretti, Michael's son and Mario's grandson, is now 31 with only two wins in 12 seasons, the most recent in 2011.
The NASCAR way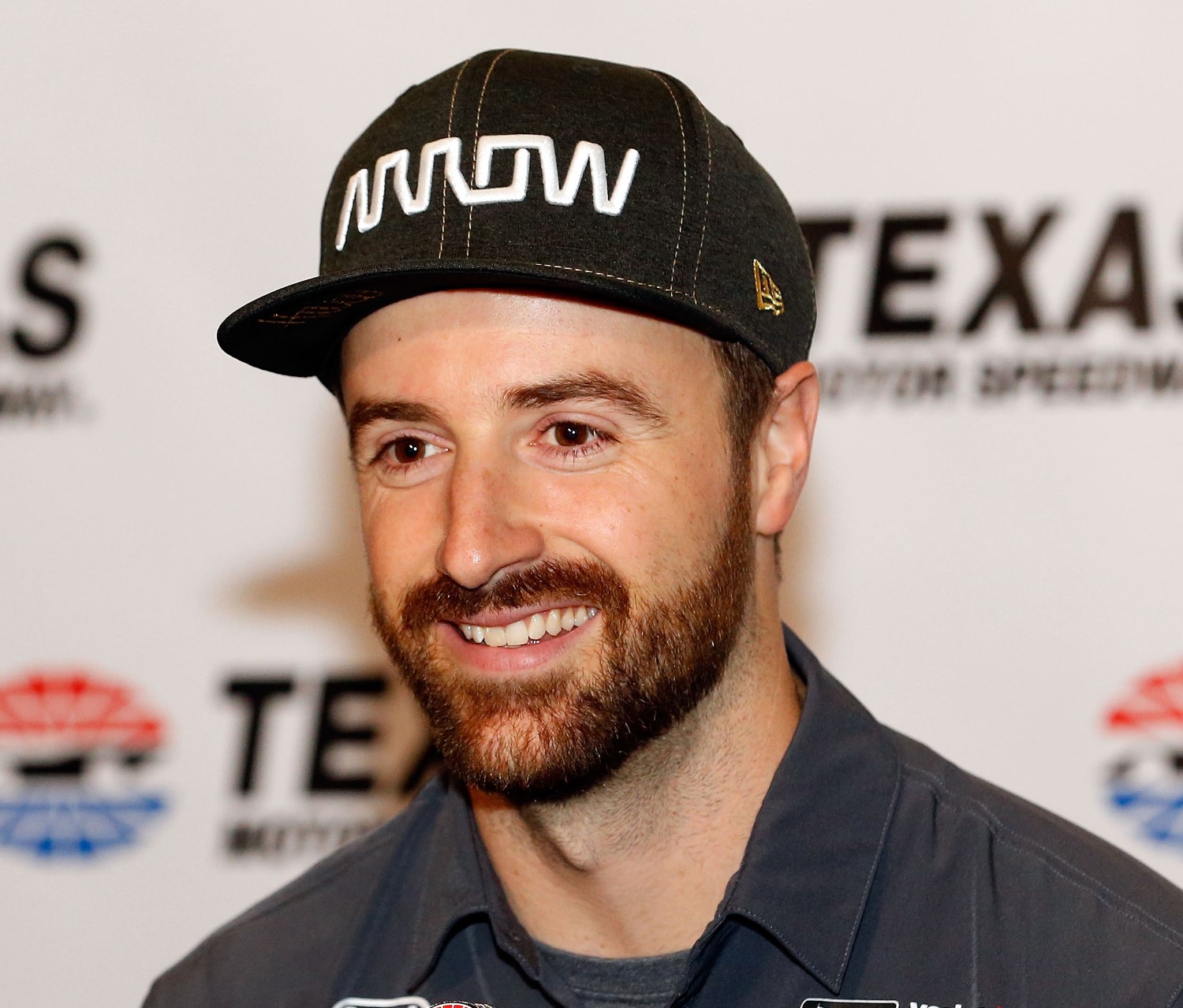 Finally after all these years one IndyCar sponsor – Honda – is making an IndyCar driver, James Hinchcliffe, a household name by featuring him in commercials. We have not seen this since the Vasser/Zanardi TV ads by Target. Why hasn't IndyCar made this happen sooner? NASCAR has been doing it for decades
"The business model in NASCAR has always been the drivers are their stars," said Lyn St. James, the retired driver and motorsports activist who lives in Phoenix. "The business model in sports cars has always been the cars are their stars. The business model in IndyCar has struggled.
"The business model that IndyCar needs to set is that our drivers are our stars. I've seen examples, but they are still not totally committed to that."
Miles insists: "We will build name ID.
"We subscribe to services that give you data about those things and more of our drivers are up marginally. There is some progress, the direction is right, but we have greater ambitions."
Raceway President Bryan Sperber says increasing recognition of young drivers is "very important for IndyCar and NASCAR.
"We're in this transition period when a lot of household names have retired. Iconic figures. The new drivers coming in have exciting personalities and are driving the cars hard.
"It takes a little time to introduce those personalities to the fans and for the fans to get behind them. But we're already seeing it."