Kyle Busch wins in last lap Xfinity duel at Charlotte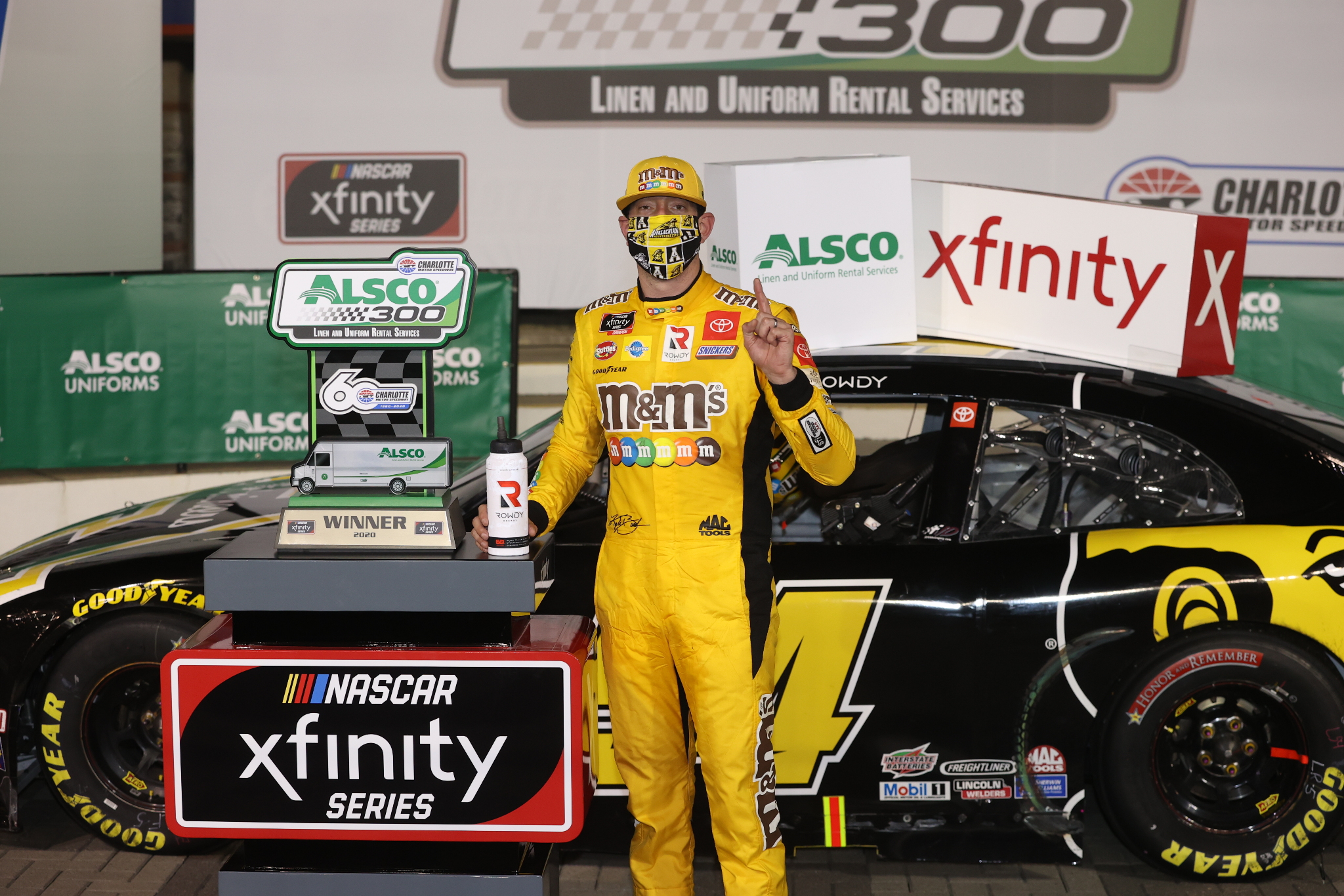 Kyle Busch scored his 97th-career Xfinity Series victory Monday night at Charlotte
Chris Graythen | Getty Images
Despite being held on the Charlotte Motor Speedway oval, Monday night's NASCAR Xfinity Series race had more twists and turns than the track's infield road course layout.
But in the end, there was no surprise in the winner, as Kyle Busch came back from a pit road speeding penalty to make a last lap pass on Austin Cindric for the victory.
Busch had a massive lead with just four laps to go when a multi-car crash behind the leaders brought out the caution and sent the race into overtime.
On the final restart, Cindric battled to the inside and took the lead away in the first turn. But Busch battled back on the last lap, getting to the inside of Cindric as the leaders raced into turn two. He made the final pass for the lead as they raced into turn three, and drove to the win.
"I thought choosing the outside was the right way, but obviously it wasn't," said Busch. "Those guys put up a whale of a fight tonight on restarts. I was really surprised by that, I guess I'm not that good at it anymore."
It's the 97th career series win for the Joe Gibbs Racing driver, who led 94 laps on the night en route to his ninth series win at Charlotte.
[adinserter name="GOOGLE AD"]"It was interesting and it was crazy," said Busch. "Earlier in the race, Ross Chastain gave me a hell of a run on a restart and then right there, Austin (Cindric) gave me a hell of a run on that restart and I thought picking the outside lane would be the sure launch and those guys would spin their tires down there and not get going. It might have been the 8 that helped the 22 stay alongside of me and he was just able to clear me in one and two.
Cindric would finish in third after being passed in the final moments by Daniel Hemric.
"It is hard to beat the best in the business on older tires. I got a great push from Daniel," said Cindric. "I am shocked the restart zone went as well as it did. That was a big struggle for me all night. I knew I was going to have to defend in three and four and took the top in one and two. He just had way more grip than I did. The heat cycles were killer. I never lifted driving into three. I just gave up second but didn't really care at that point. I just wanted to win the race. Overall it was a great night and I am really proud of my team."
For Hemric, who hails from nearby Kannapolis, North Carolina, it marks his career best sixth Xfinity Series runner-up finish.
While Busch clearly had the strongest car on the track, coming out on top of a fierce early race battle with Chastain, he had to recover from a driver error that could have cost him the race.
It came as when Busch came to pit road under green from the lead for a scheduled stop with just over 50 laps to go. While the stop went well, Busch broke the pit road speed limit, with NASCAR officials bringing him back to pit road for a penalty under green.
He wasn't alone in drawing a speeding penalty, as Darlington winner Chase Briscoe and Phoenix winner Brandon Jones were also nabbed for speeding. All three were now a lap down under green flag conditions.
Fortune swung back towards Busch moments later when Timmy Hill blew an engine, putting oil down on the track that put both Briscoe and early race leader Ross Chastain in the wall.
Both Busch and Jones were able to use a wave around to get back on the lead lap.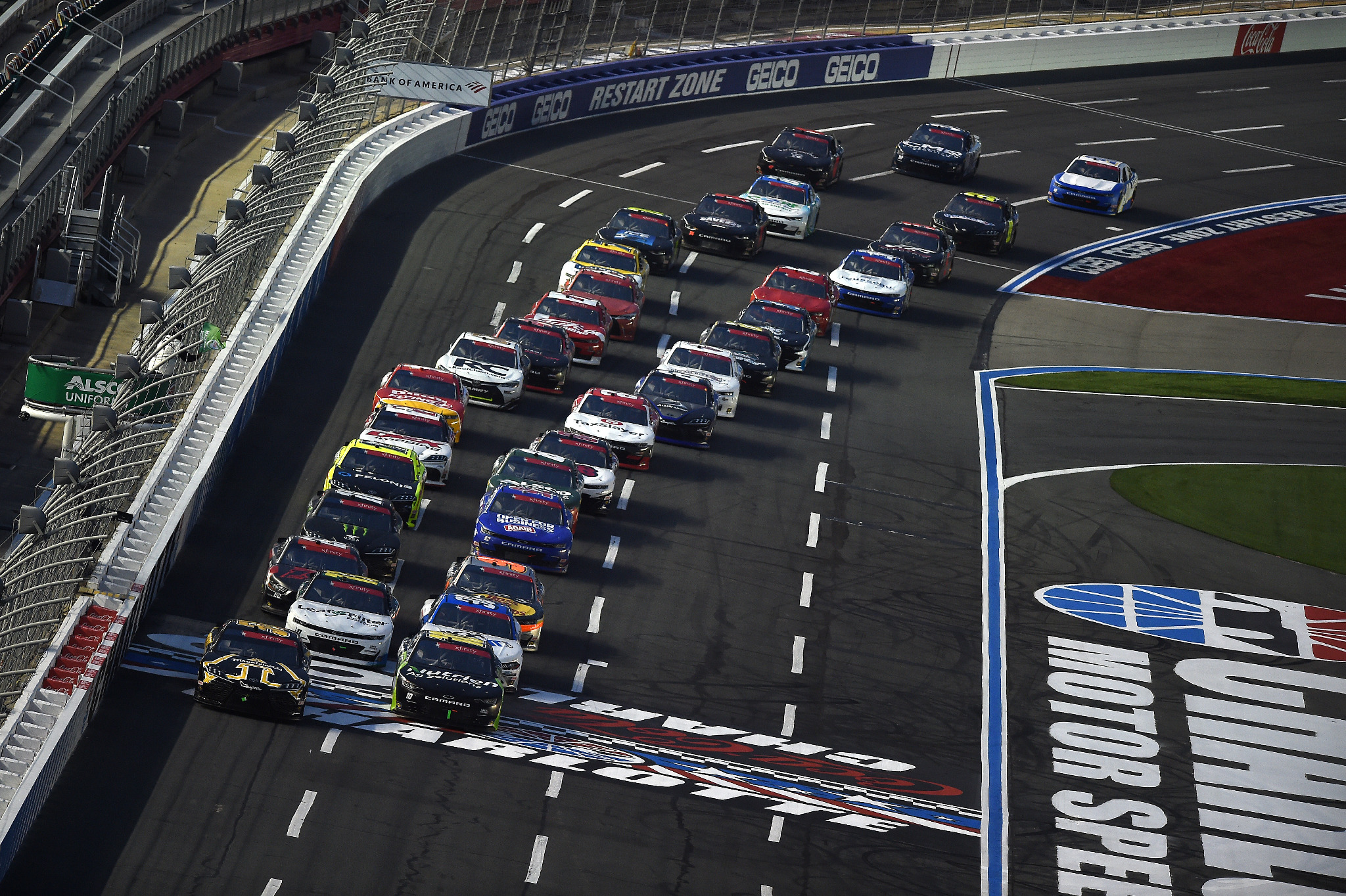 Kyle Busch (54) led a race-high 94 laps on Monday at Charlotte
Jared C. Tilton | Getty Images
Busch came back to pit road under the next caution on lap 171 to take on fresh tires. He would charge his way back to the front, moving up to third as the race entered the final 15 laps.
With Austin Cindric and Noah Gragson fighting for the lead, Busch bided his time before blowing past both of them on lap 189. Another caution followed on lap 192. On the subsequent restart, Busch simply drove away from the competition, opening up a massive advantage as the leaders came off turn two.
The race would be marred by one last caution, triggered when Gragson's car broke traction while racing with Harrison Burton off turn two, setting off a multi-car crash that included Justin Haley and Tommy Jo Martins.
That set up the final restart, with Busch re-taking the lead with half a lap to go to score the win.
The race, which was slowed by cautions 11 times for 53 laps, was run in front of empty grandstands as NASCAR continues to cope with the ongoing COVID-19 pandemic.
Chastain finished in fourth, with Justin Allgaier in fifth.
Brett Moffitt, Michael Annett, Brandon Brown, Burton and Myatt Snider rounded out the top 10.
NASCAR returns to Charlotte Motor Speedway on Tuesday night for the third of four straight events, with the Gander Outdoor Truck Series moving to center stage for their first post-shutdown event.
KYLE BUSCH, No. 54 App State Class of 2020 Toyota Supra, Joe Gibbs Racing
Finishing Position: 2nd
How challenging was the race tonight?
"I thought choosing the outside was the right way, but obviously it wasn't. Those guys put up a whale of a fight tonight on restarts. I was really surprised by that, I guess I'm not that good at it anymore. Overall, I really want to thank M&M's and more importantly, want to wish the 2020 class from Appalachian State congratulations on getting their diplomas this year, it's a little different I know, but hopefully this will lift your spirits a little bit. We won for you and took all the rest of those big houses down tonight. It was pretty cool to score a win here in Charlotte as always."
What can you say about your legacy in the Xfinity Series?
"I would say the biggest thing is just working with so many different teams and so many different crew chiefs. Having the opportunity to win with a lot of them, if not all of them. Just being able to go out there and work with a lot of cool guys, a lot of people that have helped me along the way and gotten me to this point. A lot of great sponsors over the years too – another shout out to M&M's and Interstate Batteries, Toyota, Rheem, Snickers, Skittles, Rowdy Energy. It's nice to be able to get all those guys in victory lane here in the Xfinity Series. Appreciate them helping me out in these final five, six or however many races I need to get to close it out at 100."
How was the last restart?
"It was interesting and it was crazy. Earlier in the race, Ross Chastain gave me a hell of a run on a restart and then right there, Austin (Cindric) gave me a hell of a run on that restart and I thought picking the outside lane would be the sure launch and those guys would spin their tires down there and not get going. It might have been the 8 (Daniel Hemric) that helped the 22 (Austin Cindric) stay alongside of me and he was just able to clear me in one and two. Crazy how all that turned out, but really want to say congratulations to the 2020 class at Appalachian State. I know this year is a little different for your graduation and getting you diploma, but still there is a lot ahead of you and use that as determination to get better like we did every single restart. We used that in order to get better and try to go out there and win this thing. We got it and want to thank M&M's, Toyota, Rowdy Energy and everybody at Joe Gibbs Racing. This is 97 so a couple more left."
Is this the start of three wins in a row with tomorrow night's truck race and Wednesday night's Cup race?
"I'd like to hope so. We've been so close these last few days. Every day it seems we're right there and we have top-fives going, it's just a matter of execution. Some guys do a little better job or have a better opportunity to do a better job with the way their cars are or whatever. Unfortunately, this is only my second win of the year for as long as we've been racing – it hasn't been that long. It would be nice to continue the winning ways and get Kyle Busch Motorsports back to victory lane tomorrow night and then of course try to win the Cup race here Wednesday."
Does tonight's win help prepare you for tomorrow night's race with the bounty still in play?
"I don't know that tonight does anything for tomorrow night, just gives me some more laps around the track and some more view into what's going on. Hopefully, all the guys at Kyle Busch Motorsports have really prepared our Tundras well. I'm looking forward to getting back behind the wheel of the Cessna, Big Machine Hand Sanitizer Tundra and hopefully having a good night there and being able to win again here at Charlotte Motor Speedway and take home another trophy. There's going to be some good competitors out there and strong competition I'm sure. We'll see what happens and hopefully we can keep it up front."
What was the conversation with Chase Elliott after the 600?
"Just that I've been in that situation way too many times. I felt bad for him. Obviously, through everything that happened the week before and for how bad that situation was, him and I both kind of felt like at the end of that one, there was a heck of a lot of ways to lose these things. Disappointment, he's taken it a heck of a lot better than I ever have. I certainly was never very good at disappointing races. He's doing good and just told him to keep going forward and go get the next one."
What was it like to have no fans when you got out of the car tonight?
"It was fine really. Not that big of a deal. Obviously, you wish your team guys were there, you want to celebrate with your team. Those are the guys that really put in the long hours and the hard work and being able to get those cars prepared and make them as fast as they do. Everybody at Joe Gibbs Racing and Joe Gibbs Engines, they all deserve that victory just as much as I do in victory lane. Of course, the fans as well too, whether they're cheering or whether they're booing, it's always fun to see the reactions and be able to give the good old-fashioned bow to the crowd. It's just a little different. Certainly, wishing and hoping that we can get the fans back as soon as possible."
Did you consider bowing to the empty grandstands?
"Just kind of felt a little odd so I guess I could have bowed to the camera – everybody is on the other side of the camera. That wouldn't have been too bad I guess."
How challenging was the last lap battling Austin Cindric into turn three?
"I was just surprised he got as good of a launch as he did. The previous restart, I got a really good launch and drove away. Then on that restart, he hung with me really well and I wasn't able to get away and he actually passed me and got in front of me down the backstretch there into two. I was like, 'I'm not sure I'm going to be able to get back to him.' I didn't know how wide his car would end up being and if I was going to be able to make the pass and stick with him. I got a really good run in one and he got really loose in the middle of (turns) one and two so I tried to get to the bottom and I knew I had to go because I knew the 8 (Daniel Hemric) was coming on fresher tires than I had. When I got to the inside of him, we just had a drag race down the backstretch and I knew I just had to throw it off into three as far as I thought I could stand and knew that hopefully my tires would overdo his tires and I could come out the other end. That was my only game plan and fortunately it worked."
What compelled you to tweet about race fans and masks on Sunday?
"When all this kind of went down, much of it was spoken about masks and everything else. With where we're at today, people are saying that masks don't mean anything, I still think there's a sense of human hygiene and taking care of your neighbor. I think there's something to that. You go to a race track and you either just cough because you get water down the wrong pipe or whatever it might be or you sneeze or whatever, at least you're keeping some of that to yourself rather than just spraying. I think there is something to that. Obviously, I know the masks aren't going to really cover up any virus. We're all doing what we can as far as social distancing and if we can't do that, then you try to wear a mask. I saw the grandstands packed and just figured, 'Hey, we can all take care of our neighbor.' That's just kind of my idea. It's arguable whether they really work. I just think it's common courtesy."
Was there a preferred lane for the restarts?
"I really didn't see a preferred lane. I felt like the outside was and that's why I took it and the inside almost prevailed and won the race on that last restart. Even me thinking I'm pretty decent on restarts and should be pretty good at it, but I almost got beat by it. It's just interesting how sometimes it can kind of flip-flop on you. I think you really have the pay attention to who's behind you and what's behind you, but I always try to get a good launch, a good hard restart and get away from anything behind me. That might be to my detriment because I don't really ever have the guy behind me helping me where it seems like third-place can do a better job keeping up with second-place to help push him. If I maybe backed off my restarts a little bit and had some help from behind, but to me help from behind just doesn't make sense in racing. You want to be able to go out there and get it done yourself and not rely on any help."
How are you approaching the truck race with a mixture of drivers starting inside the top-15?
"Just kind of the same as we did here tonight with the Xfinity Series race. I kind of felt the same way here. Just try to get rolling, get going and see what happens. It seems like everybody had a way better mindset at the beginning of the race than they did at the end of the race with as many cautions as we drew there in the final 40 or 50 laps. Just hopefully everybody just chills out and gets their feet wet, gets settled in, feels what they've got and comes down pit road at least for the first time to get some adjustments and then go race."
What can you say about the youth in the Xfinity Series?
"These guys are certainly not watching very many old races with Tony Stewart or Mark Martin or Jeff Gordon or Jimmie Johnson or any of the guys that were really good in our sport for years. Just race etiquette and how you race. They're running hard and I've been seeing some of that stuff with guys racing in Late Models and K&N and ARCA, puts themselves in a bad spot sometimes and they tear up equipment sometimes and other times it gives them a win or gives them a spot or gives them a good finish and makes their sponsors happy. I can see both sides to it. Growing up in one era and seeing how it was and now racing still with some of these guys in this era, it just makes it seem like things have really changed. You just have to keep your eyes open. Some of those guys, when they're running around teammates, they do a pretty good job of cutting you some slack and a couple other guys when you run around them, they do a pretty good job of cutting you some slack. But many of them, they run hard."
Are you looking forward to being in the Fox booth with your brother in Bristol next weekend?
"It was just something that Fox had asked us to do and if we were willing to do that together and work with one another with both of us being as successful as we've been at Bristol. That was kind of the idea of bringing these guys who really know the tricks of the trade and how to win around here and hopefully we can put on a good explanation for the fans of what the drivers are going through and what they're doing and such. I'm looking forward to it. It will be the first time in a long time that I've been in the booth for calling a race. Bristol is tough to call a race because for as long-winded as I am here talking about stuff, you have 15 seconds, you literally have five seconds to get it out. If you don't they're already to the next lap. It's going to be talk fast or don't even talk at all."
RACE RESULTS
| | | | | | | | | |
| --- | --- | --- | --- | --- | --- | --- | --- | --- |
| Pos | St | No. | Driver | Sponsor/Make | Laps | Led | Pts | Status |
| 1 | 18 | 54 | Kyle Busch(i) | App State Class of 2020 Toyota | 203 | 94 | 0 | Running |
| 2 | 12 | 8 | Daniel Hemric | Alsco Uniforms Chevrolet | 203 | 0 | 41 | Running |
| 3 | 6 | 22 | Austin Cindric | Snap-on Tools Ford | 203 | 30 | 46 | Running |
| 4 | 1 | 10 | Ross Chastain | Nutrien Ag Solutions Chevrolet | 203 | 68 | 51 | Running |
| 5 | 4 | 7 | Justin Allgaier | Hellmann's Chevrolet | 203 | 0 | 32 | Running |
| 6 | 22 | 2 | Brett Moffitt(i) | FR8Auctions Chevrolet | 203 | 0 | 0 | Running |
| 7 | 9 | 1 | Michael Annett | Pilot Flying J Chevrolet | 203 | 9 | 30 | Running |
| 8 | 15 | 68 | Brandon Brown | CCU Class of 2020 Chevrolet | 203 | 0 | 29 | Running |
| 9 | 11 | 20 | Harrison Burton # | Dex Imaging Toyota | 203 | 0 | 30 | Running |
| 10 | 17 | 21 | Myatt Snider | TaxSlayer Chevrolet | 203 | 0 | 27 | Running |
| 11 | 10 | 9 | Noah Gragson | Bass Pro Shops/BRCC Chevrolet | 203 | 2 | 39 | Running |
| 12 | 5 | 18 | Riley Herbst # | Monster Energy Toyota | 202 | 0 | 32 | Running |
| 13 | 19 | 90 | Dillon Bassett | Bassett Gutters & More Chevrolet | 201 | 0 | 24 | Running |
| 14 | 21 | 92 | Josh Williams | OpenForBusiness/ChasingFreedom Chevrolet | 201 | 0 | 23 | Running |
| 15 | 34 | 4 | Jesse Little # | Tufco Flooring Chevrolet | 201 | 0 | 22 | Running |
| 16 | 37 | 36 | Alex Labbe | rousseau Chevrolet | 201 | 0 | 21 | Running |
| 17 | 14 | 6 | BJ McLeod | TeamJDMotorsports.com Chevrolet | 200 | 0 | 20 | Running |
| 18 | 36 | 74 | Bayley Currey(i) | Save22.vet Chevrolet | 200 | 0 | 0 | Running |
| 19 | 28 | 8 | Joe Graf Jr # | CORE Development Group Chevrolet | 200 | 0 | 18 | Running |
| 20 | 8 | 98 | Chase Briscoe | HighPoint.com Ford | 200 | 0 | 28 | Running |
| 21 | 30 | 99 | Mason Massey | Gerber Collision & Glass Toyota | 200 | 0 | 16 | Running |
| 22 | 13 | 13 | Chad Finchum | CrashClaimsR.us Toyota | 200 | 0 | 15 | Running |
| 23 | 16 | 78 | Vinnie Miller | Koolbox Chevrolet | 199 | 0 | 14 | Running |
| 24 | 32 | 44 | Tommy Joe Martins | Market Rebellion Chevrolet | 198 | 0 | 13 | Accident |
| 25 | 23 | 0 | Jeffrey Earnhardt | ContecThankYou Heroes Chevrolet | 198 | 0 | 12 | Running |
| 26 | 31 | 47 | Joe Nemechek(i) | Mutt and Jeff Porkskins Inc. Chevrolet | 198 | 0 | 0 | Running |
| 27 | 2 | 19 | Brandon Jones | Menards/Pelonis Toyota | 197 | 0 | 21 | Accident |
| 28 | 7 | 39 | Ryan Sieg | Chevrolet | 197 | 0 | 9 | Running |
| 29 | 3 | 11 | Justin Haley | LeafFilter Gutter Protection Chevrolet | 196 | 0 | 18 | Accident |
| 30 | 33 | 5 | Matt Mills | J F Electric Chevrolet | 196 | 0 | 7 | Running |
| 31 | 24 | 7 | Garrett Smithley | CDA Tech Chevrolet | 193 | 0 | 6 | Running |
| 32 | 27 | 51 | Jeremy Clements | All South Electric Chevrolet | 176 | 0 | 5 | Accident |
| 33 | 26 | 61 | Austin Hill(i) | AISIN Group Toyota | 173 | 0 | 0 | Accident |
| 34 | 25 | 66 | Timmy Hill(i) | RoofClaim.com Toyota | 151 | 0 | 0 | Engine |
| 35 | 35 | 52 | Kody Vanderwal # | Chevrolet | 26 | 0 | 2 | Engine |
| 36 | 20 | 93 | Jeff Green | RSS Racing Chevrolet | 15 | 0 | 1 | Power |
| 37 | 29 | 15 | Colby Howard | SANY America Chevrolet | 11 | 0 | 1 | Overheating |