Red Bull Global Rallycross Daytona Track Layout Released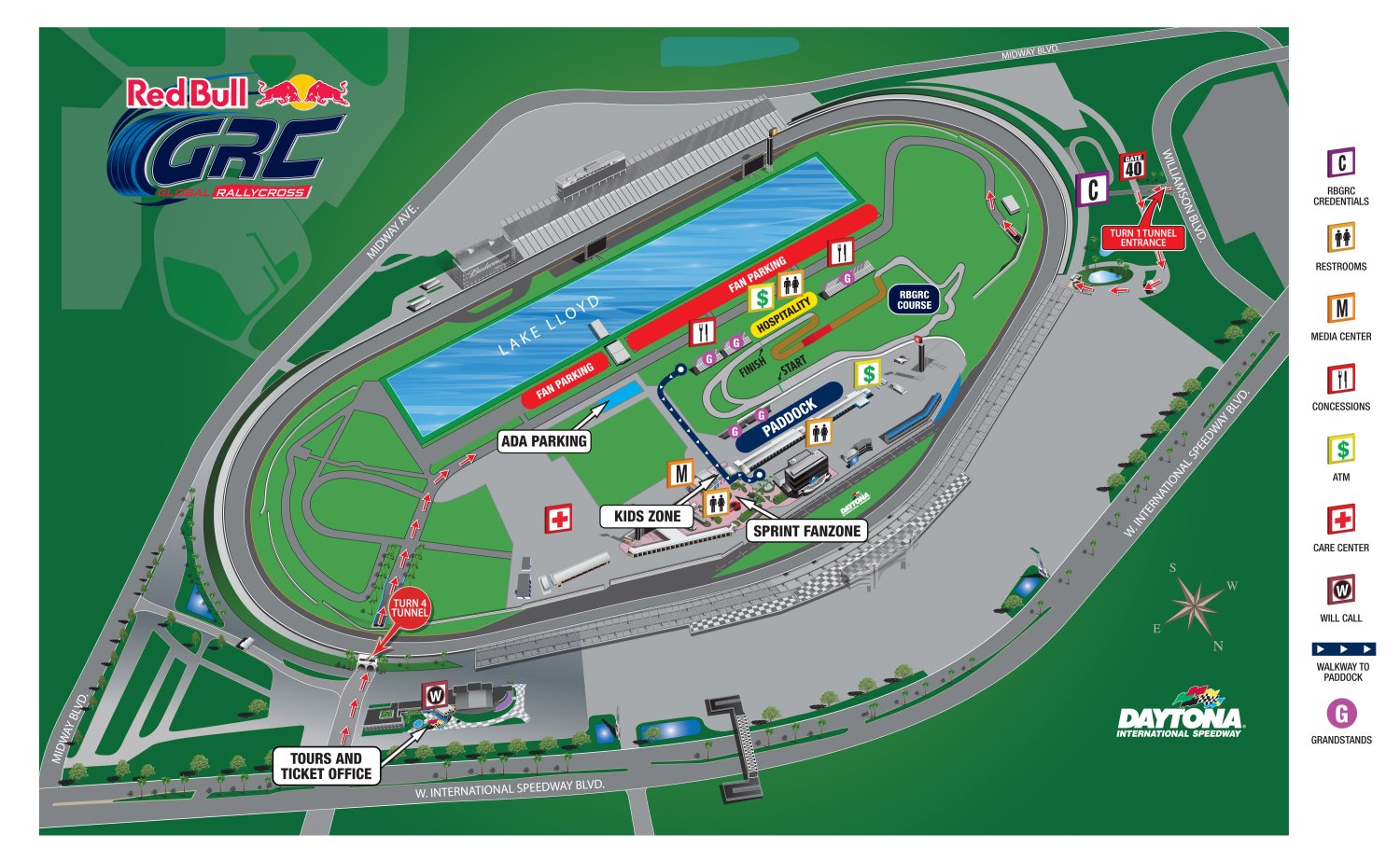 Red Bull Global Rallycross officials have released the layout for the series' round at Daytona International Speedway, to be held on August 22-23. The 13-turn, 0.924-mile layout will be the longest track of the 2014 season so far.
Built mostly within the International Horseshoe of Daytona's famed road course, a host of 24-hour endurance racing events since the 1960s, the track features numerous differences from previous tracks this season. Drivers will start each session on the track's frontstretch itself, rather than in a runoff area. The joker lane appears before the first turn, allowing cars to split off at the very start of the first lap, before moving into a dirt section comprising turns two, three, and four and featuring the series' signature jump.
After returning to pavement on turn five, drivers will face a tricky rhythm section within the interior of the horseshoe, culminating with a roundabout before returning to the road course for the course's final two turns. The penalty box will also be placed in this area, with drivers pulling off shortly after turn 11 to serve any penalties called.
"It's a great layout," said Volkswagen Andretti Rallycross driver Scott Speed, one of only three drivers in the weekend's field to have competed on Daytona's 2.5-mile superspeedway oval. The joker is in a very unique spot, which will make for an interesting first lap, because it's in the first corner. It's going to be cool to run on some of the Daytona 24 Hours track too. Overall it should be a great race for the fans to watch."
Click here for a full map of the speedway grounds, including parking and amenity locations!
Tickets are still available for Red Bull Global Rallycross Daytona, coming to Daytona International Speedway on August 22-23. They can be purchased at http://www.redbullglobalrallycross.com/DIS. The race will be broadcast live on Saturday, August 23, at 2:30PM ET on your local NBC affiliate.