The NTT INDYCAR Series completed the third of three consecutive weekends to open its 2021 campaign with a doubleheader at Texas Motor Speedway. In race 1 on Sunday, Scott Dixon led 206 of 212 laps in the No. 9 PNC Bank Chip Ganassi Racing Honda to win the Genesys 300. It was the 51st career IndyCar win for the six-time series champion, one behind Mario Andretti.
And for a while there, it was looking like Dixon might be able to draw even with Andretti during Sunday's XPEL 375. However, 21-year-old Patricio O'Ward had other ideas. With some help from the No. 5 Arrow McLaren SP crew and some very impressive on-track passes, O'Ward found himself in the lead after passing Josef Newgarden with 23 laps remaining. He held the point from there, and went on to score his first win in 26 career starts.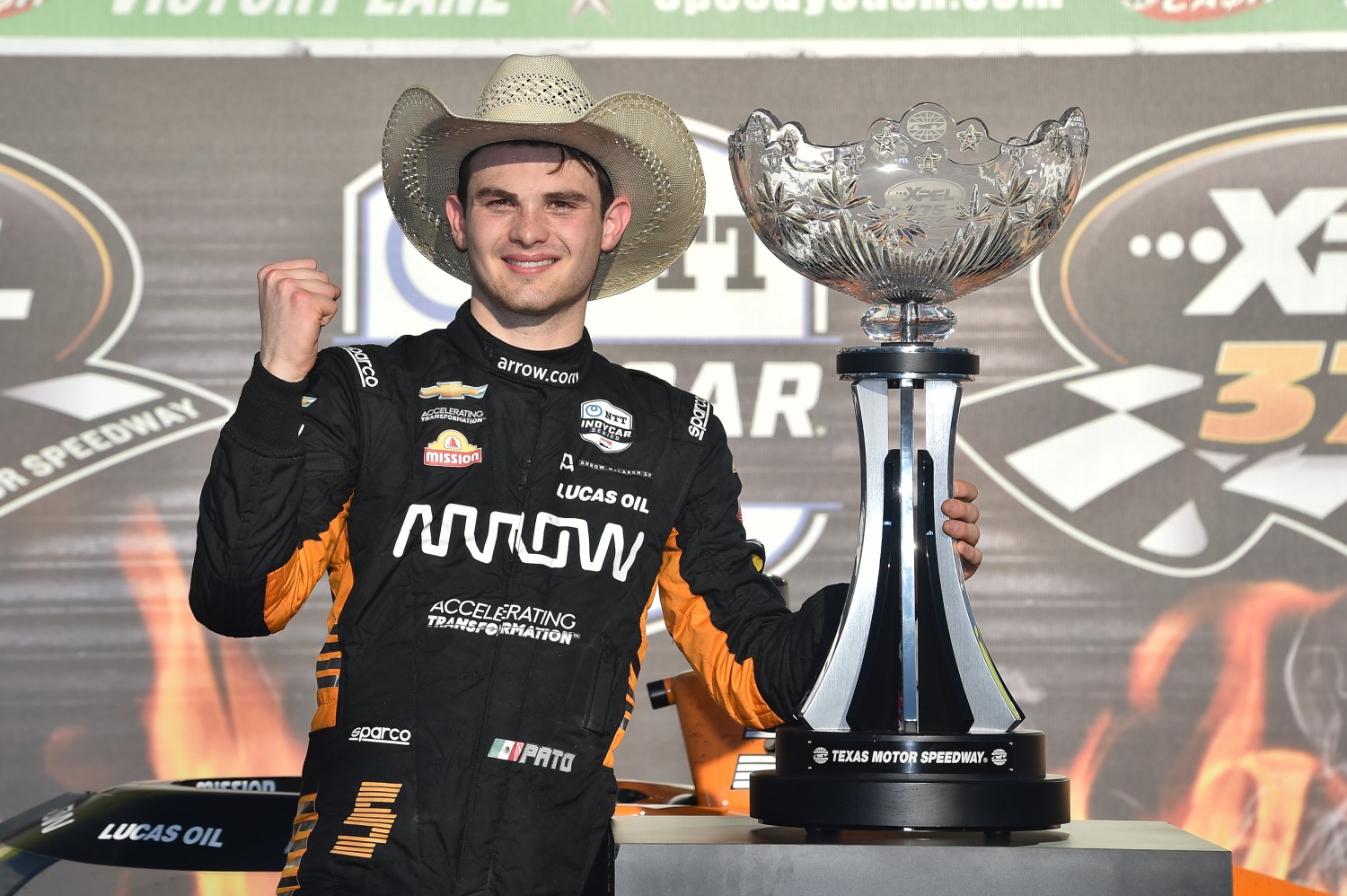 And frankly, the way he's driven the last few years, the shocking thing is that it took this long. I think what's interesting with O'Ward is where exactly his career is headed.
To my knowledge, O'Ward is signed through this season with Arrow McLaren SP. In the absence of that changing within the next few months, I think it is clear, that O'Ward, given his age, talent, and polish, will be a premier free agent if and when he hits the market.
If you're O'Ward do you solidify your status at a team seemingly on the rise in AMSP? Or do you make the move to replace say Simon Pagenaud at Team Penske? In my view, that would be an easy decision: you take the Penske seat, and don't look back.
What could complicate O'Ward's future is his potential dalliance with the McLaren Formula One team. McLaren Team Principal Zak Brown promised O'Ward an F1 test if he won an IndyCar race in 2021, and O'Ward delivered. Does Brown view O'Ward as a legitimate future McLaren F1 driver? Or is the test simply throwing the kid a bone for his work in IndyCar?
Without any F1 team going after an IndyCar star since Sebastien Bourdais moving to Toro Rosso in 2008, count me amongst the skeptics who believe this F1 test will be anything more beyond the former. But with the relationship between Brown and AMSP, we are in somewhat unchartered territory in light of how an F1 team views success in IndyCar. So, perhaps there is a little more to this?
Whatever the case, O'Ward in my view is a huge asset going forward for IndyCar, particularly in Mexico. Hopefully, the series doesn't let him slip through their fingers.

The Start Race 2
The NTT IndyCar Series did not shower itself in glory when coming to the green flag for the start of Sunday's XPEL 375. Shortly before the green flag, sixteenth-place starter Pietro Fittipaldi got into the rear of fourteenth-place starter Sebastien Bourdais, and KABLAMMO!!!! Ed Jones, Dalton Kellett, Alexander Rossi, and Conor Daly were all caught in the crossfire with Daly sliding upside down across the start-finish line.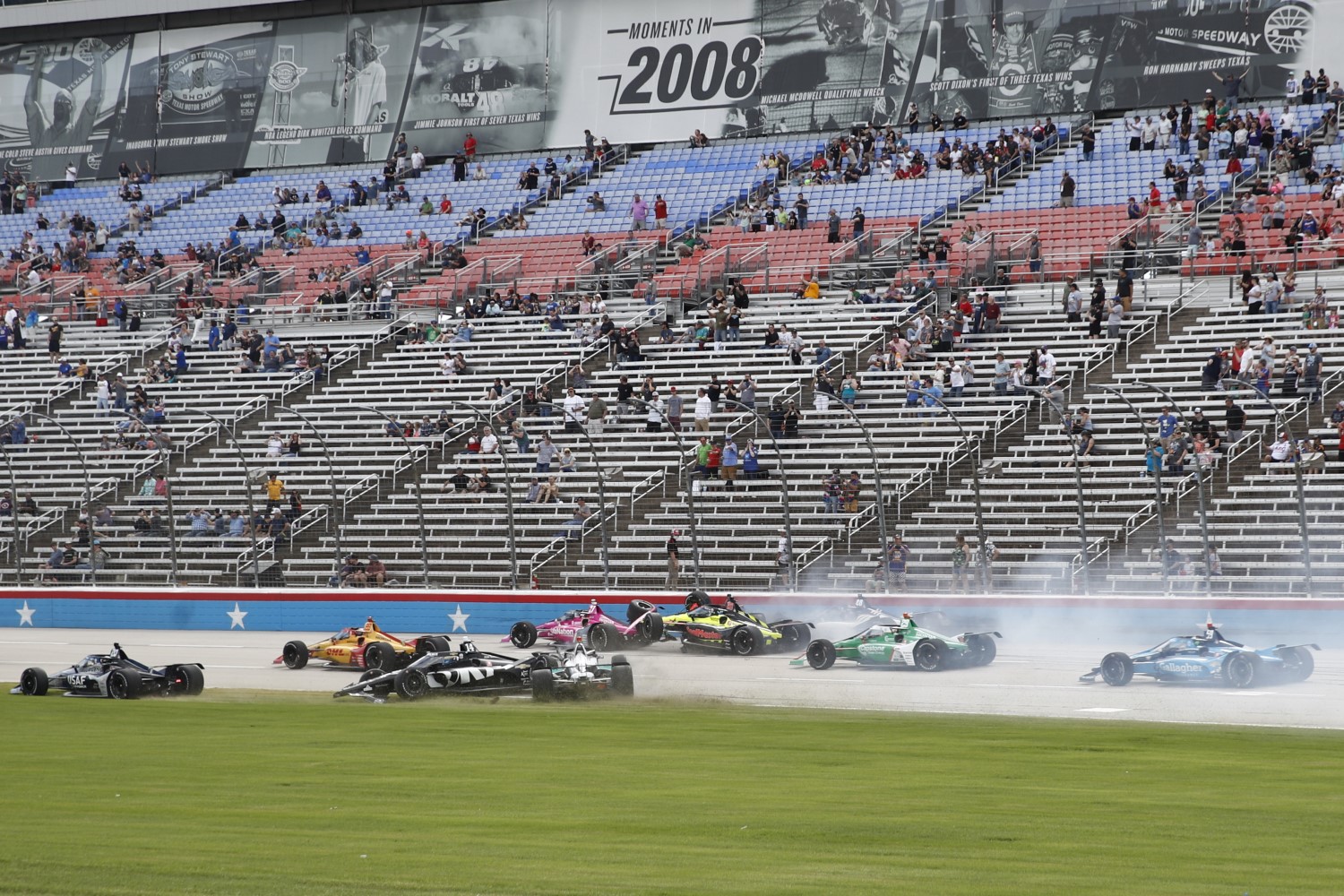 Fortunately, no one was injured.
Daly, for his part brought up the fact that IndyCar, well, seems to have quite a few accidents at the start. Of course, when you bunch 24 cars together approaching the green flag, and we all know race car drivers are going to go for gaps they see. So, the occasional carbon fiber strewn littering the track is the price of doing business.
However, accidents like Sundays seem more avoidable than say two ambitious drivers arguing over the same set of real estate. While I don't know if this is the issue, I will point out that the procedure from IndyCar starts seem to vary wildly from race to race. Sometimes, the polesitter brings the field to the green quickly. Sometimes the field approaches the green at seemingly a snail's pace as we saw last season at Gateway. While the field was slow coming out of the last turn approaching the green Sunday, the field was accelerating when the accident happened.
Again, my point is that with so much variance race-to-race in the nature of the start, should we be surprised at the first lap carnage we see on the more than rare occasion?
The question becomes, is there anything that can be done?
First off, for all road and street courses, AutoRacing1.com has long advocated standing starts. They are more exciting, more professional, and with the new hybrid technology coming the risk of stalling much reduced. Furthermore, the drivers approach the turns at lesser speeds reducing the potential of a pileup in the braking zone.
Now, I'd go even further and offer that you could do standing starts on ovals as well. But well-aware I just offered a thought many consider to be blasphemous, I'll stick with the premise that IndyCar will stick with rolling starts.
One thing I'll offer is that the pace car should stay on the track longer, a la NASCAR. Often the pace car drives off well ahead of the field leaving huge latitude to the pole sitter as to when exactly to start building speed. With such a large delta, drivers at the back, will inevitably try to 'guess' the start in an attempt to make up positions. Obviously, the consequences for such decisions can be catastrophic.
Rossi/Qualifying
Another driver caught up in the mess at the start Sunday was Alexander Rossi. After finishing 8th in Saturday's race, Rossi was eliminated in the first lap melee that took place Sunday and finished 20th.
Asked his view of the incident that seemed to be triggered by Pietro Fittipaldi getting into the rear of Sebastien Bourdais, Rossi did not point the finger at Fittipaldi or anyone else. Rather, he took direct aim at the series and their decision to scrap qualifying for the whole weekend following rain Saturday.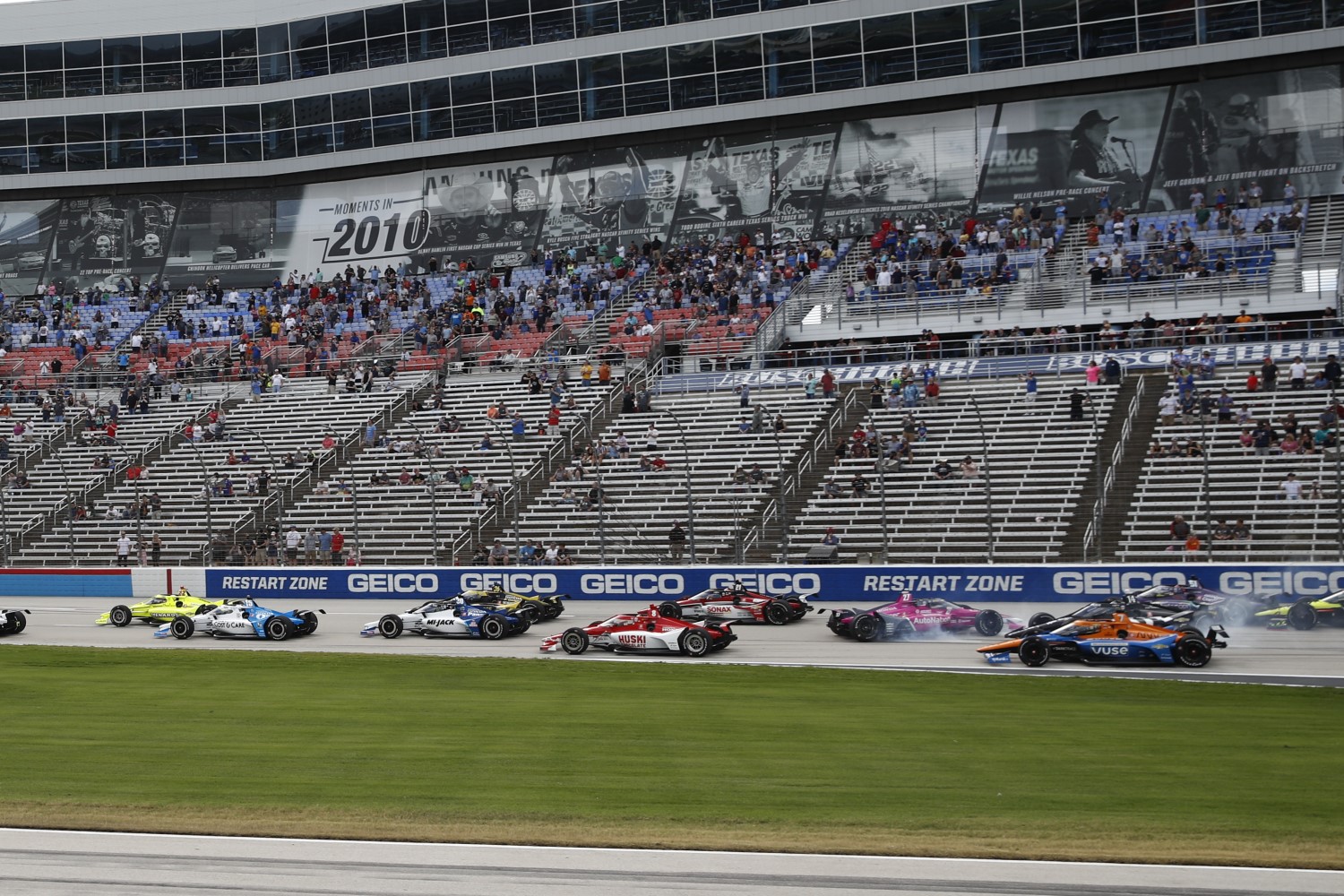 Now, one doesn't have to be overly-cynical to suggest Rossi's view may have been different had he been top-5 in the driver standings, and thus started at the front of the field. Also, these doubleheader weekends can really squeeze the teams in terms of getting their cars ready, particularly if they have accidents in the first race. I remember a few years ago in Detroit the teams having a 9 a.m. Sunday qualifying session for that day's race following a day of brutal carnage Saturday. The teams were none too happy, and following a brutal Month of May that year, I couldn't really blame them.
This weekend, the No. 14 AJ Foyt team, for example, would have had a difficult turnaround for say, a noon qualifying effort Sunday following Saturday evening's accident. And in fairness to the series, the Texas weekend was the third of three straight weekends to start the season.
The above noted, I agree 100% with Rossi's general sentiment. The series should make every reasonable effort to set the field in some competitive manner. Unlike Detroit a few years ago, which was an uber-condensed schedule, the teams had nothing prior to the 4 p.m. green flag Sunday. Furthermore, with track position at an ultra-premium this weekend, drivers such as Tony Kanaan and Conor Daly, had their chances of a positive result greatly compromised by having to start both races at the rear. And I cite Daly and Kanaan as examples of drivers who did not run the first two races for their teams, thus their starting positions were not at all their doing.
That's not right.
The Racing
Sometimes, you just have a dud of a race, and I doubt Saturday's Genesys 300 will go down as a classic. Dixon got to the front early, and that was pretty much it. Yes, Scott McLaughlin put in an impressive drive to earn his first career IndyCar podium. But track position was king and making up positions on pit road was at a premium.
Now, one thing I just don't really know how to tackle is the whole PJ1 Traction Compound. Obviously, it's there for the NASCAR race, and the reality is IndyCar has to live with it, so long as they choose to run at Texas Motor Speedway.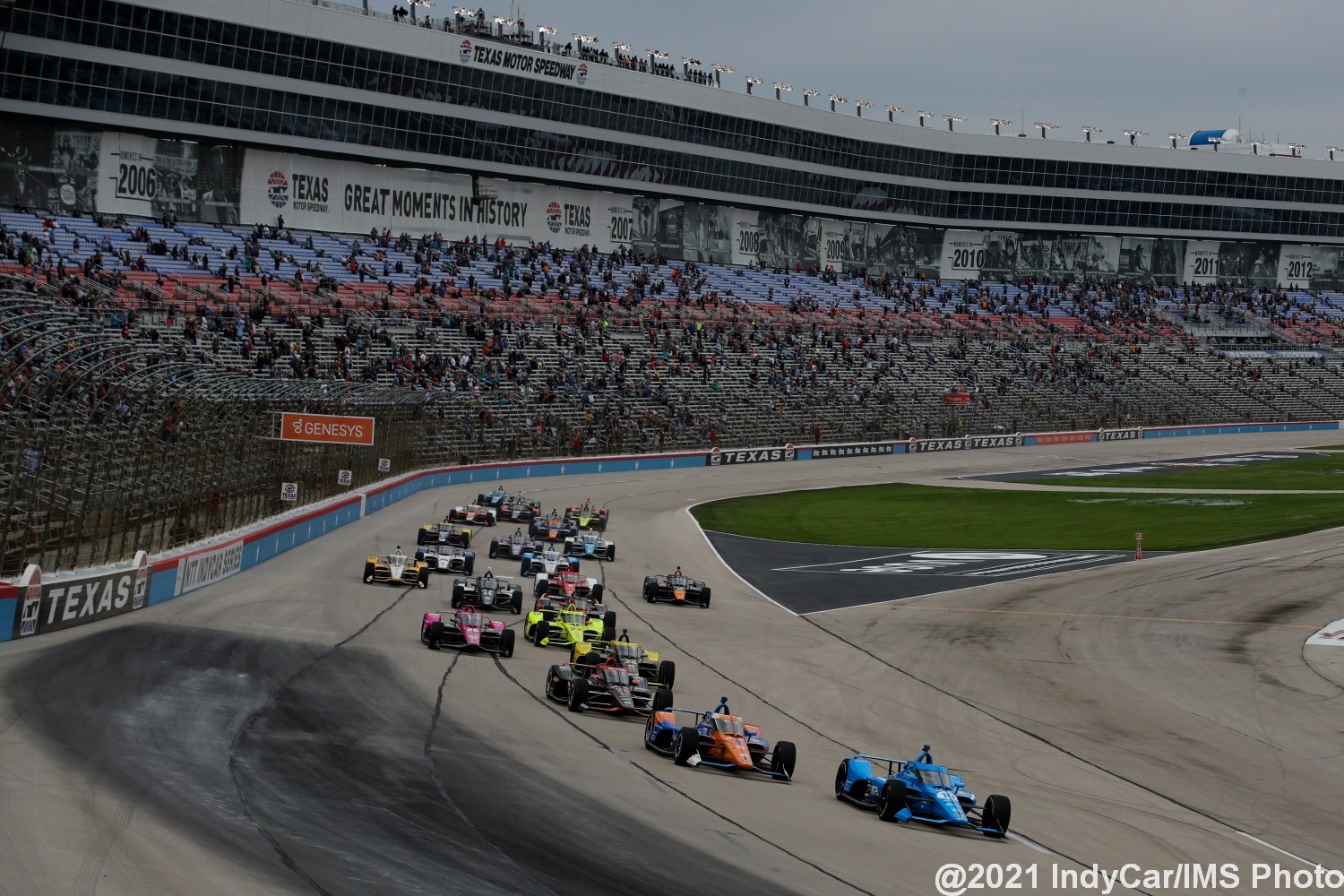 Perhaps, the track rubbered in some Sunday, but passing was still difficult. Also, let's give some credit where credit is due to drivers like O'Ward and Jack Harvey who seemed to find grip in places others did not.
Brian Carroccio is a senior columnist for AutoRacing1.com. He can be contacted at BrianC@AutoRacing1.com.