F1: Verstappen wins pole for Styrian GP
Max Verstappen turned a lap of 1m03.841s to win the pole for the Styrian GP at the Red Bull Ring, the home track for his Red Bull Honda team. It was the 2nd pole in a row for Verstappen.
"It's been a very good weekend, the car has been good to drive, super happy to be on pole here at home," said a happy Verstappen. "It's a small track, but really hard to get a good lap out of it. I'm sure again tomorrow it will be very tight."
Valtteri Bottas was 2nd fastest 0.194s behind Verstappen in the #77 Mercedes, but he faces a 3-place grid penalty.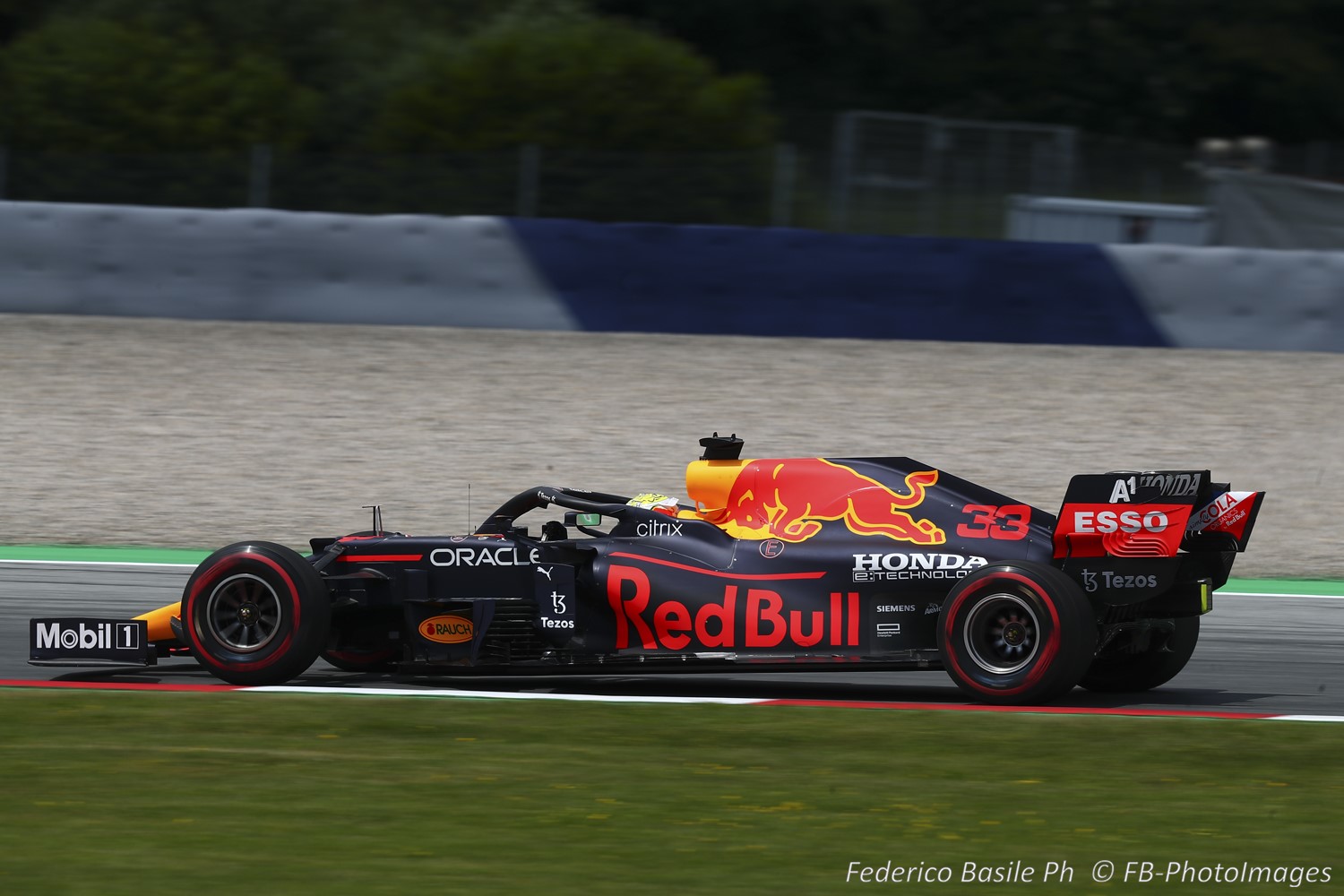 "I would have preferred to start second, in practice I struggled a bit, but we found the right direction," said Bottas. "With Tsunoda, I lost a couple of tenths there, so maybe there was more to come."
Lewis Hamilton was 3rd fastest, 0.226s behind the Dutch points leader, but will move up to the front row as Bottas will move back to 5th.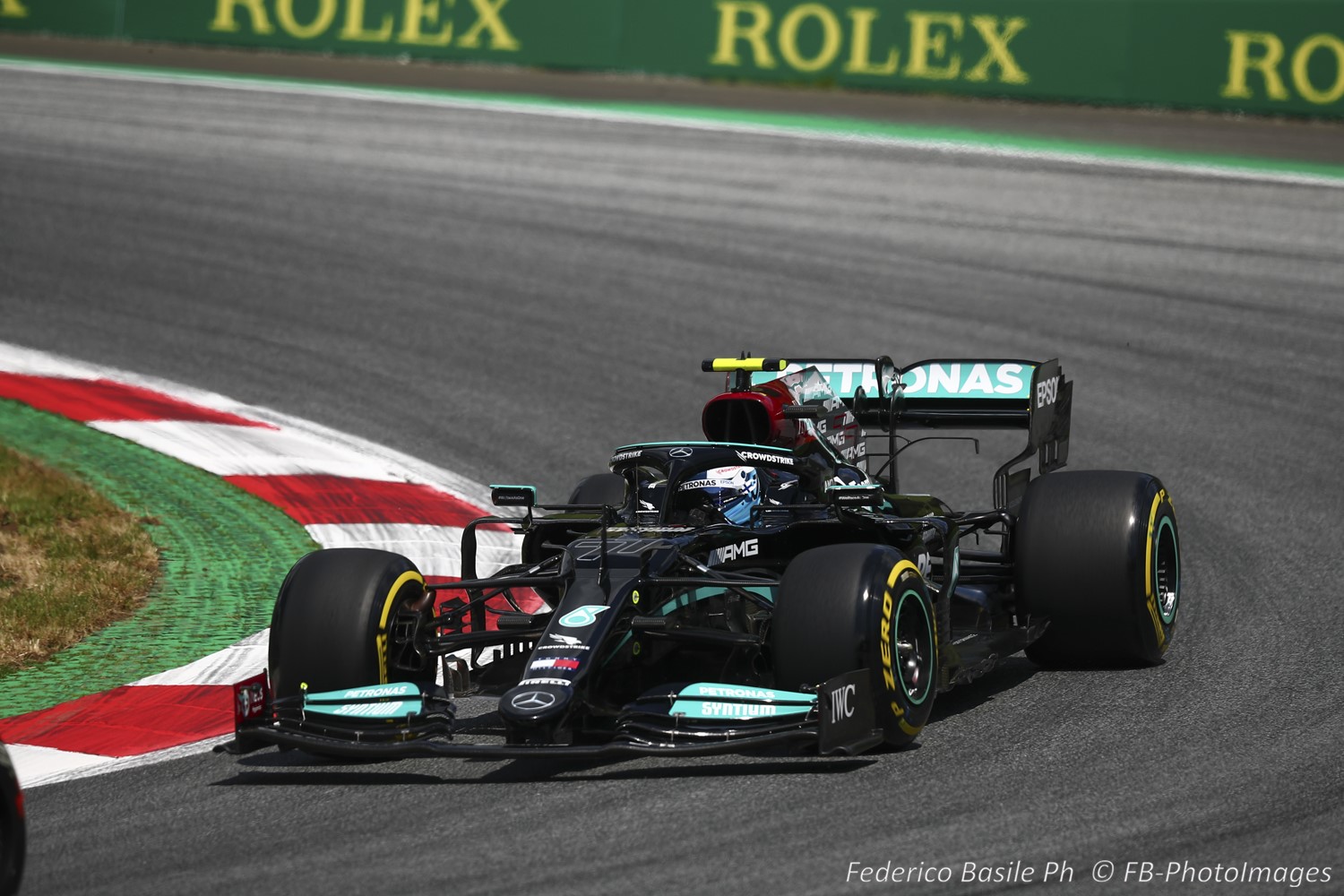 "Well done to Max, they've been so fast this weekend," said Hamilton.
"Front row after Valtteri's penalty – I'll give it everything I've got. They've had a quarter of a second on us all weekend, so it will be interesting to see if we can manage it – I don't think we have the raw pace to overtake them. We'll be giving it everything. Maybe it rains, who knows."
Lando Norris was 4th quick 0.279s back for McLaren but will move up to third. Quite what happened to his teammate remains to be seen. P13 for Daniel Ricciardo, and while he might have free tire choice, starting ten places behind his teammate is hardly a confidence boost for the defeated Aussie.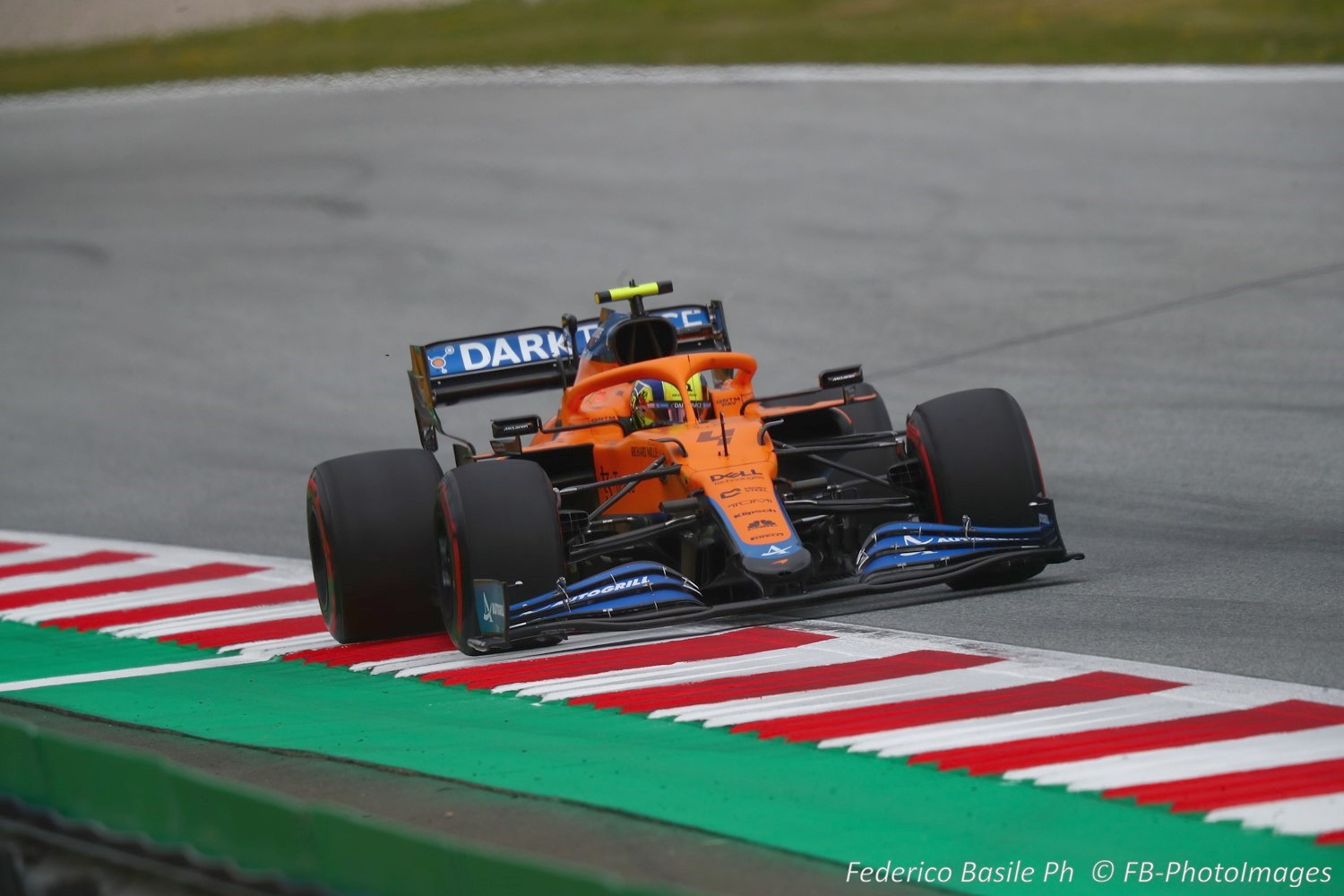 Sergio Perez rounded out the top-5 in the 2nd Red Bull Honda, but will move up to 4th and Bottas back to 5th.
"We'll have a different challenge tomorrow, with thunderstorms forecast. Traditionally this race is a one-stop, but we'll have to see how it goes," said Red Bull boss Christian Horner. "We've just got to keep rolling with it, the whole team is doing a great job. We need to keep that momentum going."
So Verstappen grabs pole, his first here and third of the season. His confidence is clear for all to see, with that RB16B definitely looking like it has the edge over one lap. But what about on race pace? Hamilton certainly thinks Red Bull have the advantage.
Select Quotes
Max Verstappen
"It is of course a great result to take the Team's first pole position at our home track and I feel very good about that. We made a big step forward in qualifying this year and although the car has been competitive and pretty easy to set-up all weekend we still made some good changes for qualifying. From my side, the first lap in Q3 felt pretty good. Around here you don't have many corners but it is actually quite hard to nail the lap because of the braking up to Turn 3 and 4 where it is easy to lose a tenth if you make a tiny mistake. When I started driving in F1 this was always one of the tracks that I felt good at and as there aren't many corners the driver can make a big difference, which I like. Some tracks are pretty straight forward on how you take corners but here there are a few options for that which makes it more enjoyable. I expect it will be super tight again tomorrow. We know Mercedes have a strong race car and they are pretty good on the tires so it will be very close, which I think is also good for the fans and the way everyone likes it."
Sergio Perez
"I'm a bit disappointed with qualifying today, especially Q1, as I think it really compromised our session. We had to use a second set of tires for the second run in Q1 as I wasn't totally happy with the balance on the first run. Then for my first lap in Q3 I was on used tires and it was looking pretty good but when we went on to the new tire it was a very complicated lap and I did not improve as much as I hoped. We just have to analyze what happened there on the first run and go from there, especially as the margins are extremely tight here and the midfield are also right up there. We still have a very good strategy in place for tomorrow, starting on the softs, and there's a long race ahead and still plenty to play for so I'm looking forward to it. I believe we can have a good solid race. Well done to Max today too, he's done a great job."
Christian Horner
"It was another great Team performance today, securing our first pole position at the Red Bull Ring. Max did a great job once again, completing two laps in Q3 that were quick enough for pole and achieving his first back-to-back pole positions. After a clean run for Max in Q1 we elected to put him on the medium tire in Q2 and he made it through with ease. Checo found more and more time each session, electing to take the soft tire for Q2 which gives us a strategic difference between cars for the race tomorrow and an optimal starting strategy. A strong run on Checo's first set of scrubbed soft tires in Q3, and an improvement on his new set means he will now start P4 tomorrow after Valtteri's grid penalty is applied. Checo needs to get past Lando quickly, which I think he can, and then we need to try and put pressure on Lewis in order to maximize the race result. One thing is for sure, it will be a closely fought battle at the front."
Lewis Hamilton
Firstly, well done to Max – they have been so fast this weekend and they've had two tenths on us through every session. I have been giving it absolutely everything but it just wasn't the greatest of qualifying sessions for me today. Nevertheless, it's still the front row after the penalty and we live to fight another day – we're there with the Red Bulls at the start so let's see what we can do, it makes for an exciting race.
I'm proud of everyone's hard work, and for continuing to push, we're still in the fight and we've done a good job given the circumstances. I'm going try and enjoy my evening, gather my thoughts and come back strong tomorrow.
Toto Wolff
Overall, I think our qualifying result was probably a big better than we expected after practice. Valtteri made a strong recovery from a tricky Friday and did a good job of damage limitation for his penalty – he will start P5 tomorrow and has a good opportunity running the Medium tire in the opening stint. On his side, Lewis had strong runs and looking at the data, it's not clear where he'd have been able to eke out any more time this afternoon. We ran a slightly unusual session, with Valtteri doing three runs in Q2, while Lewis did the same on the Soft tires in Q3. That allowed us to squeeze everything out of the car and control the pace of our out laps in the best way to manage the tires for our car. Both drivers will be starting on Medium tomorrow and we have generally raced stronger than we have qualified this season. I think we have a quick race car and a few different options on the strategy. It's going to be an exciting afternoon of tough racing – and the weather might play a part, too. I'm looking forward to it!
Andrew Shovlin
It felt like pole was just out of our reach today but the drivers did a good job and we ran the session well so we can't be too disappointed. Valtteri recovered from a difficult afternoon yesterday and did a good job to get second. It's a shame that he's got the three-place penalty but he did everything possible to put him in a strong position for the race tomorrow and has a lot of opportunities being surrounded by soft runners. Lewis has had an interesting weekend exploring new setup directions which has ultimately benefited both drivers. No doubt he'll have felt there was a little pace in there but we've got a good opportunity tomorrow from the front row and a car that was working well on the long run on Friday. It should be an interesting race with a few different strategies and that's even before we factor in the weather which could be quite exciting.
Pierre Gasly
"I'm really pleased with today. We knew it wouldn't be an easy day, after losing FP2 yesterday, but the car has been amazing all weekend and I was confident going into Qualifying. I think we have showed that this afternoon, we managed to get through Q2 with just one set of tires which is really good for us, and we're just a few tenths off the front row. I'm really happy with all the work the team have been doing and the improvements we're continuing to make each weekend. It's exciting times for us and shows we just need to keep pushing, everything is possible and I'm looking forward to tomorrow."
Yuki Tsunoda
"I think the car has been good this weekend and I've made a strong step up. I started Qualifying with an easier approach and then developed my lap as I went through each session. My final push wasn't perfect but I'm happy to make it through to Q3 and it's a positive move in the right direction for me. Unfortunately, I am now starting tomorrow from P11, but dry weather isn't guaranteed for the race, so we'll plan for a variety of situations tonight and see what happens."
Lance Stroll
"It is a good feeling to be back in Q3, especially when it happens after such a tight qualifying. It was good fun out there and I think 10th [now ninth due to a rival's penalty] was the most we could achieve today. It has been a smooth weekend so far. From the first laps in FP1, I have felt really good in the car and it has given me the confidence to really push because the balance has been consistent in every session. We have shown competitive pace in the last couple of races, so I think we can fight for some good points tomorrow. Anything can happen, especially with the weather, so let's see how it plays out."
Sebastian Vettel
"I struggled to put the laps together today and when the grid is so tight [on a short lap] it can be quite costly. So I am not so happy after today's qualifying and I need to try to understand why I did not find the rhythm. It feels like we lost a bit of time everywhere, rather than just one corner. There can still be a good race ahead for us and I am confident we will have decent race pace tomorrow. We have a free choice of tires and it is a track where overtaking is possible."
Qualifying Results
| | | | | | | | |
| --- | --- | --- | --- | --- | --- | --- | --- |
| POS | NO | DRIVER | CAR | Q1 | Q2 | Q3 | LAPS |
| 1 | 33 | Max Verstappen | Red Bull Racing Honda | 1:04.489 | 1:04.433 | 1:03.841 | 19 |
| 2 | 77 | Valtteri Bottas | Mercedes | 1:04.537 | 1:04.443 | 1:04.035 | 22 |
| 3 | 44 | Lewis Hamilton | Mercedes | 1:04.672 | 1:04.512 | 1:04.067 | 24 |
| 4 | 4 | Lando Norris | McLaren Mercedes | 1:04.584 | 1:04.298 | 1:04.120 | 17 |
| 5 | 11 | Sergio Perez | Red Bull Racing Honda | 1:04.638 | 1:04.197 | 1:04.168 | 21 |
| 6 | 10 | Pierre Gasly | AlphaTauri Honda | 1:04.765 | 1:04.429 | 1:04.236 | 18 |
| 7 | 16 | Charles Leclerc | Ferrari | 1:04.745 | 1:04.646 | 1:04.472 | 21 |
| 8 | 22 | Yuki Tsunoda | AlphaTauri Honda | 1:04.608 | 1:04.631 | 1:04.514 | 21 |
| 9 | 14 | Fernando Alonso | Alpine Renault | 1:04.971 | 1:04.582 | 1:04.574 | 18 |
| 10 | 18 | Lance Stroll | Aston Martin Mercedes | 1:04.821 | 1:04.663 | 1:04.708 | 18 |
| 11 | 63 | George Russell | Williams Mercedes | 1:05.033 | 1:04.671 | – | 14 |
| 12 | 55 | Carlos Sainz Jr. | Ferrari | 1:04.859 | 1:04.800 | – | 15 |
| 13 | 3 | Daniel Ricciardo | McLaren Mercedes | 1:05.142 | 1:04.808 | – | 14 |
| 14 | 5 | Sebastian Vettel | Aston Martin Mercedes | 1:05.051 | 1:04.875 | – | 15 |
| 15 | 99 | Antonio Giovinazzi | Alfa Romeo Racing Ferrari | 1:05.092 | 1:04.913 | – | 17 |
| 16 | 6 | Nicholas Latifi | Williams Mercedes | 1:05.175 | – | – | 9 |
| 17 | 31 | Esteban Ocon | Alpine Renault | 1:05.217 | – | – | 6 |
| 18 | 7 | Kimi Räikkönen | Alfa Romeo Racing Ferrari | 1:05.429 | – | – | 8 |
| 19 | 47 | Mick Schumacher | Haas Ferrari | 1:06.041 | – | – | 8 |
| 20 | 9 | Nikita Mazepin | Haas Ferrari | 1:06.192 | – | – | 9 |
Note – Bottas penalized three grid places for dangerous driving in the pit lane during practice.