IndyCar: O'Ward holds off Palou to win GP of Alabama
On a chamber of commerce perfect weather day in Birmingham, Alabama, Arrow McLaren Chevy driver Pato O'Ward capitalize on their final pitstop to lead the final 27 laps and win the Honda GP of Alabama at Barber Motorsports Park.
As has been his trademark so far in his career, he made an exciting move to pass for the lead on lap 61 overtaking pole sitter and race leader  Rinus VeeKay in turn five after both had pitted and VeeKay won the race off pit lane. The young driver originally from Monterey, Mexico never looked back.
On the way to keeping  Chevrolet perfect so far this season in the NTT INDYCAR Series, O'Ward led 27 laps in a race that saw one caution flag for a total of three laps. With four races in the books, Team Penske's Scott McLaughlin won the first followed by Josef Newgarden capturing the next two, and now adding O'Ward to the list.
The victory is the 99th for Chevrolet since returning to the Series in 2012 as an engine supplier with the 2.2 liter twin turbo direct injected V6 purpose-built engine.
It was O'Ward 3rd NTT IndyCar Series win and 1st of 2022. For Chevy, it was their 4th win of 2022, and they have shutout Honda this year so far.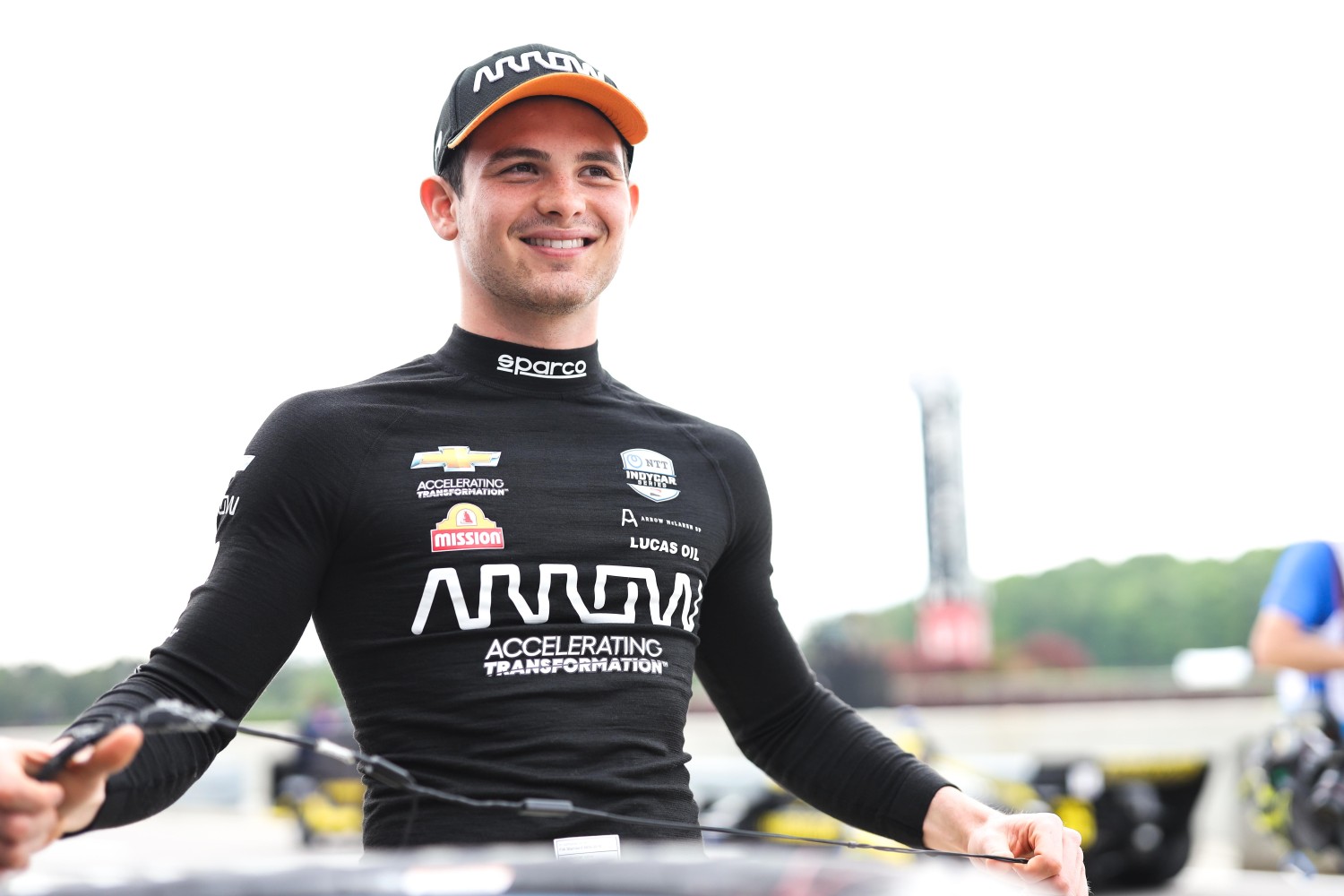 Last year's winner of this race, Alex Palou was 2nd, just under 1-second behind for Chip Ganassi Racing.
Pole sitter Rinus Veekay, who led 57 of the 90 laps, had to settle for 3rd, 12.5 sec. behind in his #21 Ed Carpenter Chevy.
Team Penske's Will Power was 3rd in his #12 Chevy, 15.26s behind while Scott Dixon rounded out the top-5 in the #9 Ganassi Honda.
Scott McLaughlin, Romain Grosjean, Graham Rahal, Alexander Rossi and Colton Herta rounded out the top-10
'@PatricioOWard WINS at @BarberMotorPark!

RETWEET to congratulate the @ArrowMcLarenSP driver! #INDYCAR pic.twitter.com/unAeQItUu0

— IndyCar on NBC (@IndyCaronNBC) May 1, 2022
Rahal Furious with Grosjean
Graham Rahal was furious after what he believed were two deliberate hits from Romain Grosjean in the final laps of the IndyCar race at Barber Motorsports Park.
Grosjean twice banged into the #15 Rahal Letterman Lanigan Racing entry when he had a dive at the Spider left-hander (Turn 5/Turn 6) on Lap 87 of the Grand Prix of Alabama.
Rahal held seventh position then, although he had to give it up on the 90th and final lap as his Honda-powered car ran very low on fuel.
He insisted that he could tell from the view in his mirrors that the Andretti Autosport driver had run into him on purpose, and cited television footage as evidence.
"When I can look in the mirror and see that his head is directed this way, when the track is going this [opposite] way, it's pretty self-explanatory," fumed the six-time IndyCar race winner as he observed replays on Peacock.
"I gave him room. I was trying this outside move on Scotty [McLaughlin] the whole time, so I knew Romain was going to dive bomb me, because I'd already been warned, that's what he's doing.
"But look, we're already straight there [as they exit the complex]; why are you turning into me? And your right-front is at my left-rear; there's no excuse for that.
"Here, look at him, just releases the car [steering] to hit me, and then here again, boom! We're straight. Look at that, look how much room he has.
"Look at that, look how much room he has, and then here we're straight, and hits me again."
Select Quotes
PATO O'WARD, NO. 5 ARROW MCLAREN SP CHEVROLET, RACE WINNER:
WHAT A SMOOTH WEEKEND FOR THE 5 BUNCH. NICE TO SEE YOU IN VICTORY LANE PATO! WIN NUMBER THREE, BUT I HAVE TO ASK YOU ABOUT HOW AGGRESSIVE YOU HAD TO PLAY THAT PASS ON VEEKAY TO GET THE LEAD. AT THE MOMENT DID YOU KNOW THAT MAYBE THAT WAS THE PASS FOR THE WIN?
"Yeah, Taylor told me we are fighting for the win. We almost got them in the pit stops, so I said no this is your chance man. It's so tough to follow just because it's such a fast and flowing circuit. I knew if I would have the opportunity, it would have been right then and there. I got on my button and got around him into (Turn) five and then I knew if he would get into clean air, we can kind of control the thing. Once we did that it was a cruise to victory lane."
THERE WAS A LOT OF TURMOIL AROUND THIS TEAM JUST A FEW WEEKS AGO. YOU CAME INTO LONG BEACH SAYING I'M PUTTING IT ALL BEHIND ME. HOW MUCH DID THAT MENTAL SHIFT HELP YOU BEHIND THE WHEEL?
"Man, it sucks to be at war within your own team. I'm glad there's been very positive talks for the future and man I wanted to do it for these guys. I wanted to do it for Arrow McLaren SP, Team Chevy. They've swept this year so far, so I think it's great for them. Yeah, man I was just tired of being 10th and 11th and fifth. I said let's get a win under our belt so we can claw our way back to this championship fight."
RINUS VEEKAY, NO. 21 SONAX ED CARPENTER RACING CHEVROLET, FINISHED 3RD:
"It was going really well. The car was really  super fast even saving fuel. Then that last pit stop I was a little too  on the brakes turning into five and that's where he (Pato O'Ward) got me. Then I lost some time and Alex Palou got me and we dropped to third. Normally I should be the happiest guy on earth with a podium, but now…but we are headed to the Indy Road Course and that's been good for us, and then the 500. I feel ready and excited to get there."
WILL POWER, NO. 12 VERIZON 5G TEAM PENSKE CHEVROLET, FINISHED 4TH:
As the race was winding down, I did my very best to take advantage and make those moves early on and get by Dixon and all those guys as quickly as possible. We made some dive bombs to get there. I'm so happy to have this Verizon Chevy up there. I honestly didn't expect it.
"We just have to keep doing the same thing this year, finishing near to top. We have to qualify better, it will make it a lot easier on us during the race. But this team is working hard. We had better tires near the end and great strategy. I'm just trying to enjoy this as I go along. I've been here 17 years. Ready for Indy."
Race Results
| | | | | | | | | | | |
| --- | --- | --- | --- | --- | --- | --- | --- | --- | --- | --- |
| Pos | No | Name | Laps | Diff | Gap | Led | ST | Engine | Points | Team |
| 1 | 5 | Pato O'Ward | 90 | 0.000s | 0.000s | 27 | 2 | Chevy | 114 | Arrow McLaren SP |
| 2 | 10 | Alex Palou | 90 | 0.9800 | 0.9800 | 4 | 3 | Honda | 144 | Chip Ganassi Racing |
| 3 | 21 | Rinus VeeKay | 90 | 12.4819 | 11.5019 | 57 | 1 | Chevy | 106 | Ed Carpenter Racing |
| 4 | 12 | Will Power | 90 | 15.2616 | 2.7797 |  0 | 19 | Chevy | 134 | Team Penske |
| 5 | 9 | Scott Dixon | 90 | 22.8297 | 7.5681 |  0 | 13 | Honda | 113 | Chip Ganassi Racing |
| 6 | 3 | Scott McLaughlin | 90 | 24.0649 | 1.2352 |  0 | 4 | Chevy | 141 | Team Penske |
| 7 | 28 | Romain Grosjean | 90 | 24.5161 | 0.4512 |  0 | 8 | Honda | 101 | Andretti Autosport |
| 8 | 15 | Graham Rahal | 90 | 31.9173 | 7.4012 |  0 | 9 | Honda | 84 | Rahal Letterman Lanigan Racing |
| 9 | 27 | Alexander Rossi | 90 | 33.2497 | 1.3324 |  0 | 5 | Honda | 62 | Andretti Autosport |
| 10 | 26 | Colton Herta | 90 | 33.5102 | 0.2605 |  0 | 10 | Honda | 79 | Andretti Autosport |
| 11 | 60 | Simon Pagenaud | 90 | 33.7418 | 0.2316 |  0 | 24 | Honda | 69 | Meyer Shank Racing |
| 12 | 8 | Marcus Ericsson | 90 | 34.4738 | 0.7320 |  0 | 12 | Honda | 84 | Chip Ganassi Racing |
| 13 | 51 | Takuma Sato | 90 | 34.9140 | 0.4402 |  0 | 17 | Honda | 61 | Dale Coyne Racing w/RWR |
| 14 | 2 | Josef Newgarden | 90 | 35.6807 | 0.7667 | 2 | 7 | Chevy | 135 | Team Penske |
| 15 | 30 | Christian Lundgaard | 90 | 37.0416 | 1.3609 |  0 | 14 | Honda | 57 | Rahal Letterman Lanigan Racing |
| 16 | 7 | Felix Rosenqvist | 90 | 41.6145 | 4.5729 |  0 | 6 | Chevy | 56 | Arrow McLaren SP |
| 17 | 29 | Devlin DeFrancesco | 90 | 42.4511 | 0.8366 |  0 | 20 | Honda | 33 | Andretti Steinbrenner Autosport |
| 18 | 45 | Jack Harvey | 90 | 62.3267 | 19.8756 |  0 | 15 | Honda | 44 | Rahal Letterman Lanigan Racing |
| 19 | 20 | Conor Daly | 90 | 63.2947 | 0.9680 |  0 | 22 | Chevy | 50 | Ed Carpenter Racing |
| 20 | 18 | David Malukas | 90 | 63.7435 | 0.4488 |  0 | 18 | Honda | 44 | Dale Coyne Racing with HMD |
| 21 | 06 | Helio Castroneves | 90 | 64.5322 | 0.7887 |  0 | 16 | Honda | 55 | Meyer Shank Racing |
| 22 | 14 | Kyle Kirkwood | 89 | 1 LAPS | 26.4858 |  0 | 21 | Chevy | 46 | AJ Foyt Enterprises |
| 23 | 4 | Dalton Kellett | 89 | 1 LAPS | 11.9135 |  0 | 23 | Chevy | 30 | AJ Foyt Enterprises |
| 24 | 48 | Jimmie Johnson | 89 | 1 LAPS | 6.9186 |  0 | 26 | Honda | 51 | Chip Ganassi Racing |
| 25 | 77 | Callum Ilott | 88 | 2 LAPS | 1 LAPS |  0 | 11 | Chevy | 37 | Juncos Hollinger Racing |
| 26 | 11 | Tatiana Calderon | 88 | 2 LAPS | 3.5294 |  0 | 25 | Chevy | 25 | AJ Foyt Enterprises |
Race Statistics
Winner's average speed: 114.304 mph
Time of Race: 1:48:39.4368
Margin of victory: 0.9800 of a second
Cautions: 1 for 3 laps
Lead changes: 5 among 4 drivers
Lap Leaders:
VeeKay 1-29
Palou 30
Newgarden 31-32
VeeKay 33-60
Palou 61-63
O'Ward 64-90