MotoGP: Bagnaia holds off Quartararo to win at Jerez
Crowds at the Gran Premio Red Bull de España were back to their best as the flocked to the hills of the Circuito de Jerez – Angel Nieto from dawn. Pushing 60,000, the home fans were wanting a show and the 25-lap MotoGP race certainly didn't disappoint.
It's the showdown that has built all weekend long: Ducati Lenovo's Francesco Bagnaia vs Monster Energy Yamaha's Fabio Quartararo.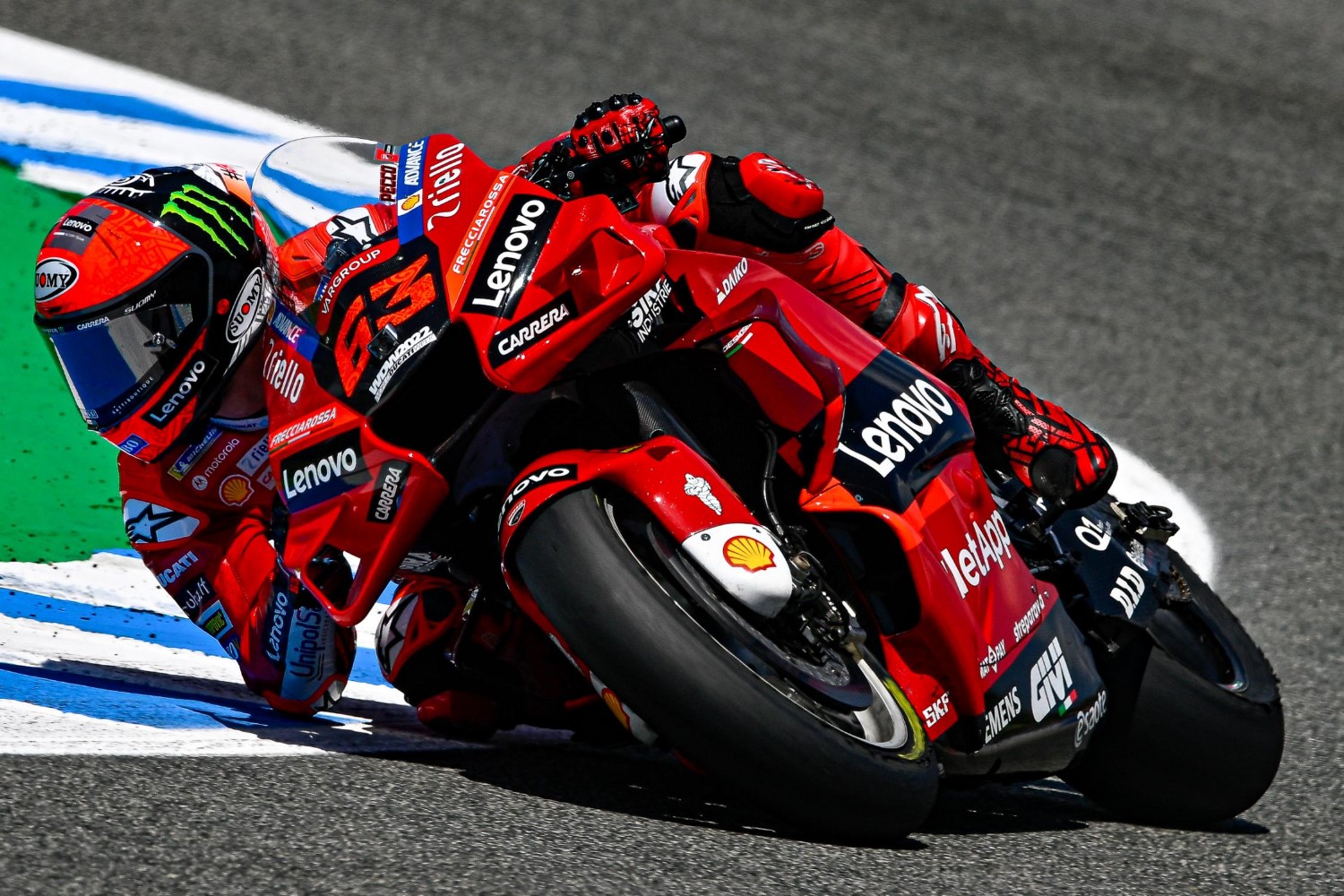 The pair were in a class of their own at the Red Bull Spanish Grand Prix with victory, despite incredible late pressure, going the way of Bagnaia as he officially announced himself as part of the title race.
Quartararo was forced to settle for second but did take an outright lead in the World Championship. Meanwhile, in the fight for third, Aleix Espargaro broke clear in the final laps to take the final podium position.
A three-way game of chess would quickly emerge between Marquez, Aleix Espargaro and Miller as the trio tested each other for the majority of the race with a podium finish in view. The powder keg would ignite in the closing laps, Marquez attacking Miller and moving into third place with just five laps to go and with Miller so strong on the brakes, Marquez knew that attacking through the fast Turn 5 would be his best option as their chess game escalated.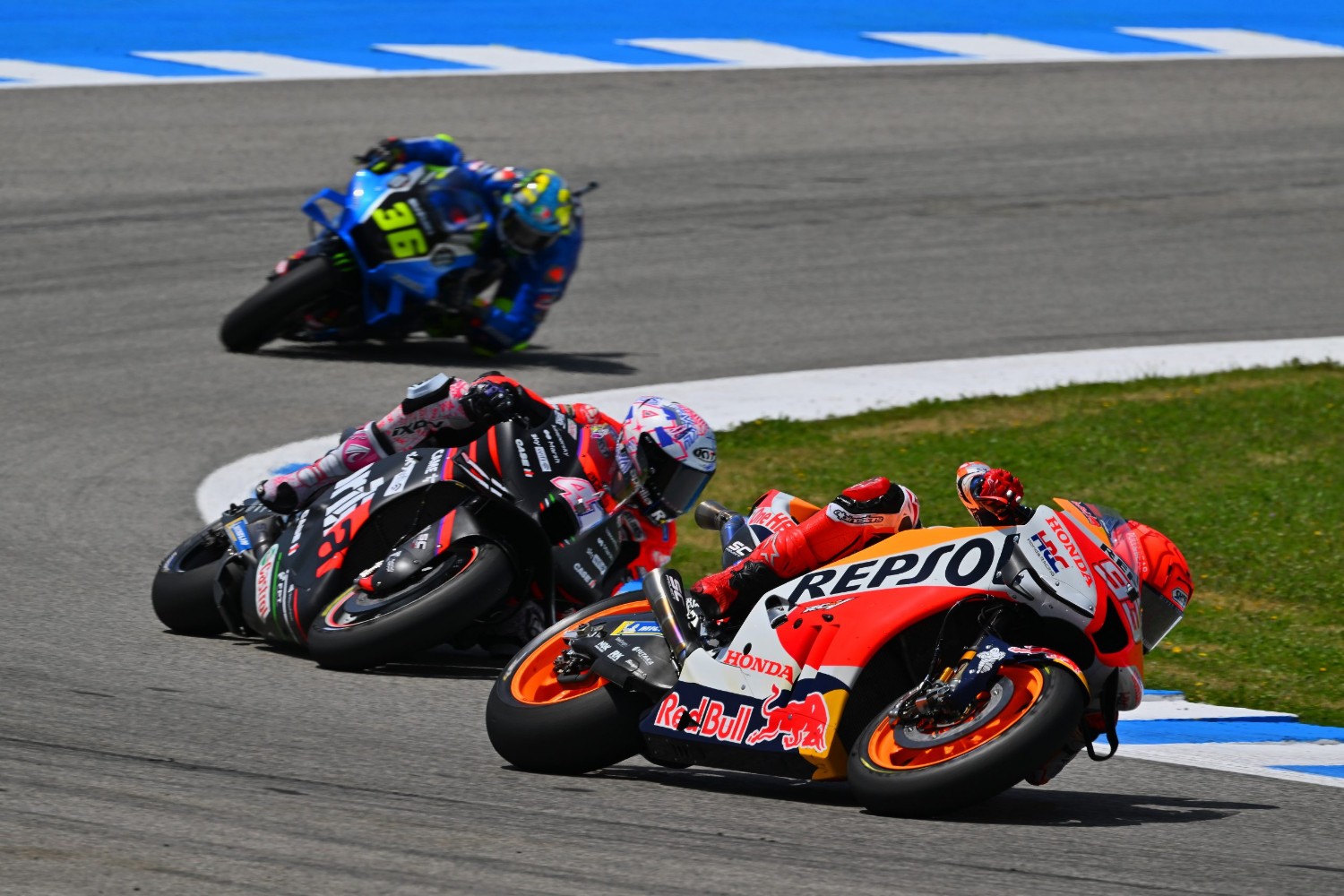 From there it was a brawl as Marquez, Miller and Espargaro battled – an incredible save from the #93 at the final corner allowing Espargaro to just break away. A fired-up Marquez refused to let the moment hold him back as he fought until the very end with Miller, pushing his Honda RC213V to the limit and sending the crowd into a frenzy as he left long black lines around the track as Marquez looked to get past Miller again.
Gran Premio Red Bull de España Race Results
| | | | | | | | |
| --- | --- | --- | --- | --- | --- | --- | --- |
| Pos. | Rider | Num | Nation | Points | Team | Constructor | Time/Gap |
| 1 | Bagnaia Francesco | 62 | ITA | 25 | Ducati Lenovo Team | Ducati | 41'00.554 |
| 2 | Quartararo Fabio | 20 | FRA | 20 | Monster Energy Yamaha MotoGP | Yamaha | 0.285 |
| 3 | Espargaro Aleix | 41 | SPA | 16 | Aprilia Racing | Aprilia | 10.977 |
| 4 | Marquez Marc | 93 | SPA | 13 | Repsol Honda Team | Honda | 12.676 |
| 5 | Miller Jack | 43 | AUS | 11 | Ducati Lenovo Team | Ducati | 12.957 |
| 6 | Mir Joan | 36 | SPA | 10 | Team Suzuki Ecstar | Suzuki | 13.934 |
| 7 | Nakagami Takaaki | 30 | JPN | 9 | LCR Honda | Honda | 14.929 |
| 8 | Bastianini Enea | 23 | ITA | 8 | Team Gresini Racing MotoGP | Ducati | 18.436 |
| 9 | Bezzecchi Marco | 73 | ITA | 7 | Mooney VR46 Racing Team | Ducati | 18.830 |
| 10 | Binder Brad | 33 | RSA | 6 | Red Bull KTM Factory Racing | KTM | 20.056 |
| 11 | Espargaro Pol | 44 | SPA | 5 | Repsol Honda Team | Honda | 20.856 |
| 12 | Oliveira Miguel | 88 | POR | 4 | Red Bull KTM Factory Racing | KTM | 23.131 |
| 13 | Marquez Alex | 73 | SPA | 3 | LCR Honda | Honda | 25.306 |
| 14 | Vinales Maverick | 12 | SPA | 2 | Aprilia Racing | Aprilia | 27.358 |
| 15 | Morbidelli Franco | 21 | ITA | 1 | Monster Energy Yamaha MotoGP | Yamaha | 27.519 |
| 16 | Marini Luca | 10 | ITA | 0 | Mooney VR46 Racing Team | Ducati | 29.278 |
| 17 | Dovizioso Andrea | 4 | ITA | 0 | WithU Yamaha RNF MotoGP Team | Yamaha | 35.204 |
| 18 | Di Giannantonio Fabio | 49 | ITA | 0 | Team Gresini Racing MotoGP | Ducati | 35.361 |
| 19 | Rins Alex | 42 | SPA | 0 | Team Suzuki Ecstar | Suzuki | 38.922 |
| 20 | Gardner Remy | 87 | AUS | 0 | Tech 3 KTM Factory Racing | KTM | 43.378 |
| 21 | Savadori Lorenzo | 32 | ITA | 0 | Aprilia Racing Test Team | Aprilia | 44.299 |
| 22 | Martin Jorge | 89 | SPA | 0 | Pramac Racing | Ducati | 1'07.681 |
| 23 | Bradl Stefan | 6 | GER | 0 | HRC Test Team | Honda | DNF |
| 24 | Zarco Johann | 5 | FRA | 0 | Pramac Racing | Ducati | DNF |
| 25 | Binder Darryn | 40 | RSA | 0 | WithU Yamaha RNF MotoGP Team | Yamaha | DNF |
Rider Standings
| | | | | | | |
| --- | --- | --- | --- | --- | --- | --- |
| Pos. | Rider | Num | Nation | Points | Team | Constructor |
| 1 | Quartararo Fabio | 20 | FRA | 89 | Monster Energy Yamaha MotoGP | Yamaha |
| 2 | Espargaro Aleix | 41 | SPA | 82 | Aprilia Racing | Aprilia |
| 3 | Bastianini Enea | 23 | ITA | 69 | Team Gresini Racing MotoGP | Ducati |
| 4 | Rins Alex | 42 | SPA | 69 | Team Suzuki Ecstar | Suzuki |
| 5 | Bagnaia Francesco | 62 | ITA | 56 | Ducati Lenovo Team | Ducati |
| 6 | Mir Joan | 36 | SPA | 56 | Team Suzuki Ecstar | Suzuki |
| 7 | Zarco Johann | 5 | FRA | 51 | Pramac Racing | Ducati |
| 8 | Binder Brad | 33 | RSA | 48 | Red Bull KTM Factory Racing | KTM |
| 9 | Marquez Marc | 93 | SPA | 44 | Repsol Honda Team | Honda |
| 10 | Oliveira Miguel | 88 | POR | 43 | Red Bull KTM Factory Racing | KTM |
| 11 | Miller Jack | 43 | AUS | 42 | Ducati Lenovo Team | Ducati |
| 12 | Espargaro Pol | 44 | SPA | 35 | Repsol Honda Team | Honda |
| 13 | Martin Jorge | 89 | SPA | 28 | Pramac Racing | Ducati |
| 14 | Vinales Maverick | 12 | SPA | 27 | Aprilia Racing | Aprilia |
| 15 | Nakagami Takaaki | 30 | JPN | 21 | LCR Honda | Honda |
| 16 | Morbidelli Franco | 21 | ITA | 18 | Monster Energy Yamaha MotoGP | Yamaha |
| 17 | Marquez Alex | 73 | SPA | 16 | LCR Honda | Honda |
| 18 | Bezzecchi Marco | 73 | ITA | 15 | Mooney VR46 Racing Team | Ducati |
| 19 | Marini Luca | 10 | ITA | 14 | Mooney VR46 Racing Team | Ducati |
| 20 | Dovizioso Andrea | 4 | ITA | 8 | WithU Yamaha RNF MotoGP Team | Yamaha |
| 21 | Binder Darryn | 40 | RSA | 6 | WithU Yamaha RNF MotoGP Team | Yamaha |
| 22 | Gardner Remy | 87 | AUS | 3 | Tech 3 KTM Factory Racing | KTM |