Formula E: First look – Envision Racing's Gen3 Challenger
Envision Racing is pushing hard to do its bit in making electric mobility and renewable energy a global reality, having entered the world's first global net zero sport back in 2018. On and off-track, the team showcases the benefits of electric vehicles and their ability to revolutionise everyday transportation.
Central to Envision Racing's new green machine is a brand new powertrain brought about via a multi-year partnership with British manufacturer Jaguar Land Rover. The team is hoping the partnership will enable it to get the most out of Formula E's new Gen3 era, set to get underway with testing in Valencia this week as the slate is wiped clean with an all-new car for teams and drivers to hone.
At the season-opening Mexico City E-Prix, fans will catch a first glimpse of the Gen3, which marks a landmark technological leap, with the cars the fastest, lightest, and most sustainable in Formula E history.
Teams are working tirelessly to extract the maximum from an all-new platform for Season 9 with a 200mph (280kph) top speed, a 60kg lighter, smaller chassis, an additional front powertrain and no rear brakes plus a power output 100kW up on Gen2 at 350kw with double the regen capacity – meaning more than 40% of the energy used in-race is via regeneration under braking.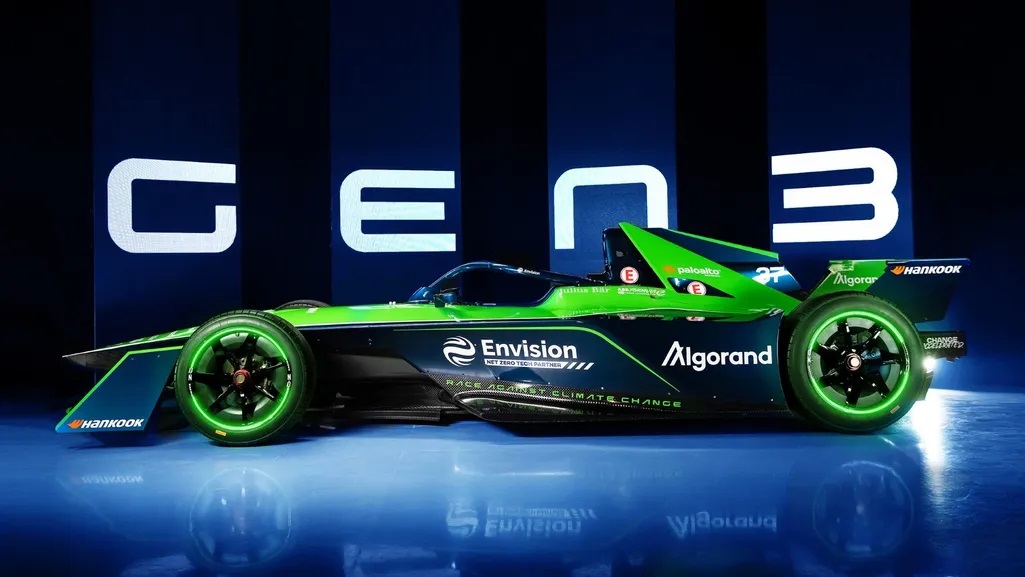 The tech is bleeding edge and everything the drivers have said so far signals the racing will be harder fought and closer than ever – with the yet smaller chassis' helping overtaking. The team retains Nick Cassidy for the forthcoming campaign. The Kiwi signed off Gen2 in style with a hard-fought and memorable maiden victory on the streets of New York. He'll look to add to this, as well as four pole positions, as the 28-year-old heads into a third season with the team.
Cassidy will be joined by one of Formula E's most experienced drivers in Sebastien Buemi for 2022/23. The Swiss is a Formula E champion, with 29 podiums and 13 wins to his name – having competed in every one of eight seasons to-date in the world's leading electric racing series.
Filippi: 'Gen3 proves performance, efficiency and sustainability without compromise'
The Gen3 era's technological advancements and innovation as well as Envision Racing's Race Against Climate Change platform is primed to engage and excite fans in the e-mobility revolution and build climate positive actions. For Envision Racing, it isn't just about winning and innovating on track. The team are committed to being a positive impact business, inspiring and empowering generations to tackle climate change. The team aims to combine the serious business of top tier motorsport competition alongside tackling the climate emergency.
"We have officially entered the Gen3 era – the most advanced electric racing car ever built," said Sylvain Filippi, Managing Director & CTO Envision Racing. "This car proves that high performance, efficiency and sustainability can co-exist without compromise.
"For Envision Racing, this reaches beyond our competition on the track. This innovation and ingenuity goes to the heart of our mission – demonstrating the exciting capabilities of an electric future and tackling the climate crisis head on."
Envision Group's Franz Jung and Chairman of the Board of Envision Racing added: "This is a momentous moment for our team and the future of electric racing and green mobility. Gen3 provides a new platform to share and inspire generations to tackle climate change and accelerate the transition to renewable energy. We can't wait to see what this car can do on the tracks in 2023."
ABT CUPRA took the covers off its Gen3 racer last week alongside NIO 333, with Nissan, Jaguar, DS, McLaren, Maserati and Andretti all showing off their latest-gen Formula E cars in the past fortnight ahead of the new season and Valencia testing, set to take place starting tomorrow.