Dakar Stage 3: Brabec withdraws with injury, Chicherit wins in Car Category
Stage 3 of the 2023 Dakar Rally took a toll on championship contenders in the premier categories.
Ricky Brabec, the first American to win the Dakar Rally in 2020, withdrew from the event after crashing at the 274th of 447 kilometers in the special. After being attended to by the event medical team, Dakar Rally officials reported that Brabec was transported to the hospital because of neck pain.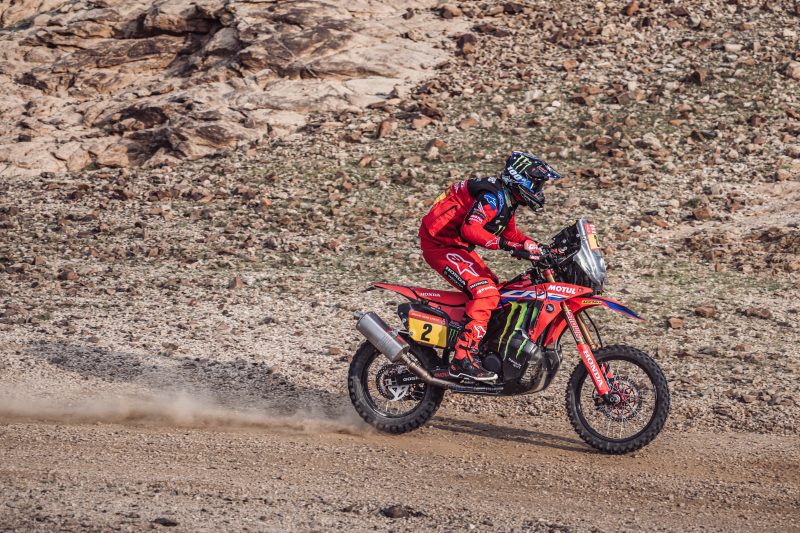 Defending champion Sam Sunderland, a two-time Dakar winner, withdrew in Stage 1 after crashing 52 kilometers into the special. Sunderland also was airlifted to a hospital and was diagnosed with a broken shoulder blade and concussion.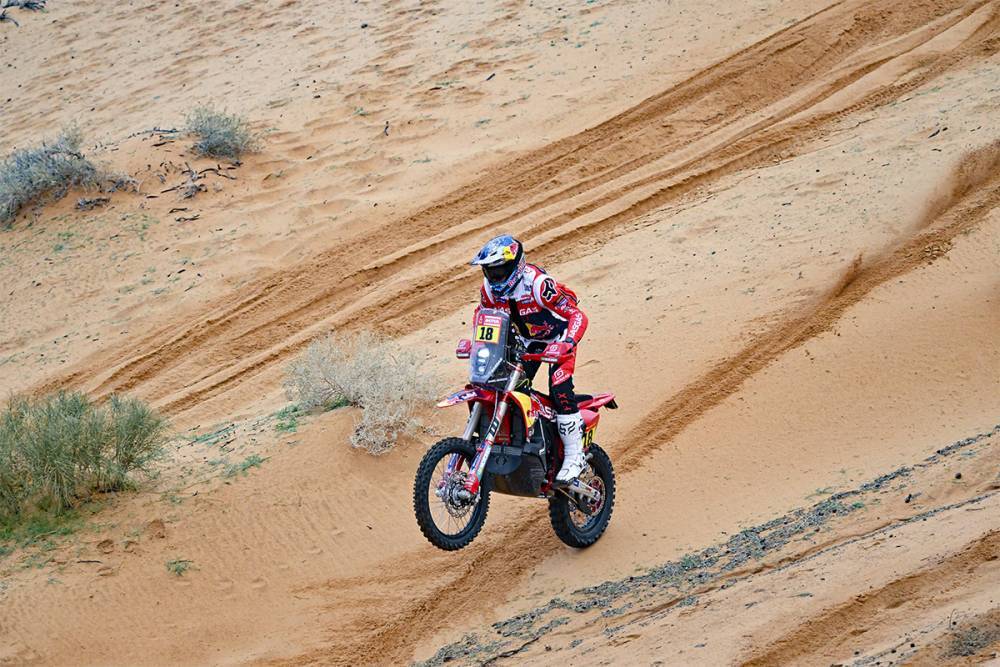 Cars
Toyota's Nasser Al-Attiyah took over the lead of the 2023 Dakar Rally for the first time on Tuesday's Stage 3 after mechanical problems hit the Audi of Carlos Sainz Sr.
Al-Rajhi led early on in his Overdrive Toyota at the first waypoint before Guerlain Chicherit established his authority, eventually claiming a fourth career stage win by 3m26s in his Prodrive-built Hunter.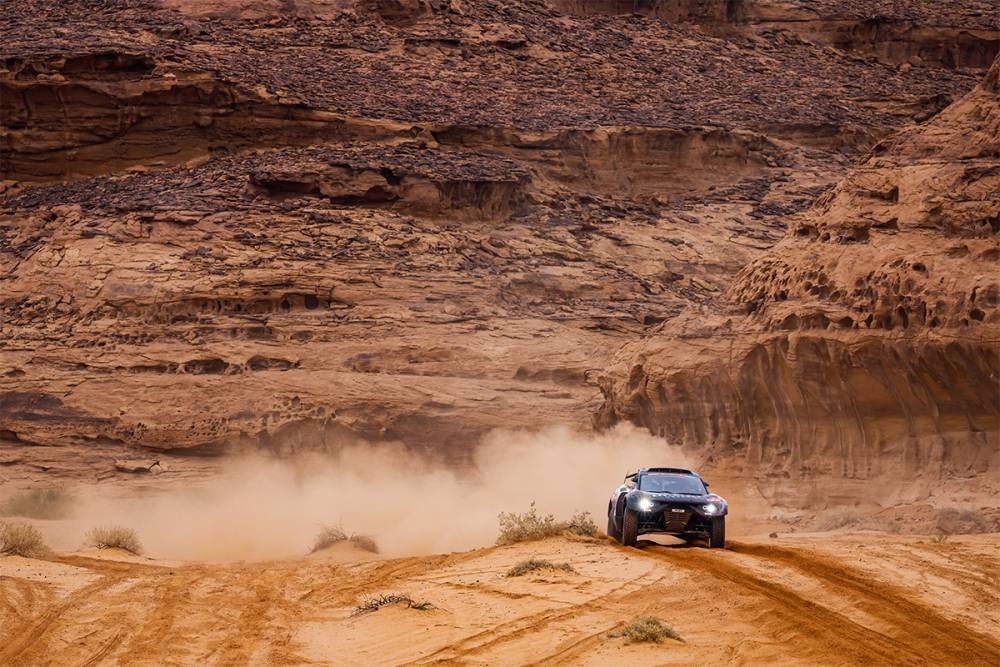 Three-time Dakar champion Carlos Sainz was sidelined his Audi for 30 minutes, Sainz managed to get going again after an extensive repair job but there was more drama for the two-time World Rally champion later in the stage, when his navigator screwed up and he lost another 20 minutes.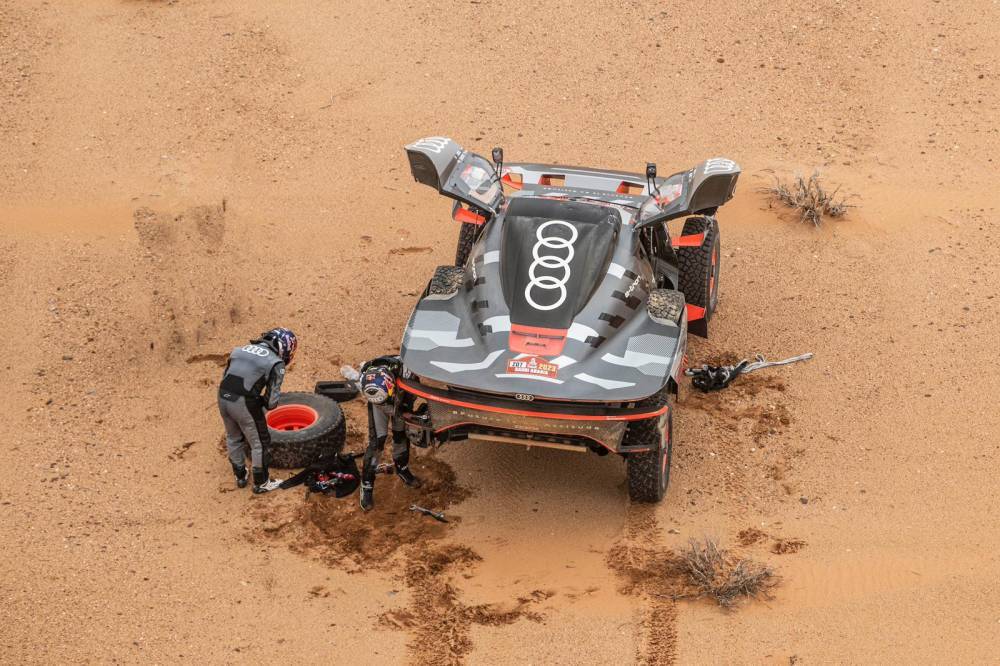 Al-Attiyah faced his own share of troubles and finished well down the order.  However, the Toyota ace now holds a 13m20s lead in the general classification over Yazeed Al-Rajhi, who races an Overdrive-run Toyota Hilux, with Stephane Peterhansel in third – 20 minutes behind.
Results
Cars Stage 3 Results
| | | | | | |
| --- | --- | --- | --- | --- | --- |
| Pos. | No. | Driver/Navigator | Team | Time | Behind |
| 1 | 206 | (Fra) Guerlain Chicherit/(Fra) Alex Winocq | Gck Motorsport | 03H 22′ 59" | |
| 2 | 208 | (Arg) Orlando Terranova/(Esp) Alex Haro Bravo | Bahrain Raid Xtreme | 03H 28′ 03" | + 00H 05′ 04" |
| 3 | 202 | (Sau) Yazeed Al Rajhi/(Deu) Dirk Von Zitzewitz | Overdrive Racing | 03H 31′ 29" | + 00H 08′ 30" |
| 4 | 215 | (Nld) Erik Van Loon/(Fra) Sébastien Delaunay | Overdrive Racing | 03H 43′ 48" | + 00H 20′ 49" |
| 5 | 200 | (Qat) Nasser Al-Attiyah/(Fra) Mathieu Baumel | Toyota Gazoo Racing | 03H 43′ 57" | + 00H 20′ 58" |
| 6 | 218 | (Fra) Christian Lavieille/(Fra) Valentin Sarreaud | Md Rallye Sport | 03H 45′ 16" | + 00H 22′ 17" |
| 7 | 236 | (Fra) Simon Vitse/(Fra) Frederic Lefebvre | Md Rally | 03H 45′ 22" | + 00H 22′ 23" |
| 8 | 210 | (Cze) Martin Prokop/(Cze) Viktor Chytka | Orlen Benzina Team | 03H 45′ 54" | + 00H 22′ 55" |
| 9 | 205 | (Zaf) Giniel De Villiers/(Zaf) Dennis Murphy | Toyota Gazoo Racing | 03H 51′ 39" | + 00H 28′ 40" |
Bikes Stage 3 Results
| | | | | | |
| --- | --- | --- | --- | --- | --- |
| Pos. | No. | Rider | Team | Time | Behind |
| 1 | 18 | (Aus) Daniel Sanders | Red Bull Gasgas Factory Racing | 04H 24′ 15" | |
| 2 | 10 | (Usa) Skyler Howes | Husqvarna Factory Racing | 04H 30′ 34" | + 00H 06′ 19" |
| 3 | 9 | (Usa) Mason Klein | Bas World Ktm Racing Team | 04H 31′ 14" | + 00H 06′ 59" |
| 4 | 47 | (Arg) Kevin Benavides | Red Bull Ktm Factory Racing | 04H 31′ 38" | + 00H 07′ 23" |
| 5 | 5 | (Esp) Joan Barreda Bort | Monster Energy Jb Team | 04H 35′ 44" | + 00H 11′ 29" |
| 6 | 8 | (Aus) Toby Price | Red Bull Ktm Factory Racing | 04H 36′ 29" | + 00H 12′ 14" |
| 7 | 7 | (Chl) Pablo Quintanilla | Monster Energy Honda Team | 04H 38′ 50" | + 00H 14′ 35" |
| 8 | 42 | (Fra) Adrien Van Beveren | Monster Energy Honda Team | 04H 39′ 43" | + 00H 15′ 28" |
| 9 | 27 | (Prt) Joaquim Rodrigues | Hero Motosports Team Rally | 04H 40′ 20" | + 00H 16′ 05" |
| 10 | 11 | (Chl) Jose Ignacio Cornejo Florimo | Monster Energy Honda Team | 04H 40′ 23" | + 00H 16′ 08" |
Cars Overall Standings
| | | | | | |
| --- | --- | --- | --- | --- | --- |
| Pos. | No. | Drive-Team | Team | Time | Behind |
| 1 | 200 | (Qat) Nasser Al-Attiyah/(Fra) Mathieu Baumel | Toyota Gazoo Racing | 12H 20′ 35" | |
| 2 | 202 | (Sau) Yazeed Al Rajhi/(Deu) Dirk Von Zitzewitz | Overdrive Racing | 12H 33′ 54" | + 00H 13′ 19" |
| 3 | 236 | (Fra) Simon Vitse/(Fra) Frederic Lefebvre | Md Rally | 12H 45′ 28" | + 00H 24′ 53" |
| 4 | 205 | (Zaf) Giniel De Villiers/(Zaf) Dennis Murphy | Toyota Gazoo Racing | 12H 52′ 43" | + 00H 32′ 08" |
| 5 | 210 | (Cze) Martin Prokop/(Cze) Viktor Chytka | Orlen Benzina Team | 12H 55′ 44" | + 00H 35′ 09" |
| 6 | 215 | (Nld) Erik Van Loon/(Fra) Sébastien Delaunay | Overdrive Racing | 13H 05′ 06" | + 00H 44′ 31" |
| 7 | 218 | (Fra) Christian Lavieille/(Fra) Valentin Sarreaud | Md Rallye Sport | 13H 07′ 07" | + 00H 46′ 32" |
| 8 | 208 | (Arg) Orlando Terranova/(Esp) Alex Haro Bravo | Bahrain Raid Xtreme | 13H 13′ 02" | + 00H 52′ 27" |
| 9 | 206 | (Fra) Guerlain Chicherit/(Fra) Alex Winocq | Gck Motorsport | 15H 32′ 23" | + 03H 11′ 48" |
Bikes Overall Standings
| | | | | | |
| --- | --- | --- | --- | --- | --- |
| Pos. | No. | Rider | Team | Time | Behind |
| 1 | 18 | (Aus) Daniel Sanders | Red Bull Gasgas Factory Racing | 14H 05′ 38" | |
| 2 | 9 | (Usa) Mason Klein | Bas World Ktm Racing Team | 14H 09′ 42" | + 00H 04′ 04" |
| 3 | 47 | (Arg) Kevin Benavides | Red Bull Ktm Factory Racing | 14H 12′ 31" | + 00H 06′ 53" |
| 4 | 10 | (Usa) Skyler Howes | Husqvarna Factory Racing | 14H 14′ 13" | + 00H 08′ 35" |
| 5 | 5 | (Esp) Joan Barreda Bort | Monster Energy Jb Team | 14H 16′ 15" | + 00H 10′ 37" |
| 6 | 8 | (Aus) Toby Price | Red Bull Ktm Factory Racing | 14H 16′ 38" | + 00H 11′ 00" |
| 7 | 7 | (Chl) Pablo Quintanilla | Monster Energy Honda Team | 14H 22′ 34" | + 00H 16′ 56" |
| 8 | 42 | (Fra) Adrien Van Beveren | Monster Energy Honda Team | 14H 27′ 08" | + 00H 21′ 30" |
| 9 | 52 | (Aut) Matthias Walkner | Red Bull Ktm Factory Racing | 14H 27′ 40" | + 00H 22′ 02" |
| 10 | 16 | (Bwa) Ross Branch | Hero Motosports Team Rally | 14H 29′ 20" | + 00H 23′ 42" |