Supercars: Pizza Hut extends partnership through 2025
Iconic international brand Pizza Hut has today announced an extension of its partnership with Supercars until at least the end of 2025.
The new deal will see Pizza Hut remain the Repco Supercars Championship exclusive Quick Service Restaurant (QSR) partner for the next three years, as well as naming rights to Supercars Pizza Hut Track Map and Pizza Hut Hard Charger broadcast assets.
Supercars will receive significant signage at restaurants throughout Australia as Pizza Hut continues its ambitious expansion strategy to double the number of restaurants and surpass 500 stores in Australia in the next four years.
Pizza Hut is delighted to support Supercars by providing an incredible high volume Gen 3 Supercars Food Truck that will serve the top-selling Australian Pizzas.
Supercars General Manager – Commercial, Jamie Black, said:
"We're very pleased to have renewed and extended our deal with Pizza Hut for at least the next three years.
"To have such a well-known international brand renew and extend its partnership with Supercars is great news for the category as we converge on the newest chapter of our Championship.
"Pizza Hut is one of several major brands we have renewed deals with ahead of the 2023 Repco Supercars Championship and we look forward to further announcements in coming weeks."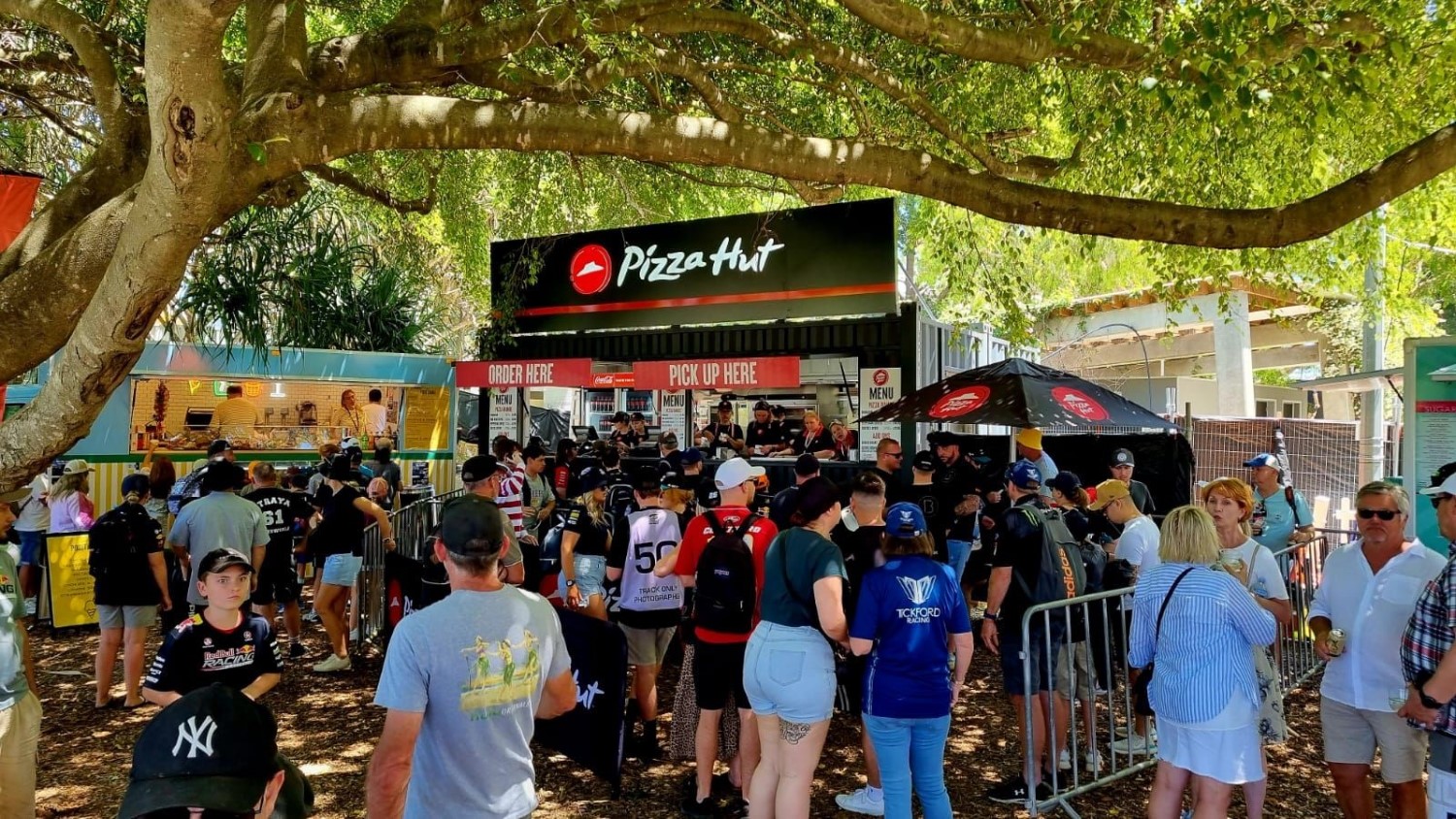 CEO of Pizza Hut Australia, Phil Reed said:
"We've been delighted with the first twelve months of our partnership with Supercars and want to continue this journey with the sport over the next few years.
"No-one can underestimate the authenticity and originality of this sport, the history it celebrates and the pride and passion it generates in real fans right around the country. Supercars and Pizza Hut are a perfect Australian Brand fit.
"As Australia's fastest-growing quick-service restaurant brand, we're very excited to be part of the sport.
"We've recently celebrated 46 consecutive months of positive same store sales growth and our presence across Supercars has played a significant role in that.
"We will have further announcements to make regarding our involvement in the sport in coming weeks and we're very excited for what is in store."
The first event of the 2023 Repco Supercars Championship, the Thrifty Newcastle 500, will be held on the streets of NSW second largest city from 10-12 March, 2023.
Tickets are available through Supercars.com and Ticketek.