Dakar Stage 12: Loeb wins 5th stage in row, Price takes lead in Bikes
Sebastien Loeb took his fifth stage win in a row to slot into second overall but Toyota's reigning champion Nasser Al-Attiyah maintained his cruise towards a fifth title.
Nine-times world rally champion Loeb, racing for the Bahrain Raid Xtreme team, finished three minutes and 19 seconds clear of Audi's Mattias Ekstroem on the stage but Al-Attiyah is still over an hour and 27 minutes ahead in the overall standings as he plays Loeb like a fiddle.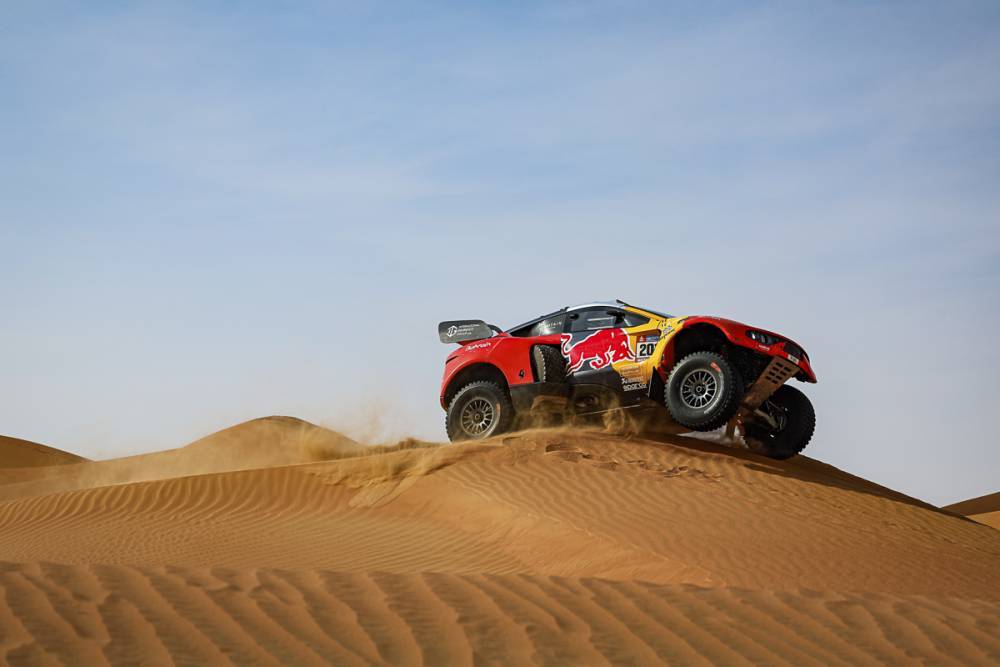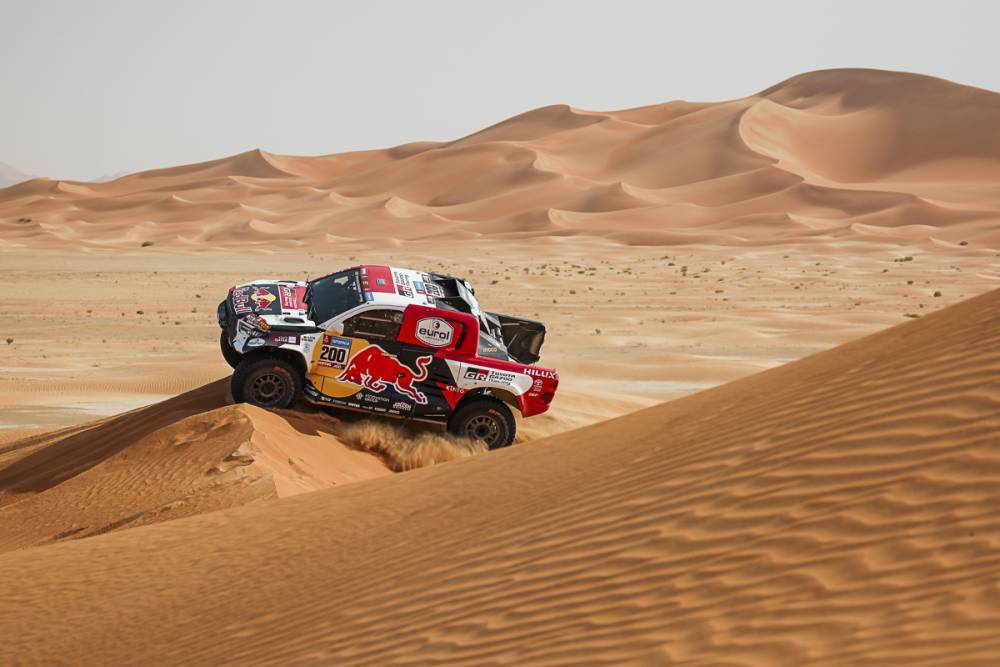 Bikes
Toby Price has taken the lead in the Dakar Rally motorcycle marathon going into the final weekend of the great desert race.
The Australian is in pole position to lift his third title in one of the world's most celebrated motorsport events after moving from second into the lead on Friday, opening a mere 28-second gap over American Skyler Howes.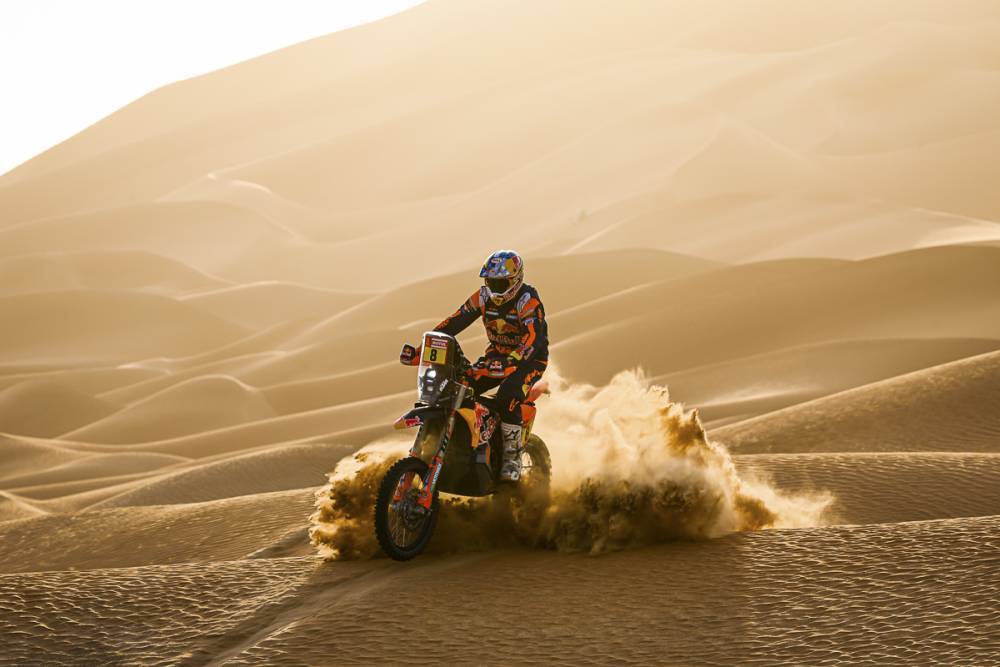 But with just two stages left before Sunday's finish in Dammam, the Red Bull KTM rider's advantage is almost invisible in a Saudi Arabian race which can swing hugely on just one navigational mistake or tumble in the dunes.
It has got to the stage where the 35-year-old Price was left shrugging on Friday: "I think that trying to have a strategy for the race at this point in time is completely out of the window.
"I've just got to stay on two wheels and stay healthy.
"We need to try and see if we can make some really good time tomorrow but, then again, you don't want to push too crazily and risk an injury or being out of the race completely this close to the finishing line."
In Friday's 12th stage, a 376km stage route from Empty Quarter to Shaybah, Price and his Australian Red Bull GasGas friend Daniel Sanders had an excellent day.
Sanders finished second on the day, 49 seconds behind Honda's Chilean stage winner Jose Cornejo Florimo, with Price third another one minute nine seconds adrift.
With Husqvarna's Howes finishing 56 seconds behind Price in sixth place, it meant the Gold Coast rider was able to grab the overall lead at a crucial point of the race as he seeks to regain the title he last won in 2019.
"The body feels good, the bike feels good. It's been a long two weeks," shrugged Price.
Cars Overall Standings after Stage 12
| | | | |
| --- | --- | --- | --- |
| Pos | Driver | Car | Time/Behind |
| 1 | Nasser Al-Attiyah | Toyota | 41hr16m25s |
| 2 | Sebastien Loeb | Prodrive | +1hr27m10s |
| 3 | Locas Moraes | Toyota | +1hr29m11s |
| 4 | Giniel de Villiers | Toyota | +2hr22m21s |
| 5 | Henk Lategan | Toyota | +2hr34m21s |
| 6 | Martin Prokop | Benzina | +3hr00m26s |
| 7 | Brian Baragwanath | Century | +3hr34m23s |
| 8 | Wei Han | SMG | +4hr11m38s |
| 9 | Mathieu Serradori | Century | +4hr17m38s |
| 10 | Juan Cruz Yacopini | Toyota | +4hr17m53s |
Bikes Overall Standings after Stage 12
| | | | | |
| --- | --- | --- | --- | --- |
| Pos. | No. | Rider | Team | Time/Behind |
| 1 | 8 | (AUS) Toby Price | Red Bull KTM Factory Racing | 40hr47m36s |
| 2 | 10 | (USA) Skyler Howes | Husqvarna Factory Racing | +0hr00m28s |
| 3 | 47 | (ARG) Kevin Benavides | Red Bull KTM Factory Racing | +0hr02m40s |
| 4 | 7 | (Chl) Pablo Quintanilla | Monster Energy Honda Team | +0hr14m54s |
| 5 | 42 | (Fra) Adrien Van Beveren | Monster Energy Honda Team | +0hr16m14s |
| 6 | 77 | (ARG) Luciano Benavides | Husqvarna Factory Racing | +0hr20m00s |
| 7 | 18 | (AUS) Daniel Sanders | Red Bull Gasgas Factory Racing | +0hr20m03s |
| 8 | 11 | (Chl) Jose Ignacio Cornejo Florimo | Monster Energy Honda Team | +0hr23m14s |
| 9 | 52 | (AUT) Matthias Walkner | Red Bull KTM Factory Racing | +0hr44m24s |
| 10 | 9 | (USA) Mason Klein | Bas World KTM Racing Team | +0hr54m58s |