F1: Cadillac still has time to register as a 2026 F1 Power Unit Manufacturer
In this Press Release, the FIA listed the six Power Unit Manufacturers that have registered to provide F1 Power Units from 2026 through 2030.
These are:
Alpine Racing
Audi
Ferrari S.p.A.
Honda Racing Corporation
Mercedes-AMG High-Performance Powertrains Ltd.
Red Bull Ford
Ford and Red Bull made their announcement in NY City Friday and Ford CEO Jim Farley stated that Ford would have input in the electric side of the power unit.  The R&D needed for the hybrid electric motor to supply 350 kw (470 HP) of power will enable Ford to transfer the knowledge to their hybrid and full electric road cars.
Hence, why you see Red Bull Ford listed above and not just Red Bull Powertrains. While Red Bull will do the majority of the power unit in-house, Ford will assist with its R&D and knowledge.
GM CEO Mark Reuss said similar things when the Andretti Global/Cadillac deal was announced – that GM/Cadillac will be involved from a technical standpoint with the Andretti's team engine, although like Ford with Red Bull, Cadillac will likely have a small part of the power unit design, leaving the rest up to its engine partner.
So why didn't Cadillac register with the FIA as an engine supplier for 2026, like Ford did above?
The Answer Is Simple
Until the Andretti Global entry gets approved as a team in F1, Cadillac is not going to apply to the FIA like Ford already did.
However, they have time.  As we outlined in red below, the FIA, in its sole discretion, can still accept a manufacturer that has missed the deadline if they feel they are capable.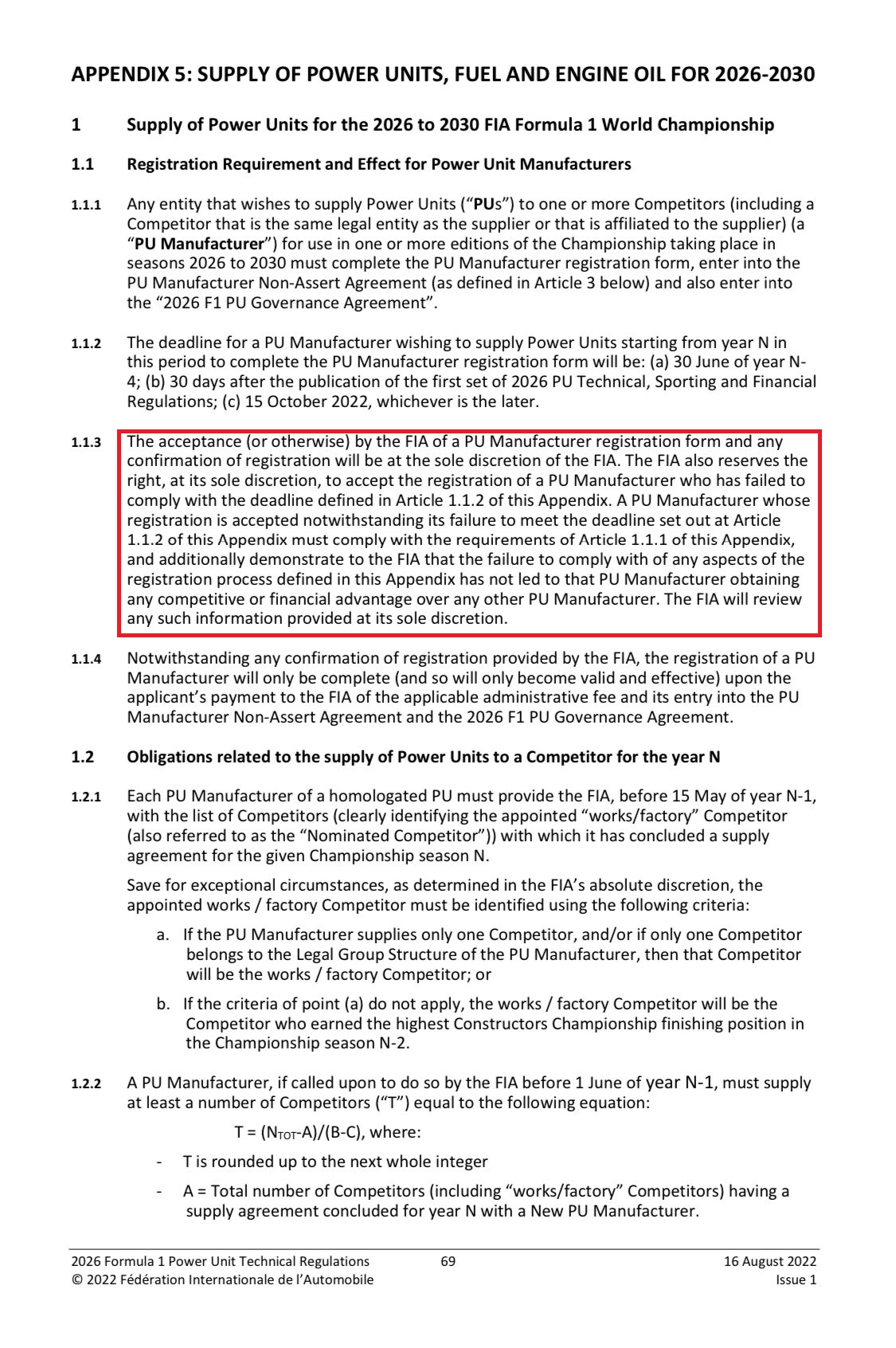 Who will Cadillac Partner with for the Power Unit?
In our opinion, Cadillac has the follow options on an engine partner:
Badge a Honda/Cadillac engine.  Honda has registered as one of the six above, and GM and Honda collaborate on electric vehicle power passenger car design already. They can do a similar arrangement in F1, like Red Bull and Ford are doing.  If Cadillac badges the engine, Honda would get very little commercial bang for the buck in this arrangement, but mostly a technology transfer for their passenger cars. Honda might be willing to go this route because right now, there are no other existing teams it can partner with, and we doubt they have the stomach to enter an entire Honda team.
Badge a Renault/Cadillac engine. Pretty much the same reasoning as #1 above with Honda, except that Renault will indeed have their own team under the Alpine name. This could work, but it's a risk for Andretti and Cadillac because historically a Renault engine struggles to beat the likes of a Honda, a Mercedes and a Ferrari. And with Audi coming in, that is another formidable competitor.
Design and build their own engine with Ilmor. Ilmor already designs and builds the Chevy IndyCar engine, so GM already has the same relationship that they would have with Ilmor in IndyCar.  Ilmor does the majority of the engine design and manufacturing, with help from GM's design engineers. We suggest you read this article I wrote recently titled "Cadillac Whispers from Brixworth" to understand why I think this scenario – A Cadillac-Ilmor Power Unit – might make the most sense for both Andretti and Cadillac.
What do you think?
Mark Cipolloni reporting for AutoRacing1.com