F1: Simple economics warrant a 4th USA Grand Prix
–by Mark Cipolloni–
There are some in Formula 1 who think the USA should host no more than 3 F1 races a year.
This article will prove they are categorically wrong.
Related Article: F1 Series is like a black hole sucking in fans, manufacturers and sponsors
Related Article: F1 is decimating its competition and taking no prisoners
In this previous article, I laid out why the USA can easily support 4 F1 races based on population, incomes and GDP.
Now I present more data to support a 4th race.
Follow the money
Formula 1 now has more sponsors and financial partners from the USA than from UK, Italy, Switzerland, Germany and France combined marking a significant historical change of balance between the USA and the sport's traditional epicenter Europe reports Spomotion Analytics analyst Björn Stenbacka.
The U.S. corporate involvement in Formula 1 is according to Spomotion Analytics on a historically high level. Last year the total number of U.S. official partners in Formula 1 exceeded 100 companies. Never have the sport had so many partners and sponsors from the U.S.
Over 20 new U.S. companies have joined the series as partners 2023. New U.S. partnership announcements are expected during the year, as Formula 1 will visit both Miami, Austin and Las Vegas.
The fact is the balance between the USA and the leading five European markets: UK, Italy, Switzerland, Germany and France, have changed. There are 104 official team and series partners from UK, Italy, Switzerland, Germany and France. That means the balance has already tipped over to the USA, says Stenbacka.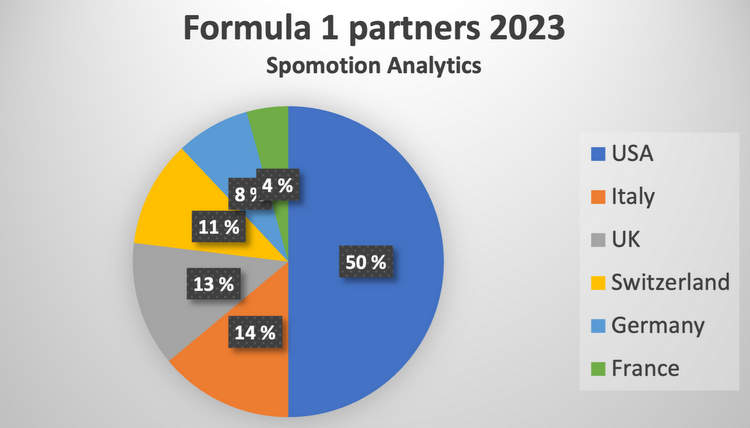 When Liberty Media acquired Formula 1 in 2017 there were 44 U.S. partners. Last year the number of U.S. partners and sponsors reached a new record level of 105 companies.  So, the balance between the five leading European Formula 1 markets and USA is actually 104 versus 105 partners.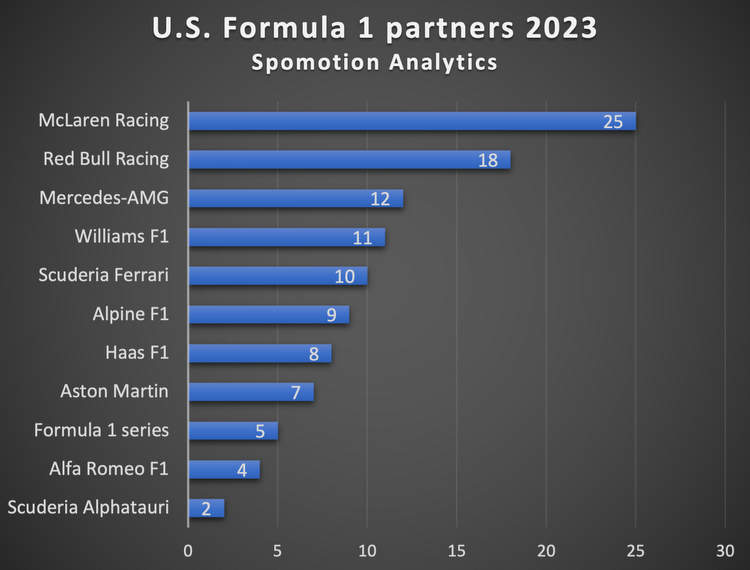 Further Discussion
Germany and France want to return to the F1 calendar – been there, done that and failed many times, both countries. They simply do not have the incomes, GDP and population the USA has
South Africa – As I have written here many times, it is doubtful the race, were it too ever to fruition, will not have the staying power of a 4th race in the USA. Incomes are too low for fans to afford a ticket and how long will the race promoter be willing to loose their shirt before they pull the plug.
South Korea – been there, done that. Failed.
India – been there, done that. Failed. However, F1 much more popular there today.
Vietnam – very few F1 fans, low average incomes.  Will have little staying power
Indonesia – Any Indonesia companies in F1?  How many F1 drivers? Ryo Haryanto was one and done.  No corporate support. However, the Formula E race in Jakarta did attract 13.4 million TV viewers, and that was Formula E.  So the race might be successful.
Colombia – It has potential, but if Juan Montoya was still winning F1 races it would succeed.
Conclusion
Like it or not, Formula 1 is taking over America. NASCAR and IndyCar shedding 18-49 year-old TV viewers faster than an Ethiopian running after a chicken!
And Formula 1 is sucking those core people in.
USA sponsors are flocking to F1 because with 70 million global TV viewers per race, no other racing series matters.
And after this year's three spectacular USA F1 races, even more USA sponsors will sign on the dotted line.
The above facts underscore why the USA can easily support a 4th F1 Grand Prix race.
To say otherwise is simply folly.