Minis run 1-2-3 as Alonso 11th after Day 1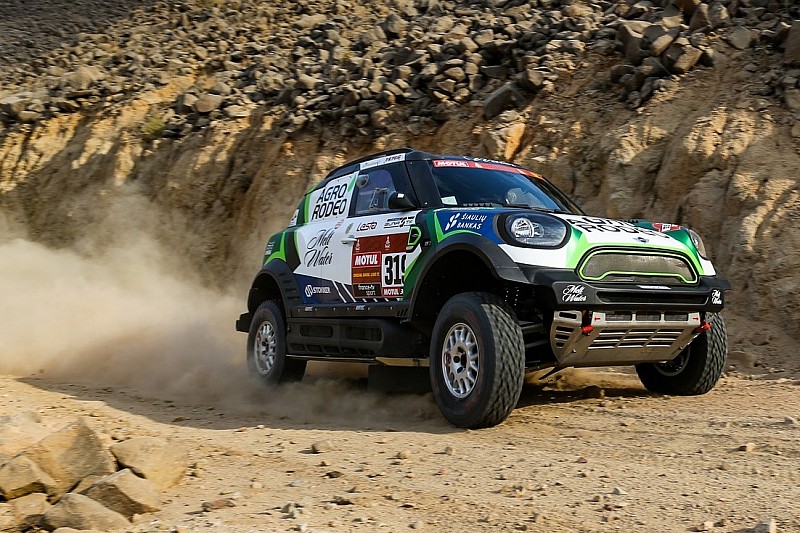 Mini-driver Vaidotas Zala
The 2020 Dakar Rally has burst into life with an opening stage that gave competitors a stern wake up call – 319 kilometres against the clock. The first ever Dakar stage to be held in Saudi Arabia represented a new start for all 342 vehicles entered into the rally.
Mini-driver Vaidotas Zala became the first overall leader of the 2020 Dakar Rally, finishing the opening stage first in what was a top-three sweep for Mini. It was his first career stage win.
Legendary Dakar driver and teammate Stephane Peterhansel came in second after losing time looking for a checkpoint.
"The directions were hard to understand in English," said Peterhansel, "In 21 editions of the Dakar, I've never had a co-driver talk to me in English, so I need to get used to it. There were dunes, sandy plateaus and rocky sectors where we had to walk on eggshells."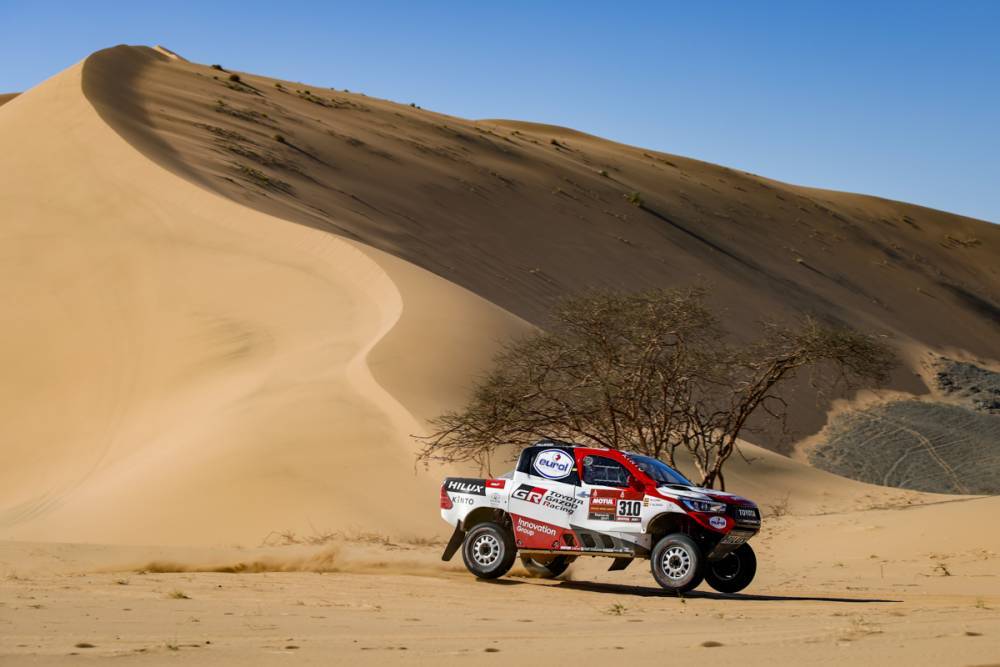 Fernando Alonso
Last year's winner Nasser Al-Attiyah led most of the stage but ended in fourth after his Toyota had mechanical problems.
The opening stage was from Jeddah to Al Wajh in Saudi Arabia's first Dakar rally. This is the second year in a row that the rally has run entirely in one country; last year it was held in Peru. The event ends on January 17th in Qiddiyah after 12 stages.
Carlos Sainz, father of McLaren F1 driver Carlos Sainz Jr. came in third. F1 and Le Mans champion Fernando Alonso drove his Toyota to an 11th place finish in the first stage of his Dakar debut. Pikes Peak winner Romain Dumas had to withdraw after his car caught fire, ending his rally.
Day 1 Highlights Stage Jeddah-Al Wajh
Day 1 Standings
Bikes Top-10
| | | | | | |
| --- | --- | --- | --- | --- | --- |
| POS. | NO. | DRIVE-TEAM | MAKE-MODEL | TIME | BEHIND |
| 1 | 1 | Toby Price | Red Bull Ktm Factory Team | 03H 21' 33'' | – |
| 2 | 9 | Ricky Brabec | Monster Energy Honda Team 2020 | 03H 21' 38'' | + 00H 00' 05'' |
| 3 | 2 | Matthias Walkner | Red Bull Ktm Factory Team | 03H 22' 13'' | + 00H 00' 40'' |
| 4 | 7 | Kevin Benavides | Monster Energy Honda Team 2020 | 03H 24' 04'' | + 00H 02' 31'' |
| 5 | 3 | Sam Sunderland | Red Bull Ktm Factory Team | 03H 24' 48'' | + 00H 03' 15'' |
| 6 | 5 | Pablo Quintanilla | Rockstar Energy Husqvarna Factory Racing | 03H 25' 09'' | + 00H 03' 36'' |
| 7 | 12 | Joan Barreda Bort | Monster Energy Honda Team 2020 | 03H 27' 24'' | + 00H 05' 51'' |
| 8 | 16 | Luciano Benavides | Red Bull Ktm Factory Team | 03H 28' 29'' | + 00H 06' 56'' |
| 9 | 6 | Andrew Short | Rockstar Energy Husqvarna Factory Racing | 03H 28' 36'' | + 00H 07' 03'' |
| 10 | 4 | Adrien Van Beveren | Monster Energy Yamaha Rally Team | 03H 29' 25'' | + 00H 07' 52'' |
Cars Top-20
| | | | | | |
| --- | --- | --- | --- | --- | --- |
| POS. | No. | DRIVE-TEAM | MAKE-MODEL | TIME | BEHIND |
| 1 | 319 | Vaidotas Zala, Saulius Jurgelenas | Agrorodeo | 03H 19' 04'' | – |
| 2 | 302 | Stéphane Peterhansel, Paulo Fiuza | Bahrain Jcw X-Raid Team | 03H 21' 18'' | + 00H 02' 14'' |
| 3 | 305 | Carlos Sainz, Lucas Cruz | Bahrain Jcw X-Raid Team | 03H 21' 54'' | + 00H 02' 50'' |
| 4 | 300 | Nasser Al-Attiyah, Matthieu Baumel | Toyota Gazoo Racing | 03H 24' 37'' | + 00H 05' 33'' |
| 5 | 307 | Bernhard Ten Brinke, Tom Colsoul | Toyota Gazoo Racing | 03H 25' 34'' | + 00H 06' 30'' |
| 6 | 315 | Mathieu Serradori, Fabian Lurquin | Srt Racing | 03H 25' 59'' | + 00H 06' 55'' |
| 7 | 311 | Orlando Terranova, Bernardo Graue | X-Raid Mini Jcw Team | 03H 26' 19'' | + 00H 07' 15'' |
| 8 | 309 | Yazeed Al Rajhi, Konstantin Zhiltsov | Overdrive Toyota | 03H 30' 50'' | + 00H 11' 46'' |
| 9 | 317 | Vladimir Vasilyev, Vitaliy Yevtyekhov | X-Raid G-Energy | 03H 32' 29'' | + 00H 13' 25'' |
| 10 | 314 | Erik Van Loon, Sébastien Delaunay | Overdrive Toyota | 03H 33' 02'' | + 00H 13' 58'' |
| 11 | 310 | Fernando Alonso, Marc Coma | Toyota Gazoo Racing | 03H 34' 31'' | + 00H 15' 27'' |
| 12 | 306 | Martin Prokop, Viktor Chytka | Mp-Sports | 03H 34' 41'' | + 00H 15' 37'' |
| 13 | 308 | Sheikh Khalid Al Qassimi, Xavier Panseri | Ph-Sport | 03H 37' 09'' | + 00H 18' 05'' |
| 14 | 304 | Giniel De Villiers, Alex Haro Bravo | Toyota Gazoo Racing | 03H 42' 20'' | + 00H 23' 16'' |
| 15 | 312 | Benediktas Vanagas, Filipe Palmeiro | Inbank Team Pitlane | 03H 42' 30'' | + 00H 23' 26'' |
| 16 | 301 | Nani Roma, Daniel Oliveras Carreras | Borgward Rally Team | 03H 47' 16'' | + 00H 28' 12'' |
| 17 | 322 | Wei Han, Min Liao | Geely Auto Shell Lubricant Team | 03H 47' 22'' | + 00H 28' 18'' |
| 18 | 320 | Ronan Chabot, Gilles Pillot | Overdrive Toyota | 03H 50' 55'' | + 00H 31' 51'' |
| 19 | 330 | Pierre Lachaume, Jean Michel Polato | Ph-Sport | 03H 51' 27'' | + 00H 32' 23'' |
| 20 | 331 | Miroslav Zapletal, Marek Sýkora | Offroadsport | 03H 51' 45'' | + 00H 32' 41'' |