IndyCar: Palou wins 3rd in row at Mid-Ohio
Alex Palou won his 3rd straight IndyCar race, and four out of the last five, in a dominating performance in the Honda Indy 200 at Mid-Ohio Sunday.
Palou is too good of a driver to still be in IndyCar and with his performance, this year he hopes to achieve his dream of becoming an F1 driver.
Palou beat his Ganassi Honda teammate Scott Dixon by 5.0242s while leading 48 of 81 laps. Palou now leads Dixon by 110 points as 2023 has become a blowout.
"Third win in a row for the No. 10 car, super special to do it here at Mid-Ohio where we've been good in the past.
"We needed that win and it's a special weekend for Honda. We had all the power and fuel mileage we needed to make our strategy work. We went long and just ran really fast lap times to get to Victory Lane.
"We did it and we're going to keep it going with The American Legion."
Team Penske's Will Power completed the podium in 3rd, a distant 18 seconds behind.
Christian Lundgaard was the top finishing RLL car in 4th, while Power' teammate Scott McLaughlin rounded out the top-5.
Polesitter Colton Herta led 26 laps but exceeded the pit speed limit, received a drive-thru penalty and finished 11th. Palou had him beat anyway, schooling him earlier to take the lead before Herta received any penalties.
Pato O'Ward passed his less talented McLaren teammate Alexander Rossi for eighth with 10 laps remaining, with Marcus Armstrong (Ganassi) also getting ahead of Rossi to finish ninth.
Marcus Ericsson, who had been second in the standings, ran over the Arrow McLaren car of fellow Swedish driver Felix Rosenqvist on the opening lap, effectively ending his race.
Ericsson's crew was able to make repairs to the front suspension of the No. 8 Huski Ice Spritz, but it was too much too late. Ericsson finished last in the 27-car field, losing 48 points to the series lead, and he fell to fourth in the standings.
The incident also ended Ericsson's streak of eight consecutive top-10 finishes to start the season. Guess who is the only driver with a streak that long: Yes, it's Palou. Considering he won last year's season-ending race at WeatherTech Raceway Laguna Seca, the 26-year-old Spaniard has compiled 10 straight top-eight finishes, with nine of them record in the top five.
And it could continue. Palou finished third in last year's Honda Indy Toronto, the next race on the schedule (July 16).
"I know we can have some good couple of races coming up now, and we'll still try and maximize (points), do the best we can and win when we can," the driver of the No. 10 The American Legion Honda said. "So, yeah, try and get (the car) on top."
Palou trailed NTT P1 Award winner and Andretti Autosport driver Colton Herta (No. 26 Gainbridge Honda) and fellow front-row starter Graham Rahal (No. 15 Fifth Third Bank Honda of Rahal Letterman Lanigan Racing) through the first segment of the race, but he swiped the top position during the first pit exchange. Herta went to pit road first, on Lap 28, and while Rahal waited a lap to make his stop, Palou conserved fuel behind him.
Herta and Rahal came out of the pits with new primary tires, but Palou switched to the faster alternative compound, allowing him to rocket past them to the lead.
Palou had the field covered the rest of the way. His only difficulty came during a sequence when he took several laps to overhaul the No. 55 AJ Foyt Racing/Sexton Properties Chevrolet of series rookie Benjamin Pedersen. In that stretch, Palou's 8-second lead was cut in half, but he quickly regained all of that advantage once clearing Pedersen on Lap 55.
After Palou made his second and final pit stop on Lap 54, Herta and Rahal came to pit road on consecutive laps, and both had trouble. Herta's car nearly got away from him at pit entrance, and the errant momentum caused him to exceed the speed limit, drawing a drive-through penalty. Rahal arrived at his pit box without concern, but trouble mounting the left rear tire led to a slow stop. As a result of those bobbles, the fastest two cars in qualifying dropped to the eighth (Rahal) and 12th (Herta) positions.
Rahal finished seventh, Herta 11th as Palou continued on without incident.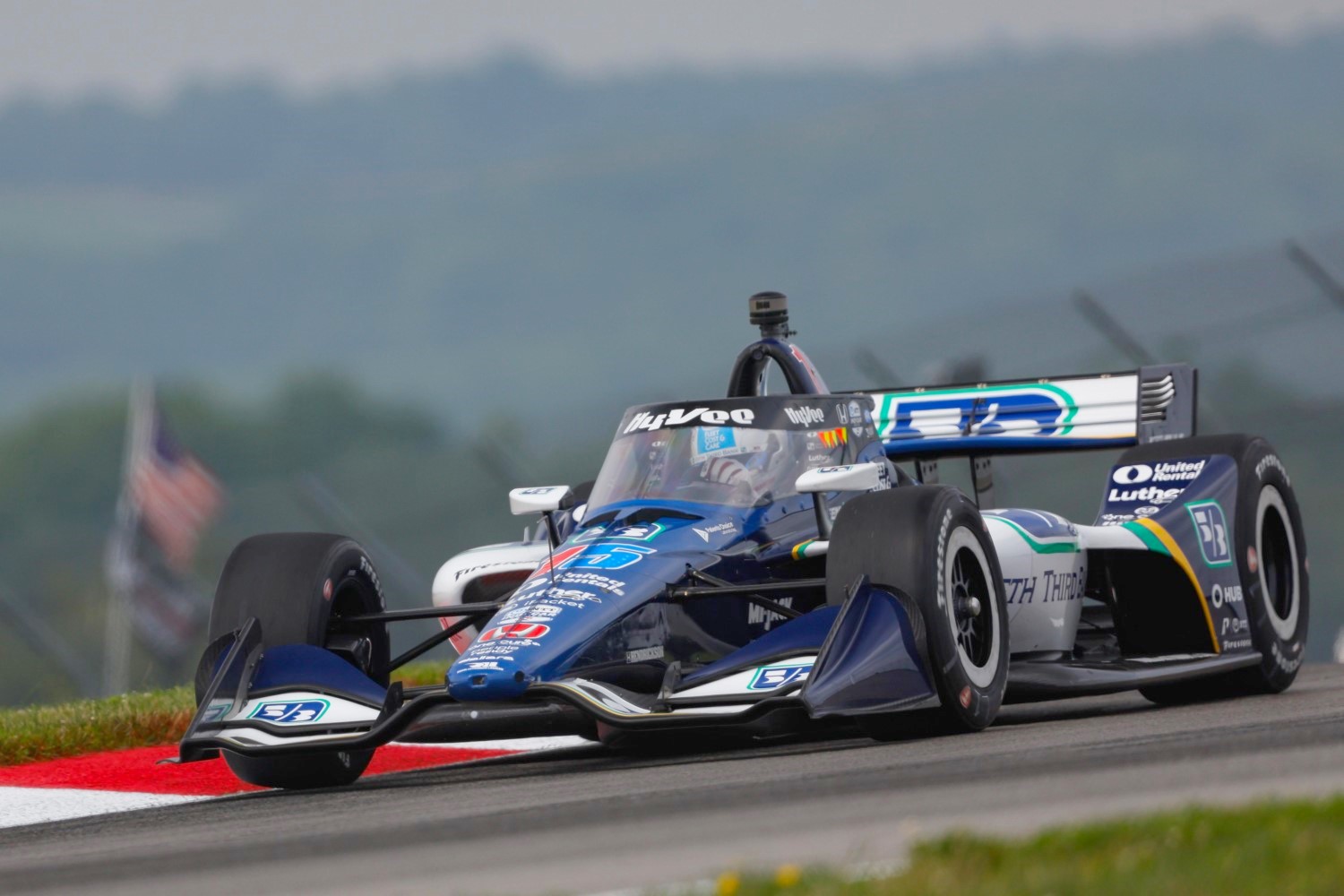 "I had a good car and good strategy, honestly," Palou said. "We've got a really fast car, (but) we knew we needed to try something different to the guys starting up front – that's why we started on primary (tires). Everything went well. The strategy, the pit stops and our pace was pretty good."
Honda won its sixth race of the year in nine tries.
Dixon did everything he could to remain in contention for a championship that would tie A.J. Foyt's all-time record. With Pato O'Ward (No. 5 Arrow McLaren Chevrolet) finishing eighth after a difficult three-stop charge from the 25th starting position, Dixon jumped to second in the standings. Josef Newgarden (No. 2 PPG Team Penske Chevrolet) and Ericsson are 116 and 122 points out of the lead with eight races remain. O'Ward is fifth, 127 points in arrears.
Palou's competitors will need a lot to happen to catch him.
"Anything's possible," Dixon said of overcoming the deficit. "Like we've always seen, you're never out of it until you're out of it. So, we'll keep trying as hard as possible.
"I know we tied (in points) with (Juan Pablo) Montoya in 2015, and we thought we were possibly out of it (entering the final race). That's what's funny about the INDYCAR SERIES and all of the competition, but you've got to give them credit, they're doing a hell of a job."
Dixon has won six of these Mid-Ohio races, but this was his first second-place finish. The result also was his best of the season as he seeks to extend his series records for seasons with at least one win (currently 20) and consecutive seasons with a win (18).
Will Power (No. 12 Verizon Team Penske Chevrolet) has similar streaks in play – 18 and 16 years, respectively — and he earned his third podium finish of the season in third place.
Rahal Letterman Lanigan Racing's Christian Lundgaard (No. 45 Vivid Clear Rx Honda) and last year's Mid-Ohio winner, Scott McLaughlin (No. 3 Good Ranchers Team Penske Chevrolet), finished fourth and fifth, respectively, with David Malukas (No. 18 HMD Truck Honda of Dale Coyne Racing with HMD) sixth.
The 27 cars ran a mostly clean race with the exception of Ericsson's contact with Rosenqvist, which drew a penalty for avoidable contact. Andretti Autosport's Kyle Kirkwood (No. 27 DHL Honda) tried to challenge Palou in Turn 4 on Lap 19 and lost six positions. He finished 17th.
Conor Daly finished 20th while driving the No. 60 AutoNation/SiriusXM Honda as Meyer Shank Racing asked him to stand in for Simon Pagenaud, who endured a wild ride without injury in an accident in Saturday morning's practice. Pagenaud will be re-evaluated in advance of the Honda Indy Toronto.
Race Results
| | | | | | | | | | | |
| --- | --- | --- | --- | --- | --- | --- | --- | --- | --- | --- |
| Pos | No | Name | Laps | Behind | Gap | Led | ST | Engine | Points | Team |
| 1 | 10 | Alex Palou | 80 | 0.000s | 0.000s | 48 | 4 | Honda | 377 | Chip Ganassi Racing |
| 2 | 9 | Scott Dixon | 80 | 5.0242 | 5.0242 | 2 | 6 | Honda | 267 | Chip Ganassi Racing |
| 3 | 12 | Will Power | 80 | 18.3585 | 13.3343 | 1 | 7 | Chevy | 226 | Team Penske |
| 4 | 45 | Christian Lundgaard | 80 | 19.0828 | 0.7243 | 0 | 5 | Honda | 194 | Rahal Letterman Lanigan Racing |
| 5 | 3 | Scott McLaughlin | 80 | 20.5280 | 1.4452 | 0 | 8 | Chevy | 229 | Team Penske |
| 6 | 18 | David Malukas | 80 | 27.1534 | 6.6254 | 0 | 12 | Honda | 124 | Dale Coyne Racing with HMD |
| 7 | 15 | Graham Rahal | 80 | 27.8852 | 0.7318 | 3 | 2 | Honda | 145 | Rahal Letterman Lanigan Racing |
| 8 | 5 | Pato O'Ward | 80 | 28.5119 | 0.6267 | 0 | 25 | Chevy | 250 | Arrow McLaren |
| 9 | 11 | Marcus Armstrong | 80 | 42.4021 | 13.8902 | 0 | 18 | Honda | 130 | Chip Ganassi Racing |
| 10 | 7 | Alexander Rossi | 80 | In Pit | 6.7462 | 0 | 13 | Chevy | 216 | Arrow McLaren |
| 11 | 26 | Colton Herta | 80 | 55.5968 | 6.4485 | 26 | 1 | Honda | 204 | Andretti Autosport w/Curb Agajanian |
| 12 | 2 | Josef Newgarden | 80 | 56.1804 | 0.5836 | 0 | 15 | Chevy | 261 | Team Penske |
| 13 | 28 | Romain Grosjean | 80 | 60.3705 | 4.1901 | 0 | 14 | Honda | 167 | Andretti Autosport |
| 14 | 29 | Devlin DeFrancesco | 80 | 62.8906 | 2.5201 | 0 | 24 | Honda | 104 | Andretti Steinbrenner Autosport |
| 15 | 21 | Rinus VeeKay | 80 | 63.4295 | 0.5389 | 0 | 16 | Chevy | 141 | Ed Carpenter Racing |
| 16 | 77 | Callum Ilott | 80 | 63.8682 | 0.4387 | 0 | 20 | Chevy | 142 | Juncos Hollinger Racing |
| 17 | 27 | Kyle Kirkwood | 80 | 64.4020 | 0.5338 | 0 | 3 | Honda | 177 | Andretti Autosport |
| 18 | 30 | Jack Harvey | 80 | 68.0817 | 3.6797 | 0 | 11 | Honda | 95 | Rahal Letterman Lanigan Racing |
| 19 | 20 | Ryan Hunter Reay | 80 | 69.3717 | 1.2900 | 0 | 17 | Chevy | 44 | Ed Carpenter Racing |
| 20 | 60 | Conor Daly | 80 | 70.1361 | 0.7644 | 0 | 27 | Honda | 98 | Meyer Shank Racing |
| 21 | 06 | Helio Castroneves | 79 | 1 LAPS | 17.2559 | 0 | 19 | Honda | 104 | Meyer Shank Racing |
| 22 | 51 | Sting Ray Robb | 79 | 1 LAPS | 8.1976 | 0 | 22 | Honda | 71 | Dale Coyne Racing w/RWR |
| 23 | 78 | Agustin Canapino | 79 | 1 LAPS | 2.3162 | 0 | 21 | Chevy | 95 | Juncos Holling Racing |
| 24 | 14 | Santino Ferrucci | 79 | 1 LAPS | 9.9747 | 0 | 26 | Chevy | 125 | AJ Foyt Enterprises |
| 25 | 6 | Felix Rosenqvist | 79 | 1 LAPS | 12.8742 | 0 | 10 | Chevy | 163 | Arrow McLaren |
| 26 | 55 | Benjamin Pedersen | 79 | 1 LAPS | 10.4985 | 0 | 23 | Chevy | 75 | AJ Foyt Enterprises |
| 27 | 8 | Marcus Ericsson | 5 | Contact | 45 LAPS | 0 | 9 | Honda | 255 | Chip Ganassi Racing |
Race Statistics
Winners average speed: 111.125
Time of Race: 01:37:31.9887
Margin of victory: 5.0242
Cautions: 1
Lead changes: 7
Lap Leaders:
Herta, Colton 1 – 26
Rahal, Graham 27
Palou, Alex 28
Dixon, Scott 29 – 30
Palou, Alex 31 – 53
Power, Will 54
Rahal, Graham 55 – 56
Palou, Alex 57 – 80