F1: Five Things To Know about Alternative Tire Allocation
After the cancellation of the Emilia Romagna Grand Prix, this weekend's Hungarian Grand Prix will see the first trial of the 'alternative tire allocation' weekend.
With a reduction in tire sets available and mandated compounds for each part of qualifying, this event will look a little different. Here are five things you need to know.
1. No Free Tire Choice in Qualifying
"Usually we get 13 sets of tires for a weekend, made up of eight soft tires, three medium, and two hards," explains Joseph McMillan, Senior Race Strategy Engineer at the Team. "For the alternative tire allocation weekends, that is reduced to 11 sets. We will be given four sets of the soft and medium compound, and three of the hard tire."
On the face of it then, not a huge change. There's one more twist though. In qualifying, the compound used for each segment is determined in the regulations: hard for Q1, medium for Q2, and soft for Q3.
"It will definitely add to the challenge," Joseph says. "When it comes to qualifying, we are usually focused on how we get the best out of the soft tire on a single lap. That includes assessing what the optimum tire preparation is, what the best out lap profile looks like, among other things. We now must think about that for three different compounds," he continues.
Qualifying on the hard tire is something we rarely, if ever, see. Pirelli have addressed this, as Joseph explains: "They've brought the softest compounds possible. Last year, we saw the C2, C3, and C4 tires here but this year, we will use the C3, C4, and C5. So although it's the hard tire, that corresponds to last year's medium and that will help."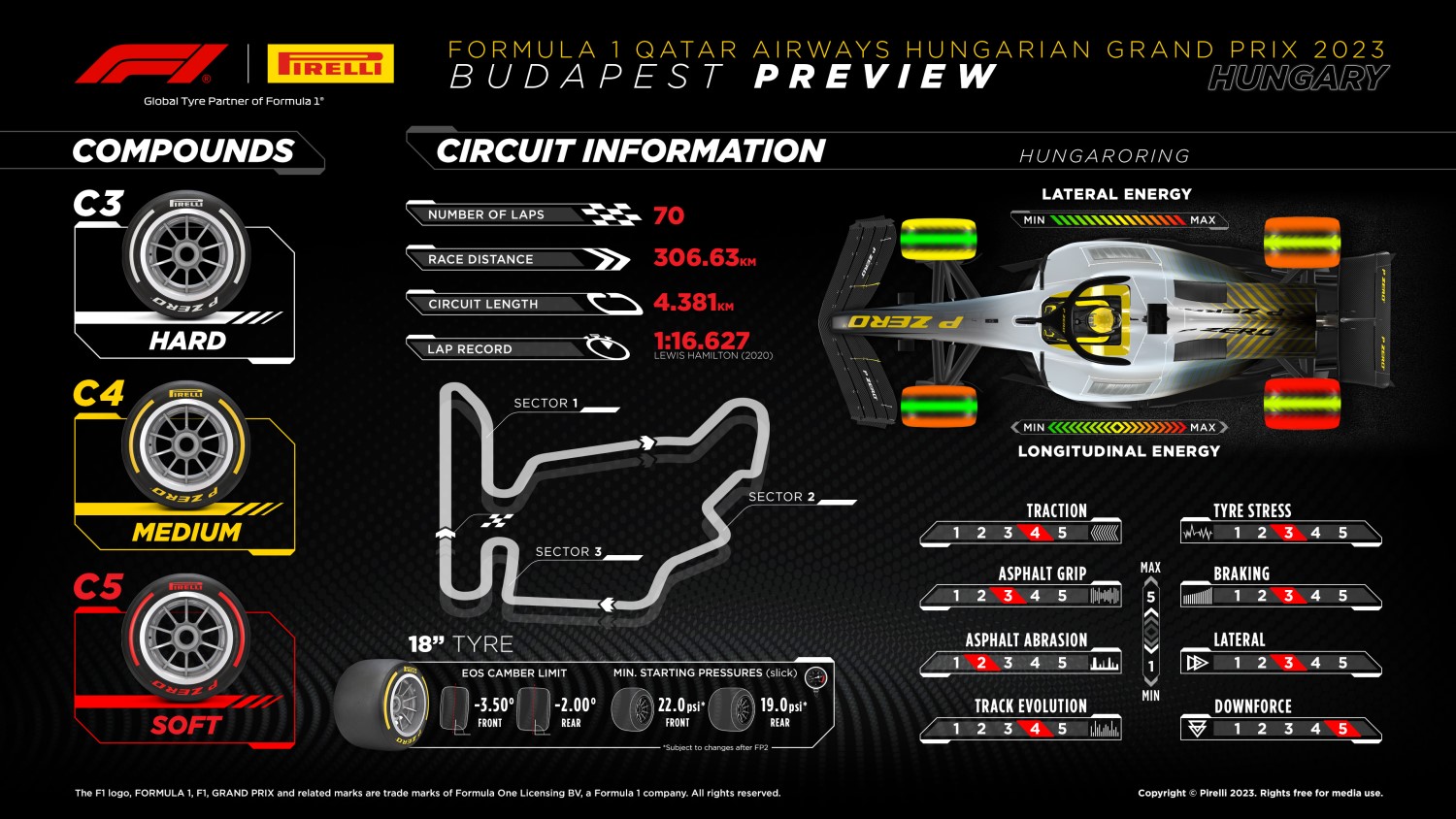 2. More Strategy Options for the Grand Prix
Whilst it's only in qualifying that we have a mandated tire usage, that will have a knock-on impact for the race. Joseph explains: "With more sets of the medium and hard tire than we usually take, we will likely end up with a tire allocation for the Grand Prix that looks much nicer than at other races," Joseph comments. "The soft C5 is highly unlikely to be a race tire. The medium and hard compound will likely be preferred and, with more sets of those to play with, we should be in a better position than usual."
He continues: "Normally, we must commit to whether we want a second hard tire, a second medium, or a soft tire. At several races this year, we have opted to save a second set of new hard tires for the race. Whilst this does not come into play strategically, it's a major decision all teams must make. This will likely not be the case in Budapest though, and post-qualifying, we will have an ability to select our strategy without some of those limitations we usually have."
3. Mixed Up Free Practice Running
"We'll probably see a lot more varied running in Free Practice," Joseph says. "We always do single lap work on each compound of tire. But usually, running on the hard tire just helps the drivers get their eye in for their running on the soft tire. This weekend, I suspect there will be more discussion around it. In terms of run plans, it will be fascinating to see what everyone does. Each team interprets the 'obvious' thing to do slightly differently. How they divide their time and tire allocation between qualifying and race preparations will be interesting," he continues.
With the usual pattern of running possibly changed, all teams will have to be wary. Particularly around a tight and twist circuit like Budapest. "You don't want to be compromised by doing your single lap running when everyone else is focused on long runs. You want to avoid traffic and you don't want to be completely different to everyone else, as you then have very little idea where you stack up in terms of pace."
What work has gone in at Brackley planning for this then?
"Lots of work!" Joseph exclaims. "We've agreed an initial proposal of what we will do but we continue to adapt this across the weekend. We've also had to make a code change to our simulations so that it understands this qualifying format."
4. Why It Has Been Introduced
The main thrust behind the alternative tire allocation is to reduce the number of sets of tires Pirelli bring to each Grand Prix. This will be a real-world test to assess its impact on the weekend, and effect on the racing.
With eight sets of soft tires on a normal race weekend, a number of these tend to be used only lightly in qualifying. Under this revised format, this should be reduced whilst also allowing for the tire manufacturer to bring two sets less per car.
The format will be tested at one other race this season, the Italian Grand Prix at Monza in September.
5. We May Have To Wait To See Its Full Effect
The long-range forecast for the weekend in Budapest at present is dry. However, summer thunderstorms are known to drift in quickly at the Hungaroring and wet running here is not unexpected. Out of 25 sessions over the past five years, seven of these have been officially wet so the probability of a wet session sits at 28%.
Drivers have four sets of the intermediate tire, and three sets of wets, to use per weekend. If a session is declared wet, they then have a free tire choice. This could be from those inters or wets, but also across the slick tire range if track conditions permit. That means we may not see the mandated compound running in qualifying.
If this happens, we may need to wait until Monza, when the second alternative tire allocation weekend takes place, to see its full impact. Nevertheless, we can expect to see a different looking weekend, and a strategically fascinating one whatever the weather, with this new format. Mercedes F1 PR