NASCAR: Larson outduels Reddick to win Southern 500
Kyle Larson led the final 55 laps of Sunday's Cook Out Southern 500, beating Tyler Reddick by 0.447 seconds.
Larson won the first NASCAR Cup playoff race of 2023 in his #5 Hendrick Chevy.
Chris Buescher was third, William Byron fourth and Ross Chastain rounded out the top-5.
Bubba Wallace recovered to finish seventh after a spin at Lap 115 as Stage 1 came to a close, with his No. 23 Toyota bouncing off Joey Logano and sliding sideways off Turn 4. Brad Keselowski was sixth ahead of Wallace, with Chase Elliott, Ryan Blaney and defending Southern 500 winner Erik Jones concluding the top 10.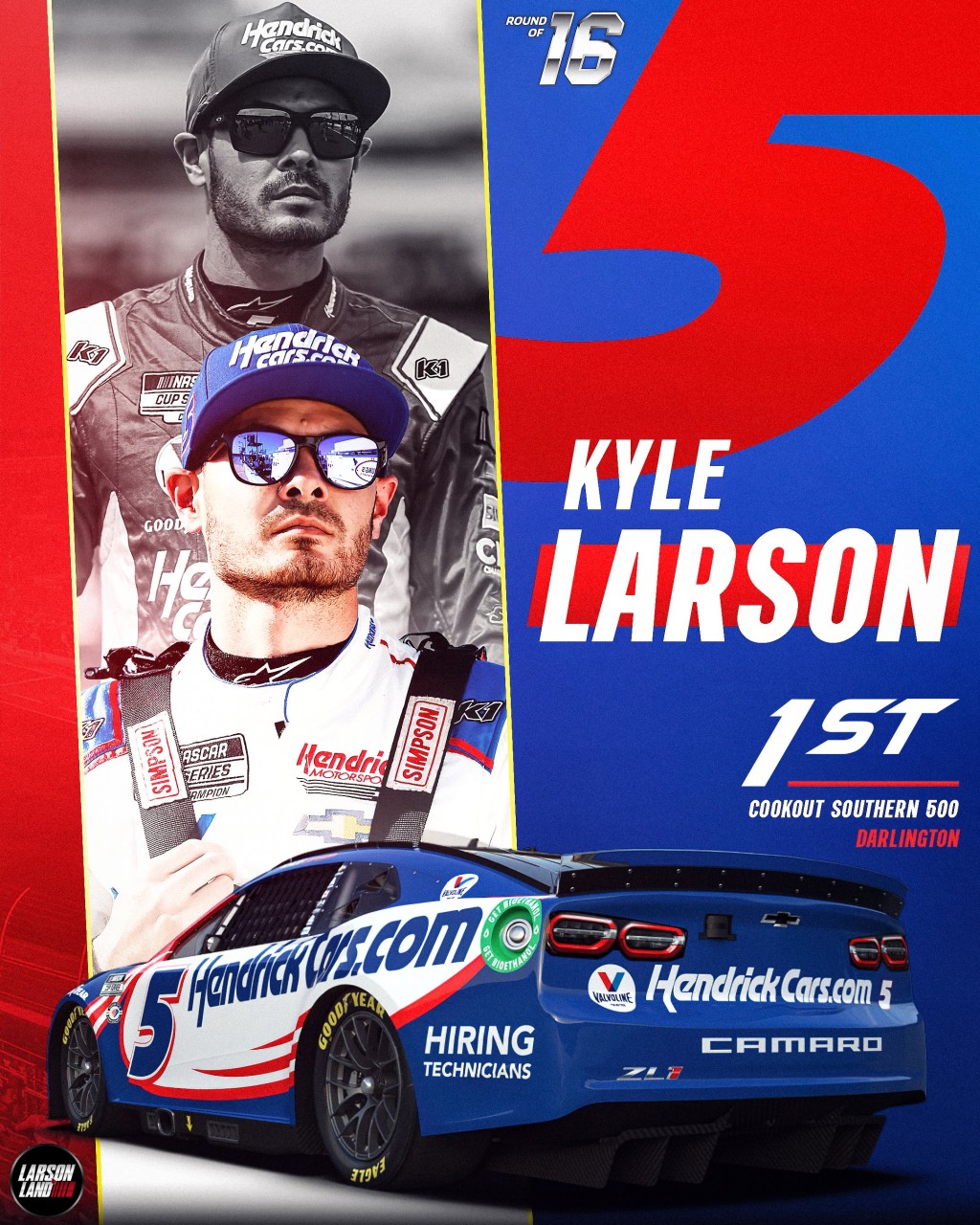 Denny Hamlin dominated the majority of the race with 177 laps led of the evening, his most since leading 203 laps at Martinsville last fall. But Hamlin pulled his No. 11 Joe Gibbs Racing Toyota back to pit road for an extra pit stop at Lap 274 because he believed one of his wheels was loose. The team changed all four tires once again before sending the car back on track, where he returned 30th, one lap down.
Todd Gilliland collided with Kyle Busch and Austin Dillon at Lap 331, spinning across the frontstretch. Attempting to avoid the melee, Hamlin dove low and spun back toward the outside wall, getting hit from behind by fellow playoff contender Michael McDowell. Polesitter Christopher Bell, who battled a bent lower control arm after earlier wall contact, was also involved in the crash. Bell finished 23rd with Hamlin 25th both one lap down and McDowell 32nd, the lone playoff driver who failed to finish Sunday's race.
Kevin Harvick finished 19th after a potential top-five run went awry at Lap 310. As the 2014 Cup champion came to pit road from the second place, race leader Tyler Reddick checked up to attempt to pit late. Ryan Newman was just behind Reddick and spun to avoid him, bringing out the caution flag. That closed pit road just before Harvick's No. 4 Ford hit the pit-entry line, and the team incurred a penalty to restart at the tail of the field because it serviced the Stewart-Haas Racing entry under a closed pit road.
The race was red-flagged at Lap 188 during the race's second caution period because lights on the inside of the race track in Turns 3 and 4 had not illuminated as the sun set.
Kyle Larson
Kyle, welcome to the Round of 12. You picked a good day to finally execute a race, didn't you.
KYLE LARSON: Yeah, finally from start to finish. 18th to third in the first stage, I didn't think that was possible.
Our race car was really good when the sun was out. Just had to work on it. I messed up once and it got hung in neutral, and I slid and hit the wall, and I think bent the toe link a little bit, so it was kind of a struggle from there. Definitely had to fight it more than I was earlier, but we kept our heads in the game. That was really important. This race is all about keeping your head in it.
I've been pretty hard on myself here the last couple months, but having a leader like Cliff, he really is good for my mind.
Just proud of the team, proud of Rick Hendrick, Jeff Gordon, Jeff Andrews, Chad Knaus, everybody at Hendrick Engine shop. 500 wins, that's incredible, so congratulations to each and every one of you at the shop for all your hard work. Valvoline, JINYA Ramen Bar, all of Hendrick Motorsports.
What a great way to start the playoffs and hopefully, we can keep it going.
You have some big wins in your career, a championship obviously, but you've been trying a long time to win here at Darlington. Where does a Southern 500 win rank for you?
KYLE LARSON: It's definitely in the top 5. This has been one of my favorite tracks my whole career and been really, really fast here my whole career, just usually get in the wall. Finally, we have the Next-Gen car that's tough enough to allow me to hit the wall, so was able to make some mistakes and get a win.
Adding this trophy to the collection is going to be amazing, and just such a prestigious race. This is one of three or four crown jewels, and I feel like besides the 500 maybe the only one I haven't won yet. We get to hopefully go back to the Brickyard next year on the oval and would love to win that one, too.
Just proud of this bunch again. Pit crew came in the clutch there at the end to get us out in the lead. Had some things work out, staying out when that car was spinning out, too, so just kind of fell in our lap there, and we were able to take advantage of it.
Tyler Reddick
Tyler, what more did you need there at the end?
TYLER REDDICK: Man, I don't know. Maybe just a little bit longer run. It had just gotten short enough to where you didn't have to save a whole lot I don't think.
Kyle and I were pretty close the majority of the day, honestly, and he just got ahead of us there on pit road, but all in all, this is the day that we needed to have.
Really just thankful for the hard work from my pit crew, from the team, everyone at the shop. Days like this with a car like this, we haven't been able to get a second-place finish out of it, so really glad we were able to do that, and it was a really good points day on top of that, as well.
Was the restart your only chance, and then what was it like trying to look in your rear view and trying to hold off Buescher when you were starting to fall back?
TYLER REDDICK: Yeah, it was a tough balance. I wanted to keep pushing and try and get Kyle, but I was just getting so loose. I about wrecked in the middle of 1 and 2 a few times, and I was either going to catch Kyle or I was going to wreck in the middle of 1 and 2 and finish the last car out, 30th, 28th. It just didn't make sense in my head, so we'll take the second place.
Hopefully one day in the future we come back and have another shot at the Southern 500.
Race Results
| | | | | | | | |
| --- | --- | --- | --- | --- | --- | --- | --- |
| Fin | Str | No. | Driver | Team | Laps | Led | Status |
| 1 | 18 | 5 | Kyle Larson (P) | HendrickCars.com Chevrolet | 367 | 55 | Running |
| 2 | 3 | 45 | Tyler Reddick (P) | Jordan Brand Toyota | 367 | 90 | Running |
| 3 | 8 | 17 | Chris Buescher (P) | BuildSubmarines.com Ford | 367 | 0 | Running |
| 4 | 23 | 24 | William Byron (P) | Liberty University Chevrolet | 367 | 0 | Running |
| 5 | 27 | 1 | Ross Chastain (P) | Unishippers Chevrolet | 367 | 0 | Running |
| 6 | 5 | 6 | Brad Keselowski (P) | Solomon Plumbing Ford | 367 | 0 | Running |
| 7 | 19 | 23 | Bubba Wallace (P) | McDonald's Toyota | 367 | 0 | Running |
| 8 | 13 | 9 | Chase Elliott (P) | NAPA Auto Parts Chevrolet | 367 | 0 | Running |
| 9 | 4 | 12 | Ryan Blaney (P) | Menards/Richmond Water Heaters Ford | 367 | 0 | Running |
| 10 | 20 | 43 | Erik Jones | Allegiant Chevrolet | 367 | 0 | Running |
| 11 | 11 | 8 | Kyle Busch (P) | McLaren Custom Grills Chevrolet | 367 | 0 | Running |
| 12 | 6 | 22 | Joey Logano (P) | Shell Pennzoil Ford | 367 | 0 | Running |
| 13 | 16 | 16 | AJ Allmendinger | Action Industries Chevrolet | 367 | 0 | Running |
| 14 | 10 | 10 | Aric Almirola | Smithfield Ford | 367 | 0 | Running |
| 15 | 12 | 14 | Chase Briscoe | HighPoint.com/Lady in Black Ford | 367 | 0 | Running |
| 16 | 25 | 47 | Ricky Stenhouse Jr. (P) | Boost by Kroger/Irish Spring Chevrolet | 367 | 0 | Running |
| 17 | 15 | 42 | Carson Hocevar(i) | Sunseeker Resort Chevrolet | 367 | 0 | Running |
| 18 | 31 | 19 | Martin Truex Jr. (P) | Bass Pro Shops Toyota | 367 | 0 | Running |
| 19 | 7 | 4 | Kevin Harvick (P) | Mobil 1 Take 5 Ford | 367 | 1 | Running |
| 20 | 28 | 3 | Austin Dillon | Morgan & Morgan Chevrolet | 367 | 0 | Running |
| 21 | 17 | 54 | Ty Gibbs # | Monster Energy Toyota | 367 | 0 | Running |
| 22 | 22 | 7 | Corey LaJoie | Gainbridge Chevrolet | 367 | 3 | Running |
| 23 | 1 | 20 | Christopher Bell (P) | Yahoo! Toyota | 366 | 40 | Running |
| 24 | 29 | 31 | Justin Haley | LeafFilter Gutter Protection Chevrolet | 366 | 0 | Running |
| 25 | 2 | 11 | Denny Hamlin (P) | Sport Clips Haircuts Toyota | 366 | 177 | Running |
| 26 | 30 | 38 | Todd Gilliland | Quincy Compressor Ford | 366 | 0 | Running |
| 27 | 35 | 51 | Ryan Newman | Parts Plus/Biohaven Ford | 365 | 0 | Running |
| 28 | 34 | 41 | Ryan Preece | HaasTooling.com Ford | 364 | 0 | Running |
| 29 | 26 | 77 | Ty Dillon | Raze Energy Blue Shock Chevrolet | 364 | 0 | Running |
| 30 | 33 | 15 | JJ Yeley(i) | Ollie's Bargain Outlet Ford | 362 | 1 | Running |
| 31 | 14 | 2 | Austin Cindric | Discount Tire Ford | 361 | 0 | Running |
| 32 | 9 | 34 | Michael McDowell (P) | StageFront.VIP Ford | 329 | 0 | Accident |
| 33 | 24 | 48 | Alex Bowman | Ally Chevrolet | 322 | 0 | Accident |
| 34 | 21 | 99 | Daniel Suarez | Freeway.com Chevrolet | 320 | 0 | Accident |
| 35 | 32 | 21 | Harrison Burton | Motorcraft/Quick Lane Ford | 318 | 0 | Accident |
| 36 | 36 | 78 | BJ McLeod | Affliction Chevrolet | 210 | 0 | Engine |