NASCAR: Bell wins pole for Bristol Cup race
Christopher Bell won his third straight pole position of the season Friday and will start from the top spot in Saturday's Bass Pro Shops Night Race at Bristol Motor Speedway.
Bell, driving the No. 20 Toyota for Joe Gibbs Racing, turned a lap of 126.997 mph (15.174 seconds) around the 0.533-mile concrete oval for his fifth pole position of the season and ninth of his career.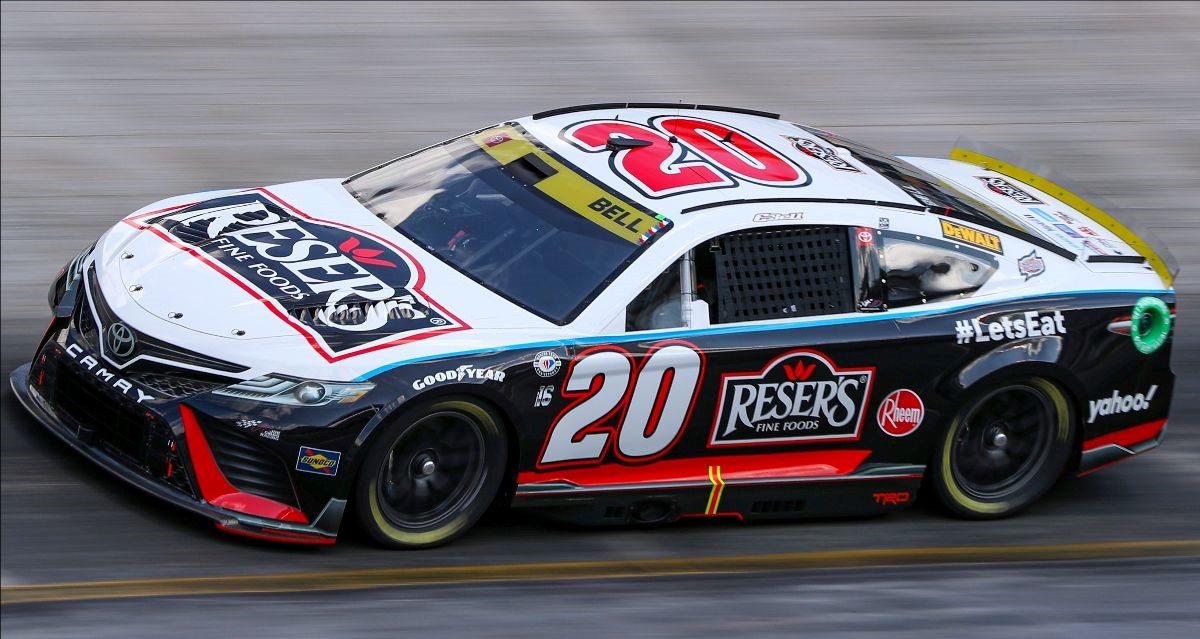 Bell, who won the Bristol Dirt Race this spring, has two top-5 and four top-10 finishes in seven Bristol Cup Series starts.
"I just have really, really great Camrys to drive," Bell said. "This is my favorite race of the year – the Bristol Night Race. It's the most intense race of the year. I tell everyone this needs to be on their bucket list."
Bell and Denny Hamlin will make up the front row in the Bass Pro Shops Night Race (6:30 p.m., USA Network, PRN Radio). The race's start time was bumped up one hour earlier Friday due to forecasted inclement weather late Saturday.
Saturday's Bass Pro Shops Night Race is the centerpiece of The Last Great Colosseum's NASCAR weekend, which marks the first time Bristol has hosted playoff rounds in all thee of NASCAR's top series.
It's also the first cutoff race of the 2023 NASCAR Cup Series playoffs, with the number of championship contenders dropping from 16 to 12 following Saturday's checkered flag.
With earlier playoff victories, Kyle Larson and Tyler Reddick have already secured advancement to the Round of 12. Martin Truex Jr., the Cup Series' regular season champion, is seven points below Kevin Harvick in 12th place, the last spot for advancement.
"We just had two terrible races," said Truex, who will start fifth on Saturday. "You can't afford to have two bad races. Hopefully [Saturday] night goes better. It's a terrible spot to be in."
Bubba Wallace is 19 points behind the final spot, with Ricky Stenhouse Jr. trailing by 22 points back and Michael McDowell 40 points behind.
Among other championship contenders, William Byron will start third, Brad Keselowski will start sixth and defending Cup Series champion Joey Logano will start 28th.
Bell and defending Night Race champion Chris Buescher are 13 points above the cutline for advancement.
"This is my favorite race track," said Buescher, who will start 20th. "Our cars are always competitive here. There's a lot riding on this race. You have to go out and run 100 percent. We need to race up front and grab stage points early.
"[This race] hits a little different for me. The Bristol Night Race is at the top of my bucket list to me. Now that we got one, we want another one."
Larson, who was quickest in practice, wobbled in the middle of a turn with a exploding Goodyear left rear tire issue and qualified last in 36th.
Bristol's Cup Series qualifying record is held by Ryan Blaney, who turned a lap of 132.075 mph (14.528 seconds) in 2019. Blaney, also a championship contender, will start 11th on Saturday.
"We're 25 points to the good," Blaney said earlier this week. "Twenty-five points can go away just like that if you have an issue early in the race. I feel like you can never really be too safe."
Pole winner Quotes
CHRISTOPHER BELL, No. 20 Rheem Fine Foods Toyota Camry TRD, Joe Gibbs Racing
Can you talk about being on the pole again this weekend?
"Having a good starting spot is really, really, really important especially at a short track like Bristol with the PJ1 being down. It's going to be very fast around the bottom, especially at the start of the race. We put ourselves in good position, I'm really proud of the Camrys that this 20 group have been able to bring to the races since we've started the Playoffs. They've been doing an amazing job, and I'm excited about another opportunity to start in the front and hopefully have a great race tomorrow."
Is there a competition within Joe Gibbs Racing on who wins more poles this season, and is their importance within the team on single lap speed?
"Well, I can tell you that qualifying is not talked about at all amongst our competition meetings, so there is no competition on who is going to win the most poles. My team has put an emphasis on qualifying and making sure we establish our track position early in the race and get good pit stalls so we have been focusing pretty hard on qualifying, but I couldn't even told you that Denny (Hamlin) and I were tied for poles. I can tell you that Denny has won more races than me this year, but not qualifying."
Do you think the PJ1 will start coming into effect in the Cup Series race?
"The track right now is just completely normal from how it's been in year's past with them spraying the PJ1. The Trucks notoriously don't ever get off the bottom, the Xfinity race notoriously don't ever get off the bottom when they have that fresh spray down. I would expect the Cup race to start down there, and I would expect at some point we will get the top going and we will have different options. Once you do get options, it does become easier to pass because you are able to find cleaner air and get by guys. Certainly, it's going to be a race where people are going to flip track position by staying out or taking different tire strategies, so you are going to have to be able to pass cars. I don't think anyone knows how their car handles in traffic because practice is so short, you are just trying to find clean air and get your car balance good – by yourself – I think we are in as good of a spot as anyone."
Was being in the first group a big advantage tonight?
"I feel confident saying it was less of an advantage at Bristol. Was it an advantage at all to be in group A, I don't know. I do feel confident saying it was less of an advantage compared to Darlington, with the tire fall off that we have at Darlington and the lack of tire fall off that we have here."
What does it mean for your teammate Martin Truex Jr. to join you in the top-five?
"Martin (Truex) – I kind of feel like Bristol owes him one. He's fast here a lot and I don't think he's ever won. It would be a good day to have a good day if you are a Martin Truex fan tomorrow. Hopefully, we can get all three of these JGR (Joe Gibbs Racing) Camrys into the next round. I know we have the speed to do it. 500 laps is an incredibly long race, and a lot is going to happen in between right now and whenever the checkered flag falls but Martin has put himself in a good spot, so hopefully he can make it happen."
What have you seen out of Ty Gibbs' team from your perspective?
"Ty (Gibbs) has had a heck of a rookie season. I knew that Bristol was going to be a track that he was going to perform well. He did the tire test here earlier in the year, and it's just a track that fits his MO. They've been picking it up. I think it's just a matter of time before he's in victory lane. It's cool to see whenever all of us are doing well, he's able to hang with us. He's doing a great job.
Is it a challenge to give feedback when you are consistently starting on the pole?
"I think that comes from Adam (Stevens), my crew chief. He's a great leader, and he knows what we had in qualifying is completely different than what we are going to have on lap 20, 30, 40 and on into the run tomorrow. After I leave this press conferences, I go right back to the hauler, and we don't even talk about qualifying. We talk about race trim and what we had at the end of practice and what I needed to be better there. Adam has a really good system in place. It's ironic – because we go out and practice, and you are focused on race trim, and as soon as that checkered flag falls, you don't even talk about race trim – you are talking about qualifying trim, and as soon as qualifying is over, we are back at race trim. He does a great job leading me down the right path and leading out team."
How significant is for all four Joe Gibbs Racing to start in the top-10 and is it personally significant for you?
"It's cool to win a pole here at Bristol. I think it just goes to show how strong our Camrys are right now. Week-in and week-out, every time we come to the race track, we are right there. Great day for Joe Gibbs Racing. Glad that all four were able to make it to the final round, and hopefully we have a strong showing tomorrow."
Do you have a sense for the new tire?
"I would say that it is going to be very similar to last year. Whenever you participate in the tire test, you are able to feel the difference when you go back-to-back with the different tire, but me coming here 365 days later – it feels very similar to what we had last year. It does appear that the fall off was a little bit more than practice last year, but typically when the top rubbers in that goes away a little bit. I would say the tire change has not been noticeable to me yet, hopefully, the tire problems go away. I know Goodyear was hoping to do with this tire change, but from my seat, I don't notice a big difference."
Are you sad to see the dirt race go away?
"Honestly, I was good either way. Concrete Bristol was my favorite race track on the schedule, two of these races is not a bad thing by any means. But – if it's dirt – I'm okay with that too. It didn't matter to me. I was fine either way."
Qualifying Results
| | | | | | |
| --- | --- | --- | --- | --- | --- |
| Pos | Car | Driver | Team | Time | Speed |
| 1 | 20 | Christopher Bell (P) | Reser's Fine Foods Toyota | 15.109 | 126.997 |
| 2 | 11 | Denny Hamlin (P) | FedEx Freight Direct Toyota | 15.117 | 126.930 |
| 3 | 24 | William Byron (P) | Relay Payments Chevrolet | 15.187 | 126.345 |
| 4 | 34 | Michael McDowell (P) | Love's/Delo Ford | 15.202 | 126.220 |
| 5 | 19 | Martin Truex Jr. (P) | Bass Pro Shops Toyota | 15.210 | 126.154 |
| 6 | 6 | Brad Keselowski (P) | Castrol Edge Ford | 15.233 | 125.963 |
| 7 | 9 | Chase Elliott (P) | NAPA Gold Filters Chevrolet | 15.239 | 125.914 |
| 8 | 54 | Ty Gibbs # | Monster Energy Toyota | 15.239 | 125.914 |
| 9 | 23 | Bubba Wallace (P) | Columbia Sportswear Company Toyota | 15.241 | 125.897 |
| 10 | 7 | Corey LaJoie | NEGU Chevrolet | 15.274 | 125.625 |
| 11 | 12 | Ryan Blaney (P) | Advance Auto Parts Ford | 15.230 | 125.988 |
| 12 | 45 | Tyler Reddick (P) | Jordan Brand Toyota | 15.245 | 125.864 |
| 13 | 48 | Alex Bowman | Ally Chevrolet | 15.252 | 125.806 |
| 14 | 14 | Chase Briscoe | Rush Truck Centers/Cummins Ford | 15.264 | 125.708 |
| 15 | 8 | Kyle Busch (P) | Cheddar's/ALSCO Uniforms Chevrolet | 15.282 | 125.559 |
| 16 | 42 | Carson Hocevar(i) | Sunseeker Resort Chevrolet | 15.293 | 125.469 |
| 17 | 41 | Ryan Preece | Operating Engineers Ford | 15.306 | 125.363 |
| 18 | 3 | Austin Dillon | Bass Pro Shops Chevrolet | 15.312 | 125.313 |
| 19 | 31 | Justin Haley | Mountain Dew Chevrolet | 15.343 | 125.060 |
| 20 | 17 | Chris Buescher (P) | BuildSubmarines.com Ford | 15.345 | 125.044 |
| 21 | 4 | Kevin Harvick (P) | GEARWRENCH Ford | 15.354 | 124.971 |
| 22 | 16 | AJ Allmendinger | Barger Precast Chevrolet | 15.362 | 124.906 |
| 23 | 1 | Ross Chastain (P) | Worldwide Express Chevrolet | 15.365 | 124.881 |
| 24 | 99 | Daniel Suarez | Aerial Recovery Chevrolet | 15.367 | 124.865 |
| 25 | 47 | Ricky Stenhouse Jr. (P) | Scott Brand Chevrolet | 15.372 | 124.824 |
| 26 | 10 | Aric Almirola | Smithfield/IHOP Ford | 15.372 | 124.824 |
| 27 | 51 | Ryan Newman | Biohaven/Jacob Co. Ford | 15.414 | 124.484 |
| 28 | 22 | Joey Logano (P) | Shell Pennzoil Ford | 15.416 | 124.468 |
| 29 | 2 | Austin Cindric | Menards/Monster Ford | 15.427 | 124.379 |
| 30 | 38 | Todd Gilliland | Speedy Cash Ford | 15.433 | 124.331 |
| 31 | 43 | Erik Jones | U.S. AIR FORCE Chevrolet | 15.494 | 123.841 |
| 32 | 21 | Harrison Burton | Motorcraft/Quick Lane Ford | 15.538 | 123.491 |
| 33 | 77 | Ty Dillon | Gainbridge Chevrolet | 15.538 | 123.491 |
| 34 | 78 | BJ McLeod(i) | FreedomWorksHere.com Chevrolet | 15.610 | 122.921 |
| 35 | 15 | JJ Yeley(i) | Steakhouse Elite Burgers Ford | 15.793 | 121.497 |
| 36 | 5 | Kyle Larson (P) | Valvoline/Hendrickcars.com Chevrolet | 15.810 | 121.366 |
2023 NASCAR Cup Series playoff standings
1. Kyle Larson – 2,117*
2. Tyler Reddick – 2,111*
3. Denny Hamlin – 2,105
4. William Byron – 2,097
5. Brad Keselowski – 2,089
6. Ryan Blaney – 2,081
7. Kyle Busch – 2,080
8. Ross Chastain – 2,074
9. Chris Buescher – 2,069
10. Christopher Bell – 2,069
11. Joey Logano – 2,068
12. Kevin Harvick – 2,063
______________________________ Cut line
13. Martin Truex Jr. – 2,056
14. Bubba Wallace – 2,044
15. Ricky Stenhouse Jr. – 2,041
16. Michael McDowell – 2,023
*-Clinched entry in Round of 12