F1: Sainz keeps Ferrari on top in final Singapore GP practice
Ferrari's Carlos Sainz Jr. turned a lap of 1m32.065s to just nip the Mercedes of George Russell by 0.069s in final practice for the Singapore GP.
–by Mark Cipolloni–
Carlos Sainz Jr. is driving with real confidence and beginning to bury his highly rated teammate Charles Leclerc every race weekend.
Russell though, has also looked pretty good here, and is also carrying some confidence into qualifying, as is Norris.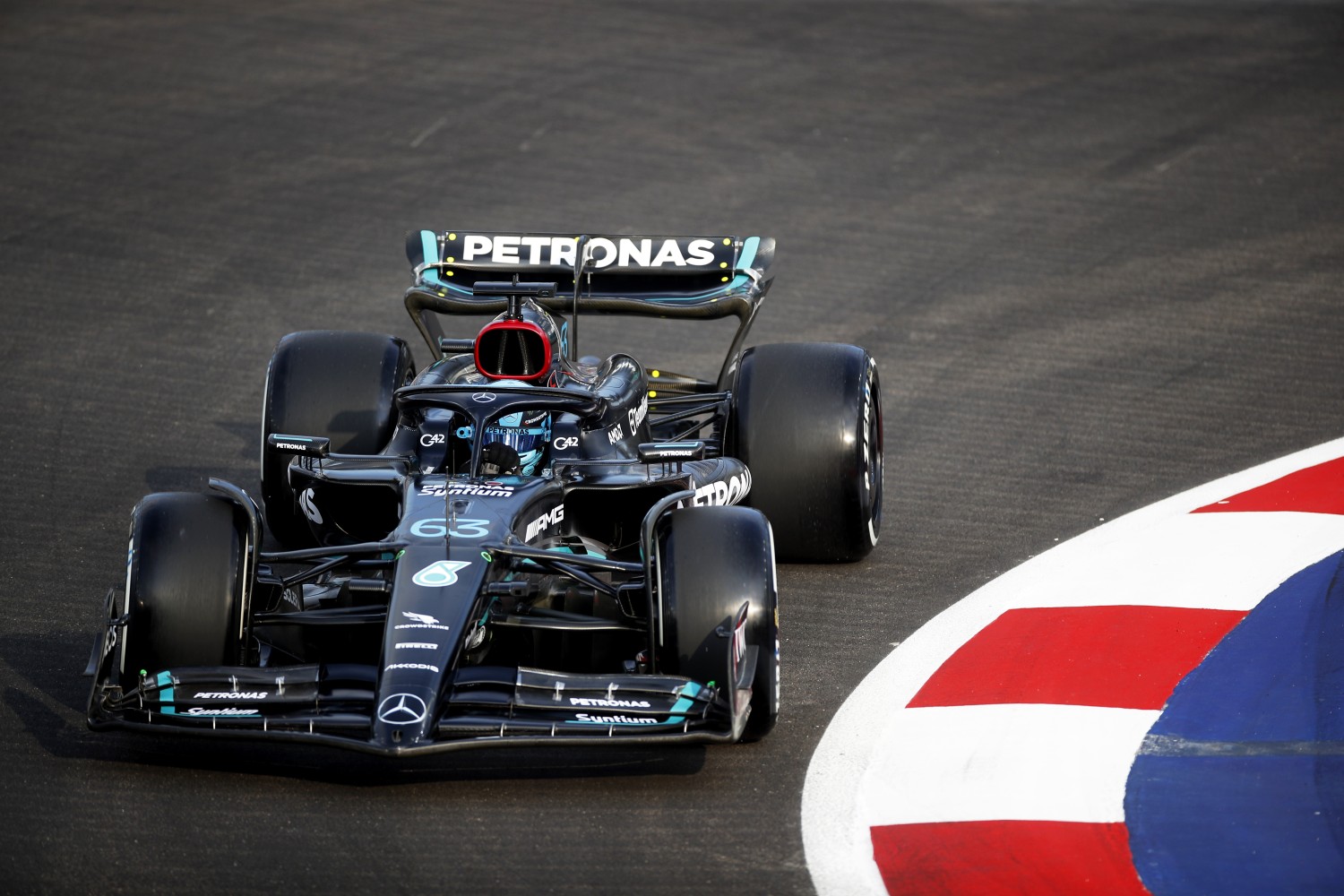 With four different teams in the top four positions, qualifying in 2 hours should be extremely tight. When you factor in a Red Bull car with issues, a Ferrari that is looking right on it and Mercedes and McLaren also in the mix.
Overnight rain washed all the rubber put down on the track on Friday and it took half the session for the times to really start tumbling.
Lando Norris was third in the highly revised McLaren while Max Verstappen, complaining of transmission shifts, only 4th 0.313s behind the Ferrari.
Max Verstappen on the radio: "I'm just struggling for rear grip. You see that last sector, I'm just drifting. I think if I'm going to compete in drifting, I might win the race."
Charles Leclerc rounded out the top-5 in the #16 Ferrari.
Advantage Ferrari ahead of qualifying, with both drivers also pushing and pushing hard in a display of pretty supreme confidence.
It's Ferrari who swept all three practice sessions, with Sainz looking like the faster of the two Ferrari's.
Sainz looks supremely confident out there, carrying the momentum from that pole earned last time out in Monza.
Dead last once again was American rookie Logan Sargeant who just is not putting in lap times close enough to his more experienced teammate.
There are calls for Williams to cut Sargeant loose because he is consistently 0.5 to 0.6s slower than Alex Albon his teammate. He had better get his act together soon, or he will be relegated to a secondary series like IndyCar or Le Mans.
2023 Singapore GP Practice 3 Results
| | | | | | | |
| --- | --- | --- | --- | --- | --- | --- |
| POS | NO | DRIVER | CAR | TIME | BEHIND | LAPS |
| 1 | 55 | Carlos Sainz Jr. | Ferrari | 1:32.065 | +0.000s | 22 |
| 2 | 63 | George Russell | Mercedes | 1:32.134 | +0.069s | 19 |
| 3 | 4 | Lando Norris | McLaren Mercedes | 1:32.303 | +0.238s | 16 |
| 4 | 1 | Max Verstappen | Red Bull Racing Honda | 1:32.378 | +0.313s | 20 |
| 5 | 16 | Charles Leclerc | Ferrari | 1:32.381 | +0.316s | 24 |
| 6 | 44 | Lewis Hamilton | Mercedes | 1:32.535 | +0.470s | 17 |
| 7 | 81 | Oscar Piastri | McLaren Mercedes | 1:32.730 | +0.665s | 17 |
| 8 | 11 | Sergio Perez | Red Bull Racing Honda | 1:32.784 | +0.719s | 19 |
| 9 | 27 | Nico Hulkenberg | Haas Ferrari | 1:32.896 | +0.831s | 17 |
| 10 | 22 | Yuki Tsunoda | AlphaTauri Honda | 1:32.945 | +0.880s | 17 |
| 11 | 20 | Kevin Magnussen | Haas Ferrari | 1:32.970 | +0.905s | 15 |
| 12 | 31 | Esteban Ocon | Alpine Renault | 1:32.979 | +0.914s | 18 |
| 13 | 14 | Fernando Alonso | Aston Martin Aramco Mercedes | 1:33.051 | +0.986s | 18 |
| 14 | 18 | Lance Stroll | Aston Martin Aramco Mercedes | 1:33.126 | +1.061s | 22 |
| 15 | 10 | Pierre Gasly | Alpine Renault | 1:33.351 | +1.286s | 18 |
| 16 | 40 | Liam Lawson | AlphaTauri Honda | 1:33.357 | +1.292s | 18 |
| 17 | 23 | Alexander Albon | Williams Mercedes | 1:33.370 | +1.305s | 14 |
| 18 | 77 | Valtteri Bottas | Alfa Romeo Ferrari | 1:33.540 | +1.475s | 25 |
| 19 | 24 | Zhou Guanyu | Alfa Romeo Ferrari | 1:33.637 | +1.572s | 23 |
| 20 | 2 | Logan Sargeant | Williams Mercedes | 1:33.708 | +1.643s | 15 |