IMSA: Porsche locks out front row at Indy
Porsche Penske Motorsport's two factory-run Porsche 963 locked out the front row in qualifying for the IMSA WeatherTech race at Indy.
Australian works driver Matt Campbell qualified on pole position at the Indianapolis Motor Speedway and his French colleague Mathieu Jaminet set the second quickest time.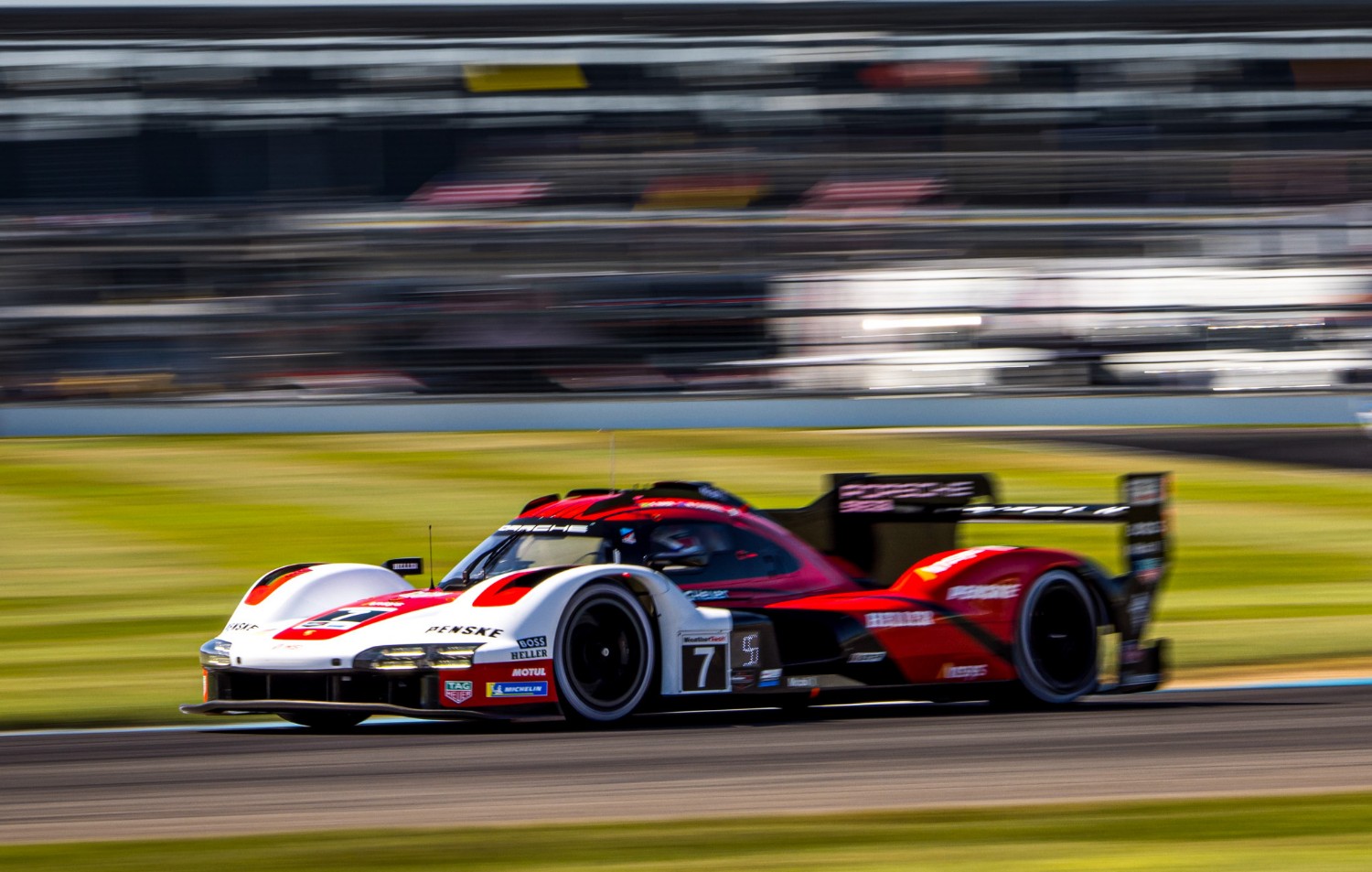 Porsche Penske Motorsport headed into the qualifying session for round ten of the IMSA WeatherTech SportsCar Championship with high expectations.
Driving the No. 7 Porsche 963, Matt Campbell set the fastest times in both free practices on Friday afternoon and Saturday morning. In the 20-minute qualifying session, the Australian lived up to his role as a hot favorite, with Campbell turning a blistering pole-setting lap in 1:13.672 minutes.
In the No. 6 car, Frenchman Mathieu Jaminet claimed the second grid spot in the identical 515+ kW (700 hp) hybrid prototype from Weissach.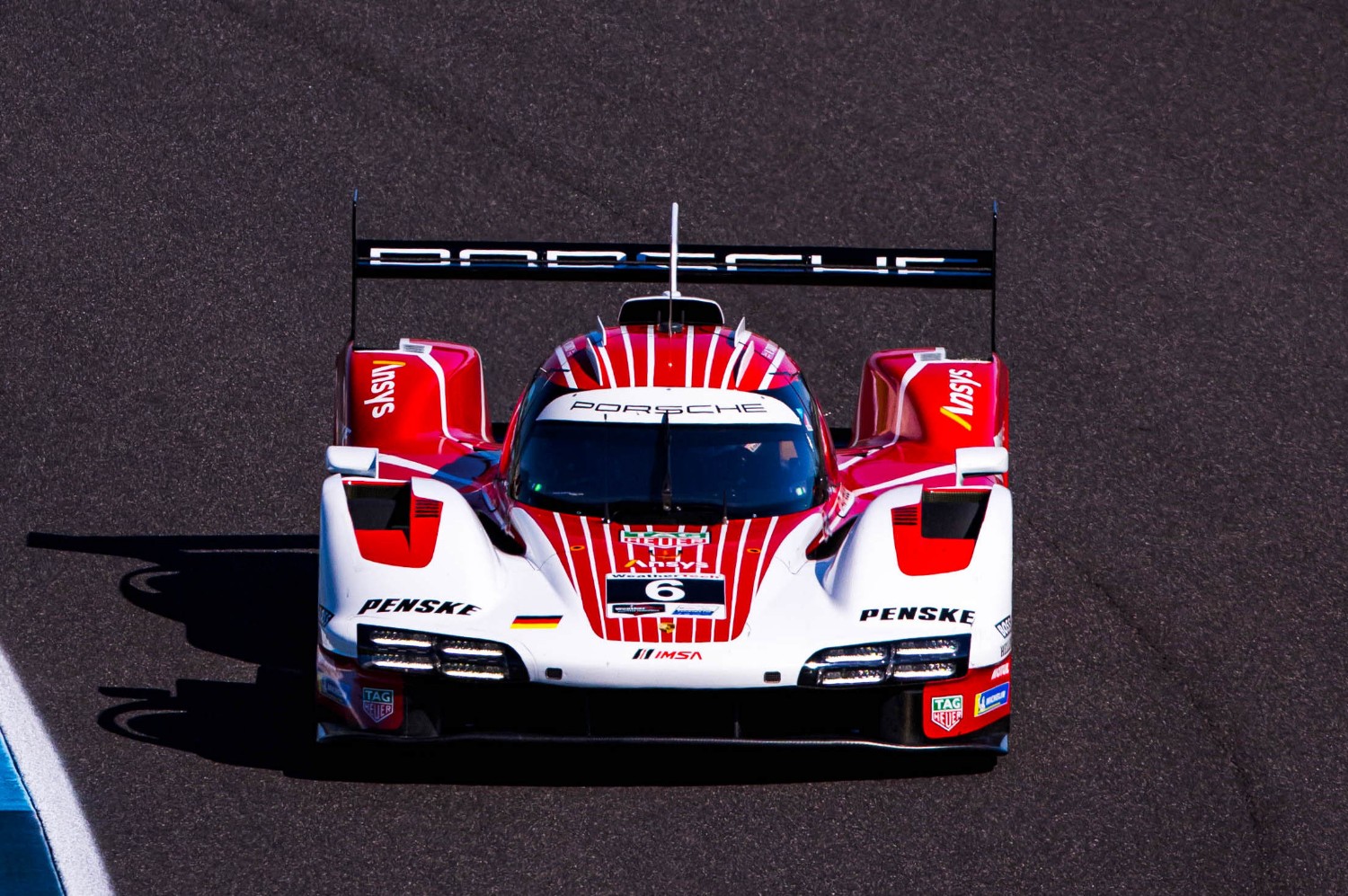 Under cloudy skies and in temperatures of 22 degrees Celsius, the works team's two Porsche 963 waited in the pit lane for two minutes at the start of the session. Campbell and Jaminet then patiently warmed up the tires to attack in the second half of qualifying.
The Australian promptly topped the leaderboard and improved his lap time again on his second attempt.
With four minutes remaining, Jaminet was in third, then advanced to second position – scoring a perfect result for Porsche Penske Motorsport.
"For the second time this season, we locked out the top two grid positions. That makes me really proud," says Urs Kuratle, Director Factory Motorsport LMDh. "It's obvious that the interaction of the team is getting better and better.
"This involves not only the crew in the IMSA series but also the team in the FIA WEC. The drivers also put in perfect drives. On Friday we still had some issues to work on, which we did successfully – and the result reflects this.
"We're excited for the race. First of all, many thanks to everyone in Weissach, in Mooresville and to all the partners who played their part in today's success."
"The team did a perfect job. We were very strong in practice and underlined this in qualifying," says Jonathan Diuguid, Managing Director Porsche Penske Motorsport. "We have perfectly implemented the insights that our team gained at the FIA WEC race in Fuji. Porsche Penske Motorsport's global program with its involvement in the World Championship and IMSA series is working well.
"Tomorrow we want to score maximum points and reduce the gap in the driver, team and manufacturer standings so that we can boost our championship chances. We have the speed, now need to call it up on Sunday."
Meanwhile, Ricky Taylor and Filipe Albuquerque gained three points in their WeatherTech Championship GTP battle against Pipo Derani and Alexander Sims. Taylor had the fifth-fastest lap in GTP in the No. 10 Konica Minolta Acura ARX-06, while Derani was eighth in the No. 31 Whelen Engineering Cadillac Racing Cadillac V-Series.R.
Taylor and Albuquerque now lead Derani and Sims by 17 points in GTP with just two races remaining in the 2023 season.
Keating Claims Third Pole of Season in LMP2
Ben Keating took advantage of some critical changes to his car to secure the Motul Pole Award in the Le Mans Prototype 2 (LMP2) class.
"We made a bunch of big changes and are delighted to start up front and get those extra bonus points," said Keating, who logged a best qualifying lap of 1:17.950 (112.641 mph) en route to his third pole position of the season following earlier Motul Pole Awards at Daytona and Sebring. "Something I've been working hard on this whole year is to bring my tires up to temperature as quickly as I can. The fastest laps usually come at the very end because it takes so long to get your tires up to temperature."
Keating was fastest at the end. Driving the No. 52 PR1 Mathiasen Motorsports ORECA LMP2 07 he co-drives with Paul-Loup Chatin, Keating was leading George Kurtz's No. 04 Crowdstrike Racing by APR ORECA before Le Mans Prototype (LMP3) championship leader Gar Robinson went off course and struck the tire barrier with his No. 74 Riley Ligier JS P320 late in the LMP2/LMP3 session.
The crash resulted in a red flag, but the session resumed with two minutes, 50 seconds remaining. Keating then improved his time to secure the LMP2 pole. Kurtz, who co-drives the No. 04 with Ben Hanley, will start second in class with a best lap of 1:18.390 (112.008 mph).
Keating's qualifying effort further expanded the class championship lead he and Chatin share over Steven Thomas and Mikkel Jensen in the No. 11 TDS Racing ORECA. Thomas had the third-fastest lap in LMP2 at 1:18.623 (111.676 mph).
Garg Grabs First WeatherTech Championship Pole in LMP3
Bijoy Garg emerged triumphant in LMP3 qualifying with a lap of 1:20.513 (109.055 mph) in the No. 29 Jr III Racing Ligier JS P320 he co-drives with Guilherme de Oliveira.
"It felt pretty easy, but it was a real team effort," Garg said after collecting his first WeatherTech Championship pole in just his second race. "After practice, we had that speed and it allowed me to be relaxed and deliver the lap. That was really helpful. The car was amazing, probably the best P3s I've ever had."
Nolan Siegel was 0.521 seconds behind at 1:20.982 (108.423 mph) in the team's sister car, the No. 30 Ligier JS P320 that he co-drives with Garett Grist. Orey Fidani will start third in LMP3 with a best lap of 1:22.093 (106.956 mph) in the No. 13 AWA Duqueine D08 he shares with Matthew Bell.
Robinson emerged from the No. 74 car uninjured and will start eighth in class in Sunday's race.
GTD and GTD Pro
The hits just keep coming for Madison Snow, Bryan Sellers and Paul Miller Racing in the IMSA WeatherTech SportsCar Championship.
Snow secured the team's third consecutive Motul Pole Award in the No. 1 BMW M4 GT3 Saturday at Indianapolis Motor Speedway, lapping the famous venue's 2.439-mile road course in 1 minute, 23.075 seconds (105.692 mph).
That made Snow's entry in the Grand Touring Daytona (GTD) class the fastest overall qualifier of all GT competitors for the TireRack.com Battle on the Bricks, narrowly edging GT Daytona Pro (GTD PRO) leader Klaus Bachler in the No. 9 Pfaff Motorsports Porsche 911 GT3 R (992) by just 0.065 seconds.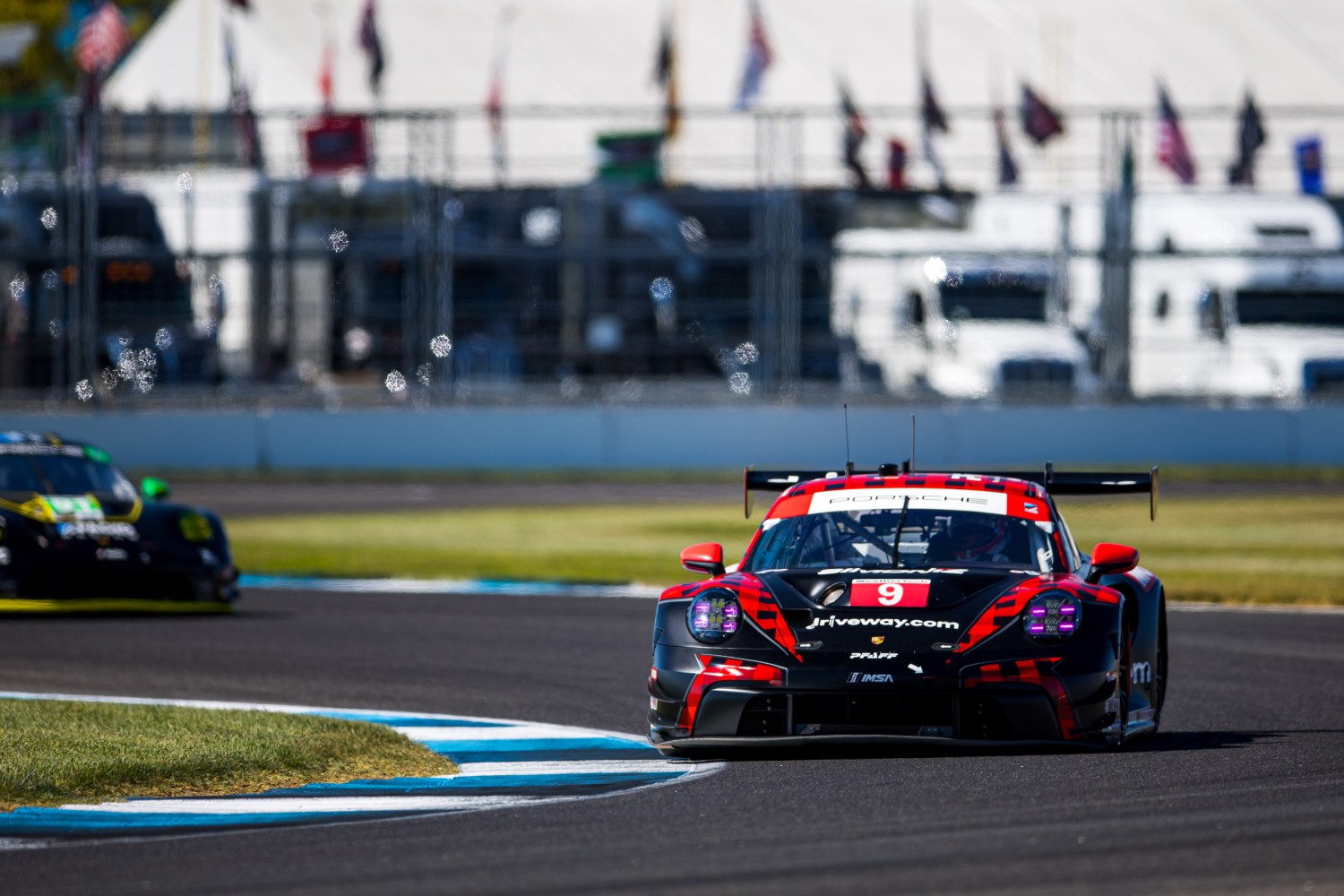 Mikael Grenier was the second fastest GTD qualifier in the No. 32 Korthoff Preston Motorsports Mercedes-AMG GT3 that he shares with Mike Skeen, but they will start sixth on the GT grid behind a quartet of GTD PRO competitors. Patrick Gallagher was third in GTD in the No. 96 Turner Motorsport BMW, nearly 0.6 seconds adrift of Snow in the Paul Miller BMW.
The pole-winning effort for Sunday's two-hour, 40-minute race puts Snow and Sellers in position to claim their sixth GTD victory of the year. If the No. 1 BMW maintains their 385-point lead following Sunday's race, they will lock up the class championship.
But don't expect a conservative effort from the 27-year-old Utah native and his team.
"I'm here to bring home some hardware," Snow declared, "so we're going to do what we've done all year and just run the best race we can. It's worked for us, and we don't want to switch anything up now."
Snow admitted that traffic from the robust 48-car field frustrated him during practice on the Indianapolis road course. With qualifying split into groups and only the 21 GT cars on track, he was able to find clear track and get into a rhythm.
"In practice, I did a mock quali run, and it was traffic, traffic, traffic," Snow said after earning his 12th career pole in IMSA competition. "I was (mad) at myself and overdriving the car.
"So, qualifying was nice to just be out there, get clean track, find your spot and go," he added. "Yes, I think we made small improvements to the car, but in qualifying we were able to do what the car could do."
He ended the 15-minute qualifying session realizing he was fastest in GTD but didn't know he had outqualified all of the GTD PRO entries as well. Snow made that discovery when he parked in the pits and saw his No. 1 on top of the iconic lighted IMS scoring pylon in his rearview mirror.
"That was really special," he said.
Pfaff Still in the Fight in GTD PRO
Bachler knew he had big shoes to fill with Pfaff Motorsports, which graduated its 2022 GTD PRO championship drivers to the WeatherTech Championship's top Grand Touring Prototype (GTP) class.
Bachler and No. 9 co-driver Patrick Pilet have sometimes struggled with the latest 992 iteration of the iconic 911 GT3. But the duo was victorious early in the '23 campaign at the Mobil 1 Twelve Hours of Sebring, and they have added five other podium finishes.
By securing the Motul Pole Award at Indianapolis for the GTD PRO class, Bachler shaved five points off their deficit to class leaders Jack Hawksworth and Ben Barnicoat in the No. 14 Vasser Sullivan Lexus RC F GT3. Bachler and Pilet rank third in the standings, 245 points behind the lead Lexus, with the No. 3 Corvette Racing duo of Jordan Taylor and Antonio Garcia in between.
"Qualifying was never easy the last few weekends," said Bachler, who also earned the Motul Pole Award prior to the Pfaff team's victory at Sebring. "I'm very happy about this – we did everything perfect and managed to put the car on pole. I think it was the maximum we could do today.
"It's a front-row start tomorrow, so anything is possible for this race," he continued. "There are a lot of opportunities for tomorrow, and also for Petit Le Mans. We still have a chance for the championship, even though second place is more realistic. That's still very good."
Jules Gounon ran second fastest to Bachler in GTD PRO, clocking 1:23.290 in the No. 79 WeatherTech Racing Mercedes-AMG GT3, followed by championship leaders Hawksworth and Barnicoat at 1:23.345.