F1: Sainz Jr. wins pole in tight Singapore GP qualifying
On-form Carlos Sainz Jr. turned a lap of 1m30.984s to win pole in qualifying for the 2023 Singapore GP.
–by Mark Cipolloni–
After leading 2 of the 3 practice sessions, Sainz in his #55 Ferrari beat George Russell's Mercedes by just 0.072s and his #16 Ferrari teammate Charles Leclerc by 0.079s.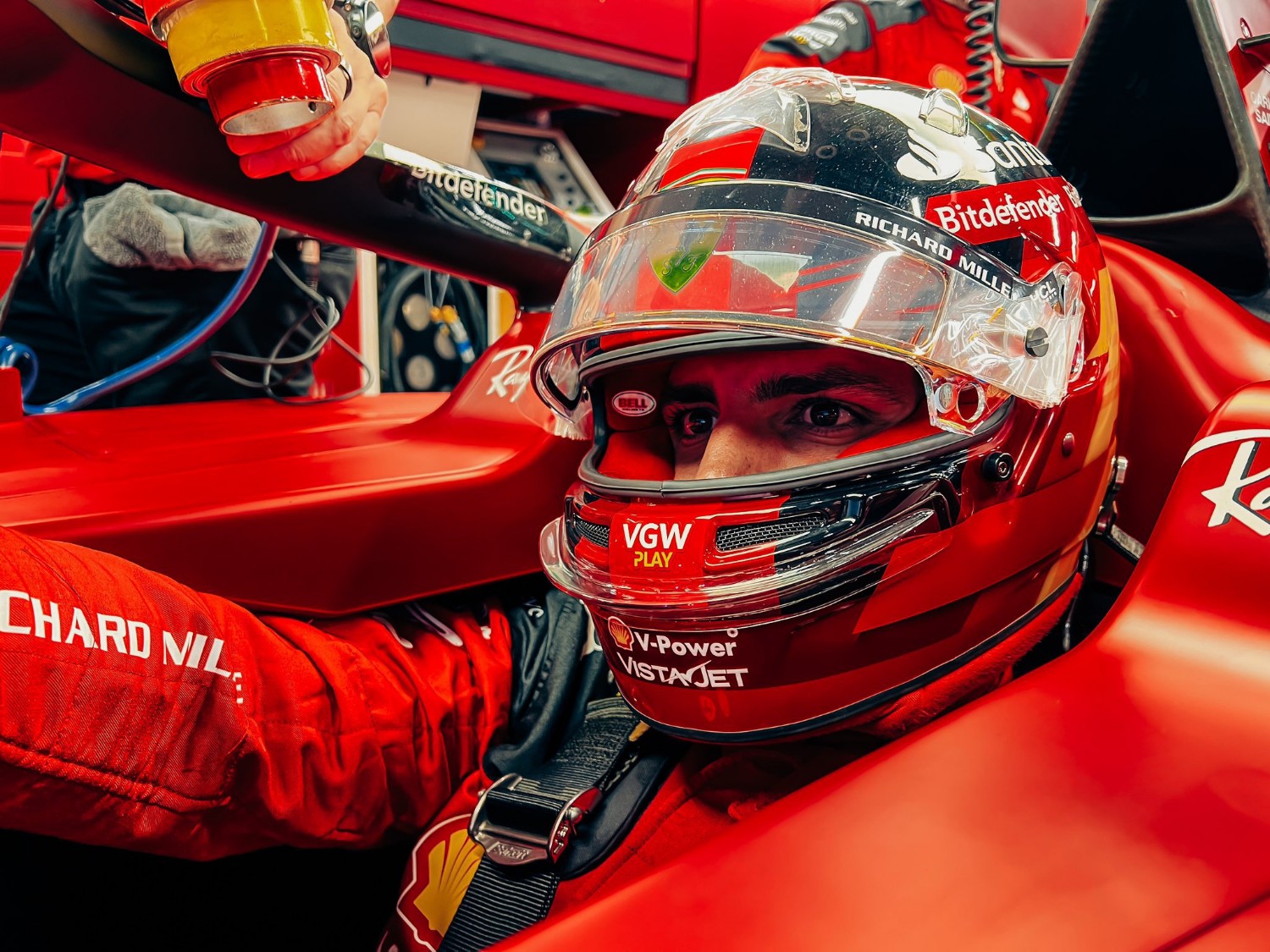 "Again, a bit like in Monza, hit the ground running from FP1 and felt really confident," said a happy Sainz Jr.
"It was a messy session for everyone, but we kept the focus, put in the lap and grabbed the pole position. We have a very good car in certain tracks and certain conditions, we know our weakness is always race pace but we are definitely making progress."
"Definitely a challenging session, being sat in that car is like being sat in a sauna," said Russell.  "I felt really confident in the car, we are on an offset strategy, we have an extra set of mediums on everyone else, so to be on the front row and have that extra set… The track is different this year, the tire degradation on Friday looked bad, so it could be a two-stop."
"It's always a balance between the first and last sector, everything was super close, Mercedes were strong too," said Leclerc.
"Unfortunately, I missed a little bit to gain some positions but Carlos did a great job. The physical challenge tomorrow will be something for sure."
Lando Norris put the highly modified McLaren in 4th with a lap of 1m31.270, 0.286s behind Sainz.
Lewis Hamilton rounded out the top-5 in his #44 Mercedes, 0.501s behind.
Kevin Magnussen, Fernando Alonso, Esteban Ocon, Nico Hulkenberg and Liam Lawson rounded out the top-10.
The biggest shock of qualifying was both Red Bull drivers being knocked out of qualifying in Q2 with Verstappen ending up only 11th fastest, being knocked out by rookie Liam Lawson in the highly revised AlphaTauri.
Perez spun his Red Bull in Turn 3 on his final lap, and he ended up 13th.  Both Red Bull drivers complaining of no traction.
Lance Stroll crashed hard in Q1 after hitting a curb, which caused him to lose control and he slammed the wall hard on the exit of Turn 17 that caused a Red Flag and Q2 to be delayed.
He ruined a fast lap by Oscar Piastri who was not able to advance out of Q1 because of Stroll's accident.
Scary crash for Lance Stroll at the end of Q1 🤯 thankfully he's okay pic.twitter.com/AviKhuYRLD

— eva¹⁶ (@ilPredestinato7) September 16, 2023
So many stories up front, so many stories down in the pack. Ferrari are P1 and P3, Mercedes P2 and P5. Red Bull? P11 and P13. Tomorrow is going to be a very dicey race.
George Russell was the last driver from any team other than Red Bull to win a race, and that was in Brazil last year.
Since then it has been one-way traffic, but perhaps not for much longer. The Bulls will need to climb back through the field and while they often set the car up for races more than qualifying, starting so low at a track where overtaking is tricky… It will be some ask.
2023 Singapore GP Qualifying Results
| | | | | | | | |
| --- | --- | --- | --- | --- | --- | --- | --- |
| POS | NO | DRIVER | CAR | Q1 | Q2 | Q3 | LAPS |
| 1 | 55 | Carlos Sainz Jr. | Ferrari | 1:32.339 | 1:31.439 | 1:30.984 | 20 |
| 2 | 63 | George Russell | Mercedes | 1:32.331 | 1:31.743 | 1:31.056 | 17 |
| 3 | 16 | Charles Leclerc | Ferrari | 1:32.406 | 1:32.012 | 1:31.063 | 21 |
| 4 | 4 | Lando Norris | McLaren Mercedes | 1:32.483 | 1:31.951 | 1:31.270 | 20 |
| 5 | 44 | Lewis Hamilton | Mercedes | 1:32.651 | 1:32.019 | 1:31.485 | 16 |
| 6 | 20 | Kevin Magnussen | Haas Ferrari | 1:32.242 | 1:31.892 | 1:31.575 | 21 |
| 7 | 14 | Fernando Alonso | Aston Martin Aramco Mercedes | 1:32.584 | 1:31.835 | 1:31.615 | 17 |
| 8 | 31 | Esteban Ocon | Alpine Renault | 1:32.369 | 1:32.089 | 1:31.673 | 18 |
| 9 | 27 | Nico Hulkenberg | Haas Ferrari | 1:32.100 | 1:31.994 | 1:31.808 | 21 |
| 10 | 40 | Liam Lawson | AlphaTauri Honda | 1:32.215 | 1:32.166 | 1:32.268 | 21 |
| 11 | 1 | Max Verstappen | Red Bull Racing Honda | 1:32.398 | 1:32.173 | – | 14 |
| 12 | 10 | Pierre Gasly | Alpine Renault | 1:32.452 | 1:32.274 | – | 12 |
| 13 | 11 | Sergio Perez | Red Bull Racing Honda | 1:32.099 | 1:32.310 | – | 13 |
| 14 | 23 | Alexander Albon | Williams Mercedes | 1:32.668 | 1:33.719 | – | 12 |
| 15 | 22 | Yuki Tsunoda | AlphaTauri Honda | 1:31.991 | – | – | 10 |
| 16 | 77 | Valtteri Bottas | Alfa Romeo Ferrari | 1:32.809 | – | – | 9 |
| 17 | 81 | Oscar Piastri | McLaren Mercedes | 1:32.902 | – | – | 9 |
| 18 | 2 | Logan Sargeant | Williams Mercedes | 1:33.252 | – | – | 9 |
| 19 | 24 | Zhou Guanyu | Alfa Romeo Ferrari | 1:33.258 | – | – | 9 |
| 20 | 18 | Lance Stroll | Aston Martin Aramco Mercedes | 1:33.397 | – | – | 8 |