IMSA: Penske Porsches 1-2 at Indy
The two Porsche Penske Motorsport Porsche's finished 1-2 in Sunday's TireRack.com Battle on the Bricks at Indianapolis Motor Speedway.
With very few fans there to watch, Nick Tandy and Mathieu Jaminet propelled the team's No. 6 Porsche 963 to victory in the 2-hour, 40-minute race, with Tandy finishing ahead of Felipe Nasr in the team's No. 7 sister car with co-driver Matt Campbell.
The result created a championship battle in which just five points separate the top three cars in the GTP class heading into the season-ending Motul Petit Le Mans on Oct. 14 at Michelin Raceway Road Atlanta.
One of those three cars was Sunday's winner.
"I said before the weekend that we really needed to win here to have a decent shot going into Atlanta," Tandy said. "It's given us a chance at the end of the day. The teamwork that's gone into giving the people that work in this team a chance to win in Atlanta is amazing."
The GTP points shake out like this: Pipo Derani and Alexander Sims will go into Petit with the lead in the No. 31 Whelen Engineering Cadillac Racing Cadillac V-Series.R after finishing fourth Sunday.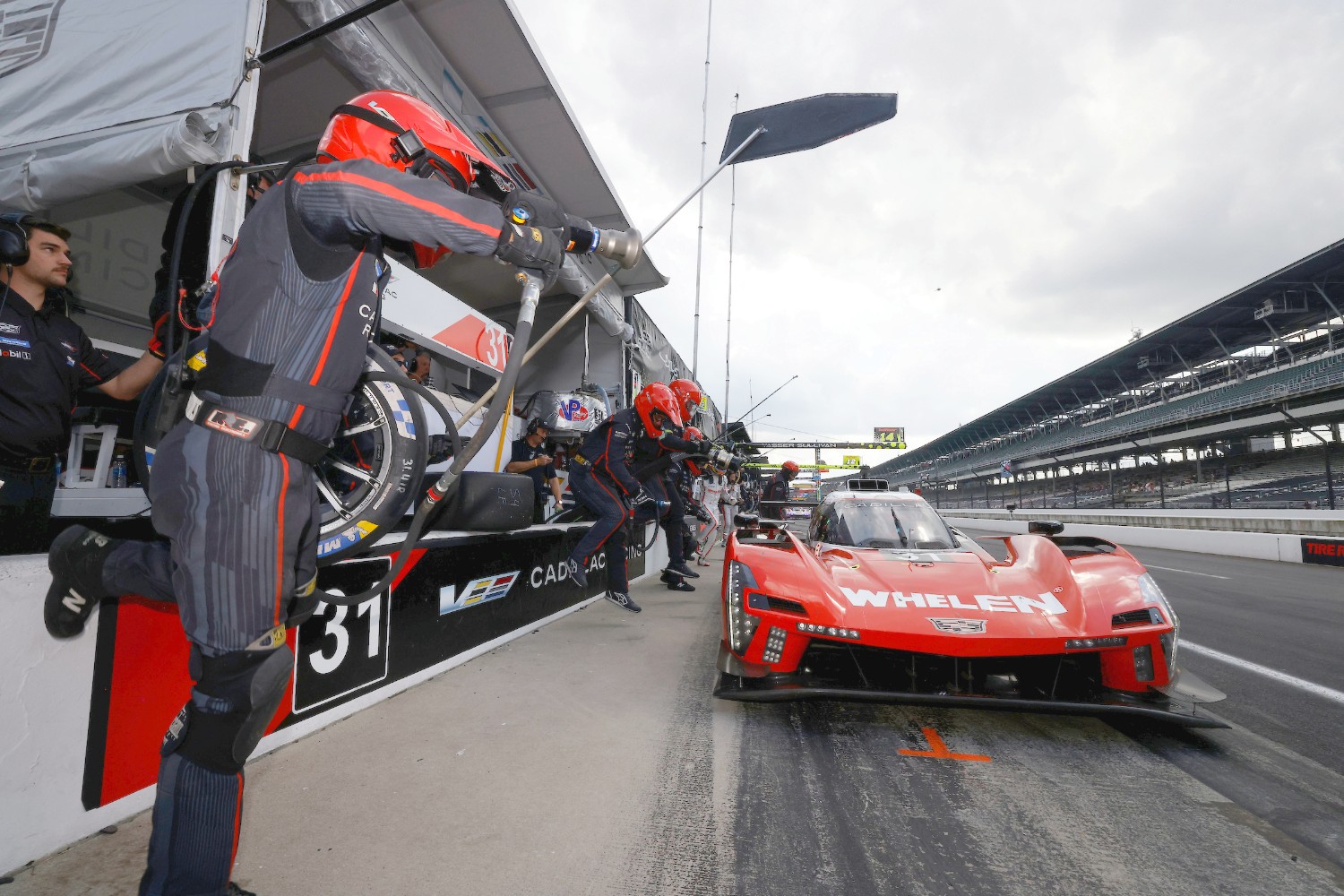 The No. 10 Konica Minolta Acura ARX-06 and its co-drivers, Ricky Taylor and Filipe Albuquerque, are three points behind after finishing fifth, while Sunday's victory pulled Jaminet and Tandy to within five points of Derani and Sims.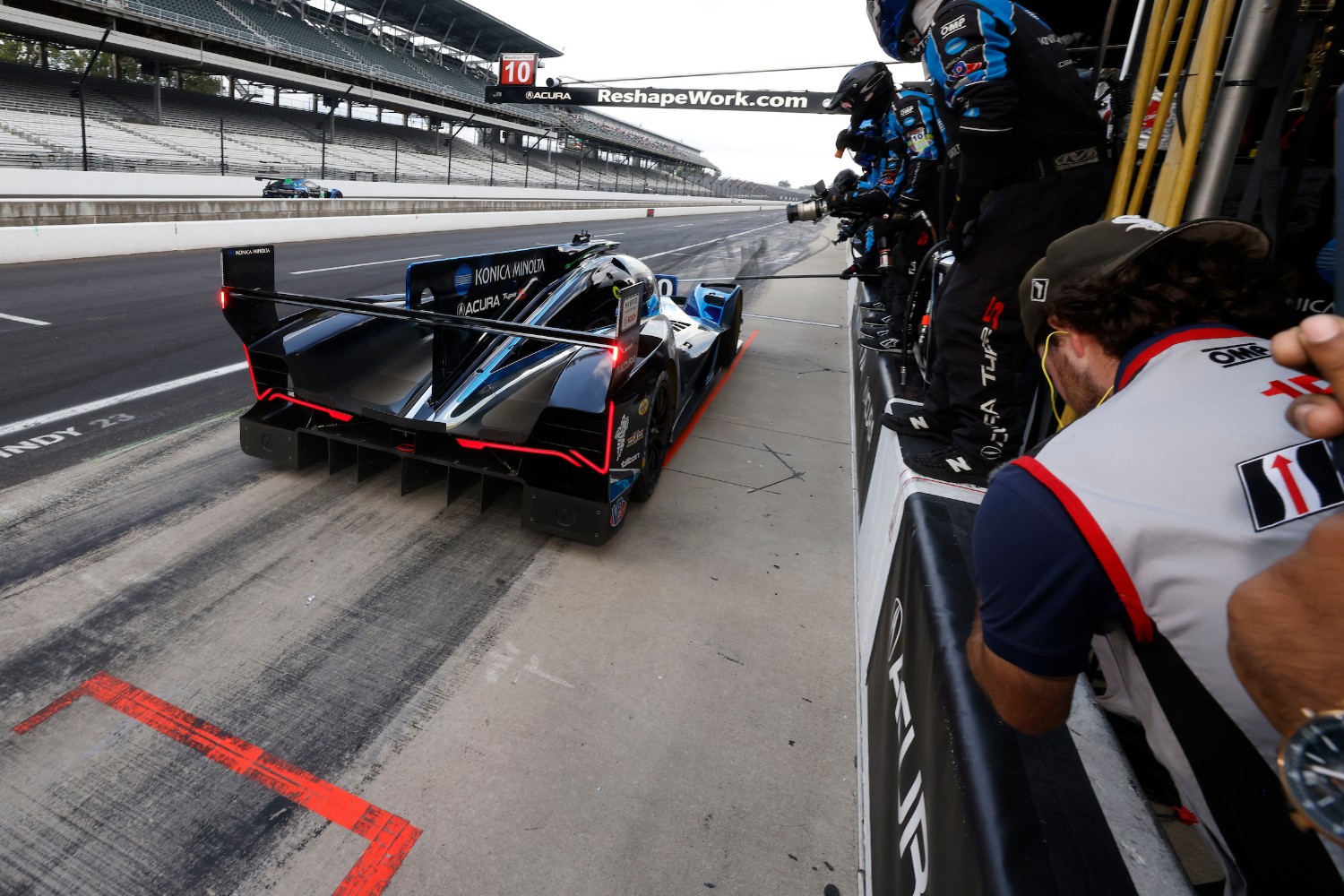 "It's mega," Jaminet said. "That was the target this morning. We had a great qualifying. We had a great weekend. I have no words. It's really a mega day for Porsche Penske Motorsport as well.
"It's been great with Roger (Penske) here. It feels like a home race. I'm really happy to bring this one home. This puts us right back in the championship, so It's going to be a fight back in Atlanta."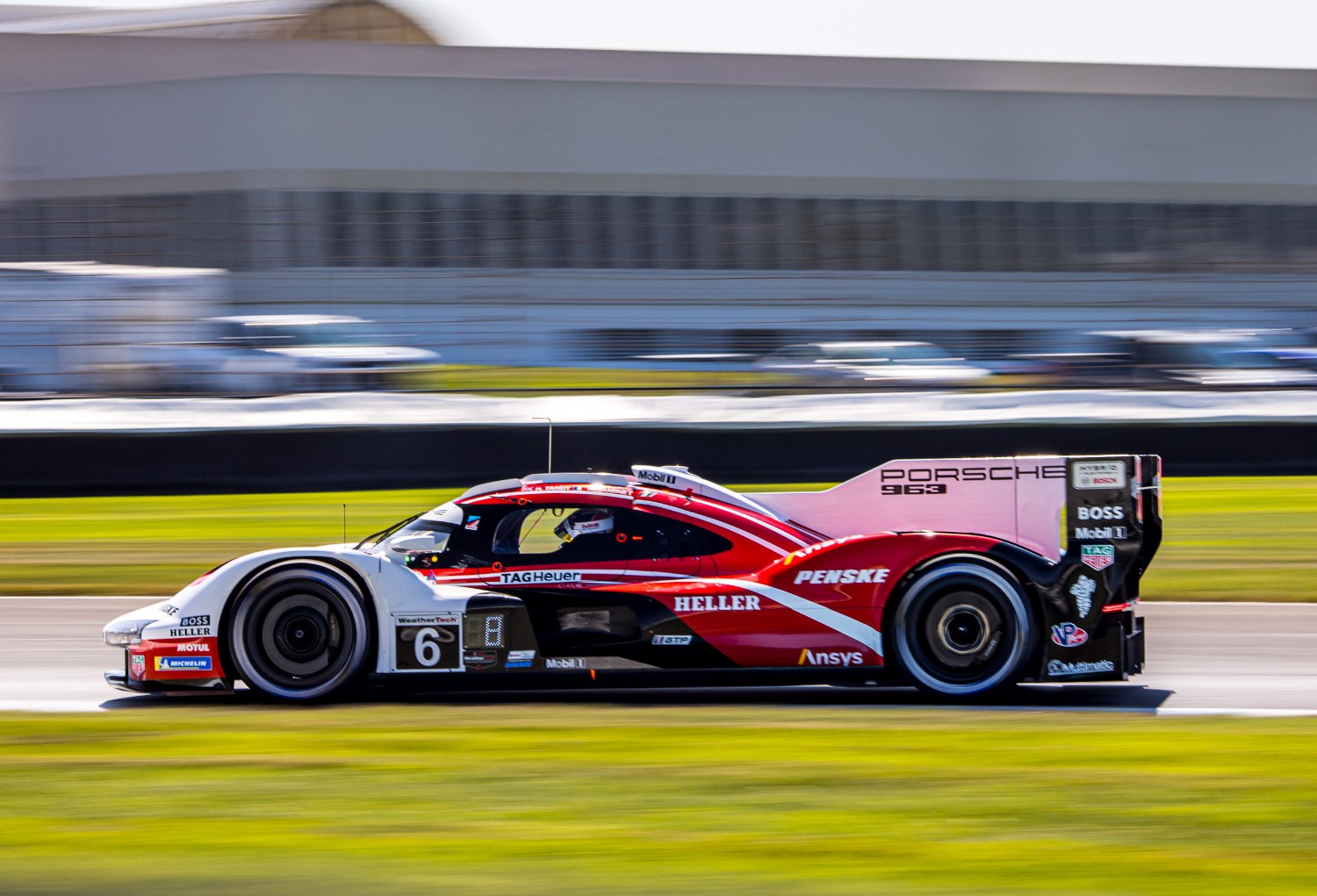 As for the Penske sweep, it didn't happen as easily as sweeps usually do.
Tandy and Nasr overcame a ruling by race control for not following instructions in a timely manner while the prototype classes were splitting from the GT cars under caution an hour into the race.
The ruling allowed Derani to retain first place after he passed Tandy and Nasr when race control called to commence the class split. Nasr eventually regained the lead from Derani, only to be passed later by Tandy.
"The 31 already started accelerating and did pass us before we made the class split," Tandy explained. "I maintain my position that we'd done the procedure correctly. They obviously thought they had done the procedure correctly. It was ruled by race control that they were to be up front."
After the restart, Derani held the lead for 33 minutes before his brakes locked heading into Turn 1 and Nasr – and then Tandy – got past.
The finish wasn't as important as the points, said Derani.
"We fought hard to bring home a solid finish for the championship," he said. "We moved up the grid from P8 to P4 and back in the championship lead. Obviously, (it's) not the race result we were looking for when we arrived here. We always want to win, but if you can't win, you always try to get your best finish."
Nasr and Tandy then battled intensely until Tandy wrested control of the lead on an exchange of pit stops. The victory was the second of the season for Tandy and Jaminet, while Nasr and Campbell, who won the Motul Pole Award on Saturday, recorded their third podium finish of the season and remain in the championship battle in fifth place, 73 points behind.
Connor De Phillippi finished third in the No. 25 BMW M Team RLL BMW M Hybrid V8 he shares with Nick Yelloly. They are currently fourth in the GTP championship standings, just 38 points behind the leaders and also very much in the mix heading to the season finale at Michelin Raceway Road Atlanta.
Nearly overlooked in the renewed championship possibilities was the historic nature of a Penske team winning at a track owned by team owner Roger Penske.
"This is Indianapolis," Tandy said. "It's a world-renowned, historic venue. The IMSA series is a world-renowned, historic race series. To come here to a venue like this, especially for Porsche Penske Motorsport and all the ties the Penske Corporation has with this place, is massive. It means a huge amount. The fact that it's a team 1-2 makes it even sweeter."
WeatherTech Mercedes Battles to Third GTD PRO Win
Mercedes-AMG enjoyed a highly successful weekend at the Indianapolis Motor Speedway.
Jules Gounon and Daniel Juncadella drove the No. 79 WeatherTech Racing Mercedes-AMG GT3 to the Grand Touring Daytona Pro (GTD PRO) class victory Sunday in the TireRack.com Battle on the Bricks on the IMS road course, the penultimate round of the 2023 IMSA WeatherTech SportsCar Championship. That followed up a win Saturday for Winward Racing and the GT4 variation of the Mercedes-AMG in a four-hour IMSA Michelin Pilot Challenge race at the same venue.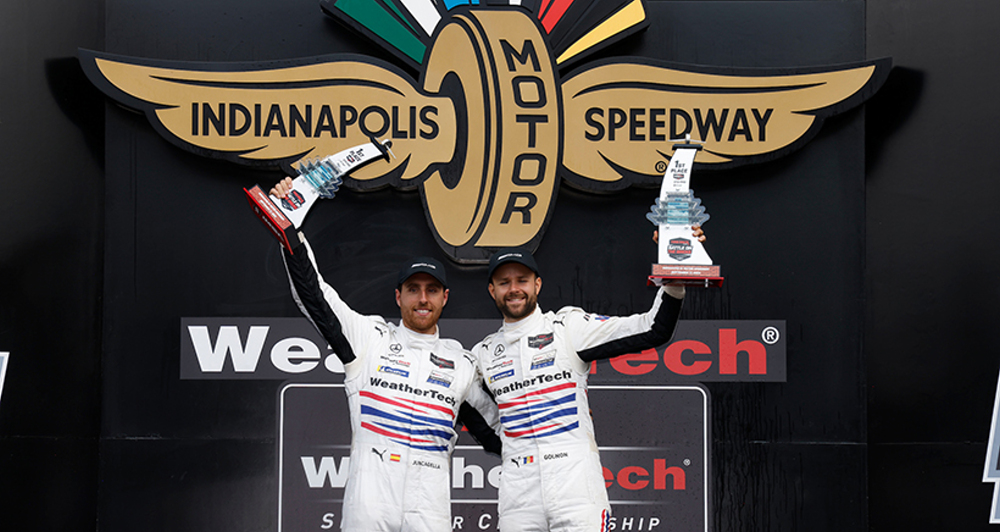 Winward's joy was compounded Sunday as its No. 57 Mercedes-AMG GT3 was victorious in the GTD class in the hands of Russell Ward and Philip Ellis. The GTD race was also notable for a third-place finish by Bryan Sellers and Madison Snow in the No. 1 Paul Miller Racing BMW M4 GT3 that clinched not only the team's second consecutive triumph in the IMSA WeatherTech Sprint Cup, but also the 2023 season championship.
Gounon assumed the GTD PRO lead just 10 minutes into the 2-hour, 40-minute contest when Motul Pole Award winner Klaus Bachler served a drive-through penalty for a start procedure violation. He and Juncadella were never seriously challenged after that, ultimately winning by 4.394 seconds over Ross Gunn and Alex Riberas in the No. 23 Heart of Racing Team Aston Martin Vantage GT3.
"It always tastes good to win a race, this is the third one after a tough summer," said Juncadella. "There were a lot of things out of control at the last couple events that didn't play into our favor results-wise. Performance-wise we were not far off, but obviously at this event, we were stronger. I think the Mercedes-AMG GT3 is very good around this place.
"This track suits our cars and it suits our driving, and today was a smooth race," he added. "We avoided mistakes and brought it home."
Gounon was taken by surprise when Bachler pulled out of his lane before the start line when the cars were released at the beginning of the race, a clear violation of IMSA rules.
"I was on the radio about that right away," Gounon said. "I knew there was going to be a penalty, so I immediately backed out of it and that opened the door for us. I think it would have been a difficult fight for us, but we were up for it."
Jack Hawksworth and Ben Barnicoat finished third in the No. 14 Vasser Sullivan Lexus RC F GT3, extending their GTD PRO championship lead to 188 points over the No. 3 Corvette Racing Corvette C8.R GTD and drivers Antonio Garcia and Jordan Taylor. Juncadella and Gounon leapfrogged Bachler and his co-driver Patrick Pilet into third in the GTD standings, 227 points behind the No. 14 Lexus.
As a result, the No. 14 team and drivers only will need to leave the grid at the start of next month's Motul Petit Le Mans at Michelin Raceway Road Atlanta to secure their first WeatherTech Championship team and driver titles.
GTD: Brickyard Win for Winward, Season Crown for PMR
The GTD class featured a more closely contested race that resulted in Ward guiding the No. 57 Winward Mercedes-AMG GT3 to a 1.268-second win over Loris Spinelli and Misha Goikhberg in the No. 78 Forte Racing Powered by US RaceTronics Lamborghini Huracán GT3 EVO2 after a battle that sometimes turned contentious.
Snow and Sellers led the majority of the race before determining with the championship in mind that discretion was the better part of valor. They dropped back to third place, letting Ward and Spinelli fight amongst themselves for the race win.
Spinelli's driving was especially aggressive, to the displeasure of Ellis.
"Initially, I had a battle with Bryan, which was all clean and fair," Ellis remarked. "That was good, and nice to watch, I guess. Then Loris came along and tried to pass me on the grass, which is quite risky. Luckily our car wasn't too badly damaged, and in the end, I just gave back what he dished out."
Ward was delighted to deliver Winward Racing its first WeatherTech Championship race win in 13 months. His father Bryce, the team owner, shared the winning GS-class Mercedes-AMG with Daniel Morad in Saturday's four-hour Michelin Pilot Challenge race.
"That was our first double win," Ward observed. "For the last couple years, this team has been kind of feast or famine. This year we've been struggling due to different things – sometimes performance, sometimes, mistakes, and sometimes just bad luck.
"So it's really nice to see it all come together for both cars, and it shows the potential of the team and what the group of guys we have is capable of."
Sellers and Snow wrapped up the GTD class crown one race early, in addition to clinching their second consecutive WeatherTech Sprint Cup sub-championship. The duo won five races so far this year.
"We led quite a bit of the race, but didn't have quite enough for the No. 57 or the No. 78," Sellers said. "As soon as those guys (Spinelli and Ellis) started mixing it up, our goal was just to beat the No. 27 (the Heart of Racing Team Aston Martin Vantage GT3 and drivers Roman De Angelis and Marco Sorensen), watch the points situation, and let the race win go – which is difficult to do. But in the end, we were able to achieve our goal."
The final round of the 2023 IMSA WeatherTech SportsCar Championship is the Motul Petit Le Mans, October 11-14 at Michelin Raceway Road Atlanta.