F1: Ecclestone calls Verstappen greatest driver in history
After watching Max Verstappen decimate the opposition to take pole in Suzuka, F1 Czar Bernie Ecclestone called him the greatest ever.
–by Mark Cipolloni–
The Red Bull driver went almost six tenths clear of everybody else in Q3 former F1 series boss Bernie Ecclestone had seen enough.
"Max is the best driver ever. No doubts," said Ecclestone.
"I used to say Alain Prost. Now I would say Max. He's the greatest.
"He is brightest with regards to getting the best out of the car. He doesn't muck around. He gets right on the program.
"In my list he is above Lewis Hamilton."
"Lewis is obviously super-super bright, super-super talented. Lewis understands people and gets the best out of them, whereas Max gets the best out of the car.
"He's very different from Max. When Lewis stops racing, he can get into a different world – entertainment or whatever – but that won't be the way Max could go."
Detractors can go suck an egg
In the post qualifying press conference, Max Verstappen responded to comments made by the jealous Lewis Hamilton fans who can't stand watching their hero get decimated by the Dutchman.
After Singapore they made statements that the new FIA directive on Flex-Wings was why the Red Bull drivers struggled so much in qualifying. "They must have been cheating" came the cries.
"We had a bad weekend," said Verstappen.
"Of course then people start talking about 'it's all because of the technical directives'.
"I think they can go suck on an egg."
Verstappen's engineer wound him up and Verstappen produced
Verstappen wasn't satisfied that he was on pole by 4/10ths after his first run in Q3, his race engineer Gianpiero Lambiase wound him up to go even faster.
The Dutch driver produced a 1:29.012 on his first run in Q3, already a lap that looked good enough to confirm himself in pole position.
On the slowdown lap, Verstappen was heard on the team radio to race engineer Gianpiero Lambiase saying, "There you go, 28", referring to his lap time.
Speaking in the press conference after claiming his 29th career pole position, Verstappen was asked about the message, with the reigning World Champion revealing he had been spurred on by Lambiase telling him he wanted a 1:28 lap time.
"Yeah, he told me like 1:28 would be nice," Verstappen said.
"I said 'Don't worry, I'm gonna send it' and then he was like, 'Yeah, but like don't shunt the car, right?'
"I was like, 'Yeah, obviously, that's not what I want to do'."
Verstappen explained that, despite his impressive first run, he knew there was more time on the table.
"I knew that there was still a little bit left in a few places," he said.
"That's what I tried to tidy up, which worked out quite well."
Speaking to Sky F1, Red Bull team boss Christian Horner said he'd been privy to the chat and was a bit worried.
"GP [Lambiase] started winding him up for the last run, to say 'Let's see a 28 today'," Horner said.
"I said to GP 'Look, I'd like to see four wheels on the car at the end of it!'
"That first run looked good enough to get the job done, but then he just went quicker again."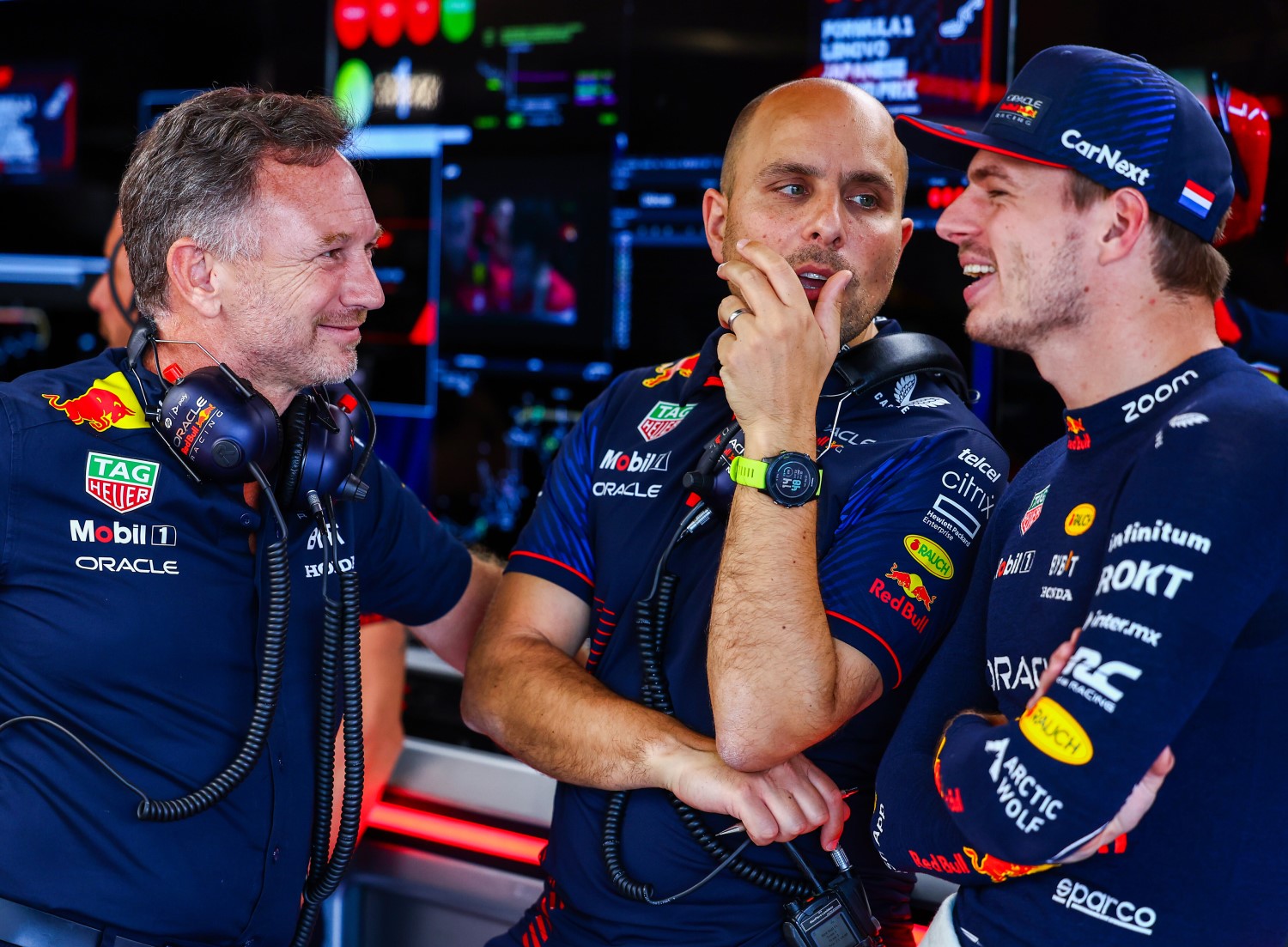 Hamilton spying in wrong place.
In the photo below, Lewis Hamilton is trying to figure out why the Red Bull is so fast at Suzuka.
It is not in the hands of Perez.
Max Verstappen makes the Red Bull go fast.
If Hamilton wants to understand why the Red Bull is so fast, he needs to bow down and polish Verstappen's right foot.
Therein lies the secret.