NASCAR: Bubba Wallace wins NASCAR Cup pole in Texas
Bubba Wallace turned a 28.672s lap in qualifying at Texas Motor Speedway, to earn him his second ever NASCAR Cup Series pole and first this season.
Wallace's qualifying lap of 188.337 mph in the No. 23 23XI Racing Toyota around the 1.5-mile Fort Worth high banks just edged the hometown favorite, Texas native Chris Buescher's No. 17 Roush Fenway Keselowski Racing Ford by a slight 0.039 seconds.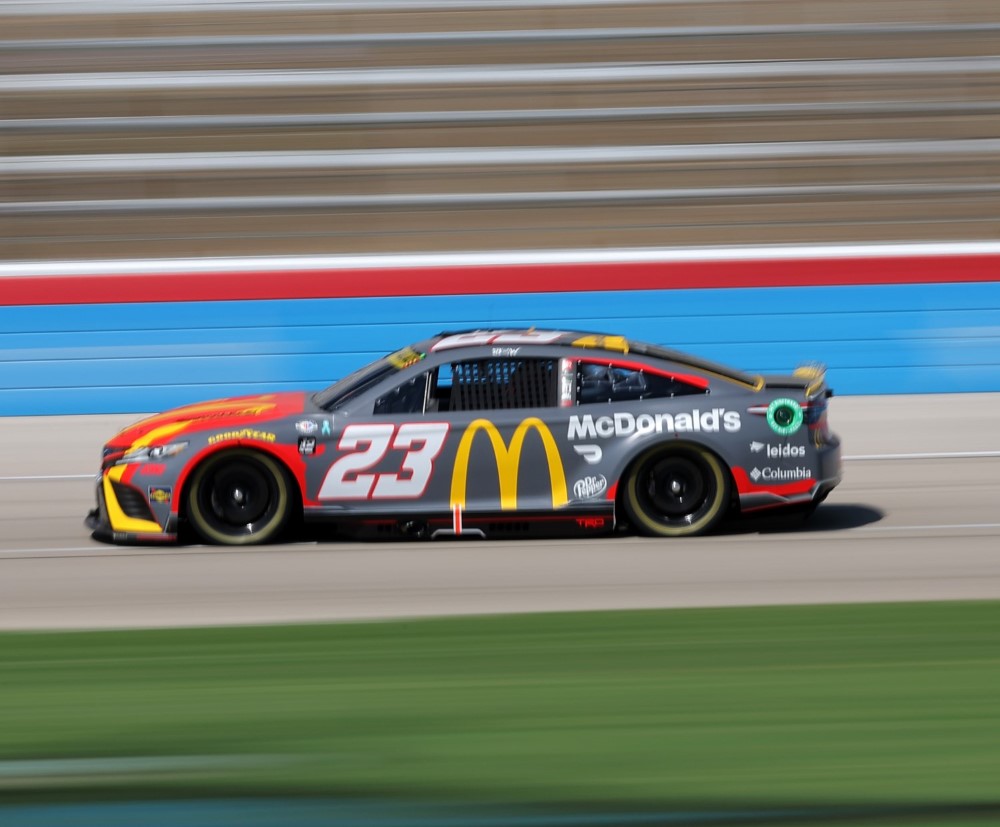 It's Wallace's first pole position of the season and only the second career pole for the 29-year-old Mobile, Ala., native — who is one of 12 NASCAR Cup Series Playoff-eligible drivers in this opening race of the second three-race round of the elimination-style format.
"When it's time to step up to the plate and deliver, this is what these (23XI Racing) guys do," Bubba Wallace told NBC Sports after his qualifying lap. The No. 23 was the 10th and final car in the final round of time trials.
RFK Racing teammates Chris Buescher (28.711s) and Brad Keselowski (28.740s) qualified second and third, with Ty Gibbs (28.760s) and Ross Chastain (28.769s) rounding out the top 5.
Kaulig Racing's AJ Allmendinger, Richard Childress Racing's Kyle Busch, Chastain's Trackhouse teammate Daniel Suárez, Bell and JGR's Denny Hamlin rounded out the top 10 in qualifying to set the 36-car field. Busch, Chastain, Bell and Hamlin are all playoff contenders, too.
In eight series starts at Texas, Wallace has only a single top-10 finish – eighth place coming in his debut on the track in 2018. His only other top 20 (14th) came in the summer of 2020.
"I held it wide open," Wallace said with a smile, adding, "It's all about the people at 23XI, the 23 team and the 45 car as well. We keep pushing each other to be better and better, and it's paying off. I'm proud of the effort, but it's nice for a moment, tomorrow is the real test.
"Was I expecting it? I don't know. In qualifying I tend to try too hard and overthink things. I need to stop that and just go out and do. So that was a good surprise."
Playoff drivers who failed to advance to the second round of qualifying included Kyle Larson (11th), defending race winner Tyler Reddick (15th), Martin Truex Jr. (16th), William Byron (18th) and Ryan Blaney (23rd).
Kyle Busch was fastest among the 12 remaining playoff-eligible drivers, ranking third at 185.593 mph in the No. 8 Richard Childress Racing Chevrolet. Aric Almirola was fourth-fastest, with Kyle Larson — who topped the consecutive 10-lap average chart — completing the top five.
Christopher Bell made a prolonged slide through Turn 2 in the first group of practice but managed to avoid contact with his No. 20 Joe Gibbs Racing Toyota. He returned to pit road and finished the session with the 23rd fastest speed overall.
Polesitter Q&A
BUBBA WALLACE, No. 23 McDonald's Toyota Camry TRD, 23XI Racing
Can you talk about starting up front as we kick off the Round of 12?
"I set there, and I was trying not to overthink it before the first round climbing in the car. I was thinking qualifying has become my road course resume – I suck when we get through the first round. I usually blow it going into the second. There's nothing like putting that in your head and then you're the fastest in your group. I really just wanted to execute for my team and show that I've been working hard not to do that and it paid off, but I really thought I gave it up in (turns) one and two so it will be interesting to go back and watch the broadcast and see just where we lined up. You have to have a car to be able to do that and to do that you have to have people to build that car. It's all about the people at 23XI. Our team, the 23 team – the 45 as well. We are pushing each other to be better and better. It's paying off, so I'm proud of the efforts. It's nice for a moment, but tomorrow is the real job."
Were you expecting to get the pole?
"Was I expecting it? I don't know. Like I said, qualifying – I tend to try too hard, and overthink things. That's my problem in life. I just need to go out and do. That was a good surprise. I knew in practice. Our car felt a little different the first lap, but I was like there is a lot of capability in this car. We found some adjustments that were okay and some that helped, but I knew for qualifying that I really needed to step up because I knew the car was there. The rest speaks for itself – now it's like, do I need to trust it more? It's not about trusting the car or trusting the team, it's just this race track. You put me at Dover, I know what I'm going to do to nail it, but when you only have a lane-and-a-half to mess with, and you are using the majority of that, you can put yourself in a bad spot. There is nothing like trying to get something that – it's definitely a massive payoff for us at the start, but in the end rebuilding a whole new car – you can't get everything that you had in your best car. So trying to find that fine line of too much, and not enough and living right in the middle of it."
What was it like behind the wheel?
"I held it wide open. SMT should say so. I know I didn't lift. I thought round one was a little, and it showed that and I was pissed, so I was like I'm going for it. Only because, I really, really thought I botched (turns) one and two, so now you are telling me it's great. That's my thought process – I'm trying too hard. I was ahead, but you don't know that. You are just going off of feel. A good car allows you to do those things and get away from some of the mistakes that I can create."
What does it mean to you to move to the Round of 12 as one of the first diversity drivers that has had the success that you've had?
"We can't discredit (Kyle) Larson and what he's been able to do and win a championship there on the diversity side of things. I guess I'm following him – I'm second fiddle. Much like the rest of the field on any given weekend (laughter). I think it is just incredible to be where we are at, and just accomplish the things that we've been doing. I knew that we were a Playoff contender starting the year. We liked to make that stressful on ourselves and wait till Daytona to lock ourselves in, but about halfway through the season, you start figuring out where you lineup. I felt like we were an eighth-to-12th place car every weekend. Eighth is the round of 8. This weekend we are better than the majority. You never know what can happen in a race. You look at Kansas, and we were having a really good day until we weren't. You have to live in the moment and conquer every moment. Things are evolving each and every lap, each and every minute. It's trying to stay on top of that, not get complacent or let your mind wander. Stepping up to the plate and delivering and that is what that team has done today, so super proud of them."
Did the track feel any different with this new tire?
"I don't want to get up high and figure out that question for you. It feels the same as normal, but I'm in my normal little box. Not getting too high, not putting on too much of an edge. For the most part, it feels relatively the same. We will see tomorrow. It is going to be slick in lane two for sure."
What is your focus on qualifying?
"I'm going to say all of what you just said. It takes everything. It takes everything to find out who you are as a person, who you are as a driver, how hard you can push yourself, how hard you can push the car. It takes a lot of understanding of self – that is the first step I believe. And then believing in yourself. That is the mental side of it, but when you surround yourself with the right group, the right people, the right team, right equipment – it helps all of those things consign with the others. I think this is just a really good start to my career. I know I've been doing my Cup career for six years now, but where we are at right now – we are getting hot at the right time and stepping up and delivering. It's hard because I don't want things to age bad, but we are talking about our start being so good, and tomorrow can just be a different day, but I think just from the outside of the car, appreciating where you are at in a sport and being at this level. I feel like I do belong in the Cup level, and we are continuing to prove that point, so it's been fun to guide that ship."
When you talk about pushing yourself – is it about pushing yourself to get that extra tenth or is it about backing yourself down to get that extra tenth?
"Both. This Next Gen car is so hard to drive, and you're damned if you do, and damned if you don't. You sail it off in the corner anywhere too hard, then you get loose. You push the limits of the tire, so I'm going to underdrive that corner. Same results happen, because you didn't get your diffuser down. We are talking thousandths of an inch, that's what makes the difference between the best and just the okays, so trying to live in that best realm. It takes pushing those limits. I think you find that a little earlier on in your career, whether that's in another series or not, you have to find where the limits are at. Working on your race craft, qualifying speed, solo speed – it takes a lot of trial and error. It's quicker for others, and I think I used to get really frustrated with that because I felt like growing up – I was beating all of these guys, so it's like what the heck? But progression is different for everybody. Even in y'all's line of work, it takes a long time for others. You have to sit back and enjoy the journey and trust the process and bust your ass all the way to the end."
Are those words that you are saying or is that something that you now believe?
"I'm making it sound really good, but I'm like damn I should listen to myself, it sounds okay, unless someone tells me otherwise."
You said earlier that the Round of 12 is the hardest round. Is that still true after getting the pole?
"Yeah, it's just qualifying. They don't pay anything. It looks good on paper. This track is very treacherous. We have the best track position right now, but we know with strategy, everything is going to change and evolve. We are going to get behind at some point, so it is just a matter of making the most of every situation that we are in. Right now, we start on the pole, if we lead all the laps – some people may pit and cut it. You are going to get behind at some point, so we've got to figure out how to get back up there, but you can't get complacent on the small victories. It takes a lot of them to get to a big victory, but it's a good start."
Qualifying Results
Pos
No.
Driver
Team
Time
Speed
1
23
Bubba Wallace (P)
McDonald's Toyota
28.672
188.337
2
17
Chris Buescher (P)
Fastenal Ford
28.711
188.081
3
6
Brad Keselowski (P)
BuildSubmarines.com Ford
28.74
187.891
4
54
Ty Gibbs #
Interstate Batteries Toyota
28.76
187.761
5
1
Ross Chastain (P)
Worldwide Express Chevrolet
28.769
187.702
6
16
AJ Allmendinger
Action Industries Chevrolet
28.823
187.35
7
8
Kyle Busch (P)
3CHI Chevrolet
28.885
186.948
8
99
Daniel Suarez
Kubota Chevrolet
28.885
186.948
9
20
Christopher Bell (P)
Interstate Batteries Toyota
28.893
186.896
10
11
Denny Hamlin (P)
FedEx Toyota
0
0
Round 1 Cutoff
11
5
Kyle Larson (P)
HendrickCars.com Chevrolet
28.718
188.035
12
43
Erik Jones
vseverybody.com Chevrolet
28.772
187.682
13
3
Austin Dillon
Bass Pro Shops Chevrolet
28.797
187.52
14
48
Alex Bowman
Ally Chevrolet
28.8
187.5
15
45
Tyler Reddick (P)
Jordan Brand Toyota
28.832
187.292
16
19
Martin Truex  Jr. (P)
Bass Pro Shops Toyota
28.9
186.851
17
34
Michael McDowell
Love's/Delo Ford
28.944
186.567
18
24
William Byron (P)
Liberty University Chevrolet
28.97
186.4
19
42
Carson Hocevar(i)
Sunseeker Resorts Chevrolet
29.006
186.168
20
22
Joey Logano
AAA Insurance Ford
29.01
186.143
21
10
Aric Almirola
Smithfield Ford
29.026
186.04
22
4
Kevin Harvick
Hunt Brothers Pizza Ford
29.091
185.624
23
12
Ryan Blaney (P)
Menards/Dutch Boy Ford
29.097
185.586
24
47
Ricky Stenhouse  Jr.
Kroger/NOS Energy Drink Chevrolet
29.11
185.503
25
41
Ryan Preece
Autodesk Ford
29.117
185.459
26
77
Ty Dillon
Shelton Companies Chevrolet
29.156
185.211
27
7
Corey LaJoie
Gainbridge Chevrolet
29.184
185.033
28
31
Justin Haley
LeafFilter Gutter Protection Chevrolet
29.187
185.014
29
9
Chase Elliott (P)
Kelley Blue Book Chevrolet
29.22
184.805
30
21
Harrison Burton
DEX Imaging Ford
29.231
184.735
31
14
Chase Briscoe
Rush Truck Centers/Cummins Ford
29.232
184.729
32
2
Austin Cindric
Discount Tire Ford
29.277
184.445
33
38
Zane Smith(i)
Ambetter Health Ford
29.316
184.2
34
78
BJ McLeod(i)
Gunk Chevrolet
29.423
183.53
35
15
JJ Yeley(i)
Patriot Mobile/Folds of Honor Ford
29.555
182.71
36
51
Todd Gilliland
Biohaven/Jacob Co. Ford
29.571
182.611