NASCAR: Reddick wins pole for Charlotte Roval race
Tyler Reddick posted the fastest lap in the pole round for Sunday's Bank of America ROVAL 400 NASCAR Cup race.
He enters the Round of 12 final two points beneath the eighth-place elimination line, trailing Brad Keselowski, the RFK Racing co-owner/driver who qualified 19th.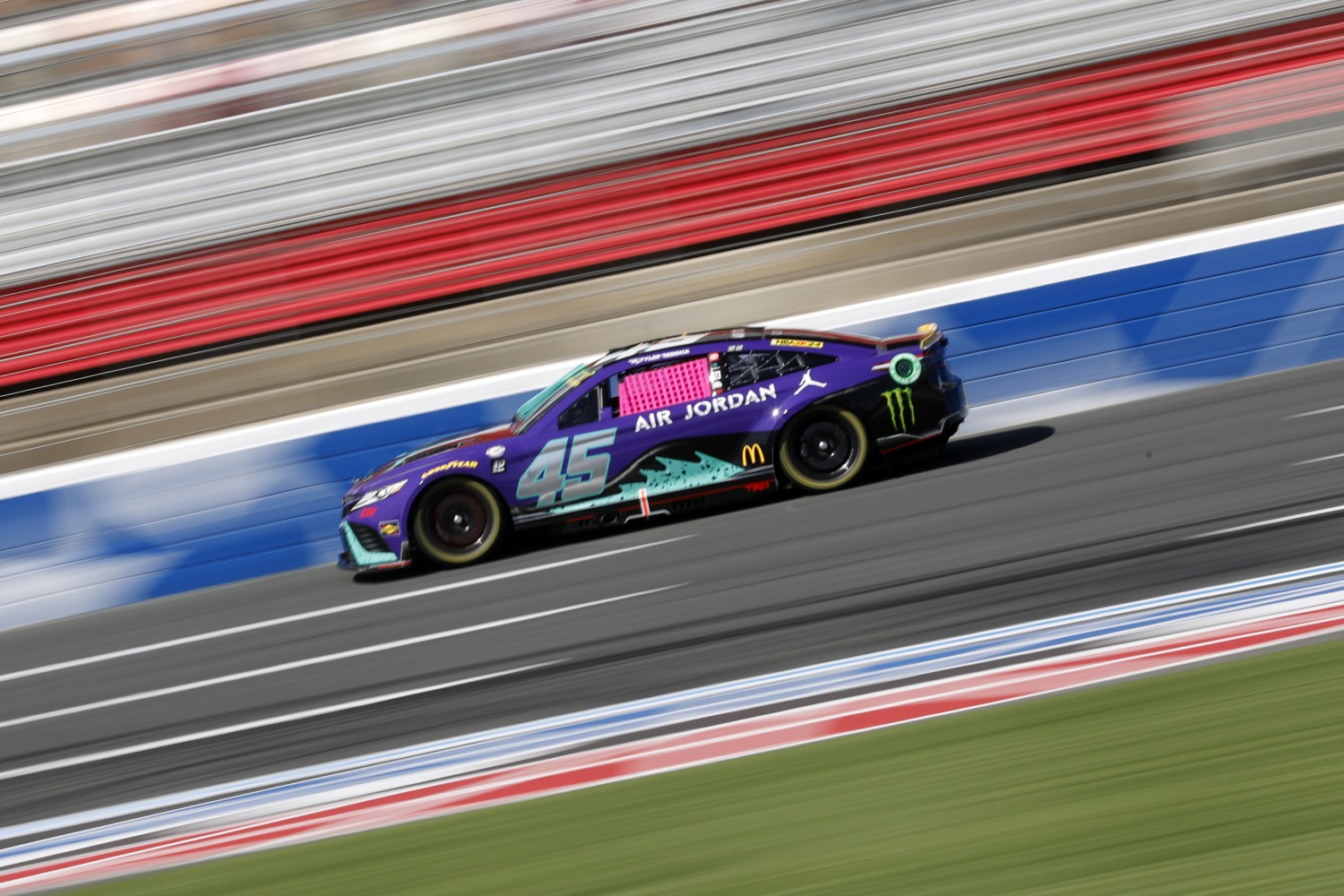 Coupled with a fourth-place qualifying effort by Reddick's teammate Bubba Wallace (10th in points, nine points out), 23XI Racing executed quite the impressive Saturday.
"This is what we needed to do," Reddick said. "We had hoped and put a lot of effort into this, as all the playoff teams do for this race. For the most part, this is as good of an outcome as possible for the No. 45 team today. Bubba had a solid day as well, even though he wanted to qualify better in the second round there. When you look at what both of us need to do tomorrow, we're taking the right steps."
Reddick has carried a notable confidence into the race weekend. A three-time winner on road courses in Cup competition, his results at these tracks back up any added certainty in his step. But he noted Saturday that inner belief is nothing new.
"It's been there all year," Reddick said. "I noticed it right at the beginning of the year coming over to Toyota. Obviously, they weren't happy with their road-course results last year, and they've made some huge improvements this year, starting off with our victory at Circuit of The Americas (COTA) in the spring. For me, we got the speed. The team has been working great. Everyone's efforts at TRD and our alliance with Joe Gibbs Racing has been huge.
"Everyone is doing a great job right now, and all the Toyota Camrys have the speed. It's great to see. Now, we have to manage this race tomorrow. If I just stick to the simple approach, we'll be in good shape."
A win by any playoff driver on Sunday would lock that respective competitor into the Round of 8. With such an early advantage over Keselowski at the green flag, stage points and track position will become a critical piece of how the No. 45 team, led by crew chief Billy Scott, manages the 109-lap event.
"For me, no matter how the race plays out, I go out there and try to nail every corner and lap," Reddick said. "And if I make a mistake, try to minimize the time loss. No matter if the strategy changes, my job doesn't."
Larson to start out back
Playoffs drivers Kyle Larson and Christopher Bell each had contact in separate incidents during Saturday's NASCAR Cup Series practice at Charlotte Motor Speedway's road course.
Larson had the more substantial damage to the right-front corner of his No. 5 Hendrick Motorsports Chevrolet after crunching the Turn 8 retaining wall with two minutes left in the Group A session. Larson drove his car to the garage for repairs, and he was not able to post a qualifying lap, placing him at the rear of the field for Sunday's Bank of America Roval 400.
"I just got loose entering (Turn) 8 and over-corrected and got the right-front into the wall," said Larson, who will take the green flag in 36th in a reserve No. 5 Chevy. "Just kinda gets bouncy over there and just stepped out on me."
Bell's contact was less severe, and he continued to practice after scrubbing the outside wall as he approached the backstretch chicane with his No. 20 Joe Gibbs Racing Toyota.
Both Larson and Bell sit above the provisional elimination line heading into Sunday's event, after which the title-eligible field will be trimmed from 12 drivers to eight. Bell is plus-22 above the line, and Larson holds a 15-point cushion. Larson's starting spot will likely leave him out of the running for adding to his tally at the stage breaks.
"Well, I don't think you can go for stage points from 40th," said Larson. "So I mean the silver lining may be that you can shorten the stages and get your track position that way to be up front for the end of the race because when you go for stage points, you're restarting like 26th or worse every time. So I think that's what would be the plan, I guess, going forward."
Starting Lineup
| | | | | | |
| --- | --- | --- | --- | --- | --- |
| Pos | No. | Driver | Team | Time | Speed |
| 1 | 45 | Tyler Reddick (P) | Jordan Brand Toyota | 81.214 | 102.839 |
| 2 | 20 | Christopher Bell (P) | DEWALT Plumbing Solutions Toyota | 81.328 | 102.695 |
| 3 | 99 | Daniel Suarez | Aguas Frescas Chevrolet | 81.401 | 102.603 |
| 4 | 23 | Bubba Wallace (P) | Leidos Toyota | 81.428 | 102.569 |
| 5 | 8 | Kyle Busch (P) | Lenovo Chevrolet | 81.488 | 102.494 |
| 6 | 16 | AJ Allmendinger | Celsius Chevrolet | 81.600 | 102.353 |
| 7 | 22 | Joey Logano | Shell Pennzoil Ford | 81.72 | 102.203 |
| 8 | 9 | Chase Elliott (P) | NAPA Auto Parts Chevrolet | 81.722 | 102.200 |
| 9 | 11 | Denny Hamlin (P) | Mavis Tires & Brakes Toyota | 0 | 0 |
| 10 | 54 | Ty Gibbs # | Interstate Batteries All Battery Center Toyota | 0 | 0 |
| 11 | 19 | Martin Truex Jr. (P) | Bass Pro Shops Toyota | 81.178 | 102.885 |
| 12 | 1 | Ross Chastain (P) | Worldwide Express Chevrolet | 81.221 | 102.831 |
| 13 | 34 | Michael McDowell | Love's Travel Stops Ford | 81.399 | 102.606 |
| 14 | 24 | William Byron (P) | HP Chevrolet | 81.608 | 102.343 |
| 15 | 3 | Austin Dillon | Huk Performance Fishing Chevrolet | 81.611 | 102.339 |
| 16 | 48 | Alex Bowman | Ally Chevrolet | 81.632 | 102.313 |
| 17 | 12 | Ryan Blaney (P) | Discount Tire Ford | 81.659 | 102.279 |
| 18 | 41 | Ryan Preece | Autodesk/HaasTooling.com Ford | 81.702 | 102.225 |
| 19 | 6 | Brad Keselowski (P) | Castrol Edge Ford | 81.707 | 102.219 |
| 20 | 17 | Chris Buescher (P) | Fifth Third Bank Ford | 81.790 | 102.115 |
| 21 | 10 | Aric Almirola | IHOP Ford | 81.800 | 102.103 |
| 22 | 4 | Kevin Harvick | Rheem – Chasing a Cure Ford | 81.801 | 102.101 |
| 23 | 43 | Erik Jones | Allegiant Chevrolet | 81.970 | 101.891 |
| 24 | 7 | Corey LaJoie | Gainbridge Chevrolet | 82.003 | 101.850 |
| 25 | 31 | Justin Haley | LeafFilter Gutter Protection Chevrolet | 82.024 | 101.824 |
| 26 | 42 | Mike Rockenfeller | Sunseeker Resorts Chevrolet | 82.036 | 101.809 |
| 27 | 47 | Ricky Stenhouse Jr. | Harris Teeter/Totino's Chevrolet | 82.048 | 101.794 |
| 28 | 78 | Josh Bilicki(i) | Zeigler Auto Group Chevrolet | 82.086 | 101.747 |
| 29 | 2 | Austin Cindric | Menards/Cardell Cabinetry Ford | 82.103 | 101.726 |
| 30 | 14 | Chase Briscoe | Ford Performance Racing School Ford | 82.156 | 101.660 |
| 31 | 21 | Harrison Burton | Motorcraft/Quick Lane Ford | 82.184 | 101.626 |
| 32 | 51 | Todd Gilliland | Ruedebusch Development & Construction Ford | 82.357 | 101.412 |
| 33 | 62 | Austin Hill(i) | United Rentals/Beard Oil Chevrolet | 82.529 | 101.201 |
| 34 | 38 | Zane Smith(i) | Ambetter Health Ford | 82.578 | 101.141 |
| 35 | 15 | Andy Lally(i) | Camping World Ford | 82.859 | 100.798 |
| 36 | 5 | Kyle Larson (P) | Valvoline/HendrickCars.com Chevrolet | 0 | 0 |
| 37 | 77 | Ty Dillon | Bon Secours Chevrolet | 0 | 0 |