IMSA News: WTRAndretti completes Acura Lineup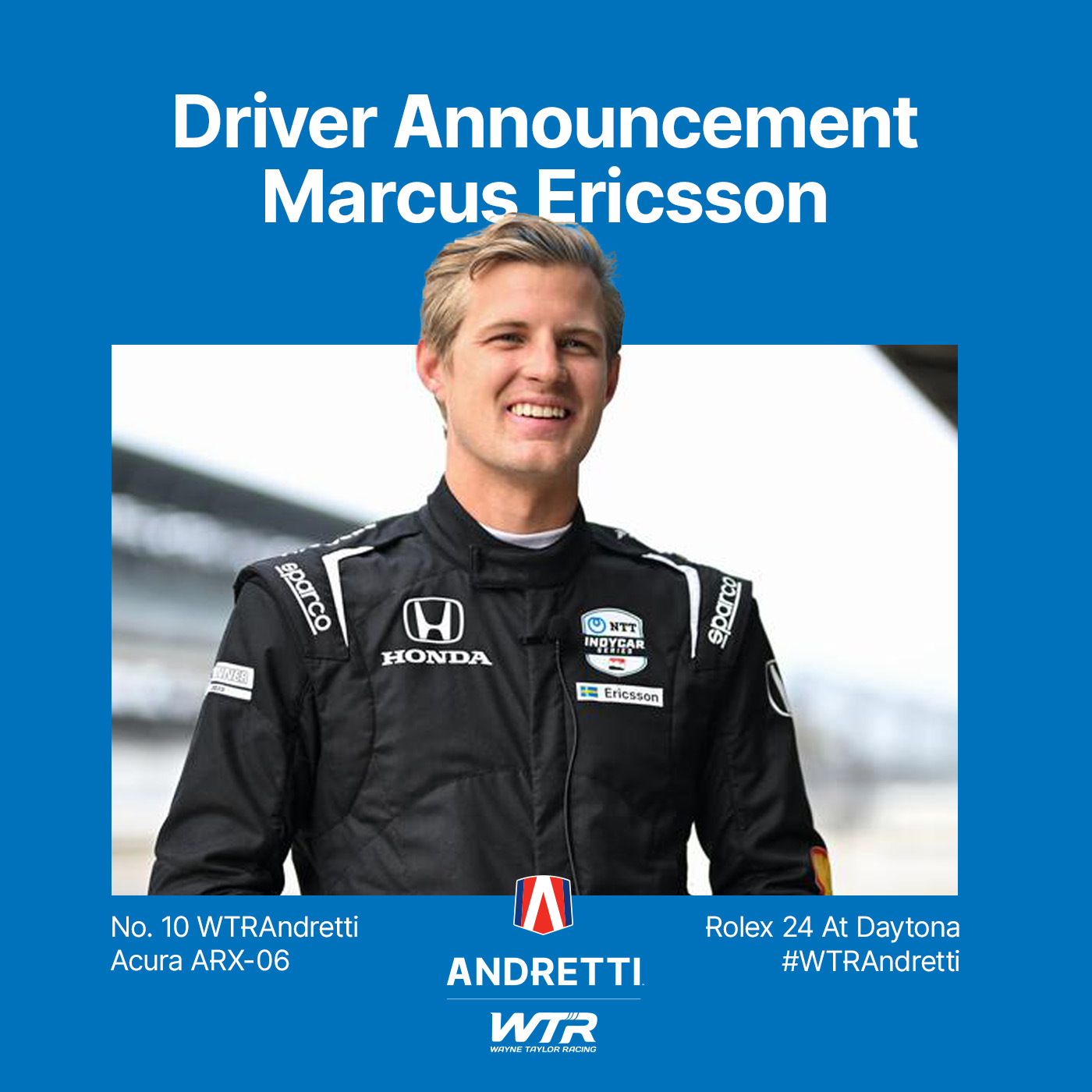 Wayne Taylor Racing with Andretti (WTRAndretti) announced today that 2009 FIA Formula One World Champion, Jenson Button, and 2022 Indianapolis 500 Champion and newly named Andretti Global NTT INDYCAR SERIES driver, Marcus Ericsson, will complete the Wayne Taylor Racing with Andretti Acura ARX-06 GTP driver lineups for the season opener of the 2024 IMSA WeatherTech SportsCar Championship, the Rolex 24 At Daytona. Marcus Ericsson will help co-pilot the No. 10 WTRAndretti Acura ARX-06 GTP alongside Ricky Taylor, Filipe Albuquerque, and Brendon Hartley while Jenson Button will assist Jordan Taylor, Louis Delétraz and Colton Herta in the No. 40 WTRAndretti Acura ARX-06 GTP.
Entering his second Rolex 24 At Daytona, Ericsson is eager to add another iconic motorsport title to his resume. Joining Andretti Global beginning with the 2024 NTT INDYCAR SERIES season, the 2022 Indianapolis 500 winner also has three additional wins and 16 top-five finishes in his five seasons. The Swedish-driver previously competed at the 24-hour event in 2022, but finished sixth in the former DPi class, multiple laps down from the leader. As a star on the scene in the NTT INDYCAR SERIES, Ericsson's racing career also includes starts in Formula One, a Formula BMW UK Championship and Japanese Formula Three Championship.
Fresh off his IMSA WeatherTech SportsCar Championship and GTP debut at the 2023 MOTUL Petit Le Mans, Button will compete in his first Rolex 24 At Daytona of his career at the 2024 event. The 2009 Formula One World Champion most recently competed in the historic Garage 56 program at the 2023 24 Hours of Le Mans, his second appearance at the famed 24-hour event, where he worked closely with now co-driver and teammate, Jordan Taylor. Button's competition with WTRAndretti in the No. 40 WTRAndretti Acura ARX-06 also marks the British driver's return to the Honda racing family after competing under their banner in his Formula One career. The British driver's diverse resume includes not only open-wheel cars, but sportscar racing, rally racing and starts in stock car racing.
The 2024 IMSA WeatherTech Sportscar Championship season kicks off with the annual three days of Roar Before the 24 testing, January 19 – 21, 2024, followed by the endurance classic, the Rolex 24 At Daytona, January 25-28, 2024. NBC and Peacock, along with IMSA.TV, will provide flag-to-flag coverage of the race on its family of networks.
Jenson Button, 2024 No. 40 WTRAndretti Acura ARX-06 GTP Rolex 24 Co-Driver:
"I am very happy to announce that I'll be racing with Wayne Taylor Racing with Andretti at the Rolex 24 At Daytona in the No. 40 Acura ARX-06 with one of my Le Mans teammates and good pal Jordan Taylor, super speedy Louis Delétraz and Colton Herta whose career in IndyCar I've watched with great interest. I had my first taste of IMSA last month at Petit Le Mans and loved it. I couldn't be happier to race at Daytona with such a prestigious team that has achieved so much in endurance racing and especially at Daytona."
Marcus Ericsson, 2024 No. 10 WTRAndretti Acura ARX-06 GTP Rolex 24 Co-Driver:
"I'm very excited and proud to join the WTRAndretti team for the Daytona 24-hour. After getting a taste of the race in 2022, I have been eager to get back on the grid for this legendary race. It feels fantastic to be racing with one of the best and most successful teams in the sport! I'm already counting down the days and I'm looking forward to working with the team and my new teammates. It is extra special for me to be racing with Acura, HPD and HRC which I know very well from racing my entire INDYCAR career with them. Bring on 2024!"
🗣️ @Ericsson_Marcus shares his thoughts about joining WTRAndretti and the No. 10 Acura ARX-06 lineup for his second #Rolex24 come January. We can't wait for 2024!#WTRAndretti // #AcuraMotorsports pic.twitter.com/0m0B1cK8O3

— Wayne Taylor Racing with Andretti (@WTRAndretti) November 15, 2023
Wayne Taylor, Team Principal, Wayne Taylor Racing with Andretti:
"Marcus is absolutely the perfect guy for our team because of the way he goes about racing. He's finished in the top 10 something like 30 times in IndyCar, he's won the Indy 500. He has really shown loads of interest by meeting with the team already and he is very dedicated and focused. I'm happy to have him, and of course, as he is part of Andretti Global program, so we are lucky to have him.
Jenson and I have spoken for quite a few years. We've just never been able to make it happen, but this round we got it to happen. He drove for JDC at Petit Le Mans and the relationship that he's built with Jordan from the Garage 56 program closes the loop on our driver lineups as Jenson will take the last driver slot that's open. The guy is really fast. I mean he is a Formula One World Champion. He's very motivated, my team is very motivated, HPD and Acura are motivated with having him as well as all our sponsors. We look forward to working with him. He obviously is coming from a different background, but we've had Formula One drivers before, and they've all done really well. I have no question about his ability to do well for us and for himself. I'm really excited after three years to finally get Jenson to sign up with us."
Michael Andretti, Chairman and CEO, Andretti Global:
"I'm very happy with the driver lineups that WTRAndretti will put forth in both the No. 10 and No. 40 Acura ARX-06 GTP cars for Daytona. WTRAndretti has a strong history of running at the top level and we're pushing hard to put together all the pieces to bring home race wins and have two cars contending for the Championship. The addition of Marcus and Jenson to an already proven roster of endurance drivers will make for an exciting and competitive 24 hours."
David Salters, President and Technical Director, HPD:
"Can you believe it? Once again, my compliments to WTRAndretti for putting together a truly impressive lineup for the pair of Acura ARX-06 entries competing at the Rolex 24 at Daytona in January.  With the addition of Honda-powered Indianapolis 500 winner Marcus Ericsson and Formula One World Champion Jenson Button – another driver long affiliated with Honda – they've managed to add still more talent to an already impressive lineup.  This is fantastic for all concerned at Acura, HPD, WTRAndretti and of course the fans!"