Logano holds off Kurt Busch at Talladega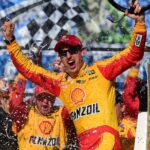 Joey Logano celebrates in victory lane after winning Sunday's Monster Energy NASCAR Cup Series race at Talladega Superspeedway
Jared C. Tilton/Getty Images
Joey Logano made the right moves at the right time over the closing laps of Sunday's GEICO 500 at Talladega Superspeedway.
Logano held off fellow Ford driver Kurt Busch coming to the checkered flag to score the victory as the field scrambled for position behind them.
It's the first win of the season for Logano, snapping a 36 race drought for the driver of the No. 22 Ford.
It marks Logano's 19th career Monster Energy NASCAR Cup Series victory, and his third at Talladega. It also marks the first Cup Series win of the 2018 season for Team Penske.
"I guess we got luck," said Logano in victory lane. "I have a great spotter. Dale (Earnhardt) Jr. left me a good one with T.J. Majors who allowed me to make the right decisions. He gives me the picture behind me and tells me where to go. I just hold the steering wheel and make the right moves. It was a great car, very fast. The Fords dominated today. I am so proud to be in a Blue Oval with Roush Yates motors under the hood. That is a huge deal. A big part of our victory today."
[adinserter name="GOOGLE AD"]Logano surged to the lead shortly after a series of green flag pit stops on lap 146. From there, he would hold the lead through two cautions, including the final one on lap 166 that gathered up 13 cars, including his teammates Brad Keselowski and Ryan Blaney. Satellite teammate Paul Menard was also eliminated in the crash.
Back under green, Logano led the pack, with Kevin Harvick and Busch in tow. Over the closing laps, Georgia drivers Chase Elliott and David Ragan began working together with defending race winner Ricky Stenhouse, Jr. to try to put together a late race charge.
In the midst of those runs, Busch was able to pass teammate Harvick for second, and tried to chase down Logano coming to the checkered flag with help from Stenhouse, Jr.
But Logano held the measure of the field, and scored the win.
Logano said teamwork among the Ford teams was a big part of the win as well.
"At the end you are racing and don't know what will happen, you just hope to get in the right lanes at the right time with the right moves," he said. "It is always exciting to win at a superspeedway, especially Talladega because you never know you've got it until you cross the line. After waiting a full year since our last win it feels so good to get back in victory lane and get our 22 Shell Pennzoil Ford into the playoffs. It feels really good to get those playoff points and now we will make a run at a championship."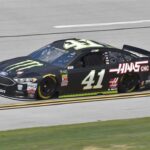 Kurt Busch had to settle for 2nd
After a strong run and overcoming pre-race radio issues, Busch had to settle for second.
"We just needed the assistance from behind," he said. "The 17 car (Stenhouse, Jr.) was strong. All the Fords were great today. I was hoping he would get to us on the back straightaway so we could go on offense on the front to go win it but it just didn't materialize. I wanted to stay with Harvick, my teammate, and navigate around the 22 (Logano) but everyone behind kind of broke off and was racing too hard and nobody got that big head of steam to try to push through and break apart the 22's lead."
Elliott came home in third, as he rebounded from a lap 129 pit road penalty for a tire violation.
"I thought our NAPA Chevy was good," Elliott said. "It wasn't, I don't think, as fast as we've been previously at the restrictor plate tracks, but I feel like it was a solid car. I got to the end and those guys around me were working together so much. I thought for sure one of them wanted to win a little worse than what they did. They were being very patient with one another and I was surprised by that. If it was me, I feel like I would have wanted to try or do something. Those guys weren't having it. I was trying to move forward and make a lane and push and they were not interested in advancing. So, it could have been a lot worse, so we'll move on to Dover."
Harvick finished in fourth, followed by Stenhouse, Jr. in fifth.
Bowman was 8th and Johnson 12th in the inferior Camaro body that has made the Chevy teams backmarkers
Ragan, Aric Almirola, Alex Bowman, Ryan Newman and Daniel Suarez rounded out the top ten.
The race was slowed six times by caution flags, including the fabled "Big One" on lap 166. It was triggered when Jimmie Johnson's Chevrolet got loose as he raced teammate William Byron through turn three. Johnson's car moved down in front of Byron, causing a jam up behind them, with Menard making contact with the back of Byron's car.
That sent all three spinning in front of a pack of cars, gathering up 10 other cars in the melee, including Keselowski, Clint Bowyer, Blaney, Darrell Wallace, Jr., A.J. Allmendinger, Michael McDowell, Kyle Busch, Austin Dillon, Cole Whitt and Brendan Gaughan.
"I knew I had help somehow just the way it turned around," said Johnson, who would recover to finish 12th. "Unfortunately, when I was sliding the No. 12 car (Ryan Blaney) hit us and bent something in the rear end. It wasn't the same after. (Looking at the car) There really isn't much damage and he hit me pretty hard on the other wheel and it was just super draggy and slow that last restart. Something is bent in the rear end and very loose."
Byron's day was over. He would be credited with a 29th place finish after leading 14 laps earlier in the day.
"Honestly, I think we just got side-drafted going into (turn) 3 and got me a little bit free and then I think I just packed some air on his (Johnson's) left rear," Byron said. "I haven't seen a replay so I can't really tell. Hopefully one of our guys can get it done. It was just unfortunate that we couldn't get to the end of the race, but we'll learn from it and come back here in the fall and hopefully have an even better run."
The other big crash occurred on lap 72, when the car of Erik Jones clipped the apron of the track, sending him up into the left front of Jamie McMurray's car, then into Trevor Bayne's Ford. That set off a multi-car crash that gathered up Kyle Larson and Martin Truex, Jr.
While several drivers saw their race go away in on-track incidents, Denny Hamlin saw several setbacks due to pit road speeding penalties.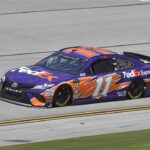 Denny Hamlin
Hamlin, who led 11 laps on the day, saw his first penalty come during green flag pit stops on lap 146, when he was hit with a pit road speeding violation. While serving the drive-through penalty, NASCAR officials again pinched Hamlin for speeding. That led to a stop-and-go penalty, again under green flag conditions that left him a lap down.
Hamlin was able to get back on the lead lap late in the going, but could no further forward than 11th by the end of the day.
It was a strong day all around for the Ford teams, with the manufacturer taking six of the top ten finishing positions, as well as winning both earlier race segments. Keselowski won the first segment, with Menard taking the second segment win.
It was a competitive race overall, with 25 lead changes among 16 drivers.
Results
| | | | | | | |
| --- | --- | --- | --- | --- | --- | --- |
| Pos | No. | Driver | Make | Behind | Laps | Best Speed |
| 1 | 22 | Joey Logano | Ford | — | 188 | 201.227 |
| 2 | 41 | Kurt Busch | Ford | 0.127 | 188 | 201.308 |
| 3 | 9 | Chase Elliott | Chevy | 0.247 | 188 | 201.634 |
| 4 | 4 | Kevin Harvick | Ford | 0.296 | 188 | 201.464 |
| 5 | 17 | Ricky Stenhouse Jr. | Ford | 0.318 | 188 | 202.517 |
| 6 | 38 | David Ragan | Ford | 0.394 | 188 | 203.667 |
| 7 | 10 | Aric Almirola | Ford | 0.399 | 188 | 201.621 |
| 8 | 88 | Alex Bowman | Chevy0.490 188 203.023 9 31 Ryan Newman Chevy 0.501 188 202.465 10 19 Daniel Suarez Toyota 0.723 188 201.863 11 37 Chris Buescher Chevy 0.850 188 201.915 12 48 Jimmie Johnson Chevy 0.881 188 202.034 13 18 Kyle Busch Toyota 0.883 188 201.834 14 11 Denny Hamlin Toyota 9.955 188 202.457 15 13 Ty Dillon Chevy 10.038 188 201.842 16 43 Darrell Wallace Jr. Chevy 10.273 188 201.511 17 95 Kasey Kahne Chevy 10.887 188 201.477 18 12 Ryan Blaney Ford 10.909 188 202.187 19 32 Matt DiBenedetto Ford 11.704 188 200.368 20 96 DJ Kennington Toyota 11.868 188 200.566 21 72 Cole Whitt Chevy 30.790 188 201.915 22 62 Brendan Gaughan Chevy 35.928 188 201.859 23 92 Timothy Peters Ford -1Lap 187 200.310 24 23 Gray Gaulding Toyota -1 187 201.274 25 15 Ross Chastain Chevy -2 186 201.096 26 78 Martin Truex Jr. Toyota -4 184 201.257 27 00 Joey Gase(i) Chevy -10 178 201.185 28 1 Jamie McMurray Chevy -14 174 201.596 29 24 William Byron Chevy -23 165 202.384 30 21 Paul Menard Ford -23 165 201.566 31 14 Clint Bowyer Ford -23 165 202.187 32 34 Michael McDowell Ford -23 165 202.030 33 2 Brad Keselowski Ford -23 165 201.291 34 47 AJ Allmendinger Chevy -23 165 201.936 35 3 Austin Dillon Chevy -23 165 202.701 36 51 Timmy Hill Ford -37 151 199.189 37 55 Reed Sorenson Chevy -109 79 189.955 38 6 Trevor Bayne Ford -117 71 202.393 39 20 Erik Jones Toyota -117 71 202.085 40 42 Kyle Larson Chevy -117 71 203.308 [adinserter name="GOOGLE AD"] | 0.490 | 188 | 203.023 |
| 9 | 31 | Ryan Newman | Chevy | 0.501 | 188 | 202.465 |
| 10 | 19 | Daniel Suarez | Toyota | 0.723 | 188 | 201.863 |
| 11 | 37 | Chris Buescher | Chevy | 0.850 | 188 | 201.915 |
| 12 | 48 | Jimmie Johnson | Chevy | 0.881 | 188 | 202.034 |
| 13 | 18 | Kyle Busch | Toyota | 0.883 | 188 | 201.834 |
| 14 | 11 | Denny Hamlin | Toyota | 9.955 | 188 | 202.457 |
| 15 | 13 | Ty Dillon | Chevy | 10.038 | 188 | 201.842 |
| 16 | 43 | Darrell Wallace Jr. | Chevy | 10.273 | 188 | 201.511 |
| 17 | 95 | Kasey Kahne | Chevy | 10.887 | 188 | 201.477 |
| 18 | 12 | Ryan Blaney | Ford | 10.909 | 188 | 202.187 |
| 19 | 32 | Matt DiBenedetto | Ford | 11.704 | 188 | 200.368 |
| 20 | 96 | DJ Kennington | Toyota | 11.868 | 188 | 200.566 |
| 21 | 72 | Cole Whitt | Chevy | 30.790 | 188 | 201.915 |
| 22 | 62 | Brendan Gaughan | Chevy | 35.928 | 188 | 201.859 |
| 23 | 92 | Timothy Peters | Ford | -1Lap | 187 | 200.310 |
| 24 | 23 | Gray Gaulding | Toyota | -1 | 187 | 201.274 |
| 25 | 15 | Ross Chastain | Chevy | -2 | 186 | 201.096 |
| 26 | 78 | Martin Truex Jr. | Toyota | -4 | 184 | 201.257 |
| 27 | 00 | Joey Gase(i) | Chevy | -10 | 178 | 201.185 |
| 28 | 1 | Jamie McMurray | Chevy | -14 | 174 | 201.596 |
| 29 | 24 | William Byron | Chevy | -23 | 165 | 202.384 |
| 30 | 21 | Paul Menard | Ford | -23 | 165 | 201.566 |
| 31 | 14 | Clint Bowyer | Ford | -23 | 165 | 202.187 |
| 32 | 34 | Michael McDowell | Ford | -23 | 165 | 202.030 |
| 33 | 2 | Brad Keselowski | Ford | -23 | 165 | 201.291 |
| 34 | 47 | AJ Allmendinger | Chevy | -23 | 165 | 201.936 |
| 35 | 3 | Austin Dillon | Chevy | -23 | 165 | 202.701 |
| 36 | 51 | Timmy Hill | Ford | -37 | 151 | 199.189 |
| 37 | 55 | Reed Sorenson | Chevy | -109 | 79 | 189.955 |
| 38 | 6 | Trevor Bayne | Ford | -117 | 71 | 202.393 |
| 39 | 20 | Erik Jones | Toyota | -117 | 71 | 202.085 |
| 40 | 42 | Kyle Larson | Chevy | -117 | 71 | 203.308 |
[adinserter name="GOOGLE AD"]