Dakar Stage 6: Al-Attiyah in command as Toyotas run 1-2-3-4
Stage 6 of Dakar 2023 saw Nasser Al Attiyah and Luciano Benavides claim wins in the cars and bikes categories. Toyota's Al-Attiyah and Husqvarna rider Skyler Howes continue to lead the overall standings after Stage 6.
Stage 6 of Dakar saw the riders and drivers once head down to Riyadh with a 357km long special stage and 560 kilometers of liaison stages. The day ended in Riyadh instead of Al Duwadimi due to flooding in the bivouac area in Al Duwadimi which forced all participants to take a 300km link route to the Saudi capital after ending the special stage.
Bikes
Dakar 2023 has seen 7 different stage winners to date (Prologue + 6 stages) with Husqvarna's Luciano Benavides taking the wind today with a time of 3 hours, 14 minutes and 19 seconds. Benavides beat his teammate Skyler Howes to the top spot by just 56 seconds as the American continued to extend his lead atop the overall standings.
The final podium spot on offer today was claimed by KTM's Toby Price with the two-time Dakar winner ending today's stage in 3 hours 16 minutes and 48 seconds, finishing the day, 2 minutes and 29 seconds behind the stage winner Benavides.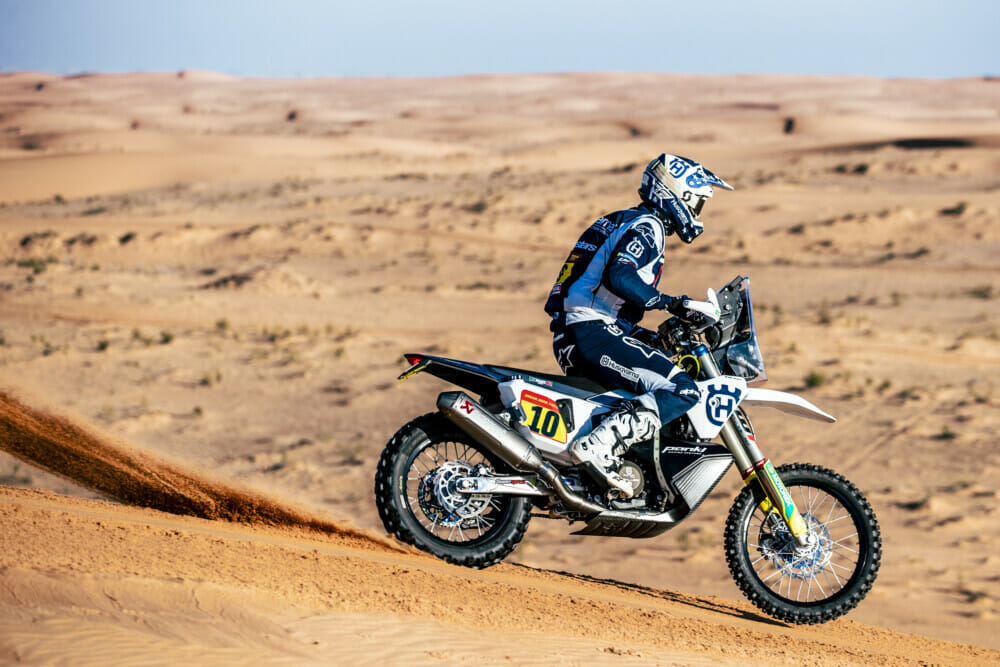 Among the riders best known to Indian fans of the Dakar, it was Sherco's Lorenzo Santolino who came out the best, finishing the stage in 13th with a time of 3 hours, 22 minutes and 7 seconds. Santolino finished the stage 7 minutes and 48 seconds behind the winner. Santolino'sm teammate, Rui Goncalves had not been listed on the final team sheets at the time this report was written and we'll keep you updated on when that changes.
The three remaining Hero riders finished the sixth stage of Dakar 2023 in 15th, 16th and 17th places with Argentine rider Franco Caimi leading the pack with a time of 3:23:56. Up next was German rider Sebastian Buhler with a time of 3:24:52 with Bostwana's Ross Branch following him across the line with a time of 3:25:14. In the overall standings, Husqvarana's Skyler Howes is now 3 minutes and 31 seconds ahead of KTM rider Toby Price. Argentine KTM rider Kevin Benavides is third overall sitting 7 minutes and 1 second adrift of Howes.
Cars
It was business as usual for defending Dakar champion Nasser Al-Attiyah who stormed to his third stage win of the 2023 edition of the world's toughest rally. Al-Attiyah finished the stage in 3 hours, 13 minutes and 12 seconds.
WRC legend Sebastian Loeb came home in second, finishing the stage 3 minutes and 29 seconds behind his Qatari nemesis. Henk Lategan ensured that there were two Toyotas on the podium today with the South African driver guiding his Hilux across the line, 8 minutes and 52 seconds adrift of his teammate Al-Attiyah.
Audi Sport's Stephane Peterhansel and his co-driver Edouard Boulanger were ruled out of Dakar 2023. Peerhansel crashed his Audi Sport hybrid after 212km of today's special. The impact of the crash injured Boulanger who was evacuated by the Dakar medical team to the hospital in Buraydah.
The same spot also ruined the race of Peterhanse;'s teammate Carlos Sainz who had to stop and repair his vehicle and was unclassified at the time of the filing of this report. Peterhansel's crash and a bad day for both Sainz and Al Rajhi mean that Al-Attiyah now leads Dakar 2023 by a very comfortable 1 hour, 6 minutes and 50 seconds from his teammate Henk Lategan.
Lucas Moraes of Overdrive Racing occupies the final podium spot but sits 1 hour, 13 minutes and 19 seconds behind Al-Attiyah.
Car Standings after Stage 6:
| | | | |
| --- | --- | --- | --- |
| Pos | Driver | Car | Time/Behind |
| 1 | Nasser Al-Attiyah | Toyota | 24hr00m48s |
| 2 | Henk Lategan | Toyota | +1hr06m50s |
| 3 | Lucas Moraes | Toyota | +1hr13m19s |
| 4 | Giniel de Villiers | Toyota | +1hr44m38s |
| 5 | Mattias Ekstrom | Audi | +1hr46m55s |
| 6 | Sebastien Loeb | Prodrive | +1hr57m10s |
| 7 | Romain Dumas | Rebellion | +2hr13m07s |
| 8 | Martin Propok | Benzina | +2hr13m33s |
| 9 | Brian Baragwanath | Century | +2hr20m33s |
| 10 | Wei Han | SMG | +2hr49m27s |
Bike Standings after Stage 6
| | | | |
| --- | --- | --- | --- |
| Pos | Rider | Bike | Time/Behind |
| 1 | Skyler Howes (USA) | Hus | 26h31m52s |
| 2 | Toby Price | KTM | +03m31s |
| 3 | Kevin Benavides | KTM | +07m01s |
| 4 | Joan Barreda | Hon | +10m57s |
| 5 | Adrien Van Beveren | Hon | +12m20s |
| 7 | Mason Klein (USA) | KTM | +12m46s |
| 25 | Jacob Argubright (USA) | KTM | +03h20m39s |
| 46 | Pablo Copetti (USA) | Yam | +07h50m45s |
| 73 | Petr Vlcek (USA) | KTM | +09h52m20s |
| 92 | James Pearson (USA) | KTM | +23h01m40s |
| 95 | Morrison Hart (USA) | KTM | +23h58m53s |
| 101 | David Pearson (USA) | KTM | +53h01m16s |
| 103 | Lawrence Ace Nilson (USA) | KTM | +53h32m01s |
| 109 | Kyle McCoy (USA) | KTM | +94h43m08s |